How to plan a walk-in closet - the expert guide to getting the most from your space
Knowing how to plan a walk-in closet means you can have a space like the one in Carrie Bradshaw's dreams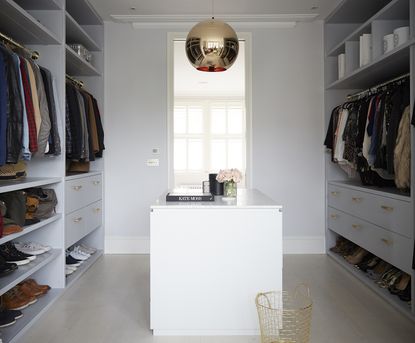 (Image credit: Future/Paul Massey)
Wondering how to plan a walk-in closet has been on my mind all week. The return of Carrie Bradshaw has highlighted many things - I'm a touch more careful on my Peloton now, for one - but clothes storage, and having the space to done properly to do it well, has been the true design stand out. It was just beyond their closet that Big kept his bike, and through the closet that - spoiler alert - Carrie had to step to find him. And through all the drama, I just couldn't help but wonder why I wasn't hanging clothes so nicely myself.
Closet organisation ideas are the key to a happy, tidy home. If you can get your storage sorted then everything else flows neatly out from that - if there is a place for everthing, and everything is in its place...well, you know the rest.
But what if storage was more than just function and a thing of beauty, too. I spoke to Vicky Silverthorn, the decluttering expert behind You Need a Vicky (who once, many moons ago, helped me declutter my kitchen) to get her expert tips. For if anyone knows how to plan a walk-in closet, it's her.
How to plan a walk-in closet
1. Start with a declutter
It may seem obvious, but the first thing to do when planning a walk-in closet is to declutter. 'Without having sorted out your clothes, got rid of ones you don't need and taken stock of what's left, you don't know what you're building a closet for,' Vicky says of a process that needs to come before you get to your walk-in closet ideas. 'Often we'll find ourselves having to squash clothes into a space which hasn't been designed with the owner's possessions, which defeats the point of having a lovely space.'
2. Work out the hanging space you need
Once you have done a declutter, you're better placed to build a closet which perfectly suits your needs - it's good to have done this if you're working with small closet ideas as you can truly use every inch of space. 'Count up the clothes you have left, and check the lengths that they tend to be,' Vicky says. 'Shirts are different lengths from blouses, men's clothes tend to need longer spaces than women's. Once you've done your audit you can measure the drop you need between rails and get it absolutely right for you.'
3. Categorise your clothes
In order to avoid just throwing your clothes anywhere - and so as to be able to find them easily - sort your clothes into categories in which to store them in the walk-in closet.
'I love categories,' Vicky says. 'But there are only a few you need to stick to. Firstly it's the obvious one, put blouses with blouses, trousers with trousers, jumpers with jumpers, and so on. And then within that, categorize twice more - once for color, once for length - short sleeves or long. It's that simple.'
Vicky goes on to say that some people like a final category for work clothes 'so that they can ignore them on the weekend.' Which seems like a nice approach to add to dressing room ideas, too.
4. Focus on shoes
Shoes need to be a focus of your closet design, not an afterthought. 'People often think they can just shove them at the bottom on the floor, but there is never enough room for that,' Vicky says. She suggests adjustable shelves instead, of differing heights. 'Some for trainers, some for boots, depending on what sort of shoes you have.'
5. Decide whether to hang or fold
Just like how deep a closet should be, this is open to interpretation. 'There is no hard and fast rule as to whether you should hang or fold items like sweaters,' Vicky says. 'You've got to do what's right for you. The only thing to remember is not to put drawers or shelves too high - if you've folded your sweaters and put them in a spot you can't reach it'll just be irritating.'
6. Make an island for belts and accessories
In a super luxe walk-in closet, you'll want an island in the middle for extra storage. 'I would suggest that this is full of drawers,' Vicky says. 'Keep them really simple, ideally with bespoke dividers made especially for you, but if not, with ones you can chop and change as your habits evolve. Amazon do really good drawer dividers which you can fit in as you need - they have a spring to hold them tight in place.'
Shop Amazon's selection of drawer dividers here.
7. Choose the right hangers
There is no point going to all the effort of building a walk-in closet of dreams only to fall at the last hurdle with a mishmash of hangers.
'Be sensible with hangers,' Vicky says. 'Uniform hangers will be so much more pleasing and make your clothes feel so much more desirable to wear.' She suggests slimline hangers, of which Amazon has a great selection here.
8. Finish the space with a black out blind
If you're lucky enough to have natural light in your walk-in closet then you'll want to cover the windows for the time you're not in there picking out clothes. 'You'll need a blackout blind last of all,' Vicky says. 'To make sure your garments don't get sun bleached.'
What to do with corners in a walk in closet?
Vicky says that corners in a walk-in closet are ideal for things you need infrequetly, like dinner jackets or ballgowns. 'You can also get rails that go right round corners, so they will help you make the most of the space,' Vicky says.
The Livingetc newsletter is your shortcut to the now and the next in home design. Subscribe today to receive a stunning free 200-page book of the best homes from around the world.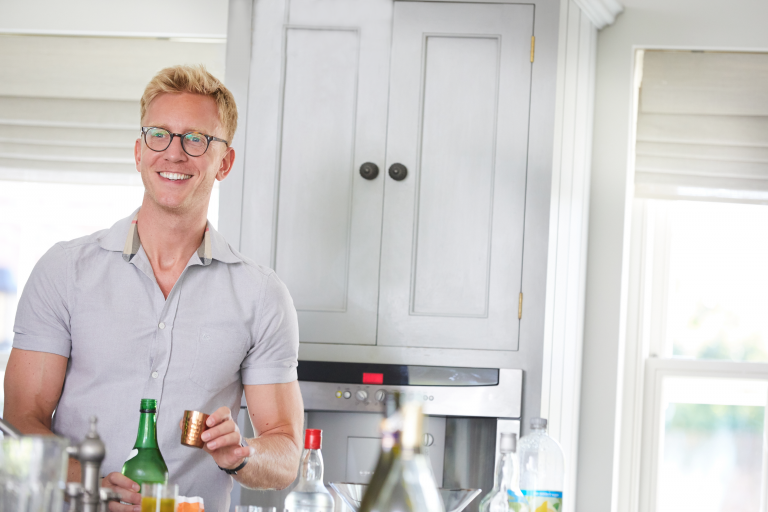 The editor of Livingetc, Pip Rich (formerly Pip McCormac) is a lifestyle journalist of almost 20 years experience working for some of the UK's biggest titles. As well as holding staff positions at Sunday Times Style, Red and Grazia he has written for the Guardian, The Telegraph, The Times and ES Magazine. The host of Livingetc's podcast Home Truths, Pip has also published three books - his most recent, A New Leaf, was released in December 2021 and is about the homes of architects who have filled their spaces with houseplants. He has recently moved out of London - and a home that ELLE Decoration called one of the ten best small spaces in the world - to start a new renovation project in Somerset.