The closet island is the design trend all the smartest refurbs are being styled around - here are the 8 best
Islands aren't just for kitchens, and closet islands are a big design trend. Whether you have a walk-in or want to evoke the mood of one, here are the 8 best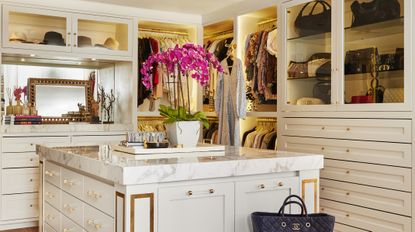 (Image credit: Cody Ulrich)
The Livingetc Newsletter
For style leaders and design lovers.
Thank you for signing up to LivingEtc. You will receive a verification email shortly.
There was a problem. Please refresh the page and try again.
Designing a walk-in closet is such a personal thing. You really have to assess your wardrobe and consider what and how you want it to be stored. But what every closet can benefit from, whether you need space for your ever-growing jewelry collection, or if you are more of a shoe hoarder, is a closet island.
Empty floor space in a walk-in closet is wasted space. You of course want enough room to easily maneuver around, and the space to fling around in frustration when deciding on outfits, but if you have the room to squeeze in an island, do so. An island will add extra drawer space, plus provide a surface within your closet for getting ready or keeping your most used items easy to access.
8 covetable closet islands that balance form and function
We've asked the experts how to add an island to your closet? How much room do you need in order for the space to be functional? What are the best uses of a closet island? Plus, plenty of covetous spaces to get you inspired to upgrade your walk-in closet.
1. Blend in an island with mirrored surfaces
Even the most spacious of closets still tend to be one of the smallest rooms in the home, and adding a large cabinet into the center can risk shrinking the space. An island will add visual bulk to a room, interrupting the eye line and breaking up the floor space. So in order to make an island less of the focus, call on the oldest trick in the interior design book – mirrors.
This bijoux pink closet was designed by Elaine Santos and Barlis Wedlick Architects, and is a lesson in small closet design. The color drenching technique blurs the edges of the room, making it appear larger, and the mirrored surfaces of the island give it less of a solid presence.
'The magenta closet I designed is located in an Upper West Side townhouse and was created to celebrate my client's love for bold colors in her wardrobe,' explains Elaine Santos. 'By using the vibrant magenta color, we enhanced the beautiful and colorful clothes she wears, allowing her personality to truly stand out. The mirrored finish on the island maximizes the natural light, creating a bright and inviting atmosphere in the space.'
2. Use the surface of an island for decor
Closets are practical spaces, they are usually purely functional and have to work hard, meaning there's often not too much room to get creative with decor. However, an island gives you a surface space to play with – a spot to bring in some personality.
Flowers, plants, and candles add a luxurious sense, perfect to give a dressing room feel. But use that space to showcase some of your favorite or most used items too. Jewelry boxes and trays will look lovely, and give you a spot to store your frequently worn pieces.
'An island is a wonderful way to incorporate more countertop space along with additional storage that is functional for those everyday items such as jewelry, sunglasses, small accessories like clutches, belts, scarves, and lingerie. It is also a great place to showcase some of your favorite pieces or provide secret compartments for those luxury items you want tucked away,' explain Carolina V. Gentry and Beth Dotolo of Pulp Design Studios who designed this fabulous walk-in closet.
3. Create a statement feature with waterfall countertop
And make the most of having a surface in your closet with a statement countertop. Marble is an obvious choice in a closet as it adds to those luxe vibes, but embrace the waterfall trend we are seeing with kitchen islands and cocoon your closet island in beautifully boldly veined marble – adding lots of texture and natural pattern.
As Marie Flanigan, who designed this fabulous space says, 'dressing rooms are the perfect spot to be selfish in your design, whether you love pink accents or want floral wallcoverings, this is the time to do it!'
4. Double up
It doesn't get more luxurious than an island in a closet? But two? That's what dreams are made of. But if you are planning a walk-in closet and are blessed with plenty of floor space, it's actually a practical choice – think of all the extra storage to be had, rather than a sea of carpet.
'If you have the luxury of space, a closet island is a plus for so many reasons,' says New York based designer Kati Curtis. 'This client uses the island to lay out her outfits, but the best part about this closet is the ability to see all her clothes from all angles. The islands include locked drawers for jewelry and valuables.'
And note the use of mirrored closet doors used here too. There's a lot of cabinetry going on in this space. The mirrors, break up the walls of cabinetry, making the space feeler lighter and more open.
5. Ground playful pattern with a dark wood island
We (and by 'we' we mean the world of interior design) still talk a lot about using lighter colors in smaller spaces. Stick to white to make a tiny space feel bigger. But more often than not, darker colors have more space-expanding abilities and can create much more interesting spaces. A dark color makes the dimensions of a room less visible, the edges less obvious.
So with that approach in mind, when designing a closet with an island consider going darker with your design. And match the cabinetry to the walls so the island doesn't feel like such a focus floating in the center of the space.
'This darker closet I designed is situated in a Park Avenue residence and was designed to have a moody and sultry palette. To keep the space playful and reflective of my client's personality, we incorporated a boldly patterned ceiling and a pop of color on the rug. The unique elements add a playful touch, complementing my client's love for bold colors and unique patterns,' explains Elaine Santos.
6. Make room for accessories with shallow drawers
An island is the perfect place to add plenty of drawer space into a closet. Especially smaller, shallower drawers for housing things you reach for every day like socks, underwear, jewelry, etc.
'Sometimes there's nothing better than designing a homeowner's dream dressing room and closet. I love to make sure there's space for a built-in whether it's an island or affixed to a wall.' says designer Marie Flanigan. 'For this project, we wanted to make sure there was additional drawer space for valuables as well as a functional surface area for display.'
'Our clients love the top drawers of an island to be more shallow in depth to house custom-fitted jewelry trays. We prefer more drawers that are equally divided and not deep drawers where items get lost.' adds Kathleen Jacobson. 'Island drawers are ideal for clients' undergarments, socks, and athleticwear. The drawers are great for rolled-up belts or displaying a tie collection.'
7. Make it tactile
In order to get the most from a closet, they are often filled to the brim with built-ins. Practical, but not exactly welcoming. However, choosing a material or finish for your island and cabinets that has a softness to it, a texture, can add interest and depth to these very hard, clean-lined spaces. This space designed by Kati Curtis, gets that balance of a space that's functional and meets every storage need, while also still feeling like a room with warmth and character.
'Storage benches were included below the windows, with custom window seats for a perch for her to put on shoes or just to hang out – the room is so beautiful! The wood is stained in a custom, slightly metallic finish so it bounces the light around the room, and the mirror wall is done in antiqued mirror to give the room a softer quality, while still allowing a full reflection. Top-down bottom-up shades in Imogen Heath fabric afford privacy while letting in the light and lush view from outside.' explains Kati.
'Our clients are very organized and neat, and it was important to them to have custom closets where they could "see" everything that they had. There is a wall where the wife can display all her purses, custom-secured jewelry drawers in the island, and a makeup vanity with special lighting so she can do her makeup any time of day.'
8. Soften the space with curves
The soft curves of this gorgeous closet, designed by Decus, are ideal for a walk-in that adjoins a bedroom. And this design allows for a far more compact island too, the lack of clean lines and sharp corners makes for an easier flow around the room.
'An island gives you extra functionality and breathing room to mix and match. Ideally, you'd need 35" on either side of an island for movement, with a minimum width of 23" of the island itself,' explains Decus founder Alexandra Donohoe Church.
'The configuration of this main bedroom demonstrates an inspired multifunctionality of sliding doors built into a floor-to-ceiling bedhead. This allows the sleeping area to be discreetly separated from the walk-in wardrobe, creating a private and practical space for individuals to get ready in without disturbing their sleeping partner.' adds Alexandra.
What does an island add to a closet?
'An island is one of the most sought-after elements in today's closet,' explains Kathleen Jacobson, founder of The Couture Closet. 'It provides great drawer storage leaving room for more hanging on the walls. It can also house hampers for laundry and dry cleaning. The top can serve as a great packing surface and an area to display flowers, books, and trays to reflect your personal style. The island countertop can really make a statement in your closet by the marble or quartzite you pick. Waterfall edges add a wow factor!'
How much space do you need for an island in a closet?
So much like in a kitchen, adding an island to your closet can be a real asset. But also like in a kitchen, an island is only worth adding if you have the space to do so. You still want to be able to easily move around the space, comfortably open doors and drawers, so ensuring you have enough space around the island is key to the area still functioning.
'In a closet, so much of our storage is relegated to the perimeter of the room. Adding an island to the closet adds function to the center of the room with added drawers along with useful surface area. But before adding an island to your close, make sure that you have at least three feet of room around the island to comfortably move throughout the space.' says designer Marie Flanigan.
And what about size? What is the ideal size for a closet island and how small can you go with a closet island in order for it to be a practical addition?
'The size of an island in a closet can vary depending on the available space and the intended function. While a larger island can provide more closet storage and surface area, a smaller island can still be functional and add value to a closet design.' explains designer Elaine Santos.
'As a general guideline, an island in a closet should be at least 3 feet by 4 feet in size to provide enough space for drawers, shelves, or other storage options. However, if space is limited, a smaller island can still be functional if it is designed with efficiency in mind. For example, a smaller island with a top doubling as a work surface can still provide a useful space to fold clothing or store small accessories. Ultimately, the size of the island in a closet should be determined by the available space and the intended function.'
For style leaders and design lovers.
Hebe is the Digital Editor of Livingetc; she has a background in lifestyle and interior journalism and a passion for renovating small spaces. You'll usually find her attempting DIY, whether it's spray painting her whole kitchen, don't try that at home, or ever changing the wallpaper in her hallway. Livingetc has been such a huge inspiration and has influenced Hebe's style since she moved into her first rental and finally had a small amount of control over the decor and now loves being able to help others make decisions when decorating their own homes. Last year she moved from renting to owning her first teeny tiny Edwardian flat in London with her whippet Willow (who yes she chose to match her interiors...) and is already on the lookout for her next project.