This Absolute Dream House Holds Inspiration At Every Turn
This is an absolute dream home, and there's a genius idea to steal in every image. Definitely one for the Pinterest boards!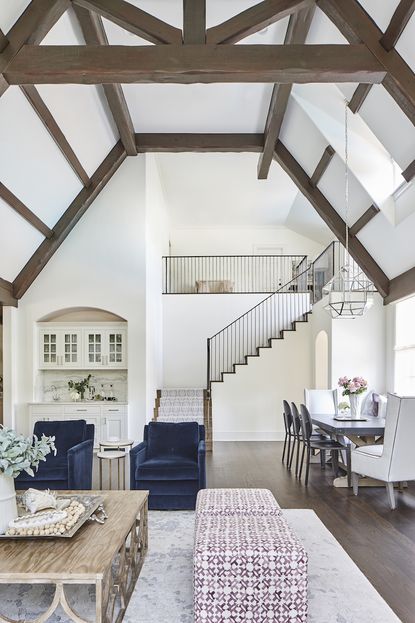 (Image credit: Vandiver L Chaplin)
The Livingetc Newsletter
For style leaders and design lovers.
Thank you for signing up to LivingEtc. You will receive a verification email shortly.
There was a problem. Please refresh the page and try again.
Note from the Editor: I've added a lot of imagery to this particular home tour, but I promise it is worth the scroll. From the jaw-dropping wine room to the stylish utility spaces including a boot room, pantry, separate snack pantry and a laundry room, to elegant grown-up spaces (there are separate his and hers dressing rooms, a secret staircase behind a bookcase, a gorgeous home bar and a to-die-for cinema room), and imaginative kids spaces – including play rooms and even a stylish kids office. This is an absolute dream home, and there's a genius idea to steal in every image. Definitely one for the Pinterest boards!
PROPERTY
This absolutely stunning modern home is located in Midtown Tulsa, an area full of historic homes. The gated cul de sac the home is on contains three large lots (this one is nearly 2 acres) and a large shared pond next door. Lots of this size are extremely rare in this central location. The owners, Sara and Jason (the Managing Director at an investment firm in the Oil and Energy Sector), fell in love with this house and saw it's potential, even though the home wasn't listed for sale. The home is over 10,000 square feet, plus there's a guest house too. Although it's being used as a four bedroom home for the owners and their three children, it's more like an eight bedroom home as there's a craft room, an exercise room, a homework room and a playroom.
The owners brought on the talented Mel Bean of Mel Bean Interiors to help transform the expansive property into an absolute dream home. There were a lot of rooms to cover; a home bar, wine room, cinema room, his and hers studies, three kids' rooms, a playroom and a homework room, the kitchen with two pantries, a boot room and a laundry room, a basement den and pool shower, several lounge areas and an enormous master suite with separate his and hers dressing rooms, and even a secret staircase behind a bookcase that leads up to an adults only space. Mel Bean made significant layout and structural changes, and designed every room – from the furniture, lighting, drapes and custom cabinetry to the flooring, wall coverings and finishes.
Read Also:Explore A Playful Family Home in Martha's Vineyard
HALLWAY
The hallway is relaxed, informal and welcoming. This is a high traffic area, as each of the children partake in numerous daily activities and run in and out all day.
Mel Bean planned a trip with Sara to the Round Top Antiques Fair in Round Top, Texas. It's celebrating it's 50th anniversary this year and has an unimaginably extensive selection of antiques, some new creations, and has a really fun energy. Together they found some beautiful and unique pieces for this project.
Read Also:Chic Hallway Ideas That Make An Entrance
BOOT ROOM
Just off the hallway there's a generous boot room, with drawers for shoes, hooks for accessories and top cupboards for extras like gym kits. Opposite this are built-in wardrobes for coats, hidden behind panelled doors.
Read Also:Chic Boot Room and Laundry Room Ideas
GREAT ROOM
Mel Bean managed to design the large vaulted spaces to have a comfortable sense of scale rather than a cold or empty volume – which is no easy feat. She wanted to help create a home that was equally welcoming for large scale entertaining, and still comfortable for a young family to truly live life in. The home was dark and needed functional improvement. With the large vaulted rooms, they worked to improve the sense of human proportion with carefully chosen furnishings and art, as well as grand custom drapes.
The brick wall (above) is created from bricks from Tulsa's historic cobblestone streets. Many of them are imprinted with "Tulsa". The white, blue and wood scheme makes this an airy and relaxed space.
Read Also:Explore An Absolutely Stunning Home in Sonoma's Wine Country
KITCHEN
The great room leads into an open plan white kitchen (illustrated more clearly in the top picture).
Mel Bean managed to create a sense of continuity within the home, while giving each space it's own unique personality.
Read Also:35 Strikingly Stylish Kitchen Breakfast Bar Ideas
Floating shelves break up the wall of marble.
The white kitchen has it all; a large modern kitchen island with two sinks, a boiling water tap, lantern island pendants and a breakfast bar, as well as on-trend ladder rails, a wine fridge and a gorgeous walk-in pantry.
Read Also:Striking And Stylish White Kitchen Ideas
There's also a stylish breakfast nook with padded bench seating and upholstered dining chairs.
SNACK PANTRY
Aside from the main pantry which was pictured in part above, there's also a fun snack pantry, with stainless steel shelves, custom cabinets, and tiled walls.
Read Also:Pantry Ideas: Dreamy Kitchen Pantries
WINE ROOM
A former spare closet on the lower level of the home was transformed into a beautiful custom wine cellar, complete with custom walnut cabinets and steel doors.
Wall racks make a striking display, and also make it easier to read the labels.
Wall lights illuminate the custom cabinets.
Read Also:Wine Room, Wine Cellar & Wine Storage Ideas
LAUNDRY ROOM
There are plenty of ideas to steal from the laundry room too, from the ship-lap walls to the double washers and double dryers (especially useful for a household of three children and a dog) and handy drying rail.
Opposite, there are laundry trollies that can be wheeled out of the way. The trollies feature separations, so you can throw in whites with whites, darks with darks, etc. Genius.
Read Also:Chic Laundry Room Ideas
CINEMA
A large bland and non functional space was turned into a large cinema room that's now in constant use.
The home cinema has upholstered walls that conceal surround sound speakers and acoustical panels.
Read Also:The Ultimate Man Cave Ideas
POOL DEN
The other significant layout changes were in the walkout basement that has access to the pool. This involved opening up and completely renovating a secondary kitchen which is also used as a home bar.
The basement design welcomes interaction with the pool and outdoor space beyond, and is intentionally designed to deal with water that will inevitably be tracked in and out.
The French doors are usually wide open, connecting with the terrace, patio and pool beyond.
HOME BAR
In this space there's an inky blue kitchen with a drinks fridge and bar area.
Read Also:Cool and Stylish Home Bar Ideas
A framed triptych above the sink adds funk, and is illuminated by wall lights.
Read Also:Gorgeous Blue Kitchen Ideas And Inspiration
POOL BATHROOM
The pool bathroom has a planked stall in addition to an oversized double shower, for hosing down kids after a swim.
The tiled partition wall doubles up as a shelf for products.
Read Also:Stunning Shower Room Ideas
The metro tiles make this feel like more of a utilitarian, functional space.
Read Also:Metro Tiled Bathroom Ideas
FORMAL SITTING ROOM
The kitchen and breakfast nook area also connect with another seating area, which is more formal in design.
Here there are several seating areas, which are mainly used for entertaining guests.
HIS OFFICE
As managing director of an investment firm, Jason needed a grown-up home office away from the kids, where he can concentrate.
We're big fans of the chic grasscloth wallcovering, the lacquered bookshelves and brass wall lights.
HER OFFICE
Mum Sara also has a home office, essential for keeping track of everyone's diaries and activities, as well as home managament and admin.
PLAY ROOM
This large play room leads off of the youngest daughter's room and is mostly used as her art studio.
Books are arranged by colour, popping against the charcoal background, and the cupboard doors hide art supplies.
Colouring pens and pencils in glass jars are also grouped by colour, making a fun and colourful display.
The wallpaper subtly incorporates a growth chart for measuring the kids' height.
The playroom features a homework area too.
POWDER ROOMS
There are several cloakrooms dotted around the house, each with their own distinct style, colour palette and personality.
Each cloakroom is a fun and cheerful space. There's even a cloakroom that's home to an arcade-style racing game.
GIRL'S ROOM
The girl's bedroom is just off the main playroom space, and features it's own play area.
Opposite the bed there's a treehouse-inspired bunkbed designed to use as a reading nook. There's also a miniature Saarinen style table with Moroccan pouffs.
BOY'S ROOM
The boy's bedroom has a large loft, with an additional seating area underneath.
There's also a cool, industrial-inspired desk are for doing homework.
TEEN'S ROOM
The teen's room has a distinctly grown-up feel to it, with a large upholstered headboard and a grown-up glass desk.
A bubble chair keeps the mood light.
MASTER BEDROOM
A secret staircase hidden behind the master suite bookshelves leads up to a private adult retreat above.
The master bed is recessed in an alcove, with white painted wood panelling and chic traditional wall lights.
Linen chaise lounges face a wall-mounted TV – it's the perfect spot for cosying up in front of Netflix in the evenings.
The TV is surrounded by built-in storage for socks and underwear. Much sleeker than a bulky chest of drawers.
An arched hallway leads through to a generous master bathroom.
DRESSING ROOMS
The two dressing rooms have distinctly different styles and colour palettes.
On working with the couple, Mel Bean said: "The clients were extremely fun to work with! Initially, we worked with Sara, who has wonderful personal style, and had a clear vision of the aesthetic she wanted. Not far into the project, Jason joined the design process. Sometimes this leads to conflict between the spouses and can be a real challenge in terms of moving a project forward, but in this case, Jason's involvement only improved the design and the experience. After major presentations, they took the concept boards, floor plans, etc, home to review together over the weekend with wine. When they found themselves unsure of a decision, Sara and Jason would jokingly ask "What would Tom and Gisele do?" Clearly, we had fun!"
The wife's dressing area includes a vanity area too, for make-up and jewellery.
MASTER BATHROOM
Mel Bean made a lot of structural changes to the existing master suite, pantry, hallway storage and a boot room to improve this master bathroom layout and allow for more light into the space.
There's a seating area, wardrobe storage with mirrored doors, and a doorway that leads into the wife's dressing area.
There are his and hers basins, with cosy sheepskin rugs for underfoot, separated by a modern freestanding bath.
There's so much beauty in this space you'd be forgiven for having not noticed the gorgeous herringbone marble tiled floor.
Photography: Laurey Glenn
For style leaders and design lovers.
Lotte is the Digital Editor for Livingetc, and has been with the website since its launch. She has a background in online journalism and writing for SEO, with previous editor roles at Good Living, Good Housekeeping, Country & Townhouse, and BBC Good Food among others, as well as her own successful interiors blog. When she's not busy writing or tracking analytics, she's doing up houses, two of which have features in interior design magazines. She's just finished doing up her house in Wimbledon, and is eyeing up Bath for her next project.