Cool and stylish home bars
Home bars to shake and stir you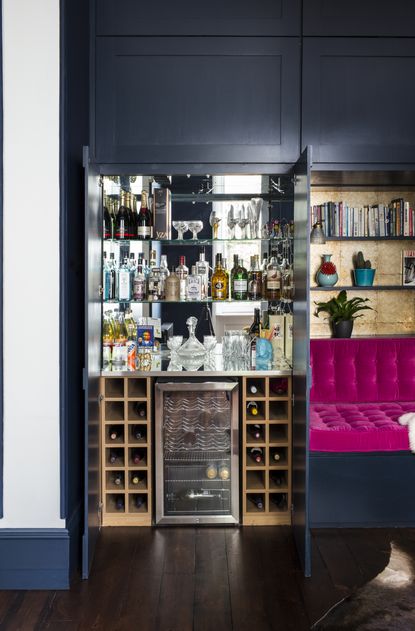 (Image credit: Paul Raeside)
The Livingetc Newsletter
For style leaders and design lovers.
Thank you for signing up to LivingEtc. You will receive a verification email shortly.
There was a problem. Please refresh the page and try again.
Looking for home bars or wanting to create one? You're not alone. It's not just home offices that have shot to the top of the wish list this year. Home bars are up there too, and it's no surprise if your local or favourite members club is currently on ice.
A stylish home bar is at the top of our domestic wish list, surpassing both pantries and laundry rooms.
Because what could be more fun than entertaining friends - or those in your 'bubble' in your own home bar?
The cool and clever owners of the homes in our edit ahead have transformed dead spaces – an unused nook, that clutter-filled cupboard or a dark basement – into stylish entertaining spaces.
Keep them well stocked with beautiful glassware as well as your favourite hooch. Then accessorise with stylish bar stools and a cool neon light sign and it'll soon become everyone's favourite room in the house.
And you get to choose when to call Last Orders...
TA DA
Open the doors and - tada! A well organised home bar is revealed. There's even a glamorous fuschia pink banquette to relax and enjoy your favourite tipple on.
DECADENT DECANTERS
In place of a home bar Sera Loftus of Sera of London has created a cool bar corner in her kitchen, with beautiful vintage decanters and ice buckets on hand.
KEEP YOUR COOL
If dedicating an entire room to a home bar is not possible, make space for a wine fridge so your Sauvignon is kept at optimum temperature and good to go.
OPEN DOOR
Here a pantry doubles up as a space to stock booze and food, with a cupboard filled with glassware nearby.
BRIGHT LIGHTS
A tongue in cheek neon sign let's everyone know where to grab a tipple in this cool home.
HANG LOOSE
Interior designer, Tara Bernerd, has dedicated a section of hanging shelving in her kitchen to a bar area that's filled with beautiful glassware, so it's easy to entertain friends and family.
TOP GLASS
A beautiful bar area is also a good excuse to display your favourite glassware, particularly if it's colourful or unusually shaped.
TOP SHELF
Keep ice buckets, bottles and glassware where they can be easily accessed and put away and put away.
UPSTAIRS DOWNSTAIRS
This large pantry and wine fridge have a touch of the Downton's about them, with their beautiful period features and scullery overtones.
THE REAL DEAL
This home bar is the real deal; open shelving with bottles on display, a bar island with bar stools, and even it's own name, named after the home owner's two favourite things.
Get the look: Get the look: The bespoke bar, created by Made by Jason & Co, includes a brass bar top from The Copper And Zinc Bar Company.
GLAM FACTOR
This gleaming and glamorous étagère takes pride of place in an open-plan living room.
Get the look: The Seventies brass étagère was imported from Holland and the Fifties German side chairs were reupholstered, all via The Mint List Interior Design.
BEHIND CLOSED DOORS
Once you throw open the cabinet doors, colourful glasses that are grouped by colour break up the white scheme.
THAT SEVENTIES SHOW
The bar has purposefully been given an almost tongue-in-cheek 1970s look. Gold-flecked cork wallpaper on the walls and ceiling, mirror-backed bar units and shelves filled with vintage 1970s glasses inscribed with the owner's initials (found by chance on eBay) helped to create a small space with a big personality.
Get the look: The bar units were custom-made. The brass cabinets and screen dividers are bespoke. This is a Nero Marquina marble floor. The Japanese Cork wallpaper is by Phillip Jeffries.
STAY COOL
There's a striking built-in home bar with blue cabinetry, a wine fridge and a smaller fridge for beers and soft drinks.
POP ART
With vintage Fifties furniture, one wall clad in a knockout, limited-edition Roy Lichtenstein print, and a bar made out of marble and burr walnut, this space feels cool and glamorous. The bar was made from an old marble fireplace that was found at a salvage yard. It's been converted into this bar, which includes a built-in glass chiller, ice maker and dishwasher.
Get the look: The original fireplace was sourced from The Architectural Forum. The bespoke cocktail bar and cabinetry were made by Robert Timmons Furniture. The vintage armchair and cocktail table are from Ed Butcher. The print is of Roy Lichtenstein's Blue Floor.
BASEMENT BAR
Create your own secret Speakeasy in the basement or a dark room. This compact, black home bar makes the most of a small room.
ART DECO ELEGANCE
A regal blue butler's pantry with built-in wine storage and bar dazzles with exposed metal shelving, antique mirror detailing, and campaign style cabinets that are lined in polished nickel. Polished nickel gallery lights set a dramatic tone, stylishly highlighting the spirits and barware below.
LUXE MATERIALS
This traditional home bar boasts custom walnut cabinetry and onyx finishes.
NICE NOOK
This intimate space features a custom wet bar finished in American walnut with a Kenya Black marble counter and backsplash, as well as a Eurocave wine fridge.
Get the look: The marble back is from Silver wave Marble.
CLEVER CORRIDOR
This clean, crisp white bar is built into a corridor space that links the kitchen with the dining space. It makes the most of an unused wall and creates extra storage.
SECRET STASH
This hidden bar has been concealed into a wall next to the dining space, tucked away behind a perforated screen.
Get the look: For similar tiles, try Walls and Floors. The ceiling light is from Masson For Light in Melbourne. Try netlighting.co.uk for similar. Giles Miller Studio could custom-make a perforated metal screen like this.
PROFESSIONAL TOUCH
This built-in bar is designed to look like a piece of furniture with slate blue lacquer finish, stripe marmara marble countertop, and matching cabinet and appliance pulls in white burnished bronze. Mirrored exposed back reflecting outside view, floating glass shelves and cantilevered racks give a sense of lightness, and display glassware and wine bottles like a retail showcase.
Get the look: Bar door handle in burnished white bronze from Sun Valley Bronze
DRINKS TABLE
This sitting room has a the perfect table for offering guests a glass of wine, aperitif or cocktail.
Get the look: The Paris Review is by Alex Katz. Find prints at theparisreview.org. The acrylic and mirror wine bar is a vintage piece. For similar, try Carew Jones.
WELL STOCKED SNUG
Off a living room, this snug was the perfect place to create a chic bar. The previous owner had used it as a stereo room, filled with his CD collection. Now it's equipped with everything you could ever need for aperitifs and nightcaps.
Get the look: The walls are in polished plaster.
COCKTAIL CORNER
This basement bar is perfect for entertaining. Get the look: Bar, Wood'n Design.
COOL ALCOVE
An alcove in a former kitchen was transformed into this wine corner, where all the wine glasses and wine bottles are kept at close hand for dinner parties.
Get the look: The custom-made cabinet with zinc top and crackle-glazed finish is by Ian Harper – concealed behind the doors are dishwashers for the glasses. The vintage sideboard was inherited.
See how Jonathan Adler makes Christmas merry.
For style leaders and design lovers.
Shining a spotlight on the now and the next in home design and decor, Livingetc is the UK's best selling high end and contemporary home design magazine. As a brand, Livingetc showcases the world's very best homes, breaks and makes the trends, and has access to leading international designers for insight and ideas. It was first published in 1998, and is currently edited by Pip Rich.