Bifold doors - everything to know about this finishing touch to your extension
Bifold doors are a brilliant way to complete your extension, opening it up to the outdoors. Here's everything you need to know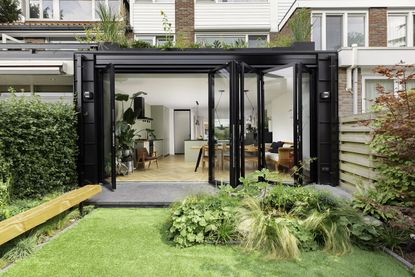 (Image credit: Solarlux)
Bifold doors are becoming increasingly popular, as more of us are rushing to extend the homes we live in and make a real connection from the inside to out .
They have become the must-have part of the best kitchen extensions but why choose bifolds? Unlike traditional sliding doors which can leave a large section of the aperture covered by glass even when they are fully open, the individual elements of the bifolding door gather into a slender bundle of panels to one side, leaving complete access to the outside and giving unrestricted views.
They can turn cramped, dark rooms into bright, modern spaces. When closed they offer all the requirements of modern living with maximum protection and security, thermal insulation and noise reduction. They can fold inwards or outwards, left or right. Planning is not normally required for bifold doors unless you live in a conservation area.

"You never hear of patio doors anymore, bifold doors have taken over, and there are many reasons for that," says Rob Walton, Creative Director of Solarlux. "The main one being that most bifold doors are made from aluminum which is sustainable. When choosing bifolds, most people want the panel joint to be as slim as possible and our Ecoline and Highline have one of the narrowest at 9mm."
In the US, bifold doors are sometimes known as Folding Glass Walls but they work in the same way and come in the same finishes - mainly aluminum and timber or both, and frameless. Due to the variations in temperature and weather in the US, they produce different doors for diverse weather conditions – hurricanes for example, and you may need different bifolds if you live on the coast. They come with specialized seals and sill designs to combat wind, rain and extreme weather.
"Although Florida is the Sunshine State, it's also known for extreme winds, rain, floods and even hurricanes," says Ben Brocklesby of Origin Bifolds. "Failing to follow correct procedures when designing or modifying a beach house could leave it vulnerable to weather related damage, resulting in large repair fees."
1 SIMPLE AND STYLISH BIFOLD DOORS
A classic example of modern bifold doors, and how well they fit into glass kitchen extension ideas. This shows how they open up a room to the outside and how they stack. They are quite heavy as they can be double or triple glazed but because they run on a track, it's effortless. They open in a concertina fashion by folding in on themselves in either one or both directions.
2 COLOUR MATCH
Bifold doors don't always have to be all glass, of course, and the effect can be softer, more homely if they have a design similar to these, above. These bifold doors have been painted to match the color scheme in this extension. It's such a calming scheme, simple and uncluttered, and the doors are half-glazed to give them a traditional look and they fold outwards so they don't take up any room in the kitchen.
3 BUDGET FRIENDLY
If you are on a budget, building the aperture to match one of the standard sizes of bifold doors will make a big saving, rather than choosing custom-built doors. These aluminum bifold doors come in grey, black and white with a choice of opening configurations and from three to six panels, so also work well as part of your small kitchen extension ideas.
"The benefits of bifold doors are the flexibility they offer in terms of how much space you can open up to the outside," says Matt Higgs, Director of Kloeber. "With certain configurations you have the option of using one master door for popping in and out of, opening up to a third, a half, or the whole of an aperture to the outside, so think about how many panels you would like, which way they open and where they stack. You should also consider the threshold detail and try to get this as flush as possible so you don't have a step to walk over. Material choice is also important as this can significantly affect the look and price of the product. Timber and aluminium are the most popular choices."
4 BLACK BY DESIGN
These black bifold doors add a dramatic touch to this extension and show that you don't have to have a big detached house to have them. There are five door panels on one side and one on the other, so they open up completely to the garden, and for a nice touch, the owners have created a roof garden above too. The doors team perfectly with the black elements of the kitchen design.
5 MIX IT UP
For a classic look, you can choose bifolds with glazing bars like these ones. They function in the same way, offering security and thermal insulation but have a softer look than all out glass. The two middle doors have offset glazing bars so they are different to the side panels for a designer touch.
"Bifolds don't have to be plain glass, and using glazing bars will create a warmer feel to and break up a wall of blackness in the winter months," says Robert Ditcham, CEO of Ayrton Bespoke. "Make sure the company you buy from offer long term warranties and an aftercare package. Use a recommended fitter from the company you buy from, it's a specialist job."
6. SMALL SPACE
If you have a small aperture, and wondering how to plan a kitchen extension and still include bifold doors, well, now you can! These three, tall, sleek panels offer a contemporary look and a wonderful view of the garden, perfect for a dining space. More light comes into this side extension from large, square skylights.
7. OPEN SPACE
The most important thing to factor into the design around your bifold doors is to have a smooth transition between the inside and outside. Here, because the doors fold back into such a narrow stack, they create a mostly unobstructed view of the oudoors. The designers have chosen different flooring to differentiate between the areas with a slight slope outside so rainwater runs away.
8. BLURRED EDGES
There are so many configurations with bifold doors. This shows a set with a middle bar which follows the line of the metal beam on the ceiling, then two sets of bifolds meet in the middle. The bifolds then stack back against each wall, and to soften them, ombre drapes have been added to conceal them.
9. WOW FACTOR
A classic Victorian terrace with a full width extension, which gives the owners a much bigger kitchen. They have chosen one wide, two-panel bifold door for easy access to the garden and more light, and for added wow factor, a large glazed box with a dramatic black frame which makes it look like a picture, and can be used as a window seat or deep shelf. Stunning.
10. APEX ROOF
Rather than just a square box, the far end of this extension has an apex roof design with two large skylights in it to bring extra light in, as well as from the bifold doors. The glazed insert above the doors follows the roof line as a design feature.
11. GLASS WALL
This shows how bifold doors are used to create a glass wall in a square extension. The glass has been tinted to prevent strong sunlight making the kitchen too hot and fading the furniture. It certainly brings the outside in.
How to choose bifold doors
Visit showrooms to see how the doors look and perform
Look for an anodised finish to the frames to prevent corrosion
Choose Solar protection glass to reduce the possibility of furniture fading and the room from becoming too hot, especially in south-facing rooms
Triple glazing will give better thermal insulation and retain heat more effectively.
Upgrade to laminated glass for added security
Expert advice on choosing bifold doors
"It's important to consider how overlooked you will be and if privacy screening will be required," says Rob Lessmann, founder and head designer of interior content design agency, Design'd Living Sometimes, it's better to build a brick structure with glass, rather than a glass cube, especially when it comes to cleaning!"
"Bi-fold doors can be great to create a complete inside-outside experience but bear in mind that very large openings can be prohibitive when furnishing a space," says Fiona Ginnett, Head of Design, Hølte. "You also need to think about the space they occupy when folded back and fully open. The glass to frame ratio is lower with bi-fold doors, so go for the tallest opening and largest leaf sizes you can. We would also recommend including a separate window in the space for ventilation - this can be nicely located close to the kitchen when things get hot and steamy if a big cooking session is underway!"
Alison Davidson is well-respected British interiors journalist, who has been the Homes Editor of Woman and Home magazine, and the Interiors Editor for House Beautiful. She regularly contributes to Livingetc, and many other titles, and often writes about kitchens, extensions, and decor ideas. She is the go-to for information about green energy, sustainable home improvement and eco design ideas.