How to plan a kitchen extension - expert advice for getting it right from the beginning
Knowing how to plan a kitchen extension means your big project will be smarter, easier and more stylish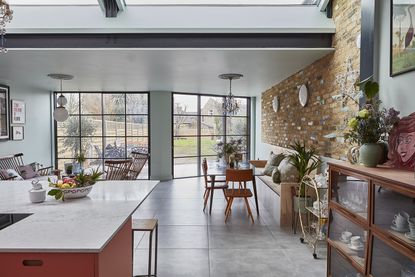 (Image credit: Pluck)
The most important thing to consider when wondering how to plan a kitchen extension is how much available space you have and what you want from it. An extension that is too big, or too small could spoil the look of your home and possibly de-value it. So to make sure you have one of the best kitchen extensions, call in the experts - an architect and a kitchen designer at the beginning, to see what can and can't be done.
Choosing professionals that you get on well with, and understand your vision is imperative, so do your homework and get at least three different opinions, or ask people for recommendations. You can also contact RIBA (Royal Institute of British Architects), FMB (Federation of Master Builders) or RTPI (Royal Town Planning Institute) to find an architect, contractor or planning consultant. Building approval is required to ensure any new rooms have adequate ventilation and drainage and meet requirements in respect of structural stability, electrical and fire safety. Most planning applications need you to submit two plans as supporting documents:
A location plan, which shows the site and the surrounding area.
A site plan, which shows the proposed development in detail.
In the US due to the vast amount of land available it's possible to build in a city or county that has no planning, zoning or building codes, unless your building is somehow impeding on another property owner's rights. Most building codes are enforced at the city or county level, so check locally.

The application process for planning permission in the US varies by jurisdiction, but typically includes:
A site survey
A proposed site plan
An environmental site analysis
An environmental impact analysis
An analysis of supporting infrastructure for the planning action
William Durrant, owner of Herringbone Kitchens in the UK suggests:
"Research: When starting your kitchen design process, gathering ideas and inspiration always gives the best outcome! Instagram and Pinterest are great ways to find and save inspiring images that will give you a better idea of how you imagine your kitchen to look
Planning: If you are planning an extension/addition/remodel, visit your kitchen designer with your plans after you have had your planning permission accepted. This should avoid the need to compromise on your design later on and your designer will be able to provide your builder with drawings of your kitchen design"
https://www.herringbonekitchens.com/

Louis M. Weiher, CR, CCP, president, owner, and general manager of Carmel Builders, Inc., in Menomonee Falls, Wis. USA advises:

"One of the most personal and serious things to discuss is budget. "To get started, before we even talk about design, we talk about budget. It's really important for us and for homeowners to have an honest discussion about budget. We can design a beautiful project that you'll love, but we can't say we can build it for a price you'll love. In 40 years, we've never had a client who didn't care about how much it costs." Your budget guides the design and the materials being used."
1 INITIAL STEPS
As Louis says, think about what you would like to achieve and set a budget. Even for small kitchen extension ideas, include a contingency budget of at least 10% for unforeseen problems. Research styles you like by visiting showrooms, looking online and buying interiors magazines. Create a moodboard or online folder of ideas. Research planning regulations in your area to check if there is anything that could affect your project, subsidence for example. Decide if you are going to stay in the house whilst the work is being done, if not, find alternative accommodation. Draw up your ideal timeline.
Barbara Sallick, co-founder of Waterworks gives her top five expert advice for knowing how to plan a kitchen extension:
"I always advise people to start in their closets first. If you wear all black and white, you are probably not going to be happy with a blue kitchen," Barbara says.
Next, look forward by looking back. "Inventory your kitchen memories," Barbara says. "Think about the memories you have from kitchens in your past, and think about the memories you want to create in your new space. The single most important design consideration in a kitchen is to make it personal. Think about how you will use it, how you want to live. If you can make it personal, it will function perfectly."
It's good to have decor ideas right from the start. "If you go with colour in a kitchen, do it with conviction. That means you really have to go all in. If you just dip a toe in the water, it won't be successful," Barbara says. "The one place you should never skimp is on gorgeous hardware. And the sink and faucet, they are the most used items in the kitchen."

2. GETTING STARTED
Choose your professionals - architect, kitchen designer, project manager and contractor. Also think about tradespeople – plumbers, electricians, joiners and get at least three quotes from each, again recommendations are priceless. Draw up plans and get any necessary planning permissions. Seek site insurance, if necessary. Appoint a project manager if it's a big job, and you're thinking about things like glass kitchen extension ideas, it's well worth the extra cost.
"Once your budget is in place, look at what you want to fill the space with," says David Conlon, founder and head designer of En Masse Bespoke interiors. "A good architect will enable you to create a space that's unique to you, that delivers what you're looking for but will also work with great trades that can deliver the project for you rather than running the risk of using trades which can't deliver. They'll also help you to go that next step down the line, to look and think outside the box and deliver a conceptual design, rather than a box on the back of a house. Appliances should also be considered early on, as the space needed for them can instantly change how much room you need within the extension. They will also change the budget."

3. FIRST PHASE
Place orders for materials such as glazing, doors and skylights. Research interior designers if you aren't confident enough to do it yourself and get quotes. Order skips and a portaloo if necessary. Check on planning permissions and appoint tradespeople. Plan frequent site visits if not on site and schedule regular meetings to keep everything on track.
"Start by making a list of your needs and requirements," says Fiona Ginnett, Head of Design, Hølte. "How will you use the space, and what other functions do you need it to perform? How would you like it to connect to other areas of the home and outside spaces? Family dining, playroom, entertaining, baking, arts & crafts with the kids, home office, yoga studio… The kitchen is at the core of the home, so finding an experienced and trustworthy kitchen designer and supplier is vital. They can help you get the most out of space and obtain maximum functionality while staying within your budget."
4. THE NEW SPACE
Construction begins of the new space. Fit glazing, doors and skylights. Install new plumbing and heating. Fit new electrics. Carry out any plastering. Choose tiles, wall finishes and flooring then check your design and make any changes. Finalise the timeline.

"Light is also a really big consideration when it comes to planning an extension. I refer to it as 'the fourth wall', says Sarah Thompson of Thompson Clarke Interiors. "Introducing natural light where possible is a must and this can be done in a variety of ways from roof lanterns, and flat Velux windows to sloped glazing which will give a contemporary feel. The general rule of thumb is that as extensions/additions get deeper as the light quality lessens, so a good extension will factor in where to boost natural light and where to introduce elements such as pendant lights, LED strip lights and washed wall lights."
5. PLAN THE INTERIOR
Once the space is nearing completion, measure up and check your moodboards and interior design choices. Design the internal layout. Decide if you can use any of your existing fittings and dispose of any unwanted fittings responsibly. Liaise between the design and construction professionals to ensure everyone is working to the same brief. Decide on the decorating scheme. Apply wall coverings. Fit new fixtures and fittings.
"Think about what you want your new kitchen to do and how it could look," says Tom Howley, Design Director at the eponymous kitchen company. "Consider creating a multifunctional hub at the heart of your home where you can relax, cook, entertain and catch up with loved ones. Plan where your kitchen essentials will sit and where your windows will be. For example, arrange seating and dining areas to face the best view of the garden and, if you like to chat while you prepare dinner, think about having your hob on your kitchen island so that you're part of the action."
6. FINAL TOUCHES
Finally, the fun part when wondering How to plan a kitchen extension. Decorate. Select and fit window treatments. Place furniture and any new lighting. Accessorise with soft furnishings, art and favourite items. Treat yourself to some new pieces to finish off the new scheme and above all enjoy!

Benji Lewis, interior designer and founder of Zoom That Room says
"When planning a kitchen extension in the US, it's important to include a downtime lounge/soft seating area, and whilst in the UK we're most likely to have the traditional configuration of table and chairs, the Americans have long been fans of the breakfast bar – an immensely sociable inclusion allowing the person prepping food to engage with their friends whilst at the same time preparing a meal."


"Do not rush into solutions and make sure that the design reflects your needs," says Barbara Cortesi of Barbara Cortesi Interiors. "It's easy to see someone else's' project and think that it is exactly what you want. But every family, every house, every kitchen (and every budget) is different. Do not say YES to the first design that is presented to you just because it looks right and exciting. Creating something that is tailored to you takes time."


Alison Davidson is well-respected British interiors journalist, who has been the Homes Editor of Woman and Home magazine, and the Interiors Editor for House Beautiful. She regularly contributes to Livingetc, and many other titles, and often writes about kitchens, extensions, and decor ideas. She is the go-to for information about green energy, sustainable home improvement and eco design ideas.