8 genius spots for a wine fridge outside the kitchen which will prove you're really living your life well
Because when is it never a good idea to have a wine fridge fill with chilled tipples and refreshments on standby?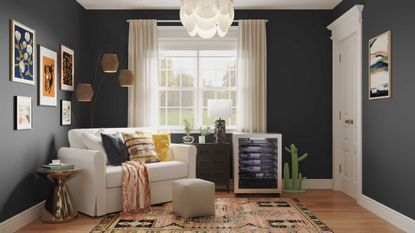 (Image credit: Havenly)
The Livingetc Newsletter
For style leaders and design lovers.
Thank you for signing up to LivingEtc. You will receive a verification email shortly.
There was a problem. Please refresh the page and try again.
Whilst a wine fridge is a welcome addition to any kitchen ideas, it's not the only space this nifty appliance works wonders. And an increase in designers using them to enhance other spaces in the home is evidence of the upward trend.
'We are seeing an interior design trend for wine and beverage coolers used throughout the home,' says Luke Siow, president of luxe wine cooler design brand Zephyr . 'They are becoming increasingly popular in the home office, garage, den and, of course, home wet bar. This frees up space in the main refrigerator and ensures cold drinks are always on hand.'
Stuck for ideas? See below for a roundup of rooms that designers think are perfect for a wine fridge.
Where to put a wine fridge when it's not in the kitchen
1. The utility room hybrid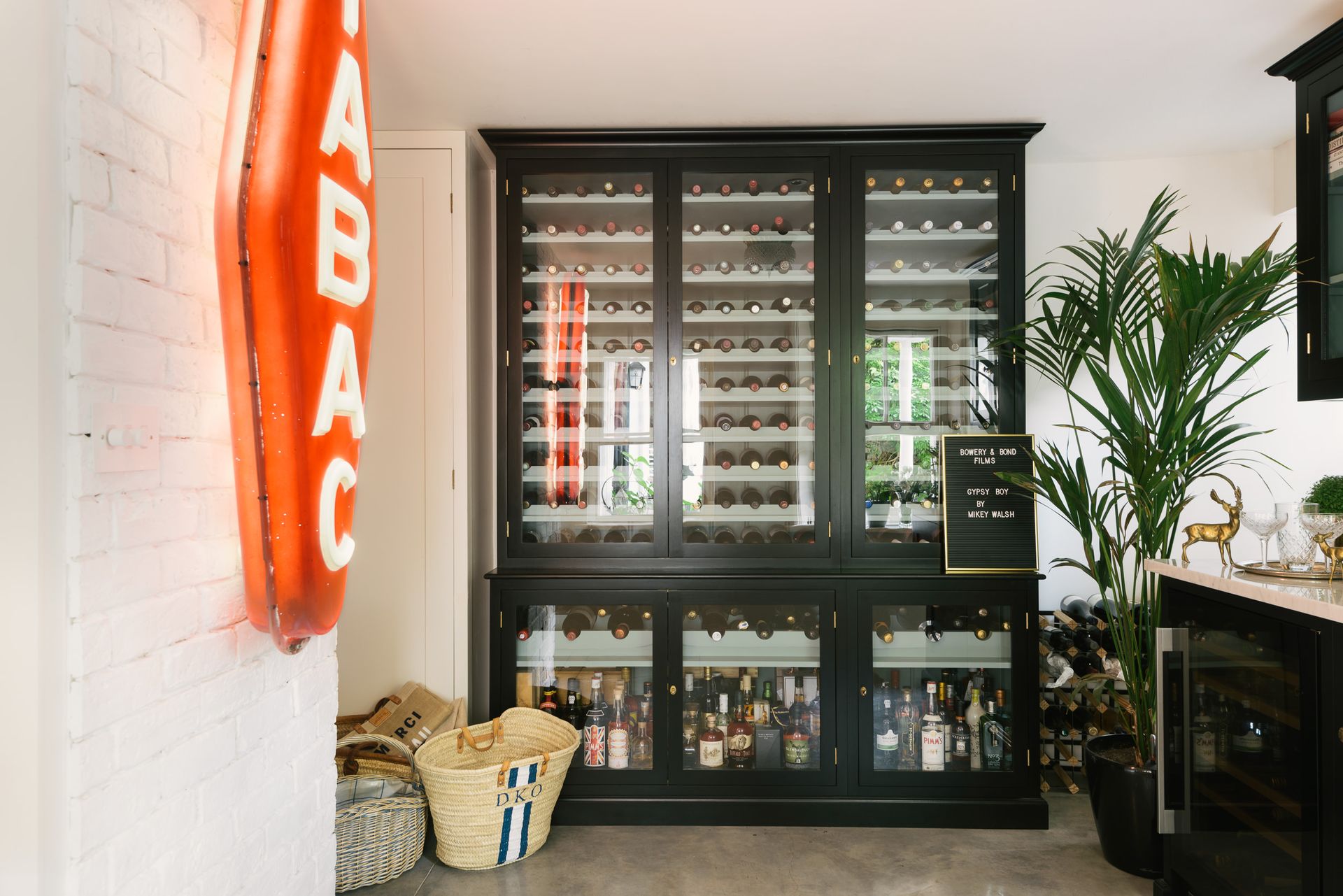 The rise of the hybrid utility room has seen an increase in people making work really hard as a multifunctional space - including a wet bar area - making it a perfect spot for a wine fridge.
'The utility/laundry room nowadays generally has more than one purpose,' says deVOL Creative Director Helen Parker. 'It has hooks for coats and cubbyholes for boots – the mudroom bit. Then it may have a wine fridge and a sink – the bar bit. Then it may have deep cupboards for ironing boards and appliances – the utility bit.
'These hybrid rooms that serve many functions are a useful way of getting bulky things out of the kitchen. This is great as, with clever design, the rooms can still be made to look lovely and functional with the use of tongue and groove boarding, shaker peg rails and lift-up seats to store shoes and dog paraphernalia.'
2. The dining room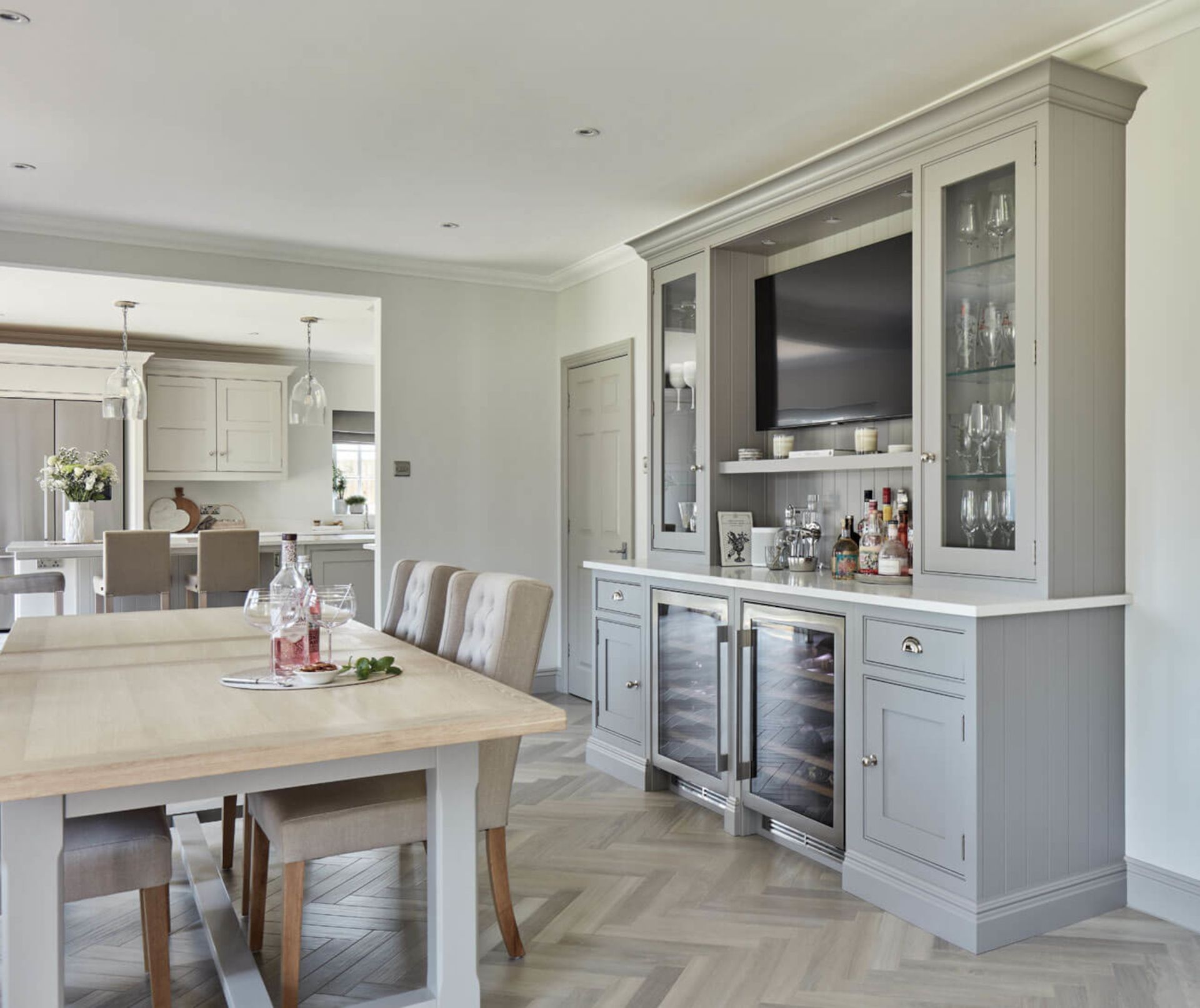 When you're hosting a dinner party in the dining room, the last thing you want to do be doing is leaving your guests for constant disappearing acts to the kitchen to get more drinks.
A bar area - including a handy wine fridge - is a brilliant idea for the flow of the evening.
'Every room deserves a feature piece, and a bar is the ultimate statement,' says Chris Hanger, Kitchen Designer at Tom Howley. 'The key is to have a versatile area that can be used all the time, not just for the occasional party. A built-in dresser is perfect for everyday use as it can be repurposed as a bar in the evening.'
By adding an integrated wine fridge, you're making the unit work even harder, and offering access to chilled drinks from the dining room as well as the kitchen.
As well as parties, easy access to cold refreshments could also be handy if you're dining table doubles up as a desk when you're working from home.
3. The living room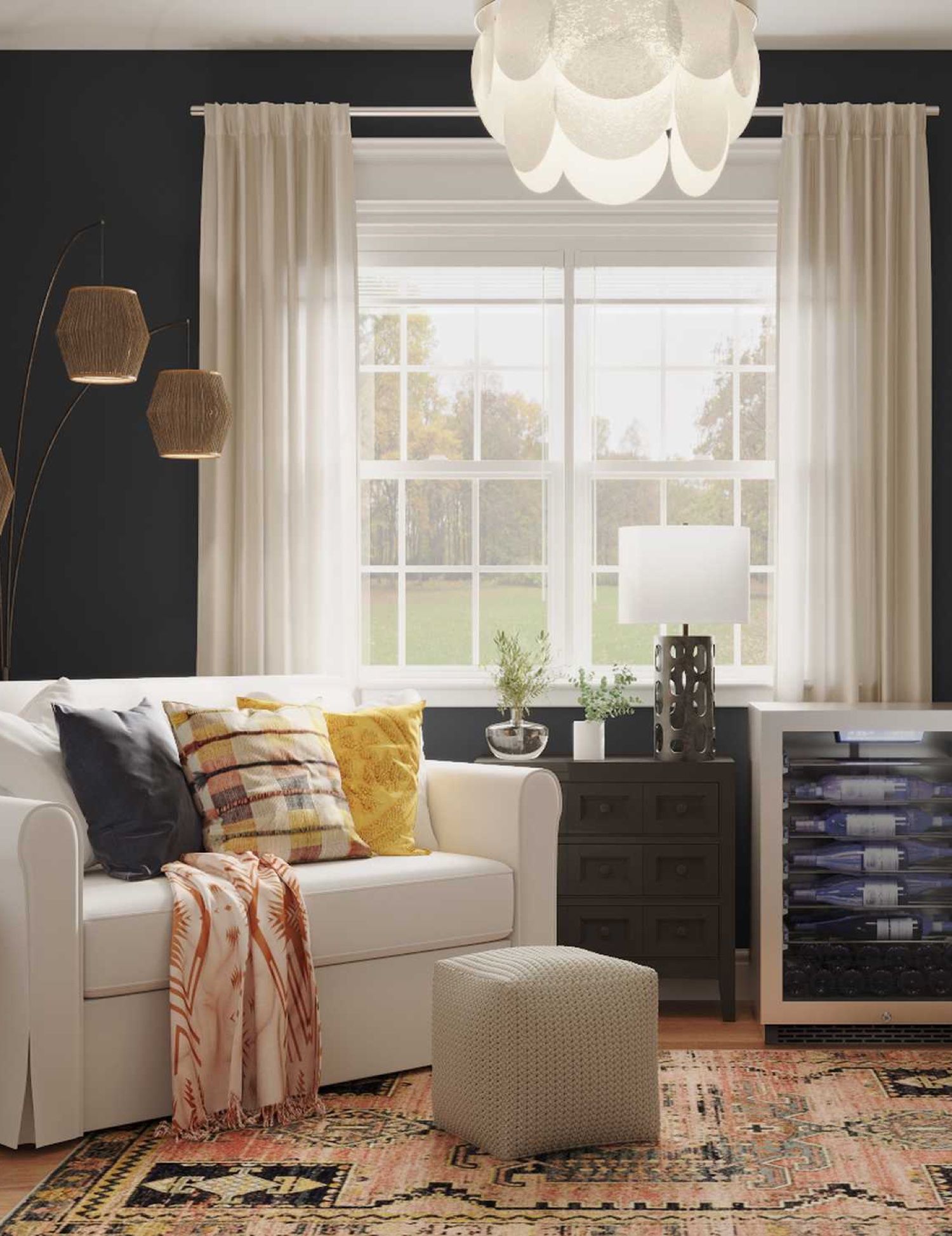 Be honest: who hasn't had the debate about who's getting off the sofa to go into the kitchen to grab another drink mid Netflix marathon?
As well as your favorite tipple, a wine fridge can also keep soda cans or bottles of water cool for your no-move movie refreshment.
'While it's common to find wine fridges in a kitchen or pantry, with a little design love, they can be a very functional (and stylish) addition to living areas (particularly family spaces and basements),' says Heather Goerzen, of interior design hub Havenly.
'In an ideal world, it's built in to match the millwork. But you can also camouflage one beside a sideboard and potted plant, or use it as an 'accent table' with a basket of blankets layered next to it.'
4. The basement/Snug/TV room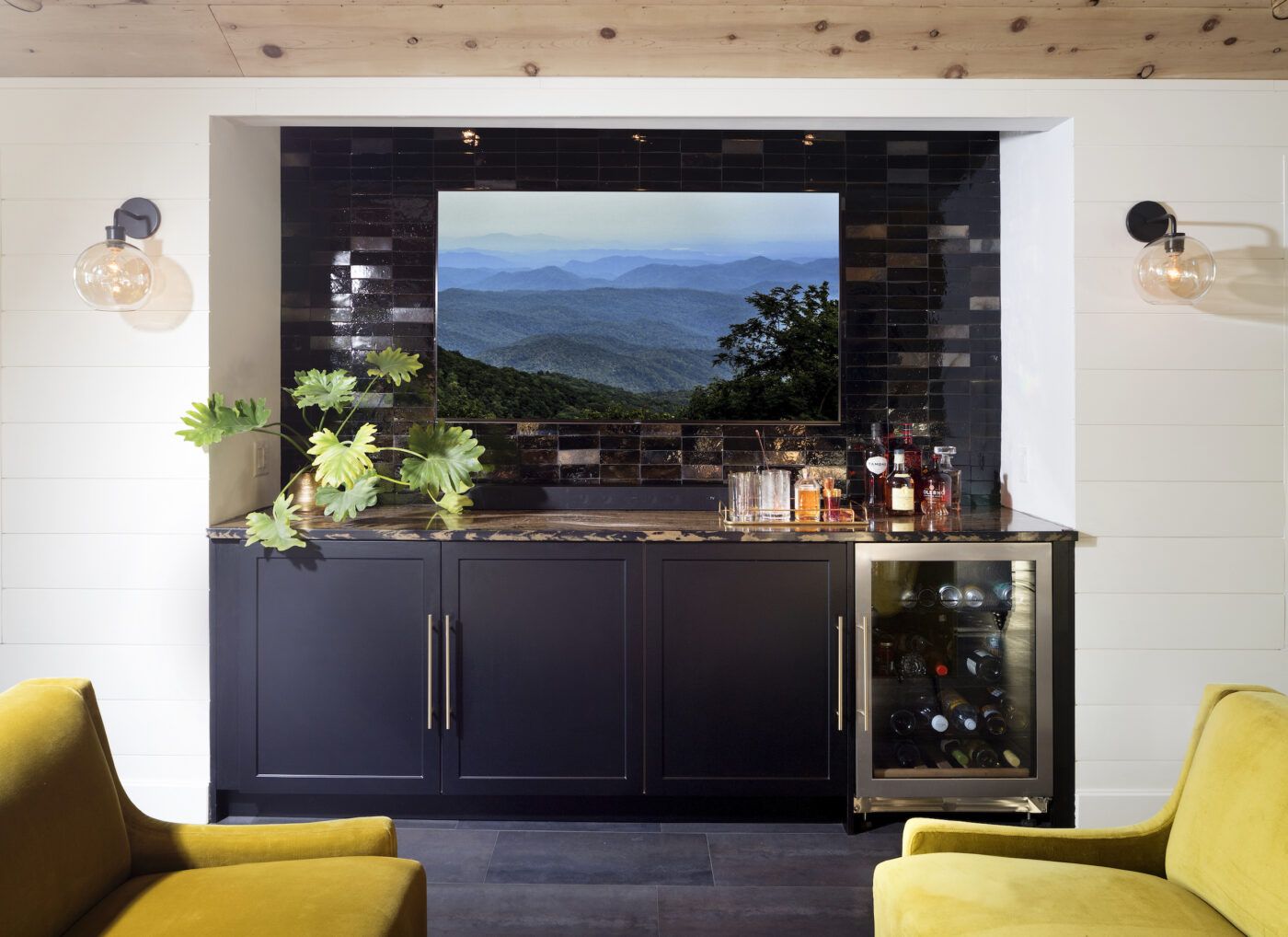 A basement or snug is the perfect cozy-up space for a bar area and integrated wine fridge.
'There's no rule dictating that your home bar has to be in your kitchen or pantry,' say the experts at Semihandmade.
'El Rancho's living room bar is a compelling case for adding a wine fridge and countertop bar right where you tune in for movie night.
'In lieu of a media console, IKEA cabinetry with Semihandmade Black Supermatte Shaker fronts makes for an elegant, custom entertainment hub.'
5. The sun room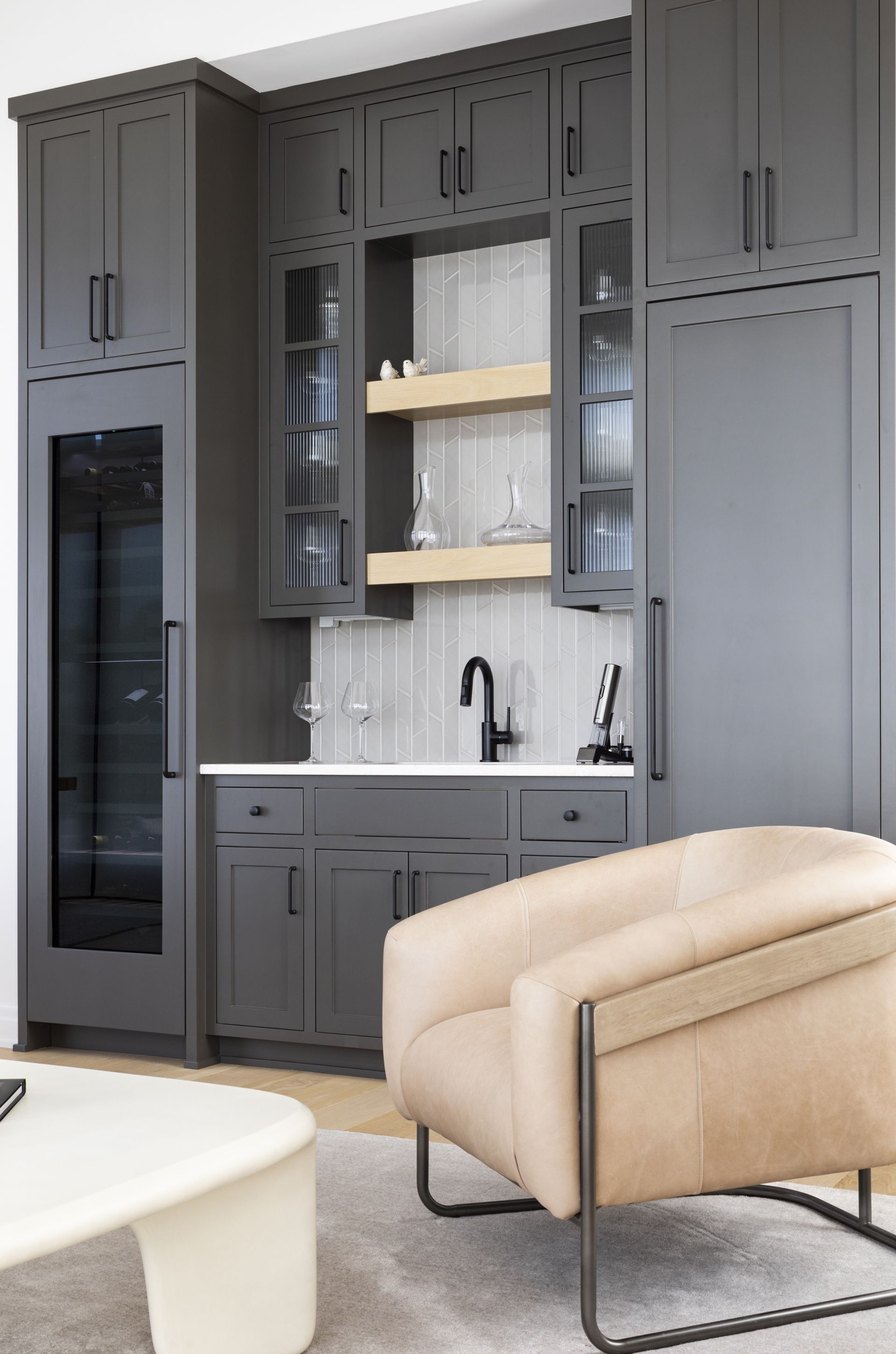 A sun room with direct access to an outdoor entertaining area is the perfect spot to install a bar area with wine fridge.
Swanson Homes and Carbon 6 Interiors created the stylish and practical sun room above.
Lindsey Swanson, of design studio Carbon 6 Interiors, says: 'Our clients love to entertain, so we put both a wine fridge (left) and a custom paneled regular fridge (right) in this sun room's bar area, which also provides easy beverage access to the walkout patio and outdoor kitchen island in the backyard.'
6. The She Shed/Man Cave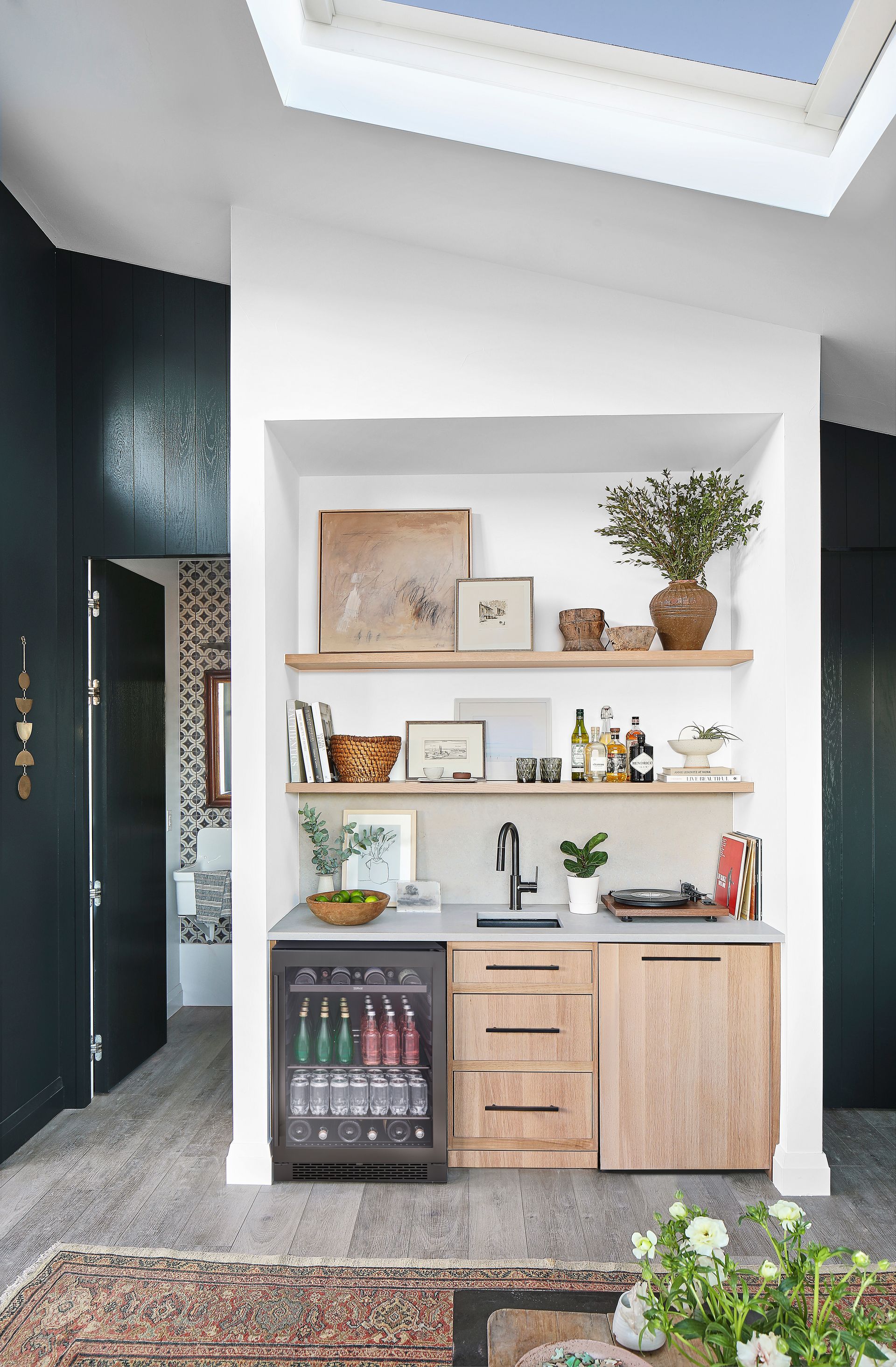 Whether it's a she shed, a man cave, a den, or whatever you like to call it, a separate space where you can enjoy some quality me-time or entertain friends is an increasingly popular addition to a home.
Elevate the space, and make sure there's no reason to leave if you don't want to, by creating a bar area with wine fridge.
The room above features a Presrv Wine & Beverage Cooler by Zephyr, which is perfect for chilling all types of drinks.
Add a vintage-style area rug, some pretty houseplants, artwork and ceramics, and you've created an inviting space to hang out in.
7. The bathroom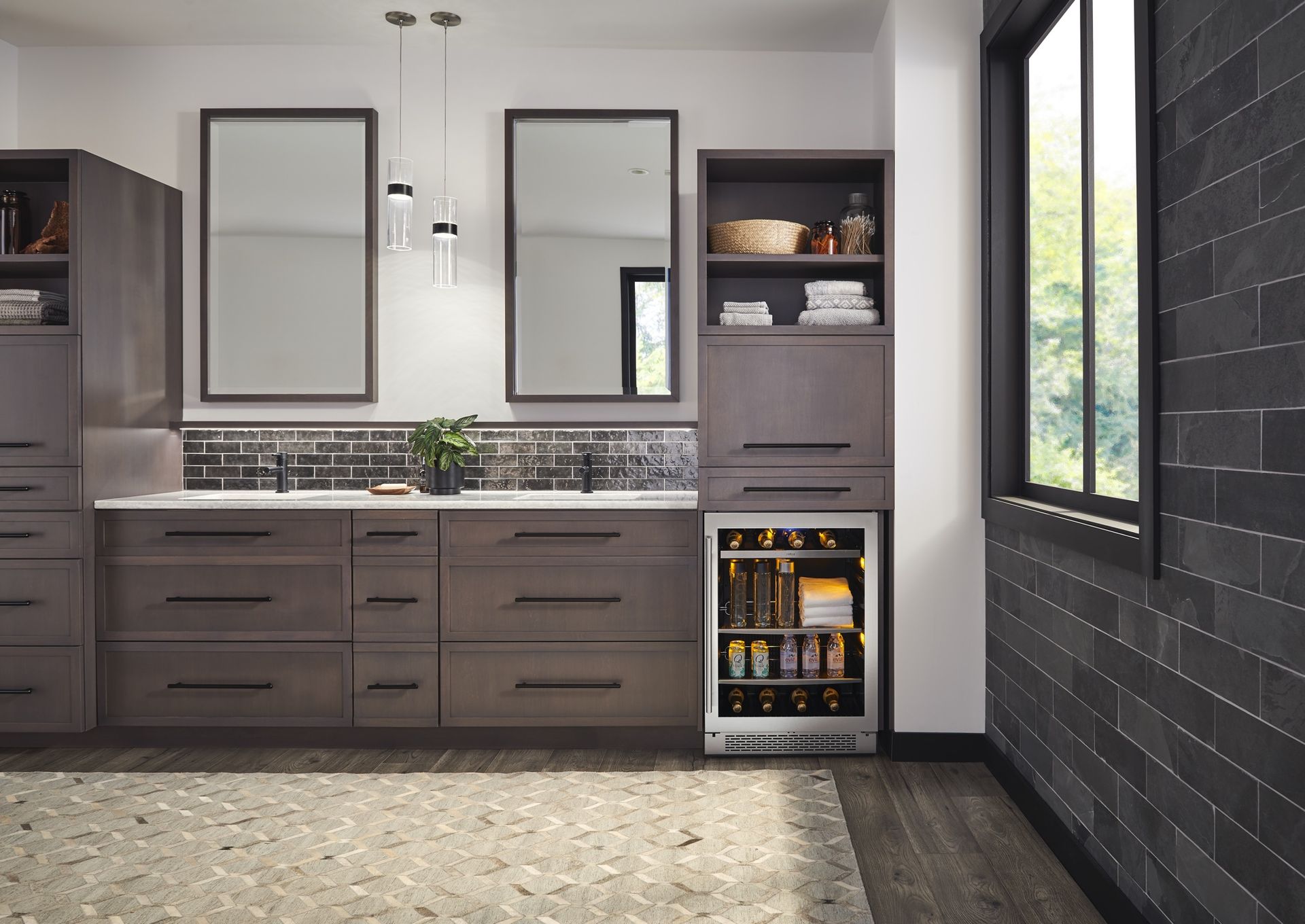 There's a plethora of reasons why a wine fridge is a great bathroom idea. First up, some medications and vitamins are best kept at below-room temperature, so you won't have to head back to the kitchen to take your daily base if you have them chilling in your ensuite.
Products and creams, as well as face masks and towels, are so soothing when applied straight from the fridge. You may also want to keep natural ingredients in your bathroom fridge, like cucumbers for depuffing eyes.
If you're taking a long, hot soak, it's good to have a chilled bottle of water on hand to keep you hydrated. What's more, you may simply want to grab a cold bottle of water to take to bed without having to go back out to the kitchen.
8. The pantry bar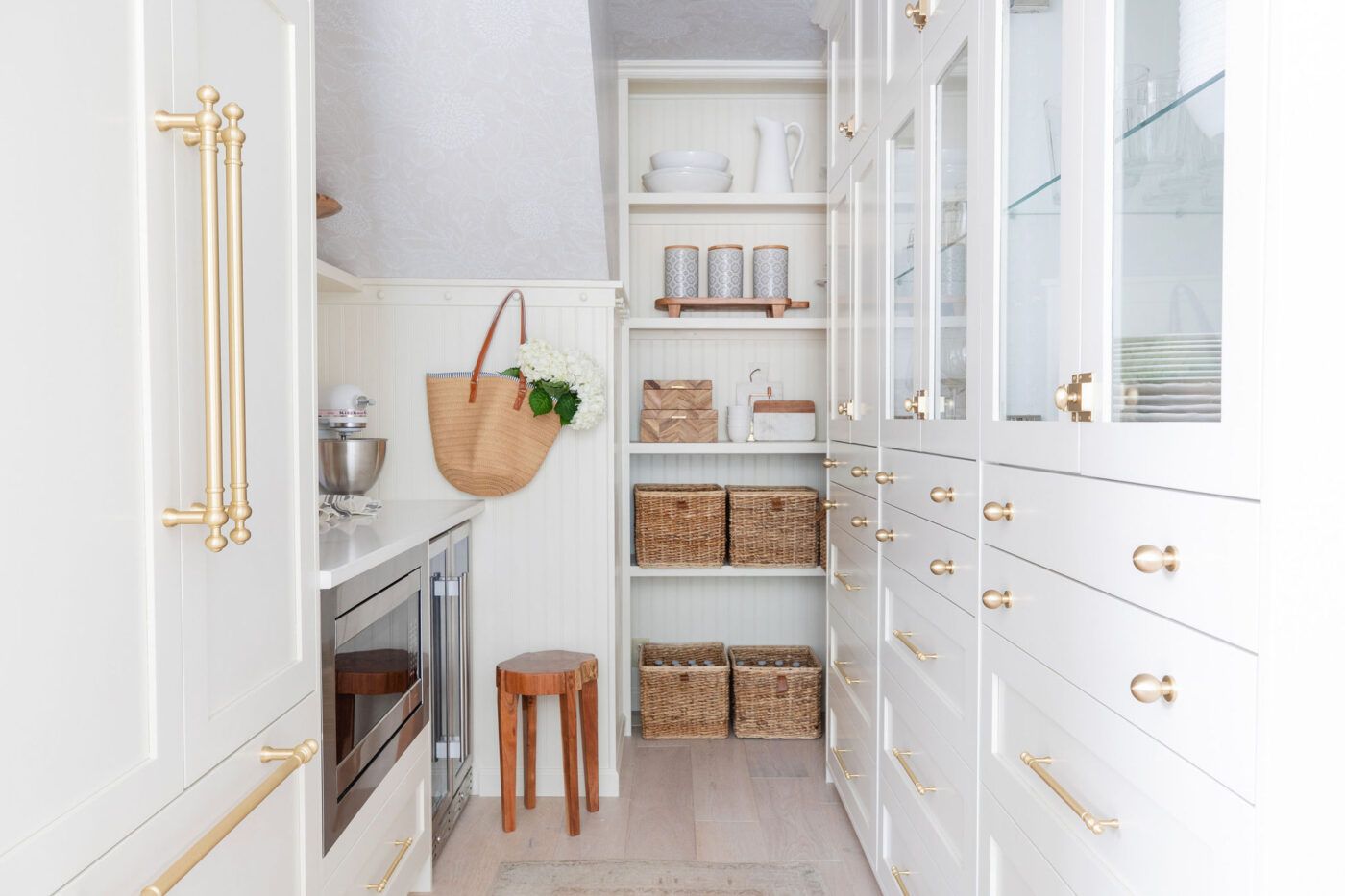 Multifunctional spaces are becoming de rigueur to accommodate a busy family's lifestyle and needs.
Popping your bar area and wine fridge into the pantry means you can create a dedicated space to make your favorite sips without taking up precious room in the kitchen.
The pantry above was designed by Jessica Jones to accommodate her growing family in northern California. She used Semihandmade DIY fronts painted in Benjamin Moore Creamy White for the space.
Semihandmade says: 'The pantry is almost like an extension of the kitchen.To access it, you have to walk down a small hallway just beyond the stove. It has food storage, much like your typical pantry, but it also contains the refrigerator, a microwave, a wine fridge, and a large countertop for a baking corner.
'Though this space has all of the same aesthetics as the main part of the kitchen, it's tucked away from the hustle and bustle, making it a great space for hiding the mess of preparing cocktails or appetizers when entertaining.'
You can create a really pretty pantry space that's practical too. Try integrating your win fridge into a display cabinet area that shows off your happy hour essentials and attractive servingware.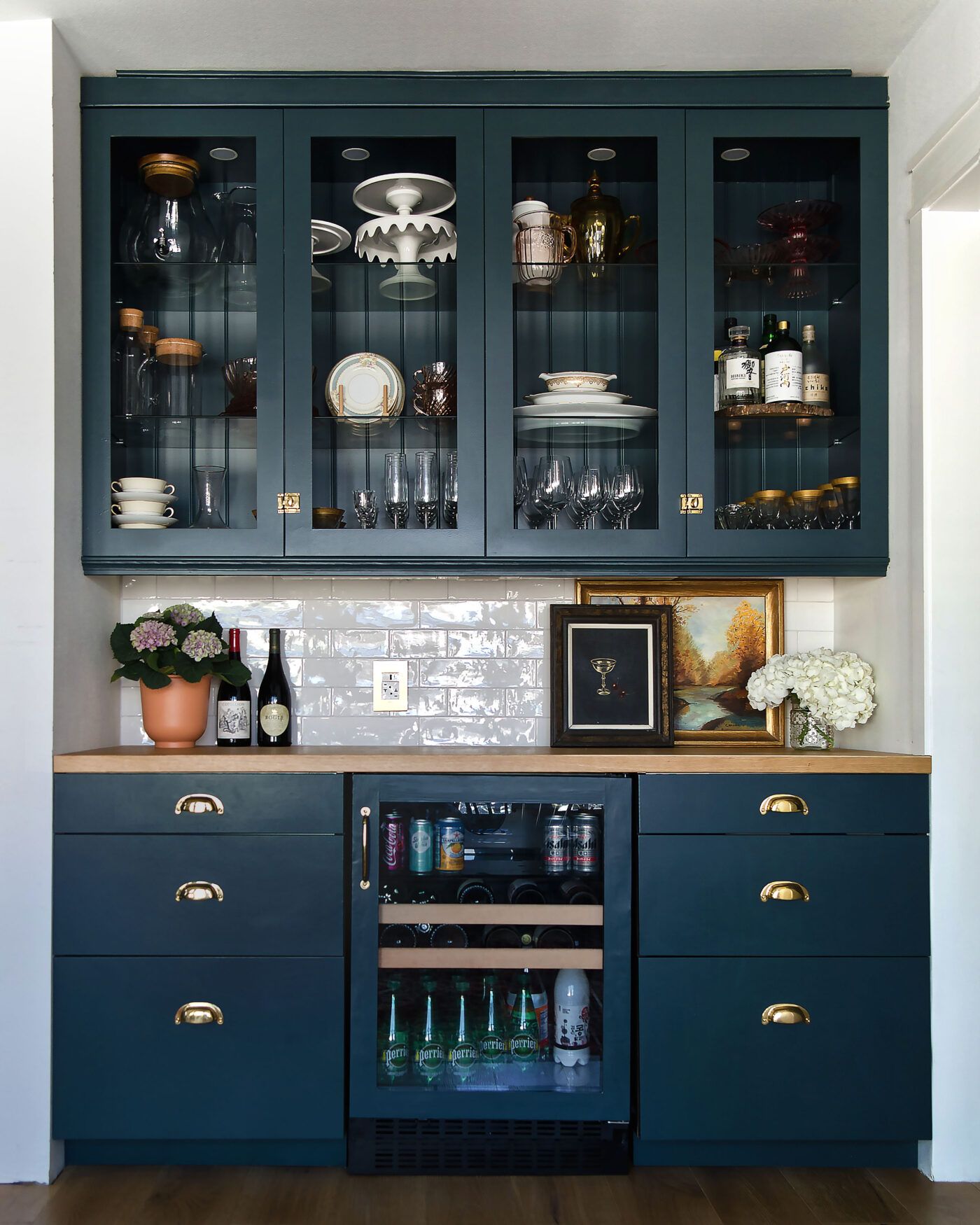 Cabinets and Semihandmade DIY Shakers fronts in the space above by Tyler and Jessica Marés of Renovate108 are painted in Benjamin Moore's Narragansett Green.
'The details, like incorporated panels on the wine fridge and beadboard cabinet backs, make this home bar look especially refined,' says Semihandmade.
The best wine fridges to buy right now
For style leaders and design lovers.
Ruth Doherty is a lifestyle journalist based in London. An experienced freelance digital writer and editor, she is known for covering everything from travel and interiors to fashion and beauty. She regularly contributes to Livingetc, Ideal Home and Homes & Gardens, as well as titles like Prima and Red. Outside of work, her biggest loves are endless cups of tea, almond croissants, shopping for clothes she doesn't need, and booking holidays she does.