Christmas wreath making just levelled up with this artist's beautiful festive take
Christmas wreath making just took the most beautifully artistic turn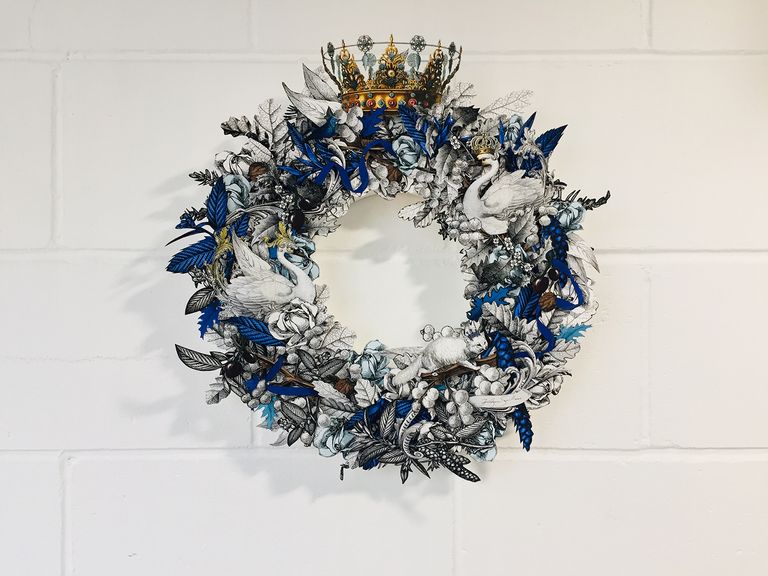 (Image credit: Kristjana S Williams)
Christmas wreath making just reached new levels of beauty. London-based Icelandic artist Kristjana S Williams has turned her hand to the form and the result is rather extraordinary.
We've seen wreaths come in all colours and sizes this year, but Kristjana's is something else. Known for fantastical illustrations that feature imaginary animals, outlandish plant life and collaged landscapes – usually across art and wallpaper – her foray into Christmas decorations has resulted in a thoroughly modern Christmas wreath and a playful contrast to the traditional yuletide aesthetic.
The unusual wreath sees swans, artic foxes and reimagined sparrows bedecked in festive headdresses and nestled among walnuts, berries, roses and leaves, delicately depicted on high quality archival paper.
The palette is stark monochrome, accented by the Pantone 2020 colour of the year, Classic Blue, finished with a gleaming gold crown in a whimsical contrast to classic Christmas decorations.
Exquisite three-dimensional artworks, the wreaths are available in a limited edition of just 25 signed and numbered pieces, with each component cut, folded and pinned in place by hand, making every one unique.
'I approached the wreath in the same way as my art, but it is also a celebration of the creativity and craft of the holidays' says Kristjana. 'I wanted it to be a very small edition to make it that extra bit special.'
You can order one of Kristjana's wreaths here