Christmas window decor ideas – stylish ways to create a cozy festive scene
Add some holiday magic for you and passers by with these twinkling Christmas window decor ideas...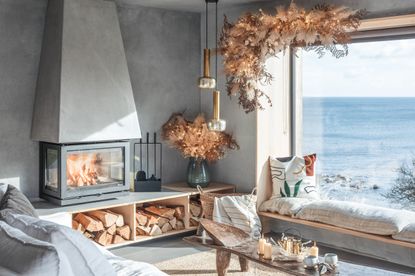 (Image credit: Unique Homestays)
Christmas window decor ideas not only create festive magic inside your home, but also spread Christmas cheer for neighbors and onlookers too.
'Twinkling lights and candles are a fantastic place to start. 'Elegant candelabras, dining candles, battery-powered candles, tea lights, light curtains, string lights, and hanging LED candle rings are all a chic choice,' says Joanna Spindler, of Graham and Green. 'They are reminiscent of the old tradition of placing lanterns in windows as a sign of good news or as a beacon to welcome in weary travelers.'
There are plenty of ways to dress your windows for Christmas, from hanging stars and baubles on branches for a minimalist scene to going all-out with lights, wreaths, Christmas villages, and garlands.
We've tapped the experts for seven top tips on Christmas decoratiing ideas to adorn your windows below so you've got all the inspiration you need for a fabulous festive display...
Chic Christmas window decor ideas for all to enjoy
1. Hang a decorated garland
'Garlands are great for decorating windows,' states Connor Prestwood, interior designer at Dowsing & Reynolds. 'Drape these just low enough so you can see them from the outside and decorate them to your heart's content. Don't forget the lights though, these will add that sense of magic.'
Hanging baubles from your garland is a pretty and easy idea. And if you don't want to decorate your garland, simply drape it around the top of your window adds a festive touch.
2. Pretty up a vase of branches
Create a colorful display with a simple vase of branches from the garden. Add anything you like, from sparkly baubles and birds, to paper decorations.
Ailie Williams, stylist at Neptune, says: 'Place a vase or vases along a windowsill, fill with sturdy twiggy branches and dress those with baubles to create a pretty display. Dot in some tea lights to create a festive flicker.'
3. Place a small Christmas tree on a console or bench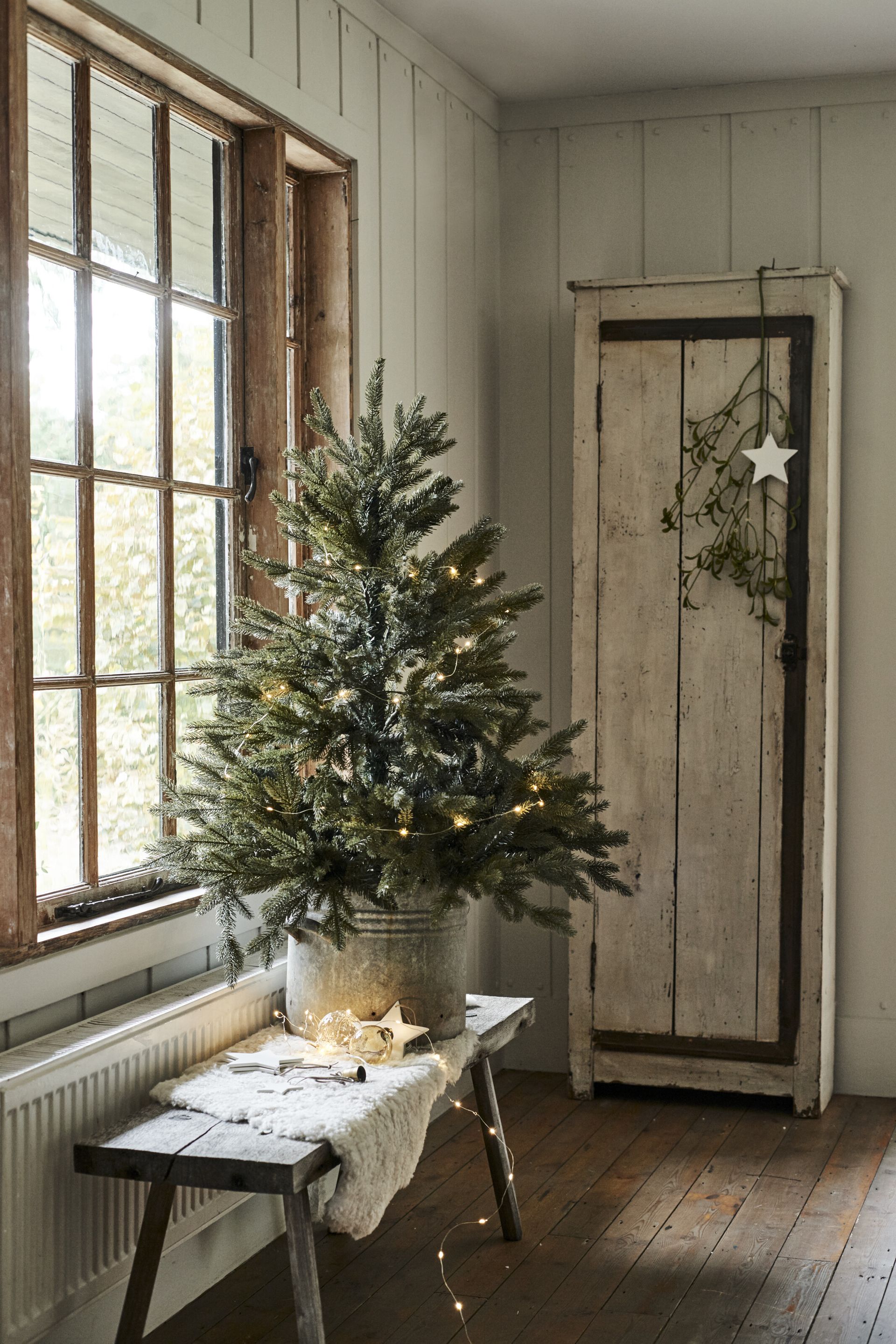 If for any reason you feel reticent about attaching decorations to your window, you can always create a festive scene in front it.
A lovely idea is to place a small Christmas tree window side to create an ambient look from the outside and in. This is also a great Christmas living room idea if you're short on space and can't fit in a full-sized tree.
Dani Taylor, stylist at Cox & Cox, says: 'We love to get creative, especially with small spaces. Why not try a smaller tabletop tree on a console in front of the window, which could double up as window decor and your main tree.'
4. Display a simple wreath
Sometimes you can't beat the basics - and a simple wreath will always add a lovely festive feel to your window display.
'When it comes to the holiday season, there's something so comforting and nostalgic about sticking with the basics,' says Kate Marker, of Kate Marker Interiors. 'Adding a wreath to the a window or glass door not only creates a welcoming presence but the greenery also breathes life into a space too.'
Of course, if you feel like adding a little glow to your wreath, you can always wrap fairy lights around it for an extra festive finish.
5. Seeing stars
Star decorations are a chic festive addition if you don't want to steam full tinsel ahead. You can choose anything from paper versions to LED-lit metal options for a holiday glow.
Simply hang from your window frame or, for something a little different, why not affix a branch to the wall or ceiling near the window and hang stars, or any decoration that pleases you, from there. This will create a pared-back Scandinavian style scene, as displayed in the chic room at Unique Homestays above.
Ailie Williams, stylist at Neptune, says: 'Frame a window with a branch, weaving in fairy lights and hanging a selection of stars or baubles to create a lovely focal point in a room.'
6. Create a magical scene with mini Christmas houses
'Rather than create a window scene from scratch, try a ready made solution,' suggests Dani Taylor, stylist at Cox & Cox. 'We love house-shaped tea light lanterns on windowsills.'
You can also buy faux gingerbread houses for pretty Xmas cheer. Why not pepper the windowsill with other small Christmas items like candles and mini trees, too?
Neptune's Ailie Williams says: 'I like to ensure whatever's in the window looks as good from the outside as it does inside. Christmas houses are perfect, tick this box perfectly and create that essential cozy glow too. Cluster them along the windowsill in amongst mounds of moss and little trees of forest branches.'
7. Let it glow with candles and fairy lights
Is there anything more magical than flickering candles and ambiance-inducing fairy lights?
'During the dark evenings, it's a joy to walk past windows and see them lit up with twinkling lights,' says Joanna Spindler, PR & Marketing Manager at Graham and Green. You can choose from strings of fairy lights, fairy light curtains, icicle light curtains, star light curtains, candelabras or a row of faux battery-powered candles for a safe and pretty scene.
Olivia Alers-Hankey, from Candle Flair, says: 'Nothing can brighten up your window like a display of Christmas candles. Treat your neighbors and visitors with the inviting and warm glow of tapered dinner candles.
'To decorate your window candle display we suggest using a combination of three candle heights and a mixture of your Christmas theme colours. The mixture of heights and colors create more of an exciting and intriguing display.'
You can also add fairy lights to a wreath or garland and drape it around your window frame.
How do you decorate a window for Christmas?
There are myriad ways to decorate a window for Christmas to add magical Christmas cheer inside and out.
'When it comes to decorating your window for the festive season, the key is to think about creating the perfect atmosphere,' says Besky Tasker, of Lights4Fun. 'Your window should be cosy and inviting from the outside looking in, giving your home a warm feeling, drawing you inside on brisk winter evenings. Candles and warm white curtain lights are staples when it comes to window styling, paired with festive accessories to perfectly suit your personal style.'
Louise Wicksteed, design director at Sims Hilditch, adds: 'A windowsill is a great place to create a festive window display using branches and foliage foraged from the garden.
'Alternatively, if your window has a seat, consider arranging cushions in colors and textures representative of your home's natural surroundings during the festive season. This might include mossy greens and tawny reds. You may also like to place a cozy throw here to encourage a relaxed and cozy atmosphere.'
And, of course, don't forget the glittering lights. Sophie Taylor, of Lights4Fun, says: 'Our top tip when decorating windows is to add decor at different levels. Start with a window curtain light secured up high to fill out the space, then add a garland to the base of the windowsill.
'We love entwining Christmas wreaths and garlands with microlights for a delicate sparkle. To complete the look, add mini Christmas trees and LED candles to windowsills for a festive glow.'
What do you put in a window for Christmas?
'I love a classic wreath with a ribbon,' says Kim Armstrong, Owner + Principal Designer at Kim Armstrong Interior Design.'
'It's so timeless and classic, and just reminds me of the Christmas season. I also remember my mom putting a single candle in the window, during the Christmas season. It was my job as a kid to run to every room and plug in the candles as the sun was going down.'
Of course, decorating opportunities are endless and can go as minimalist or maximalist as you like. Draping a garland around the window frame adds an easy festive touch, and you can weave in fairy lights for a pretty finish.
Connor Prestwood, interior designer at Dowsing & Reynolds, says: 'For a more minimal approach, why not hang some lovely decorative baubles, stars, paper honeycombs and decorations at varying heights in your windows? These can be highlighted by adding some LED micro fairy lights. Minimal, yet beautiful.'
Dani Taylor agrees that lighting is a good choice for Christmas window decor, commenting: 'Icicle lights are a subtle and fun way to add lighting around windows. You can use them both inside and out, and they are connectable so you can add as many sets as you need to suit the size of your home.'
Neptune's Ailie Williams loves the Christmas houses approach. 'Creating an all-white display using houses and trees to create a village along a windowsill looks sleek and striking. When lit they create a cozy glow and will be a welcoming sight from outside.'
And Louise Wicksteed, of Sims Hilditch, says make it personal: 'Many of us have festive ornaments and decorations which have been passed down to us through the generations,' she comments. 'While treasured pieces, these might not be quite right for the tree. Placing a few favorites in the window bring character and personality to the room, perfectly celebrating the family element of Christmas festivities.'
How do you hang string lights on a window?
'When decorating your window with string lights, we advise opting for a Christmas curtain light, sure to add a seasonal sparkle to your home,' says Becky Tasker, of Lights4Fun. 'White LEDs introduce an elegant frosted feel, whereas a warm white curtain is the perfect if opting for a cozy winter home. Drape with ease by simply fixing to the top of your window using suction cups to secure.
'If you're renting or simply don't want to mark your walls then suction cups of adhesive hooks are the perfect choice. Stick these to the window or the wood above and hang your fairy lights however you'd like. For heavier curtain lights, we'd recommend using four or more hooks to secure your styling in place. The strings will drop like falling snow, dressing your window from the top to the bottom.'
And interiors stylist Lucy Gough, @style_by_lucy, says: 'I always buy a picture hanging kit (you can buy them from the pound store) and use the tiny screws in the wall above the window - one in each corner and hang them up that way. Or use command strips so you can easily remove them later.'
The Livingetc newsletter is your shortcut to the now and the next in home design. Subscribe today to receive a stunning free 200-page book of the best homes from around the world.
Ruth Doherty is a lifestyle journalist based in London. An experienced freelance digital writer and editor, she is known for covering everything from travel and interiors to fashion and beauty. She regularly contributes to Livingetc, Ideal Home and Homes & Gardens, as well as titles like Prima and Red. Outside of work, her biggest loves are endless cups of tea, almond croissants, shopping for clothes she doesn't need, and booking holidays she does.