Christmas tree trends 2021 - the colors and decorations to use this year
Christmas tree trends will help you dress your home in style, with expert insight into the very latest looks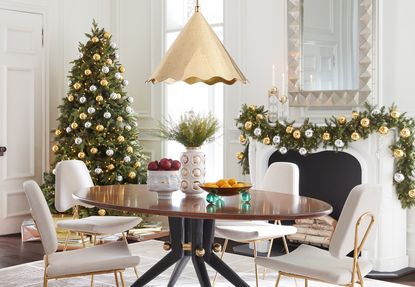 (Image credit: Jonathan Adler)
The Livingetc Newsletter
For style leaders and design lovers.
Thank you for signing up to LivingEtc. You will receive a verification email shortly.
There was a problem. Please refresh the page and try again.
These Christmas tree trends are just the ticket if you're in need of a little festive inspiration. You see, decorations are about so much more than red and green, and there are other ways to think about baubles that don't just involve the family favorites.
Perhaps you want to add to your existing collection of Christmas tree ideas, changing up the look you always go for, or you're after a whole new look - the experts offer their take on the latest looks this season.
Of course, the way to think about Christmas tree trends is that there are some staples that never go out of style. Twinkly lights, gleaming trinkets, and gift-wrapped boxes never fall out of favor. But these interpretations of how to decorate the tree all feel very now, while seeming totally timeless, too.
Christmas tree trends
1. JUST PICK ONE
If you're single-minded in your vision, then this Christmas tree trend is for you, and is one of the most cohesive alternative Christmas tree ideas. Paring back to just one color across the whole tree is not only a bold and stylish look, but also an incredibly easy one to execute.
Either invest in a few of the same sets of baubles, or as Annie Sloan advises, paint your own. 'A fabulously modern way to style a tree is by painting all your baubles in one statement block color - red is a great choice as it contrasts beautifully against the green of the tree,' Annie says. 'The single-use of color is bold and looks extremely sophisticated, whilst the contrast between the sheen of pine needles and the velvet soft finish of matt painted baubles is deeply satisfying!"
2. PLAYFUL PASTELS
A nostalgic trend, this look incorporates a more whimsical color palette and retro designs. Lucy Kirk, Creative Manager at Lights4Fun, enjoys how this look evokes happy childhood memories, 'The innocence of this Christmas décor lets us escape for a moment into a simpler and less complicated time,' Lucy says. 'It's a chance to take a step back and enjoy the whimsical charm of the festivities.'
Pastel pinks and blues are the backdrops to charming hints of nostalgia. 'Old festive trinkets, retro tree lights and vintage-style designs capture the sentimentality of the season, while pretty ribbons and bows offer an element of playfulness and fun', says Lucy.
For this look, ramp up the magical details - a faux frosted tree works beautifully with the color palette while twinkling wall decorations and candlelight offer that cozy glow.
3. GO ALL NATURAL
For something a little softer, you can't beat a palette of natural tones. Sitting beautifully against festive foliage - be it a tree, table centerpiece, or staircase garland - these hues will really accentuate the beauty of nature.
'The camel, tan and beige hues that make up the majority of our decorations collection are a softer take on the gold tones traditionally associated with Christmas,' says Lyndsey Goodger, Founder of Rose & Grey. 'Natural colors are a big trend this winter, and speak to the wider shift towards all things organic.' This has been seen all year with the return of beige living room ideas.
Of course, preserving the natural world is high on everyone's agenda, and Lyndsey advises decorating with eco principles in mind this Christmas - this maximalist season doesn't mean you have to forgo your attempts towards sustainable living. 'Our paper pieces are crafted using Katran, a 100% biodegradable material, handmade by upcycling fabric waste from the cotton industry,' she says. 'While Christmas can be a time of abundance, we want to ensure we are keeping sustainability front of mind – while still making homes look beautiful.'
4 MIXED METALLICS
Gone are the days of needing to choose between gold and silver, because this year, they're the new power couple. And who better to talk through this glamorous trend than the undisputed champion of refined opulence, Jonathan Adler. 'Nothing's sadder than a wan display of "festivity" during the holidays,' he says. 'You know that famous quote from Chanel about looking in the mirror and taking one thing off before leaving the house? Ignore it!'
Just like the principles of maximalism in interior design, combine these two metallic tones in abundance for maximum effect. 'Think of your home like an outfit your eccentric, rich aunt might wear and layer, layer, layer,' says Jonathan. 'Add gold, silver and sparkle across baubles and fairy lights - and in plentiful amounts. As long as you start with a chic foundation it will work.'
5. MAXIMALIST NOSTALGIA
Speaking of maximalism, there's really no shying away from tradition at Christmas, so if red and green is your thing, you may as well go for it! Jiin Kim-Inoue, Design Director at Finchatton, favors this approach; 'I'm a maximalist when it comes to Christmas, and I love the classics like red and green with lots of bling,' she says. 'As a designer, there can be a lot of pressure to curate our living space - but once a year, I like to hang up my proverbial designer hat and just enjoy the festivities!'
A twinkly glow is key to this nostalgic look, and Jiin reveals an insider secret on how to achieve the best sparkle in your Christmas decorating ideas. 'One very important trick I learned this year during our Christmas photoshoot at Twenty Grosvenor Square, was to wrap the lights tightly around the branches to form a good base,' she says. 'I used to just drape it and wrap it around the whole tree which then would get tangled and look messy. The other added benefit of wrapping the lights is that your tree will look at least 30% fuller and bigger!'
6. DOWN TO EARTH
If you love green, but are after a more contemporary alternative to red - try terracotta. It's been a firm trend in interiors for the past few years, and to much delight, it's now making its way into Christmas decorating.
'Terracotta and olive work so well together because they are both warm, earthy tones,' explains Ailie Williams, stylist at Neptune. 'While both are quite bold colors, they don't overpower each other and instead offer a gentle balance.' She adds, 'While red can often be quite a cool color, the warmth of terracotta will instantly add coziness to a space.'
Terracotta is one of those colors that go with grey, making it perfect for a sophisticated scheme. And when it comes to layering other elements into this look, take your cue from the natural world. 'These tones are very inspired by nature, which is always the best palette to draw from,' says Ailie. 'Enhance this by bringing in lots of natural elements such as greenery and decorated branches'.
7. NORDIC MINIMALISM
For when it all feels too much, take inspiration from Scandinavian design. Stripping the look back to its beautiful essentials, this trend is all about quality over quantity. But, there's a fine art to creating a minimal look that still feels warm and inviting, as Sandie Wallman, Founder of Nordic House, explains.
'A Nordic Christmas is all about creating a welcoming space,' Sandie says. 'Candlelight and fairy lights with a beautiful tree and verdant foliage can be all that you need for a minimal, yet atmospheric look. If you want to add a little more decoration, choose baubles that are in a very muted color palette, or are all the same material.'
What are the trends for Christmas 2021?
There are two pretty overarching themes in terms of trends for this Christmas. The first is a movement towards being overtly and unapologetically festive. From layering luxe metallics to nostalgic color combinations and maximalist decorating - there's clearly a yearning for all the festivities we may not have been able to have last year.
And for those who prefer things a little dialed back, nature prevails as a huge source of inspiration for festive styling. Earthy terracotta tones and sustainable materials are going to be high on people's wish lists this year, as we continually seek to bring our homes closer to nature.
What is the color theme for Christmas 2021?
The color theme for Christmas 2021 is all about joyful brights in both traditional colorways as well as contemporary alternatives such as magenta and blue are going to really bring the fun to your celebrations.
On the other hand, muted colors are going to be a big trend. Tones of olive green, soft taupe, and caramel look effortlessly beautiful on a Christmas tree, and incredibly sophisticated.
For style leaders and design lovers.
Interiors stylist and journalist Amy Neason was the Deputy Style and Interiors editor at House Beautiful for years. She is now a freelance props and set stylist, creating work for a range of national publications and brands such as Imogen Heath. She has previously worked at Established & Sons, and her skills include styling still life and interiors shots for editorial features and sourcing unique products to create inspirational imagery.

She is particularly respected for interpreting seasonal trends into feature ideas and style stories.