Christmas tree topper ideas – classic stars, festive fairies and quirky ornaments to finish off your decor
Whether you're a traditionalist or looking for something more unusual to adorn the top of your tree this year, let these Christmas tree topper ideas inspire...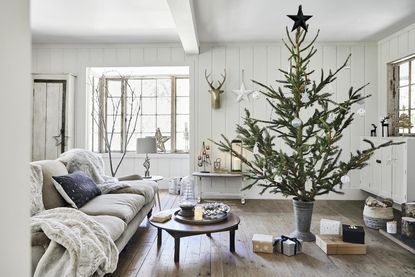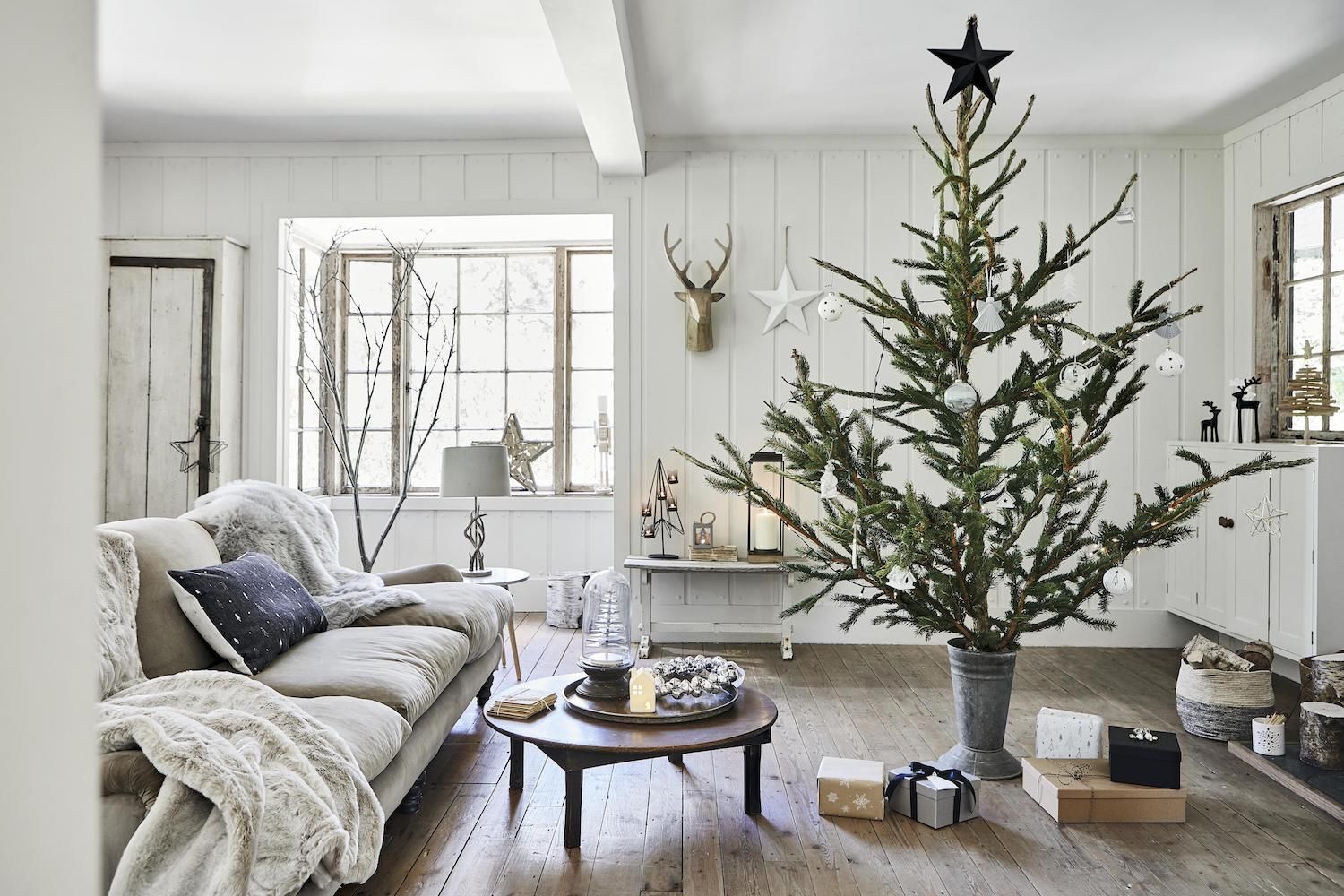 (Image credit: Matalan)
The Livingetc Newsletter
For style leaders and design lovers.
Thank you for signing up to LivingEtc. You will receive a verification email shortly.
There was a problem. Please refresh the page and try again.
When it comes to Christmas tree topper ideas there are so many more options than the classic star or wonky fairy. Yes, we love the nostalgia that comes with bringing out that same seen better days decoration year after year, but if you want to break with tradition this year (or have more than one tree to top) we've pulled together all our favorite looks, from stars to swans – yes swans.
As Lucy St George, Co-founder of Rockett St George, says 'As the centerpiece of your tree, tree toppers are a must to bring together your festive decorating theme. This year I'm opting for a disco ball tree topper to go with a glamorous disco theme that will be embraced throughout my home – think mirror balls, glitter, plenty of fairy lights and a fair few sequins too. There's no better time to embrace your maximalist side than at Christmas!'
So with this in mind, be inspired by these Christmas decorating ideas to top your tree with something extra special this year...
Christmas tree topper ideas for every style
'For those that prefer traditional Christmas decorations, you can't go wrong with a beautiful gold star at the top of the tree.' continues Lucy. 'Another idea we're loving this year is a more quirky and colorful approach to Christmas, with rainbow stars, pink, red, gold, and even leopard print making an appearance at the top of the tree.'
'Colorful Christmas decorations are a great way to explore a playful take on traditional decorating themes and introduce a fabulous sense of fun to your home. Whilst a dedicated tree topper makes an instant statement, it's worth remembering this isn't the only option and you could always use one of your favorite baubles or decorations instead. As long as your chosen decoration is in proportion to the rest of your tree, the effect will be just as fabulous as a dedicated design! Even if you're not having a Christmas tree this year, your tree topper is still an important styling piece can be displayed on a shelf or mantelpiece amongst winter garlands and other magical decorations, to create a festive focal point in your home.'
1. Go for a classic gold star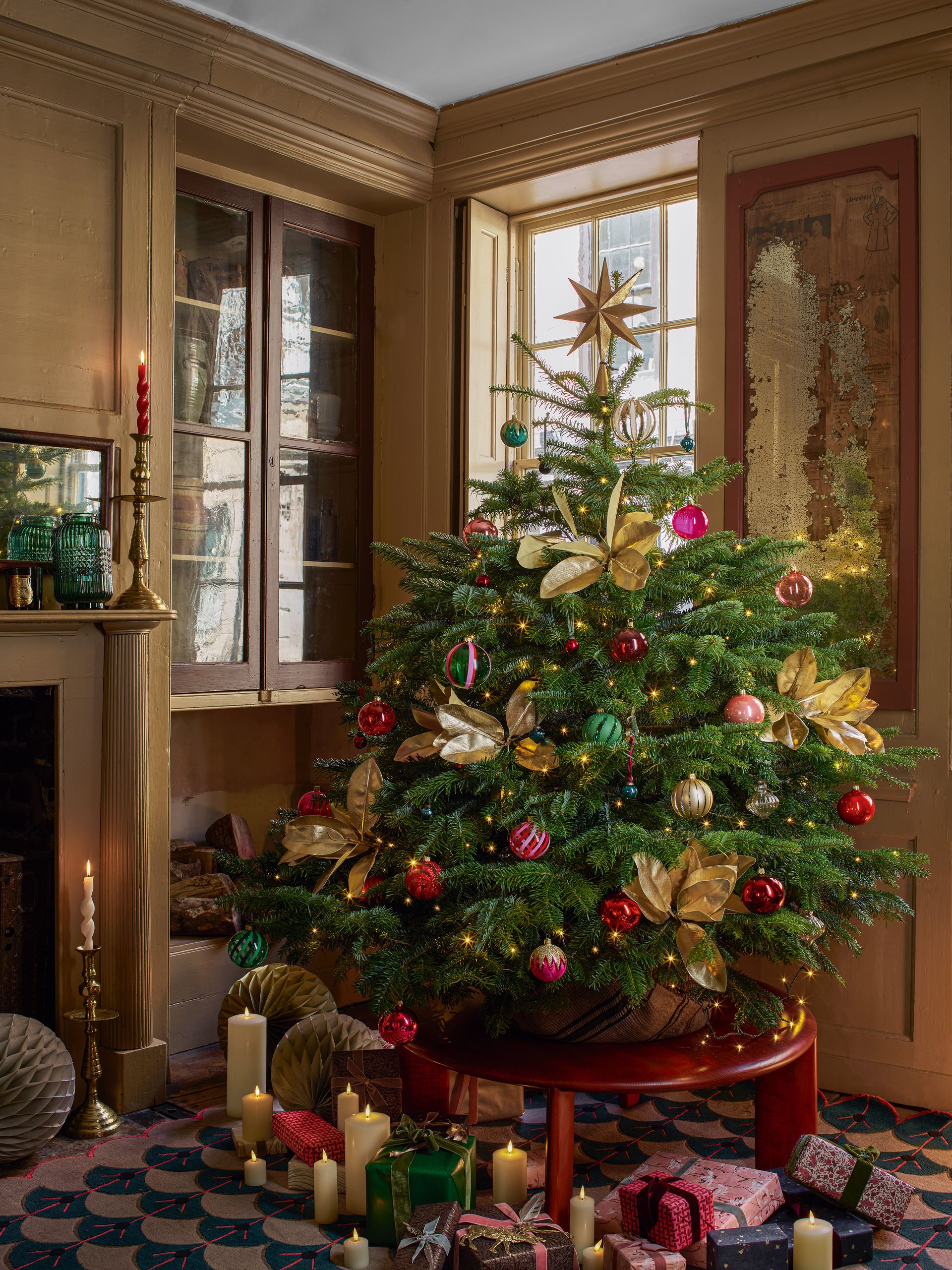 Let's start off with the classic Christmas tree topper idea – the iconic star. And just because it's traditional doesn't mean it can't really stand out and be the focal point of your decoration scheme, that is the point of a topper after all.
Pick a design that goes with your overall theme, and mirrors the colors used throughout the rest of the tree. Gold is an obvious choice, adding warmth and a classic nostalgic feel. We love how in this Christmas tree idea in the star is almost mirrored in the shapes and color of the sprayed magnolia leaves, a nice way to make a Christmas tree feel fuller and bring in more unusual natural shapes and textures to sit amongst the pine.
Take home tip: if you've spent hours trying to balance your topper, scrap your fruitless attempts and instead secure the topper to the front of the tree using florists wire. Nestle the base of the topper within the lowest branches for the same effect – look close at the top of this tree and you'll see what we mean.
2. Play with scale with oversized paper decorations
Paper decorations have been a huge Christmas tree trend in recent years, and the bigger the better seems to be the rule. They are great for filling in any gaps you might have too and are a really easy Christmas tree topper idea, also looking great on white Christmas trees. You can pick up handy sets from places like Not on the High Street in loads of different colors, patterns, and sizes, so you have plenty to put around the tree and pop one on the top too. To make it even more of a show stopper tie a collection of the decorations together and string them off the top branch.
3. Contrast colors with your tree decor and topper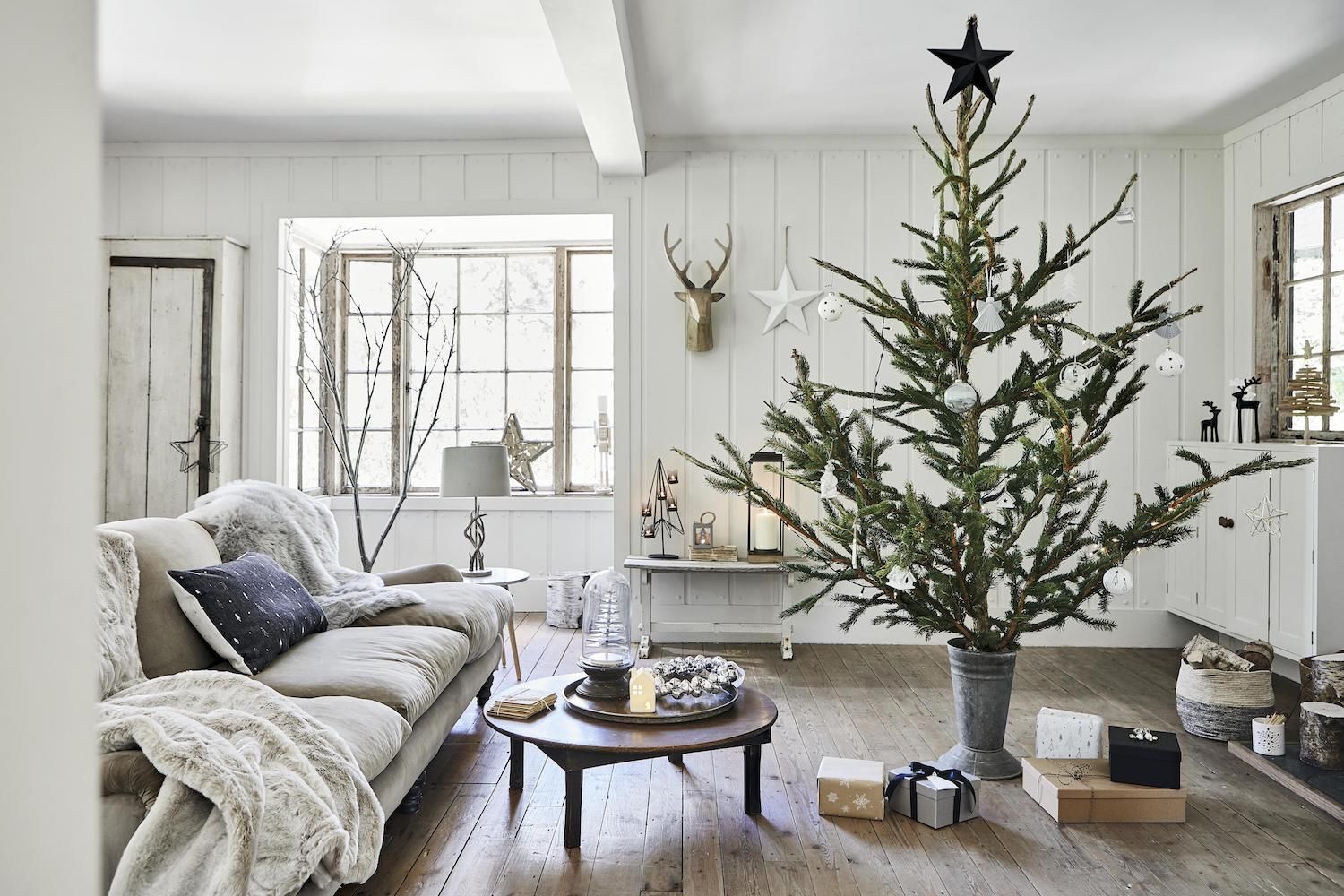 There's really something to be said for a sparsely decorated tree, done right leaving your tree almost bare can look very chic. Scandi minimalist is what you're aiming for. String around lights so you still get that all-important festive sparkle, and either leave it at that or add in just a select few decs in a neutral color scheme. Ground the look with a bit of a statement topper in a color that's going to contrast the very soft and neutral theme. Black or a deep charcoal grey would look striking and yet still works with the minimalist vibe.
4. Tie a ribbon on the highest bough
A super easy Christmas tree topper idea that's lovely for creating a more rustic, softer look – tie a really thick, high-quality velvet ribbon from the top. Tie ribbons to the branches too for a nice alternative to ornaments that give your tree extra texture and that lovely vintage homespun charm that's always a nice look to go for for the holidays.
Rowen & Wren (one of our favorite places to shop for Christmas decorations) have some gorgeous ribbons as part of their new collection in a range of very sweet muted hues.
5. Nestle a topper into the tree for a rustic look
Who says tree toppers need to go on top of the tree? We love how in this maximalist spaces it's nestled into the top branches, it far better suits the more... eclectic approach to decorating and works much better if your topper is tricky to secure to the top of the tree. There's also quite a kitsch vibe going on here, which is totally acceptable at Christmas – the gold star has a bit of a retro feel that works perfectly with the boldly decorated tree.
This is a great trick if the top of your Christmas tree is looking a bit bare. Placing a large topper slightly lower down will fill any gaps.
6. Go for a simple minimalist decoration
If you are after a more minimalist tree this year but can't bear the thought of leaving the top of your tree bare, pick a simple design that finishes off the tree but doesn't draw too much attention. Again, rather than have it wobbling from the top, tuck it into the main bulk of the tree for a more subtle look as seen here with this lovely Christmas living room from Neptune.
7. Pick a standout Christmas tree topper
Make your Christmas tree topper a real conversation starter by choosing something you really wouldn't expect, like a fake swan. It's might sound a bit extra, but as this tree demonstrates it actually looks really chic and elegant.
Of course, you don't have to go with a swan, pick something that's going to work with your theme. And when shopping for a topper, you don't just have to pick decorations design for the top of the tree. Think outside the box, shop your own home for something that's really going to add personality – a disco ball, angel wings, a neon sign, all stylish viable options.
8. Bring back tinsel
We've seen a lot of Christmas trees this year and last that make a strong case for tinsel. Whilst we aren't suggesting you adorn your entire tree in the stuff, it can add lovely depth and extra sparkle if styled right.
As part of this chic black, white, and gold scheme the silver tinsel tree topper is a fun addition and should be a reminder to us all not to take Christmas decorating too seriously but rather have fun with it and embrace the slightly tacky, flashy side, tinsel and all.
9. Adorn a tree top with a crown
An alternative, but still classic, alternative to a star, pop a crown on top of your Christmas tree. It's a look that really suits that traditional red, green, and gold scheme as used to on this tree, beautifully decorated with Amara goodies. And why not go with royal as your theme? It doesn't need to be too obvious but adding in some subtly themed decorations like the jewelry boxes, beaded Fleur Di Lis ornaments, and golden pears used here. All very regal and all very lovely.
What's the most popular Christmas tree topper?
The most popular Christmas tree topper is definitely a toss-up between a star and an angel. These are certainly the most traditional choices, but trends come and go every year and this year ribbons look to be a very popular contender. There's a feeling of nostalgia here, Once popular in the 90s with large oversized, wire-lined numbers, they have made a comeback in recent years with a more minimalist, rustic edge that's really effortless to achieve.
Do you put the Christmas tree topper on first or last?
The age-old question, do you put the Christmas tree topper on first or last? While it might be tradition to top your tree last as a final flourish, when decorating a Christmas tree, it actually makes sense to put the topper on first. Putting the toper on before you start wrapping around lights or hanging decorations will save any ornament casualties and means you can play around with positioning if you need to.
For style leaders and design lovers.
Hebe is the Digital Editor of Livingetc; she has a background in lifestyle and interior journalism and a passion for renovating small spaces. You'll usually find her attempting DIY, whether it's spray painting her whole kitchen, don't try that at home, or ever changing the wallpaper in her hallway. Livingetc has been such a huge inspiration and has influenced Hebe's style since she moved into her first rental and finally had a small amount of control over the decor and now loves being able to help others make decisions when decorating their own homes. Last year she moved from renting to owning her first teeny tiny Edwardian flat in London with her whippet Willow (who yes she chose to match her interiors...) and is already on the lookout for her next project.