Christmas tree ideas - design experts on how to decorate like a pro
Christmas tree ideas that go from decorating trends to contemporary alternatives, with not a piece of tinsel in sight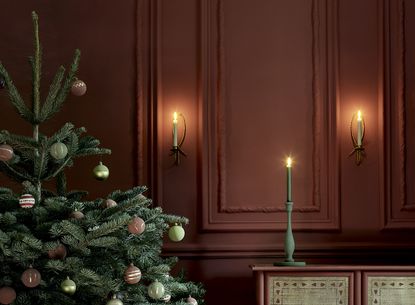 (Image credit: Annie Sloan)
This year, Christmas tree ideas feel like they ought to be a bit different. A little more elevated than normal, more wonderful than ever, ensuring they give you that festive glow.
It can be difficult to come up with new Christmas tree ideas year after year, and while it 'tis the season for nostalgic traditions, it's also the perfect time to get creative. Whether you're after some inspiring tips on how to decorate your tree a bit differently, or searching for a modern and space-saving alternative, our experts are on hand with the festive ideas you'll want to try...
Stylish Christmas tree ideas to inspire
"A fabulously modern way to style a real tree and emphasize the glossiness of the fir spruces is by painting all your baubles in one statement block color," says color and paint specialist Annie Sloan. "The single-use of color is bold and looks terribly expensive, whilst the contrast between the sheen of pine needles and the velvet soft finish of matt red baubles painted in chalk paint is deeply satisfying. It's a brilliant way to update an old but serviceable collection of mismatched décor from Christmas themes past and so much kinder to the planet than buying new. Paint by dipping for best results; it takes seconds; then once dry protect them with Matt Chalk Paint™ Lacquer."
That's not to say that all Christmas tree ideas revolve around brand new sensibilities. The acclaimed interior designer Irene Gunter prefers to look back in time. "On a real tree, there's nothing better than reusing old classics," Irene says. "I've been using decorations I inherited from my parents for years. They're beautiful hand-painted pieces carved from wood and full of memories from my childhood. Christmas decorations are as much about their looks as they are about their smell, fill your home with scented candles and lovely naturally fragrant decorations made from dried fruit and fresh pine and spruce foliage."
1. BRANCH OUT
A styling trick favored by the experts, adorning a humble branch with festive decorations makes for a contemporary and striking alternative to a traditional tree. Tricia Guild, Founder and Creative Director of Designers Guild, talks through the look.
'We like to do things a little differently at Designers Guild, even at Christmas, and we have always used frayed fabric as part of the decoration during the festive season,' Tricia says. 'It's a great way to add personality to a branch of decorations,' she says. 'Simply loosely tie or drape at random for a joyfully informal look - and the best part is, you can reuse the strips time and time again'.
Bright green and warm pink is also a joyful twist on the conventional palette, perfect if you're after a fresh look with one eye on Christmas tree trends. 'Remember, Christmas is such a happy time - so use the colors that you love,' says Tricia. 'I like to have masses of beautiful flowers, colorful candles with emerald greens and magenta tones alongside dark elegant shades of black and berry. This layering of detail and color adds richness and joy, bringing the space to life.'
2. MAKE YOUR CHRISTMAS TREE IDEAS PERSONAL
Christmas is a time for reflection and gratitude, so why not add a personal touch to remind you of the people you love the most? 'We love to print favorite pictures of family and friends, and use them as decorations on the tree,' says Marie Soliman, Founder and Creative Director of Bergman Interiors. 'It's a way to celebrate memories, friendship and happiness - all on a budget!'
To keep it looking sophisticated, print the images in black and white - this will also help with cohesion. Simply punch a hole, and thread ribbon through to hang, or attach with mini wooden pegs.
3. ADD FRESH FOLIAGE TO YOUR TREE
A trend that's been gathering momentum for a few years now is to add yet more fresh foliage to your tree. It's an easy way to create a look that's a little different, and is also helpful when it comes to Christmas tree care as it helps the tree look a little fuller. Ailie Williams, a stylist at Neptune, explains 'By adding foliage, you create more texture within the tree which helps make it feel more full and rich,' she says. 'It's also a great way to fill gaps in a real tree, or create more natural shapes in an artificial one'.
You can achieve different looks depending on the foliage you use. For something subtle, stick to muted tones. 'I love using leafy eucalyptus, grey mimosa, and eucalyptus seed heads,' says Ailie. 'You can also think about using dried hydrangeas, or snow and red berries for added pops of color.'
Ailie's top tip? 'I would always add the foliage in last,' she says. 'Once your lights and baubles are in place, weave in the foliage where you think you need it.'
4. UPCYCLE YOUR COLLECTION OF BAUBLES
It's the same every year - climbing up to the loft, or digging into the back of a cupboard because all your hallway storage ideas have gone on how to store decorations you've been reusing for longer than you care to remember. Rather than replacing the ones you've fallen out of love with, turn your hand to a little festive crafting.
'I know some people like to decorate their Christmas trees with new decorations every year, but consider giving perfectly functional baubles a color update with a lick of Chalk Paint', says Annie Sloan, Color and Paint expert. She advises, 'Always paint by dipping for best results! It takes seconds and given that baubles are designed to hang, it makes logical sense.'
Not only can you create the bauble of your dreams, but it's a sustainable option too. 'This is a brilliant way to update an old but serviceable collection of mismatched décor from Christmas themes past and so much kinder to the planet and your wallet than buying new', says Annie.
5. GET CREATIVE WITH CARDS
If you want to steer clear of a Christmas tree altogether - there are other options that feel equally as festive. Jason Billings-Cray, Christmas Buyer at John Lewis, talks through a clever idea that brings a touch of joy to your walls.
'A good alternative Christmas tree idea is creating a card tree that you can build up over the season as and when you receive cards from loved ones,' he says. 'This card tree effect is perfect for smaller spaces and for achieving that Scandi minimalist feel. I would recommend decorating with battery-operated LED lights for that finishing touch of sparkle'.
6. WITH BOWS ON
Even at Christmas, simplicity can sometimes go a long way. Lucy Uren, Creative Director at Rowen and Wren, is a firm believer in the less is more approach. 'It means your attention isn't diverted from those one or two beautiful objects,' she says. 'For us, it makes a display feel considered, curated and altogether more calming too'.
So if you're leaning more towards a pared-back aesthetic, try decorating your tree with simple bows. 'As much as we love other decorations, the idea of a tree dressed in nothing more than soft bows and their tails in a selection of rich, warming colors felt perfectly charming,' says Lucy.
While your choice of ribbons will be down to personal taste and style, Lucy advises velvet. 'I adore silk ones, but they are so fluid they don't hold their shape too well. Velvet ribbon has a nice weight to it, while still having a beautiful drape.'
7. SPRAY THE TREE
For something completely different that will be an instant talking point, how about a blue tree? It may take a little while to get used to, but it's certainly a striking decorating move. Alternatively, a white Christmas tree, sprayed in artificial, snow-like powder will do the job.
You'll need to source a bare tree - or strip the needles yourself - and spray the branches in a rich cobalt blue. Best done outside, it can get quite messy! For colors that go with blue, think terracotta, olive and creams to complete the look.
8. GO DOWN A SIZE WITH A MINI CHRISTMAS TREE
After a space-saving idea but fancy the real deal? A miniature tree is small in size, but big in festive cheer. Olivia Harvey, Director of Range & Merchandising at Bloom & Wild says, 'Our tiny trees are a favorite with our customers. They bring some festive magic to a smaller space or cozy corner, and also make the perfect gift too.'
Going small makes it easier to get the creative juices flowing - you only need a small amount of decorations to achieve full coverage - so you can really let your imagination run wild.
9. TRY A FESTIVE DISPLAY
Another decorating idea if you want to swerve the hassle of falling pine needles - how about styling up a bauble display on a shelving unit?
'Christmas trees are not the only way to display your bauble collection,' says Jane Rockett, Co-founder of Rockett St George. 'Making the most of furniture you already own is a great way to update your home for Christmas in a unique and modern way. Glass display cabinets, open shelves and apothecary-inspired cabinets are perfect for this and can either be styled with Christmas decorations displayed as the main event or scattered amongst your other treasures.'
Not only does it look great, but it's a space-saving technique too, ideal to incorporate into your small living room ideas. 'This fabulous Christmas tree alternative allows you to bring in festive touches without having to reconfigure your room to find space for the tree,' says Jane.
The trick to a successful display is to fill the shelving space with interesting shapes and varied heights - supersize baubles are a great way to achieve a feeling of fullness. And, of course, the obligatory twinkling of fairy lights will add that magical sparkle.
10. WORK OF ART
It may be that a full-size Christmas tree just isn't viable in your space, or you fancy a different type of tree in another room. Enter wooden Christmas trees, the perfect (almost) pocket-sized version of the real deal. Whether you go sculptural and abstract, or opt for a more traditional design, there are lots of options out there. And this Scandi inspired design from Habitat is a great choice.
'Our minimalist and modern mango wood tree was designed with smaller spaces in mind,' says Abi Wilson, Celebrations Buying Manager at Habitat. 'The slim, pared-back profile is ideal for renters, being easily storable and portable. Being 100% plastic-free, it's a unique, eco-conscious alternative to artificial trees.' Which could help in your quest towards sustainable living.
What are the trends for Christmas 2021?
It's safe to say that creativity is a key trend for Christmas 2021 - whether you experiment with unusual color combinations, or push the boundaries of traditional decorating - the more creative the better! Get crafty by painting your own baubles, or fashion a wall tree out of cards from loved ones.
Nostalgia is definitely an important theme, reflecting on simpler times as well as cherished memories. Pinning precious photographs to your tree or tying bows to branches will evoke the feel good factor we're all yearning for this time of year.
And finally, we continue to crave more nature in our homes, in all its glorious forms. Styling minimal branches, adding extra foliage to a tree, or a cheerful mini tree in your bedroom will all add a festive touch that reminds us of the great outdoors.
Where should I put the Christmas tree?
You should put the Christmas tree in the spot you'll see it most, the most highly trafficked area of the house, as long as it doesn't get in the way.
That said, why have only one? 'Christmas is no longer reserved to just the main living space,' says Jason Billings-Cray, John Lewis' Christmas Buyer. And with the need for festive cheer greater than ever, you have full permission to put a tree in any room in your home!
With so many great ideas and alternatives, it also needn't be a full size. Mini trees, or space-saving tree alternatives can be placed on a kitchen surface, or hallway table.
How can I decorate for Christmas in 2021?
No matter what your style, sustainability should be front of mind when decorating your home for Christmas this year. Whether you choose to upcycle your existing bauble collection, or shop for new decorations made from recycled materials, you can still create a look that feels fresh without harming the planet.
And on a more jolly note, decorating for Christmas should always be fun! It's about bringing moments of joy into your home that cheer up the winter months. So, assess which areas of your home you interact with the most, and try to inject a bit of festive cheer - they'll make you smile each time you pass them.
The Livingetc newsletter is your shortcut to the now and the next in home design. Subscribe today to receive a stunning free 200-page book of the best homes from around the world.
Interiors stylist and journalist Amy Neason was the Deputy Style and Interiors editor at House Beautiful for years. She is now a freelance props and set stylist, creating work for a range of national publications and brands such as Imogen Heath. She has previously worked at Established & Sons, and her skills include styling still life and interiors shots for editorial features and sourcing unique products to create inspirational imagery.

She is particularly respected for interpreting seasonal trends into feature ideas and style stories.