Christmas decorating ideas – how to make your home feel festive
Christmas decorating ideas come early with our round up of the festive best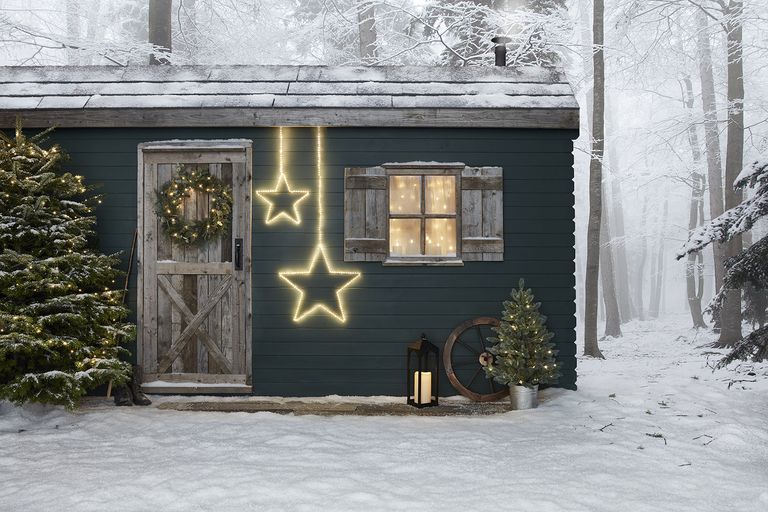 (Image credit: Lights4Fun)
Christmas is starting early this year, and the time for Christmas decorating ideas is now. This year there's a huge focus on crafting and home-made. Decorating trends are leaning towards sustainable, foraged branches and leaves made into rustic wreaths, and getting the old, familiar decorations out of the loft, rocking two lockdown trends, making things and going out for long walks. But it's also about fun, so novelty decorations are booming right now, and it feels like the right time for a bit of glamour, as its been in short supply recently. So get the Christmas playlist on and get decorating.
How to decorate the Christmas tree
Start with the lights. Allow about 170 lights per metre of tree, then start at the bottom and work your way up, winding them up and around, making sure they are balanced throughout the Christmas tree before you start adding ornaments. For a 7.5ft tree, you should use around 80 ornaments.

'To create a balanced, visually pleasing tree, buy baubles in threes, sixes, or twelves, and place these on first in a 'Z' shape,' says Mark Winstanley, Chief Creative Officer, The White Company. 'Hang larger baubles closer to the centre of the tree to give it more depth and use small ones towards the end of the branches. Dangle delicate glass baubles at the top of the tree to prevent any breakages and add special ones last, so they are in the perfect position.'
This year's decorations trends
Apart from the natural look, Christmas isn't Christmas without glitz and glamour, so there are plenty of gold, metallics, and berry shades. For a softer look, decorations made from feathers, velvets and pearls in pink and mint lustre or for something more dramatic, deep blue and teal using silk, cut glass, marble and heavy jacquard prints. Exotic birds and animal decorations are another trend along with novelty decorations to make you smile. Large baubles in primary colours are placed in bands on trees, then add oversized neon decs like this Christmas tree and star.
"This year we picked art movements from around the world for our themes," says Dan Cooper, Partner & Christmas Shop Buyer at John Lewis. "We chose Bloomsbury, Renaissance, Art Nouveau, Post impressionism and Pop Art, with colours ranging from pastels to brights. We also thought about 'Zoom' corners where wreaths, garlands and hanging lights come into play and spark joy. All of our cards and gift wrap are 100% recyclable and there is no plastic in our crackers."

"Often, it's the unique and quirky pieces that set your home apart and Christmas is no exception," says Jane Rockett, co-founder of Rockett St George. "Each year we expand on our range of famous faces for tree decs and 2020 might just be the best year yet. From classic holiday heroes to modern legends in the form of Mariah, David Bowie, Iris Apfel and the king of fashion Karl Lagerfeld, adding holiday icons to your collection ensures a Christmas tree that makes a statement!"
The best outdoor Christmas decorations
Decorating outside gives everyone a lift, creating a sense of community and raising a smile with passers-by. Stars are always popular and can be hung on doors or staked in the front garden. Light-up reindeers are great for families or for an elegant look, use string lights in the shape of a Christmas tree. Lanterns are another easy win, use LED candles and have them on the steps up to the front door to light the way into your welcoming entrance hall.
"Illuminating your garden is the perfect way to bring the magic of the festive season to life." says Becky Tasker, of lights4fun.co.uk. "With many events postponed or cancelled this festive season, it is important to bring traditions home. Christmas light switch on events will take place in the comfort of our own gardens this year, marking a truly special occasion shared with the ones we love."
The most realistic artificial Christmas tree
Real trees are lovely, natural and sustainable, but they do dry out and make a mess when the needles start to drop. Faux trees are a good choice, and are now much more realistic, you would be hard pushed to tell the difference until you are up close. And you can get it out year after year, give it a bit of a primp and you are ready to go.
"There is so much choice in artificial trees now from full, narrow, slim and the narrowest, pencil," says Mac Harman, founder and CEO, Balsam Hill. "The needles on artificial Christmas trees can vary from a shredded PVC to ones that are moulded to resemble real tree varieties. Our Nordmann is one of the most popular in the UK and the needles are the same shape and colour as a real Nordmann Christmas tree."
Where to get pre-lit trees
There are plenty of pre-lit trees around now in all shapes and sizes, from mini table- top ones to whopping 12 footers. So, it's really all about the style and reliability, after all you don't want your lights failing on the big day do you? Choose a company you know or who has been recommended and check out the reviews before you buy. Cox and Cox is a good place to start.
Where to find glass Christmas baubles
Glass baubles have a nostalgic feel, and are versatile and sustainable. They come in plain, lustre or coloured glass, and in round, pear shaped, faceted or onion shaped for a Far Eastern feel, they can be painted and embellished and are a wonderful addition to a tree as they twinkle beautifully in the tree lights, and make lovely family heirlooms.

"Glass baubles capture the tradition and magic of Christmas," says Alex Cooke from Nkuku. "All our baubles are handmade from recycled glass and many are hand blown, using age old techniques. All the wasted glass is collected and divided into colours. It is then washed to remove any impurities before being melted down and reshaped. Recycling creates less emissions than new glass, as well as making use of a waste material."
Where to find personalised Christmas tree decorations
Everyone loves a personalised bauble with their name on it don't they? It makes you feel special that someone has chosen something they know you will like. Not only baubles, but Santa sacks, a personalised decoration for the family pet, maps, hobbies or baby's first Christmas. A lovely reminder each year.


"Festive shoppers love coming to Etsy for unique, personalised items they can't find anywhere else," says Dayna Isom Johnson, Etsy Trend Expert. "Etsy sellers are creating a range of customised items for the season, offering everything from simple touches like tree decor to personalised wreaths."
See also: Christmas mantlepiece ideas: how to add festive flair to your fireplace