How to style a Christmas tree – from on-trend looks to classic styles
Dressing the Christmas tree is a tradition that marks the beginning of the festive season—and there are plenty of different ways to decorate. Read on to discover Christmas tree trends for 2020 and how to style a Christmas tree like an expert.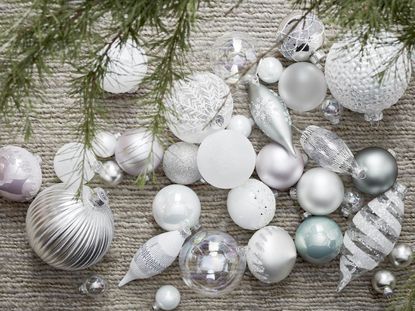 (Image credit: John Lewis)
Decorating a Christmas tree is a way to let your personal style shine throughout the festive season, whether you want to create a traditional look or go for something more contemporary. According to Josh Lyle, Christmas tree expert and co-founder of Pines and Needles, the biggest trend for 2020 is a traditional, regal look with classic red and gold baubles. "It's no surprise," he says. "Everyone loves a good tradition, as it makes them feel safe and homely. After the turbulent year of 2020, Christmas is what's keeping a lot of people going." A handcrafted look is also big this year, with crafting experiencing a resurgence in popularity thanks to lockdowns—think either elegant rustic vibes or an eclectic and colourful approach. Whatever style you go for, get the family together, put on some carols and have fun!
Light it up
Everyone loves the twinkle of Christmas tree lights—but why stick to a traditional string of fairy lights wrapped around the tree? Instead create a sparkly archway to artfully frame the tree, and pair it with oversize LED stars and a sparkling tree topper.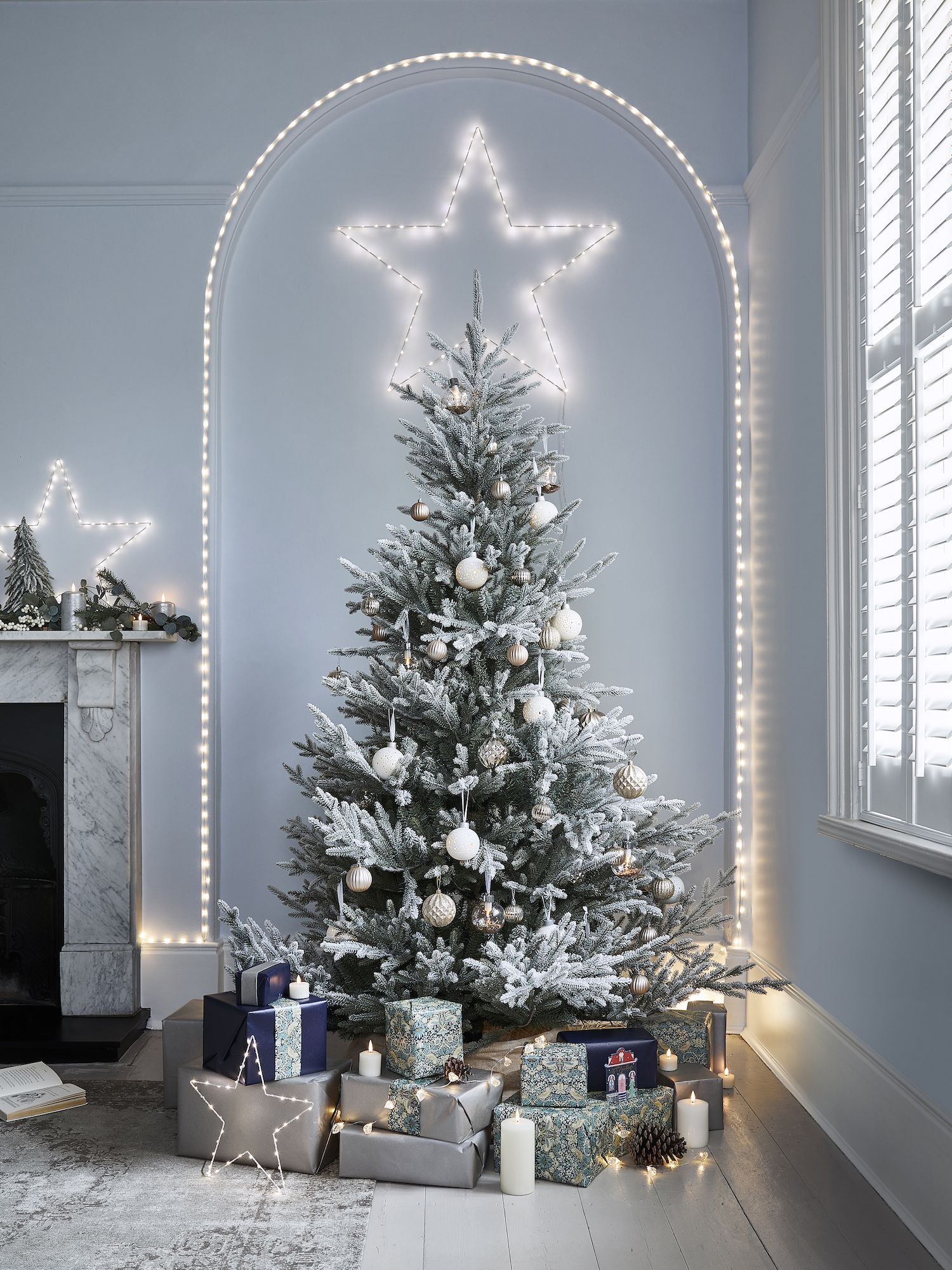 If you really want to light up the tree, adorn the branches with elegant ceramic baubles with integrated LED lights that mimic the glow of candlelight.
Go for Scandi cool style
Embrace hygge vibes with a Scandi chic tree: "The Scandinavians are the kings of Christmas style, with effortless elegance at the heart of decorating," explains Pines & Needles co-founder Josh Lyle.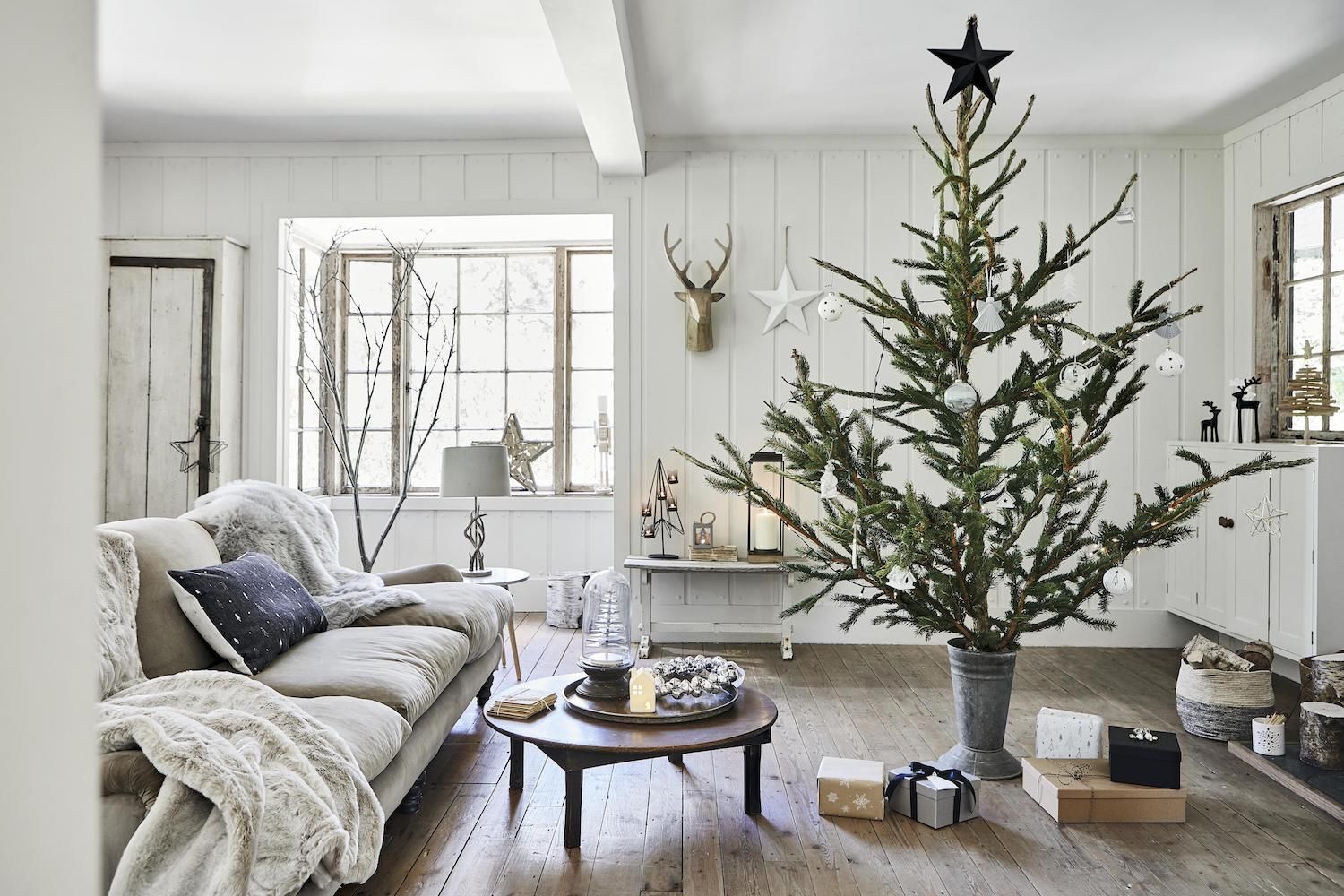 If you're going for a Scandinavian-inspired festive look, embrace simple wooden, felted and copper decorations, delicate snow-themed ornaments and geometric shapes.
Complete the look with a faux fur Christmas tree skirt or a boldly graphic Christmas tree mat.
Channel country chic with a rustic tree
Create a dreamy farmhouse chic festive look by dressing the Christmas tree in neutral tones, warm lights and natural materials, such as rattan, timber, patinated brass and ceramic.
"I like my Christmas tree to look like it was decorated with love," says blogger Genevieve Morrison. "Natural, homemade decorations like dried citrus ornaments, painted acorns and small bundles of bright dry flower bouquets take time and care to create, and I think that loving effort shows on the tree. The look is rustic, original, organic and smells divine."
Celebrate with a white Christmas
"Keeping your decorations white, cool and sophisticated is going to be a big trend this year," predicts Josh from Pines and Needles.
If you're dreaming of a white Christmas, keep your decorations predominately white with an injection of silver to add sophistication.
Glass decorations are also a welcomed addition to complete the crisp look.
Get the Royal look
"The royal style is rich in style and texture but remains effortlessly stylish at the same time—think deep red velvets, gold glass, and delicate silk ribbons," says Josh Lyle.
To achieve the ultimate royal look at home, place detailed ornaments, such as small gold cherubs or hanging crystal cut teardrops, at the edges of the branches, complemented by traditional baubles in royal red, blue, purple and gold hues.
Complete the look with scattered warm white lights—and top it with a crown for the ultimate regal finishing touch.
Shine bright with metallics
Metallic decorations are a great way of combining tradition with glamour. If you're feeling particularly luxe, go for the chrome or copper. Add a subtle touch of colour with metallic pastels, like the frosty blue baubles on this predominantly silver tree.
Foil wrapped chocolates and candies also make a pretty—and delicious—addition to a metallic tree.
If you want to tone it down a touch, add a scattering of neutral decorations in natural materials, such as paper and timber.
Get crafty with handmade decorations
Christmas crafts are the perfect way to bring the family together over Christmas—and they bring a fun handmade touch to the festivities. Create a set of matching decorations or go for an eclectic look and add to your collection each year. Kids will love this approach and the decorations they make are sure to become treasured heirlooms full of memories.
08a_caption: Christmas bauble pom pom craft kit, £9.99 from Wool Couture.
08b & 08c_caption: Simplicity Christmas garland kit, £21.99 from Wool Couture.
How do you choose a Christmas tree?
First and foremost, you'll need to decide whether you want a real tree or an artificial tree. According to Josh Lyle, co-founder of Christmas tree company Pines and Needles, it's no competition. "100% a real fir Christmas tree," he says. "The incredible smell, the unique shape—there's just no comparison!"
If you choose a real tree, you'll need to decide what kind of tree to go for. The most popular in the Christmas tree family is the Nordmann Fir. "Its non-drop needles are what makes the tree so popular," reveals Josh. Then, there's the cute potted Fraser Fir, which is the most "flat-friendly" of the Christmas trees. "It can also add festive cheer in spaces such as your kitchen, where you may not fit a 6ft beauty," says Josh. If you're not worried about a ring of needles littering the carpet at the end of the festive season, consider a Norway Spruce—it's the best way to fill your home with the scent of Christmas.
If you choose to go for an artificial tree, think about how much space you have and what kind of aesthetic you're after—there are plenty of fun alternatives to traditional Christmas trees.
Where do you start when decorating a Christmas tree?
Lights go on first and, if possible, have two people for this step. "It's great if one person can feed them to the other as they wind it round and round, starting at the bottom," recommends Josh. "Embed the lights in the lush greenery and then move out as you go up, ensuring and even spread. When decorating your tree, it is all about textures and layering no matter which theme you choose."
The next step is to decide on which of your decorations you would like to be featured most prominently and place those first and then use those as a basis to dress your tree around using smaller and more simple decorations as fillers. Then, it's time to wrap the tree with tinsel or ribbons—although tinsel is a Christmas classic, you'll get a more contemporary look by using ribbon that matches your decorating style. The easiest way to work with ribbon is to cut short sections, twist them and then place them in the foliage so they appear to be wrapping the tree horizontally.
Last but not least is the tree topper, which can be anything from a beautifully ornate star or a sparkling light, to a cherished angel made by a child. "Ceremonially placing it atop the tree is one of the most satisfying ways to signal the official start of the festive period," says Josh.
The Livingetc newsletter is your shortcut to the now and the next in home design. Subscribe today to receive a stunning free 200-page book of the best homes from around the world.