How to put lights on a Christmas tree – a guide to getting it right
Avoid the yearly battle with your fairy lights with our simple guide to how to put lights on a Christmas tree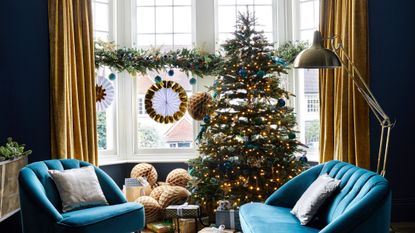 (Image credit: Future Publishing Ltd)
There are many ways to make a house look festive and ready for Christmas, but nothing hits the spot quite like Christmas lights. Whether they adorn your fireplace or sit decoratively in a glass vase, Christmas lights are the epitome of festive.
Most important of all, however, are the Christmas lights on your tree. But there's no denying it's a yearly battle to get it looking perfect and there are so many ways to light a Christmas tree that it is tricky to know where to start – and even where to stop! So we've made it simple with our guide to how to put lights on a Christmas tree – from how many lights you should use per foot, to which colors, to packing them away again for next year. You can thank us later.
Should you put lights on a Christmas tree before other decorations?
First thing's first: you should light your tree before going to town with your Christmas decorating ideas, so leave things like tinsel or baubles until you've nailed your lights to avoid tangles and breaks.
As Lucy St George, co-founder of Rockett St George, says: 'When decorating a Christmas tree, it's important to always start with the lights first as it is much harder to drape your lights around the branches of the tree once baubles are in place.'
Should you start from the bottom or from the top when putting lights on a Christmas tree?
We'd always recommend working from the bottom up. Start by plugging the lights in – and check that they work before you start decorating! – and then weave your string of lights between the Christmas tree's branches. Create depth by varying how close the lights are to the trunk.
And using multiple strings of lights can help you with hanging them equally. After each string has been added to the tree, step back and do the 'squint test'. This means squinting your eyes to create a 'bokeh' effect, which will help you to see if the lights are distributed evenly. Go back in with your next string of lights to fill in any gaps you see.
'When it comes to decoration, it's best to weave in your fairy lights first, starting from the bottom and working your way up to the top where you can nestle them into the back of the branches.' says Ailie Williams, stylist at Neptune.
How many lights should be on a Christmas tree?
As a general rule, we'd recommend 100 lights (or 5 meters of lights) per 2 ft of Christmas tree. This means, for a 6 ft tree, you should have 300 lights or 15 meters worth of lights.
But really we are of the opinion you can never have too many lights, so if in doubt always go for more than you think you'll need. Jane Rockett agrees, telling us that 'a more maximalist approach to lights helps evoke a cozy, inviting atmosphere, especially when used instead of a pendant or chandelier as the main light source in the room. When complemented by table lamps and floor lights, this creates soft pools of light throughout the room which introduce relaxing ambiance and plenty of festive magic.'
If you are not so keen on Christmas lights, however, Jane reassures that your home can still look festive without them: 'The key is simply to find the look that works best for you and your home. Opting for a pared-back approach to the fairy lights on your Christmas tree can look beautiful in more minimal or Scandi-inspired interiors,' she says. 'By not going overboard on the lights, you can create a focus on the tree itself and use strands of lights to illuminate the branches and introduce a subtle glow to the room. Wire fairy lights are ideal for this look and blend seamlessly into the tree.'
What colors work best for Christmas tree lights?
Jane suggests: 'White light works beautifully with icy palettes of silver, white, green, grey and pink to create a look that is inspired by snow-covered forest scenes. However,' she warns, 'white light has a cooling effect and needs to be balanced carefully to ensure that it does not make the room feel cold or uninviting.'
Instead of white, try yellow lights for a warmer effect: 'Warm fairy lights mimic the gorgeous, atmospheric glow of candlelight and complement the greenery of the tree perfectly,' says Rockett. 'To embrace lights of this warmer hue, try pairing with black and gold decorations for a glamorous style statement.'
If you are looking for a Christmas tree idea that's a little different, Amy suggests multi-colored lights: 'For a nostalgic and fun-filled family Christmas, multi-colored lights are perfect for bringing joy to your space!', she says. 'Their playful style will fill your home with a sense of escapism whilst adding a Christmas charm too.'
Which decorations work best with Christmas tree lights?
Hang shiny baubles alongside your Christmas light bulbs to reflect the light and make your tree shine even brighter.
Ailie Williams, stylist at Neptune, recommends glass baubles to get the most shine out of your lights: 'Add any glass baubles you might have, placing them close to the lightbulbs so they twinkle and shine when they catch the light,' she says. 'Once they are safely on the branches, you can evenly space out any more patterned baubles to fill the branches with color and character.'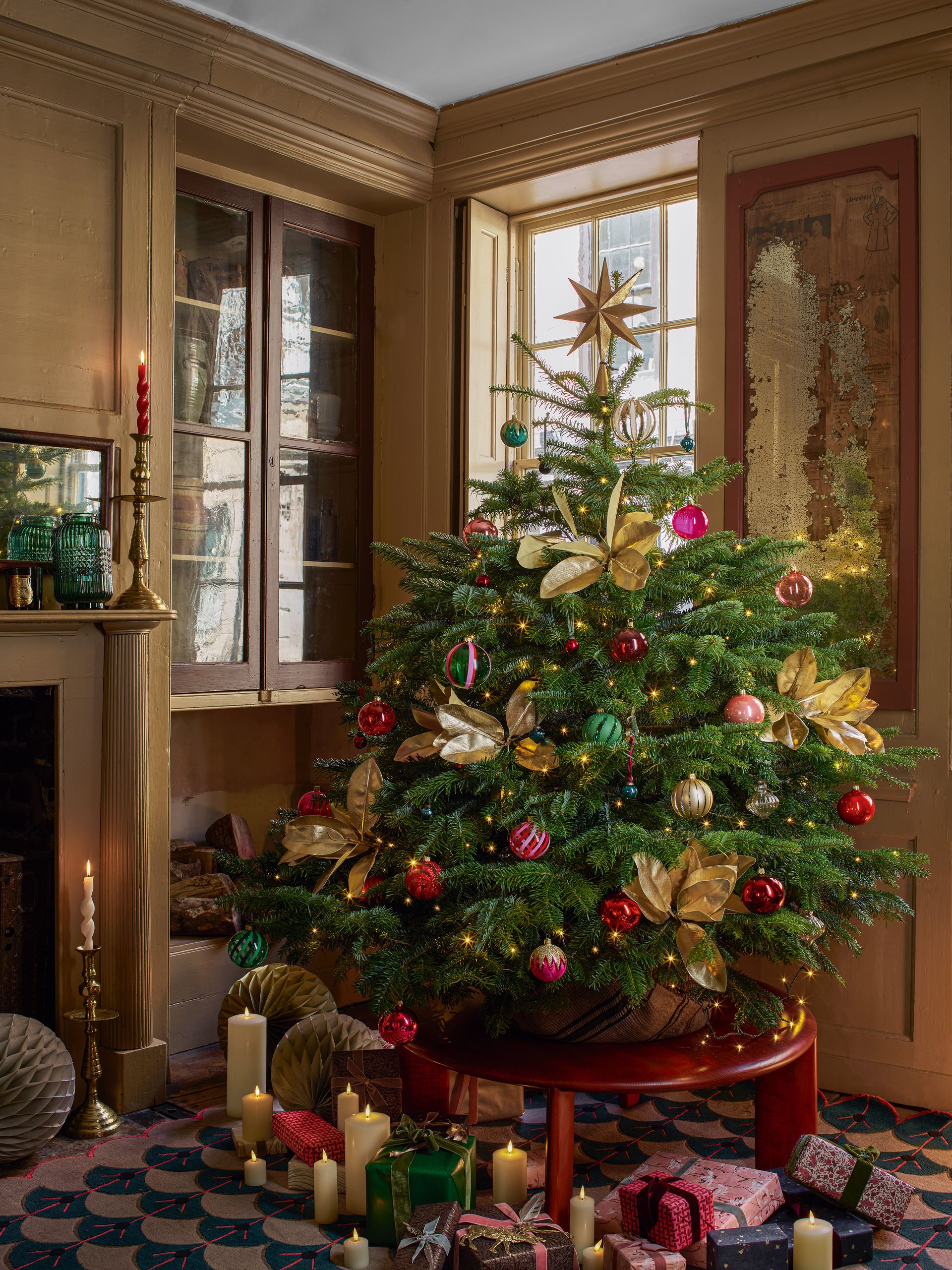 How to untangle Christmas lights
It's an annual palaver: hauling the Christmas decorations out of storage only to find the lights all tangled. Luckily, this is easily resolved. Start by ensuring you have lots of floor space to untangle the lights. Without enough space, the lights will quickly get tangled back up again.
Find the end of the lights and work your way back from there. This usually means finding the plug or the battery back, so this should not be too tricky. Then, get to untangling. As you untangle the lights, lay them out in a line to prevent them from getting tangled back up again and undoing your hard work.
Make sure you remember to test the lights once you have untangled them by plugging them in – it's even more frustrating to remove lights from a tree that do not work than it is to untangle them! Once lit, check the bulbs are working and replace any that are not. Then, get decorating!
How to pack away Christmas lights to stop them getting tangled
To avoid a problem when you unpack your decorations next year, pack your lights away sensibly when you start taking your decorations down this year.
To do this, create a makeshift spool with scrap cardboard, taping one end of the lights to the cardboard and carefully wrapping the string around. Next year, it will be as easy as unraveling the spool. Alternatively, use your elbow and palm to wrap the lights up in a figure-8 motion, leaving a foot at the end to wrap around the middle and keep it from coming loose.
The Livingetc newsletter is your shortcut to the now and the next in home design. Subscribe today to receive a stunning free 200-page book of the best homes from around the world.
Olivia Emily is one of the most exciting new talents in consumer lifestyle journalism. Currently finishing off a Masters in Journalism at the City University, London, she has quickly proved herself at being adept on reporting on new interiors trends. A regular contributor to Livingetc, she is brilliant at being able to decode information for our audience.