Christmas bedroom decorating ideas - how to make your sleep zone fabulously festive
Christmas bedroom decorating ideas range from subtle to sensational - wake up to the seasonal spirit with these simple and stylish ideas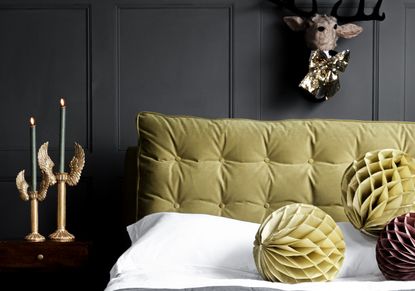 (Image credit: Rockett St George)
The Livingetc Newsletter
For style leaders and design lovers.
Thank you for signing up to LivingEtc. You will receive a verification email shortly.
There was a problem. Please refresh the page and try again.
Christmas bedroom decorating ideas are probably not the first on your list. But spending just a little bit of time on them will make a huge difference - helping you to fully embrace the festive cheer this year, extending your Christmas decorations beyond the living room and into other areas of your home.
You see, bringing Christmas decor ideas into the bedroom is a charming way to boost that festive feeling and wake up to the magic of the season.
'Christmas is the perfect time to go all-out and introduce glamour and sparkle throughout your home, including your bedroom and there are so many wonderful decorations that look as good styled in the bedroom as they do on the tree,' says Lucy St George, co-founder, Rockett St George.
Fear not, we're not suggesting a full-on fir beside the bed, although why not, if you've the space. Whatever the size of your room, there are plenty of ways to spread some seasonal spirit in your sleep zone.
Santa may have his elves but we have a roster of interiors experts who know how to sprinkle seasonal style throughout the home for the holidays.
We've consulted the tastemakers to see how they deck their bedrooms and they have gifted us, and you, with a feast of festive ideas.
Christmas bedroom decorating ideas
1. Stick with traditional tones
'Christmas for me is a time to look to tradition; be they long-established trends the whole country joins in with or the slightly more eccentric individual traditions that all families hold dear,' says Annie Sloan, Colour & Paint Expert, also known for her Christmas living room decor ideas.
'Painting paper or fabric with chalk paint to turn into bunting is my grandchildren's department, whilst I step in with the scissors. It's so exciting for them when they come to stay on Christmas Eve and their bedrooms are festooned with decorations they helped to make.
I lean towards warm white light because the light in December leans cold and, for me, the luxury of Christmas is in creating an atmosphere of indulgent cosiness. Décor that leans towards being more Scandinavian in style – folk inspired, with botanical and natural influences, in white and green looks best bathed in warm golden light,' Annie continues.
'It's nice for the festive theme to continue upstairs, but I prefer to tone it back in bedroom spaces – hints of green and red and a few strings of lights are sufficient so that these remain restful places. Or as restful as any bedroom can hope to be, when hosting children at Christmas.'
2. Make a magical mantel display
Mantelpieces are made for decorating and Christmas fireplace ideas can really turn up the festive heat. If you're lucky enough to have one in your bedroom, it's a great spot for a seasonal display. Personalise it with festive foliage and favourite ornaments and ephemera.
'I like to break the rules of flower arranging especially in the winter months for an interesting and more personalised point of view,' says Floral Designer, Hazel Gardiner. 'To do this you can use a chalk-based pigment spray to change the colour of hardy evergreens such as conifer, fir or even daintier pinecones.'
'I've also used moss for decoration in an assortment of sizes at Christmastime. It feels very natural and makes a statement against a muted wall. Making botanical decorations can help quieten and calm your mind ready for the Christmas break. If you find this thought overwhelming, you can simply drape lashes of fresh ivy over a bookshelf or mantelpiece.'
3. Decorate with a faux wreath
A real live tree in the bedroom might look beautiful if you have the space but do you really want to step out of bed onto pine needles or hoover them up every day until twelfth night? A simpler yet still striking option is to hang a faux foliage wreath above the bed.
'In our house wreaths aren't just for doors, this year I'll be hanging a faux fir wreath in our bedroom which will create an elegant festive focal point,' says Suzy Humphrey, founder, Layered Lounge. 'Its simple Scandinavian design means it is very versatile and can be used all around the house, sometimes if I fancy a change I'll add a few tree decorations to it which changes the look completely.'
Emily Dunstan at Heal's suggests introducing traditionally festive shades into your colour scheme such as forest green and warm terracotta in the way of bedding, throws and pillows, with accents of warm beige and gold tones. 'This will start to evoke the feeling of Christmas without being overtly seasonal,' she says. 'Faux fur will immediately add a wintery warmth to the room. A fluffy rug underfoot offers a luxurious softness as you roll out of bed, whilst bringing a chalet feel to the room.'
4. Scent your space
Conjuring up the magic of Christmas isn't just about how things look. As with Christmas wreath ideas, fragrance plays a huge part in setting the mood and making memories too. It's also a subtle way to evoke the start of advent.
'A small but significant update is the introduction of a reed diffuser or room spray – opt for notes of fresh pine, winter spices and cinnamon,' says Emily. 'This will fill your senses with the comforting smells of Christmas without bringing the risk of a scented candle left flickering into the night.
'If you have a vase of flowers or foliage on your bedside, hang a selection of baubles through the branches for a subtle sparkle or string fairly lights across the windowsill or around your mirror to quickly introduce a festive twinkle, with a warm light that is perfect for winding down before bedtime.'
5. Light a trail for little ones
The soft warm glow of Christmas lighting ideas is a wonderful way to set a magical mood and create a special (yet not overly-stimulating) atmosphere for younger family members.
'Christmas feels particularly special when there are little ones around, so I always like to go the extra mile to make it memorable for them,' says Sue Jones, co-founder, OKA.
'Try creating a pathway of LED candles leading to their bedroom and lay out small presents on their pillows for an extra bit of Christmas magic. Don't forget lots of cosy pillows and throws for chilly mornings.'
6. Keep things effortlessy elegant
For grown up master bedroom ideas the Christmas vibe should still remain a calm one. Flashing lights and rainbow colours don't belong here, especially if you want to keep stress levels under control and sail through the season with a smile.
Here again, Sue's take on seasonal style is a subtle one. 'Bedrooms should always feel calm and relaxing, whatever the occasion. A vase or pot of faux foliage decorated with baubles will give a nod to the season, without overwhelming the space,' she says.
Of course you can still take things up a notch with a faux wreath or character cushion but keep an eye on the colours and tones so the effect is harmonious and whimsical rather than a glaring grotto.
7. A simple garland goes a long way
Even just a trail of ivy on a bed headboard can help to add a festive feel. Plus, as far as Christmas bedroom decorating idea go, it's pretty low maintenance and hard for kids to damage if all they really want to do is jump on the bed.
8. Embrace an Alpine feel
Christmas color schemes don't have to be about red and green. There is a true festive joy in the ski chalet vibe of snowy faux furs, too. An artfully placed blanket, with perhaps a light garland of foliage is all you need to add a hit of seasonal cheer.
How to decorate a headboard for Christmas?
This obviously depends on the type of headboard you have but if it's upholstered, it will look beautiful with a faux fir garland (gently tacked) across the top and draped over the edges.
'The headboard is the focal point within your bedroom, so don't be afraid to add height and drama,' says Emily Dunstan, Heal's. 'A garland draped across the frame with ribbons, berries and fresh foliage, such as eucalyptus, will add instant impact, whilst introducing a subtle fragrance to help send you off to sleep.'
If your headboard has a ledge, this is ideal for snaking a faux or fresh garland across and obviously much easier to secure with tape. Thread fairy lights through the branches for a twinkly effect that's easy to switch on and off.
'Wire fairy lights are especially great for this as they can be easily wrapped around the bed frame or hung on your headboard to update the space for Christmas and create a gorgeous glow of light around your bed.' says Jane Rocket, co-founder, Rockett St George. 'Often these lights use batteries too, which means no messy wires detracting from your serene Christmas styling.'
What are the best Christmas bedroom lights?
'Fairy lights are a failsafe way of achieving a luxe, sparkly glow to your bedroom that suits the festive season perfectly,' says Jane Rockett, co-founder, Rockett St George. 'From starbursts of light, to trailing light sprays and vintage style bulbs. If you don't have a headboard, hang them on the wall above your bed.'
'To complement the lights, another of our favourites is the disco ball! A collection of three (or more) disco balls in the corner of the room creates instant glamour and helps your home get in the spirit of the season,' adds Lucy St George, co-founder, Rockett St George. 'Disco balls catch the light beautifully and will introduce captivating reflections of light around the room.'
Designer, Eva Sonaike also loves creating a festive feel in the bedroom through lighting. 'Positioning electric candles around the window sill gives a romantic, yet festive feel, as do lighting chains around the headboard, says Eva. 'Classic bead lights look great, but so do curtain lights with stars or delicate snowflakes on the wall above a headboard to get the extra Christmas feeling. I prefer warm yellow lights, as they bring a soft glow to any room.'
What are the best small bedroom Christmas ideas?
In a small bedroom hanging decorations that don't take up any floor or surface space work well as the aim is to introduce Christmas cheer rather than extra clutter.
'Hanging antique white paper decorations in the bedroom windows is lovely,' says Suzy Humphreys, founder, Layered Lounge. 'The winter sun gives them a beautiful translucency casting pretty shapes around the room.'
'Paper decorations, from honeycombs to glitter stars are easy to add anywhere in the room, whether hanging from artwork, or hung from either the frame of the bed or your wall lights,' adds Lucy St George, co-founder, Rockett St George.
'While offering a fabulous festive touch to the bedroom at Christmas time, the beauty of these decorations is that they can be reused around the house for parties and celebrations throughout the year.'
For style leaders and design lovers.
Jacky Parker is a London-based freelance journalist and content creator, specialising in interiors, travel and food. From buying guides and real home case studies to shopping and news pages, she produces a wide range of features for national magazines and SEO content for websites
A long-time contributor to Livingetc, as a member of the team, she regularly reports on the latest trends, speaking to experts and discovering the latest tips. Jacky has also written for other publications such as Homes and Gardens, Ideal Home, Red, Grand Designs, Sunday Times Style and AD, Country Homes and Interiors and ELLE Decoration.