Christmas lighting ideas - design experts explain how to be really, really festive
Christmas lighting ideas to add a huge amount of sparkle to your home, making sure you shine bright this season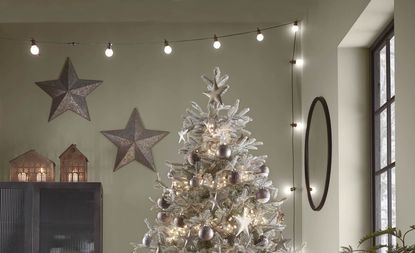 (Image credit: Cox and Cox)
When it comes to Christmas lighting ideas, it can be tricky to know where to start and how exactly to achieve your vision. With so many different types to choose from - and the important matter of electrical safety! - it can be an overwhelming part of festive decorating.
Luckily, we've enlisted the help of the lighting experts to not only inspire you, but also offer solid and practical advice on how to light up your home this Christmas. From the most environmentally friendly choices, to the best kind of lights for outdoors, as well as insider tips on just how to achieve even distribution on the tree without getting in a tangle.
"With Christmas lighting, my motto is the more the merrier," says Lucy St George, founder of Rockett St George. "We drape fairy lights everywhere from furniture to mirrors to the mantlepiece. I go for warm white but the most important tip is to make sure they don't flash. It's the difference between a soft, magical wonderland theme or a stress-filled fairground nightmare."
Interior designer and founder of Trove Tiffany Duggan agrees on the bulb choice. "Fairy lights are a must," Tiffany says. "In warm white a very low twinkle setting." The best fairy lights are dimmable and - if the dial is turned down - feels very soft and enticing.
Of course Christmas lighting ideas are about so much more than fairy lights, and take in everything from outdoors to window displays, as this guide by the experts prove. Get ready to feel festive.
Christmas lighting ideas
What color is best for indoor Christmas lights?
Not only are there a lot of colours to choose from, but just like ordinary bulbs, Christmas lights also tend to vary between warm and cool. The first thing to do is assess your decorating scheme - are you creating a cozy, inviting look? Or something a little more modern and monochrome? This will help inform you which sort of lights will work best.
Festive lighting experts Lights4Fun help to demystify which color to go for. 'For a warm and inviting atmosphere, we suggest using warm white lights as a timeless option for decorating your home for Christmas,' says Lucy Kirk, their Creative and Photography Manager. 'The cosy golden glow adds elegance to any decor and brings a truly welcoming feel to your home to keep you feeling snug on those cold Christmas nights.'
You can buy warmly lit fairy lights and other Christmas lighting from Cox and Cox, here.
For some Christmas tree ideas that are a little more jolly, then colorful lights may be your best bet as Claire Wilks, Senior Buyer at Garden Trading advises, 'If your home is filled with colourful baubles and strands of jewel toned paper decorations, then I would recommended stringing up some multicolour lights to throw contrasting colors around the room.'
Despite us being generally pro warm bulbs when it comes to Christmas tree trends, that's not to say that cool lights don't have their place, too. While they won't necessarily cast a warm and cozy glow, they're perfect for a more contemporary scheme and still offer a dose of their own festive magic. 'For a sleek and modern look, bright white lights are the perfect choice,' says Lucy Kirk. 'Their cool hues add an icy feel, sparkling crisp and clean like glistening snow - great for embracing the magical memories of a wonderful white Christmas'.
What are the most energy efficient Christmas lights?
LED bulbs are the most energy efficient Christmas lights. 'Not only are they a lot safer and more energy efficient than normal bulbs,' says Lucy Kirk of Lights4Fun, 'But they're also cheaper to run! LED string lights use around 90% less power than their filament bulb counterpart, saving you a generous amount of money on your power bills over this busy period.'
Claire Wilks of Garden Trading also notes 'LEDs are extra durable, so you won't end up replacing your lights each festive season' - a huge time and cost saver by anyone's standard!'
When dealing with electricals, safety has to be a top priority, too - especially when you're layering multiple light sources into a scheme - and the answer from experts was conclusive here, too. 'LED lights are the ultimate choice for decorating your home at Christmas,' says Lucy Kirk. 'Unlike a traditional filament bulb, LEDs are cool to the touch - perfect for busy families and little hands.' And the fact they don't heat up also means they're ideal for wrapping around foliage or paper decorations safely, perfect for if you're wondering how to put lights on a Christmas tree.
But how do you deal with so many plugs? 'A good extension cable with a few different outlets will be your best friend when trying to keep multiple strands of lighting organised,' says Claire Wilks. And being organised from the start will really pay off; 'Consider labelling the plugs themselves with masking tape so you can identify straight away which set you are turning on or off or changing the settings for,' she says. 'And a top tip? Remember to work in reverse order when you're putting them up to minimise tangling.'
Lucy Kirk recommends looking out for lights that you can connect together, 'At Lights4Fun, we have a range of connectable lights which are a great safety solution,' she says. 'You can connect large displays from a singular power source, keeping trailing wires to a minimum'.
Shop Lights4Fun's Christmas lights here.
WHERE IS THE BEST PLACE TO PUT CHRISTMAS LIGHTS INDOORS?
Adorning your Christmas tree with fairy lights is a given, but perhaps consider other areas in your home to string up some lights. 'When it comes to lights, it really is a case of the more the merrier!' says Claire Wilks from Garden Trading. 'If you are lucky enough to have empty niches, sculptural archways, or even exposed beams across your home, illuminate the outline of these shapes with dainty fairy lights.'
As well as your tree, it's also well worth considering other areas of your home that might benefit from some festive foliage - because there is nothing more magical than a seasonal spruce entwined with twinkling lights. Mantelpieces and staircases are obvious places to have fresh foliage garlands, but you could also try a centrepiece suspended above a dining table, or create a display in your window. Whatever you choose, micro lights on a wire are your best bet for foliage - they offer the most subtle sparkle, while also being the easiest to manipulate around delicate branches.
OUTDOOR CHRISTMAS LIGHTING IDEAS
WHAT ARE THE BEST OUTDOOR CHRISTMAS LIGHTS TO USE?
When it comes to the outdoors, LED lights are the best Christmas lights to use - they're incredibly cost effective, energy efficient and, above all, safe. But it's important to note, not all LED lights are appropriate for the outdoors and it's crucial to check their suitability before installing. They must be sealed correctly in order to be weatherproof - so check with the manufacturer first.
Solar powered lighting is often considered a great solution for the outdoors, and while it's the perfect option in summer, you may struggle with them at Christmas. Megan Humble from Whitestores explains; 'We don't recommend solar-powered lights for winter or Christmas use,' she says. 'There is minimal sunlight in winter, so you may be disappointed with how long the lights will actually work, or how dim they appear.'
Sarah Raven however offers the best of both worlds; 'Some of our lights are multi powered,' she explains. 'They are solar, but you can switch to batteries or mains to power them - a bit like a hybrid car - which is useful if you're planning a big party and you want to guarantee the lights will stay on all night'.
Another element to consider in your outdoor Christmas decoration ideas is the warmth rating. Greg Lehmkuhl, Creative Direct of American garden boutique Terrain, appreciates the benefits of LED lighting, but always aims for that cosy, traditional glow. 'I would recommend looking for lights in the colour warmth range of 2300K - 2700K,' he says. 'These will by far look the most like the warm burning lights of yesteryear'.
HOW CAN YOU INSTALL OUTDOOR CHRISTMAS LIGHTS SAFELY?
When climbing to any kind of height, it's important to take your safety seriously. A ladder should of course be used correctly, with a firm footing and someone to spot you. Know and respect your own limits, and don't aim for anything that doesn't feel totally safe.
In terms of securing outdoor lights, it depends what you are securing them to. For trees and shrubs, lights can normally be fixed to branches or trunks with small wire hooks. If you're wanting to secure them to the exterior of a house, you'll need to assess what will work with the materials you have. Greg Lehmkuhl, of Terrain, has the following suggestion; 'A staple gun that shoots clips with insulated tops is the easiest, safest and least damaging way to secure lights outdoors,' he says. 'You can also purchase some nice gutter clips that are specifically designed to hold lights up'.
And how do you power outdoor Christmas lights safely? 'An indoor plug is preferable,' says Megan Humble at Whitestores. 'However, you can use an outdoor plug if you have one - it just needs to be suitably covered and well sealed'.
Just like installing indoor lights, it pays to be organised - in terms of both ease and safety. 'Look for lights with really lengthy lead cables', says Megan. 'This will give you plenty of stretch to reach your indoor plug socket. You want to avoid the need for multiple extension cords or too many cables - we also recommend cable organisers or even something as simple as cable ties to keep wires nice and tidy'.
WHERE ARE THE BEST PLACES TO PUT OUTDOOR CHRISTMAS LIGHTS?
'Use the natural structure of your space as a basis for your outdoor Christmas lights display,' says Dobbies' Style Expert Rebecca Stanton. 'For example, if you're lucky enough to have a tree in your garden, make the most of it and dress it in twinkling lights. You can also wrap outdoor lights around plant pots to give your flowering shrubs festive vibes.'
Outdoor lighting is also brilliant for lighting your journey through a space; 'Lining a path with lanterns or a row of stake lights feels warm and welcoming,' suggests the inimitable gardener Sarah Raven. 'I love botanical themed designs lighting your way through a garden.'
If your outdoor space is limited, you can still get in on the action. 'Even if you're decorating in a compact space, string lights are a great choice as they can be used in a variety of ways to create a cosy look,' says Rebecca Stanton of Dobbies. 'Drape them around your doorway for a twinkling 'welcome home' or arrange them around some plants in your entranceway.'
CHRISTMAS WINDOW LIGHTING IDEAS
HOW DO YOU CREATE AN IMPACTFUL CHRISTMAS WINDOW DISPLAY?
Decorating windows with Christmas lights has become increasingly popular, so we asked Carousel Lights to help us get ahead of the trend. A multi award-winning family run business, they design and produce decorative lighting that has illuminated some of the world's most famous shop windows… so they know a thing or two about creating an impactful display.
'The lights should be eye-catching and stop people in their tracks,' says Ben Reynolds, Co-Founder of Carousel Lights. 'Consider the design, the colour of the illumination and how the lights integrate with the rest of the window design - animating the lights through flashing and chasing is also an exciting bonus for people passing by'.
Decorating with lights behind a panel of glass has its challenges, and Ben offers the following advice; 'You don't need to worry too much about reflections - however you do need to consider brightness,' he says. 'If your windows have direct sunlight on them, then your lights will need to be very bright to stand out. Conversely, if your lights are on a constantly shaded frontage then they won't need to be as bright.'
OTHER THAN LEDS, WHAT OTHER CHRISTMAS LIGHTS WORK WELL IN A WINDOW?
LED lighting is a great choice for lighting up your window. But if you're after something really show-stopping and unique, investing in a bespoke piece of neon lighting could be the Christmas upgrade your home is waiting for.
'Neon is a stunning light for your home,' says Ben Reynolds. 'Each straight tube of glass is heated and then bent by hand over a template to create whatever design you like - this could include shapes or phrases that are important or meaningful to your family, we can even bring handwriting to life in neon, so a loved-ones scribed letters can be immortalised as a neon light!' A true family heirloom for the modern home.
CHRISTMAS TREE LIGHTING
HOW MANY LIGHTS DO YOU NEED ON A CHRISTMAS TREE?
As with so many other things at Christmas, it's better to go overboard than to be lacking - so don't be shy when decorating your tree with lights. Dani Taylor, Product & Creative Director at Cox & Cox says, 'For ease, you can't beat a pre-lit faux Christmas tree. However, if you prefer to use a real one, I would always go for warm white lights to achieve that traditional filament bulb glow.'
Dani also offers some ingenious advice that is set to save you a lot of guesswork and prevent any last minute decorating disasters. 'As a guide, for the number of lights you need on a Christmas tree you should use approximately 30 lights per foot in height of your Christmas tree - so for a 7ft tree, then you'd need roughly 210 lights'. Take note!
WHAT IS THE TRICK TO ACHIEVING THAT MAGICAL GLOW WITH CHRISTMAS TREE LIGHTS?
Becoming tangled in fairy lights when trying to decorate the tree is an all too familiar sight, and can really hinder the cosy festive atmosphere. It's always best to start at the bottom and work your way up. Begin from the back, to avoid wires sticking out the side, and going layer by layer, slowly weave the lights between the branches. It's also best to tuck the lights about a third of the way up the branch, so that the tree appears illuminated from within.
"One of my top tips is to make sure your lights are well distributed and avoid any glaring gaps is to always use a green flex,' says Mark Winstanley, Chief Creative Officer at The White Company. 'The flex will disappear within the ferns and allow your lights and decorations to shine – a simple trick but one that makes a huge difference.'
ARE LED LIGHTS BETTER ON A CHRISTMAS TREE?
LED lights are better on a Christmas tree, and LED bulbs are a clear winner at Christmas. They ticks the boxes of affordability, sustainability and safety, while also offering a huge range of different colors and tones.
HOW DO I KNOW HOW MANY CHRISTMAS LIGHTS TO BUY?
Dani Taylor at Cox & Cox offers the brilliant equation that you need to buy 30 lights per foot of your Christmas tree, which is a great guide to get you started.
Most strings of Christmas lights will detail the length of the cord they're on and the number of lights. Measure the area you want to light up, and roughly double it to take weaving and wrapping into account.
The Livingetc newsletter is your shortcut to the now and the next in home design. Subscribe today to receive a stunning free 200-page book of the best homes from around the world.
Interiors stylist and journalist Amy Neason was the Deputy Style and Interiors editor at House Beautiful for years. She is now a freelance props and set stylist, creating work for a range of national publications and brands such as Imogen Heath. She has previously worked at Established & Sons, and her skills include styling still life and interiors shots for editorial features and sourcing unique products to create inspirational imagery.

She is particularly respected for interpreting seasonal trends into feature ideas and style stories.