Outdoor Christmas decoration ideas – stylish festive looks for your porch, garden and windows
Make your home sparkle with these Outdoor Christmas decoration ideas – fairy lights in every tree, decorations on the doorstep, and cozy outdoor spaces to inspire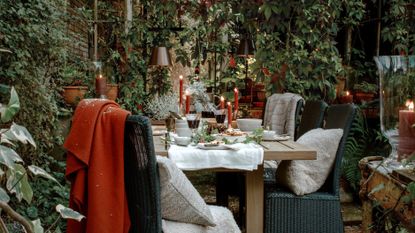 (Image credit: Neptune)
Is there anything more joyous at Christmas than walking around the streets admiring everyone's Christmas lights? The oohs and ahhs when you see a house that's extra special, extra sparkly, and just looks so welcoming you have to hold back knocking on the door in the hope to be welcomed in for a glass of mulled wine and a slice of Christmas cake.
In fact, we'll admit it, outdoor Christmas decoration ideas, fill us with more joy than the decorations that lie beyond the front door as they as something we can all admire. So this year we are keen to give just as just much thought and effort into our outdoor decs as indoors and if you would also like your home to be this most awe-inspiring on the street, we have plenty of fabulously festive Christmas decorating ideas to get you inspired...
Outdoor Christmas decor ideas to illuminate your home
1. Create a cozy outdoor living room
As the night's start to draw in and the temperatures drop, we understand it's tempting to just ignore your garden or porch until it starts to warm up a bit, but spending time outside even during the colder months can feel so warming and festive you'll soon forget it's minus three degrees. So why not copy this lovely outdoor Christmas decorating idea from The White Company (opens in new tab) and create a cozy outdoor living room that not only looks lovely with all the candles and fairy lights a-glow but creates the perfect spot to curl up with a mulled wine.
'Whatever the size of your outdoor space, you can still create the perfect atmosphere for entertaining outside should the weather permit. Whether on a terrace or in the corner of the garden the key is to take as much care with it as you would a dining room.'advises Chrissie Rucker, founder of The White Company. 'Think of interesting ways to decorate the space, light it carefully, hang up strings of fairy lights, flickering tea lights and storm lanterns all work well outside and will give you bags of atmosphere. Really great quality seat pads make sitting on any hard wood or metal furniture far more comfy and add soft throws to warm and soften the backs of chairs and drape over knees.'
2. Take your Christmas dining outside
We spent so much of last Christmas and winter drinking and dining outdoors and this year it seems to be an actual trend to set up your Christmas table outside. Now we aren't suggesting you do your full Christmas dinner alfresco, but on a clear winter's day giving your outdoor furniture set up a festive spruce with throws and cushions, and of course, candles can add all the Christmas cheer your garden needs. String some fairy lights in the surrounding greenery too so it gets extra magical as the evening fades.
'Don't forget your outdoor space during the Christmas period. Whether it's a view from your dining room or an outdoor experience you want to create, keep your festoon lighting up from summer through winter.' advises Suzy Humphreys. founder of Layered Lounge (opens in new tab). 'Dot outdoor lanterns around and get the fire pit ready for a hot toddy or mulled wine outside in one of our gorgeous copper mugs. Keep a stash of throws at the back door in a stylish rattan basket to grab and keep you warm during the chilly afternoons/early evenings.'
3. Fill your trees with fairy lights
So simple, but so effective, nothing beats fairy lights when it comes to outdoor Christmas decor. And we say the more the better, frame your window and doors, fill trees and hedges so your home really glows.
Our only piece of advice when it comes to going all out with fairy lights is to ensure they are all the same hue, you instantly notice if your lights are different and it will throw off that cohesive look. Your best bet to achieve this is to buy all your lights from the same brand so you have that continuity in color. We've spent many a Christmases hunting for the perfect warm white fairy light and have found the Lights4fun (opens in new tab) has so many options and are great quality too.
4. Decorate your doorstep with festive flourishes
A front porch is prime real estate when it comes to Christmas decor, all your guests will see it, as will your neighbors, as will you, so you want your front door to be looking as magical as the decorations that lie behind it. A wreath of some description is a must-have, but why stop there? We love the wintery scene created here, it's fun and festive but tasteful too with a slight Scandi edge. And who knew fake snow could look so chic, will definitely be trying it out ourselves.
5. Add light up your entrance with plenty of lanterns
For a more minimal approach to doorstop decor, be inspired by this classic look and simply line your steps or porch with an array of lanterns. Mix and match the sizes and styles to make them more of a feature and dot in some mini trees too if you want to make it extra festive. Add if real candles aren't the safest option for your home, switch them for outdoor LED candles that still give off that lovely glow but don't burn down and are much safer than a real flame.
6. Keep it minimal but festive with wintery branches
While less is more is not a term we use or encourage when it comes to festive flourishes, there is something to be said about a chic, minimalist approach. As this Christmas door idea proves, sometimes all you need is a beautifully colored door, a white wreath and a collection of snow-encrusted twigs and dried cotton stems.
It's a look you could so easily recreate too, get foraging in your garden for a cluster of branches and twigs and either leave them bare or give them a quick spray with glitter to up the holiday vibes.
7. Bring Christmas trees outdoors
Because Christmas trees aren't just for living rooms, they can look just as lovely propped up in a porch or framing an entryway. They can add a magical touch to a back yard too – try surrounding your outdoor dining table with spruce trees or adding some festive cheer to your back door by positioning a tree either side, then just string with fairy lights to create a cozy grotto feel. We love the idea of investing in a collection of potted spruce or fir trees this year that you can use for decoration Christmas after Christmas, stylish and sustainable.
8. Light your windows from within
There's something so lovely and cozy about a glowing window at Christmas, one that invites you in with its warm and welcoming light. So while the door may be such a focus when it comes to Christmas decor, be sure to adorn your windows too. Stringing up lights is the easiest of Christmas window lighting ideas and instant makes a home look festive, but light in the windows from with in too but candles of decorations so they really shine.
'Your front windows can sometimes get forgotten about when it comes to Christmas décor as we always focus on the front door and whilst we are not saying to forgo this, a front window can really create that inviting feeling, and be another easy surface to transform for Christmas.' says Sue Barnes Founder & Creative Director at Lavender Green Flowers (opens in new tab).
'If your front door wreath is something that you always look forward to putting up, mirror this aesthetic in your windows, and a smaller complementing wreath is ideal! Whether this is hanging on the outside, or inside facing out, bear in mind height, light, and fragrance.'
10. Get creative with garlands
Garlands may not traditionally be an outdoor decoration, but there's plenty of opportunities to use them in your garden. 'I love to include holiday décor in unexpected places, like outdoor fireplaces. Placing unexpected items in the firebox, like pinecones or poinsettias, is a great option for creating holiday cheer outside. They're also both easy to remove when you need to light a fire on a cold night.' says designer Marie Flanigan (opens in new tab).
No outdoor fireplace to adorn? No problem. Instead drape a garland around a window or outline a door frame or weave it around your railings to bring some festive greenery outside. And add in some lights amongst the foliage too, because, well you can just never have too many fairy lights at Christmas.
How can you decorate the outside of your house for Christmas?
The easiest way to decorate the outside of your house for Christmas is with lights. They are simple, stylish and so effective. String them around your windows, from the roof, in the trees, really you can never have too many. And of course, there's the classic wreath, which no door should be without at Christmas but why not hang them at your windows too? Opt for a pre-lit design or string lights through your DIY wreath to add even more of a glow to the front of your home.
Hebe is the Digital Editor of Livingetc; she has a background in lifestyle and interior journalism and a passion for renovating small spaces. You'll usually find her attempting DIY, whether it's spray painting her whole kitchen, don't try that at home, or ever changing the wallpaper in her hallway. Livingetc has been such a huge inspiration and has influenced Hebe's style since she moved into her first rental and finally had a small amount of control over the decor and now loves being able to help others make decisions when decorating their own homes. Last year she moved from renting to owning her first teeny tiny Edwardian flat in London with her whippet Willow (who yes she chose to match her interiors...) and is already on the lookout for her next project.