Christmas window lighting ideas – creative ways to make your windows sparkle throughout the festive season
From paper stars to twinkling fairy lights, these Christmas window lighting ideas are sure to give your home a magical glow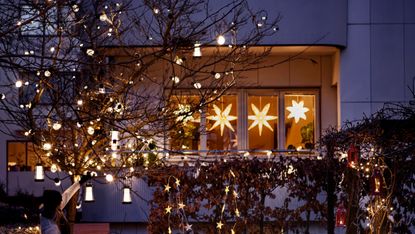 (Image credit: IKEA)
Christmas window lighting ideas are some of our favorite ways to decorate for the holidays. Is there anything more festive than a home in which every window is a light with fairy lights? There's just something about a glowing window at Christmas, so inviting you just want to knock on the door and pop in for a cozy few hours drinking mulled wine.
'Offering a snapshot into the magic inside, decorating your windows is a great way to help make your home feel more festive, both inside and out.' says Lucy St George, Co-founder of Rockett St George. 'Fairy lights are an easy and effective way to add subtle lighting to your windows. From more traditional styles to quirky leaf or starburst designs, fairy lights can be draped around the frame of your window to create a soft glow of light that complements the lights on the Christmas tree perfectly. For more subtle styles that won't interfere with blinds or shutters, wire lights are ideal and can even be wrapped around garlands on the windowsill or a wreath hanging in the window to introduce an extra twinkling touch to your decorations.'
So this year, we're all for going all out with our Christmas window decor ideas and adorning every frame, every sill, both inside and out with some form of warm, twinkling light. We've brought together all our favorite looks to get you inspired to do the same, from simple paper stars for a rustic, Scandi look, to the more out their glitter ball decorations that will fill your rooms with sparkle.
Christmas window lighting ideas to add festive sparkle
1. Hang a pre-lit wreath at a window
Because wreaths aren't just for doors and we love that classic look of them hanging at the windows too. There's something just so nostalgic about a wreath at a window, maybe it's that reminiscent of cozy houses in all the iconic holiday films but it's such a simple, easy to achieve look that instantly gives all the festive feels.
You can get some really authentic looking pre-lit wreaths too that will not only give you your fix of festive greenery but will give your windows a subtle glow too. And if you can't part with a real evergreen at Christmas, wrap some LED battery-powered micro fairy lights (check they are outdoor lights if you plan to hang the wreath on the outside of your window) around the wreath to create the same effect.
You could secure your wreath to the window – either inside or out – using barely visible small adhesive hooks or, for a lovely classic look tie a lovely luxurious velvet ribbon and hang it from the top of the frame.
2. Keep it classic with light up stars
Ah, just imagine this lovely setup welcoming you home every evening. Chic and subtle and yet so clearly Christmassy, simple star lights add a little more than your standard fairy lights and look beautiful grouped in clusters to fill the whole window.
Be inspired by this look and mix in some large metal stars too which you could hang from the window frame or for a more contemporary, effortless look just lean them in groups at the bottom of the window.
3. Fill a window sill with candles
And why just stop at fairy lights? Nothing says Christmas like a window sill crowded with candles so layer your lighting and add a collection of candles underneath your window lighting display too.
'We often dress the home for Christmas, from wreaths to garlands and bowls filled with clementines and pine cones, but windows are so often overlooked!' says interior designer Juliette Thomas. 'We love to dress windows during the festive period with beautiful starred lighting designs or a few decorative candles. Helping to create a welcoming home upon arrival, a few decorative lights or candles can help to create a perfect cozy abode. With battery candles now widely available, this is a much safer option which can be popped on a timer for when darkness begins to fall.'
Gemma Holsgrove, Associate Director of Sims Hilditch design agrees, 'Christmas is a wonderfully happy time to welcome family and friends from afar. When decorating our homes, we like to ensure that the exterior is as welcoming and atmospheric as the interior. Try grouping candles of various sizes and placing them in a window to create a gentle glow. Not only will it add a sense of coziness, but it can also evoke the warming wintery smells of the fesitive holidays.'
These star lights are the Osby lights from Lights4fun. They come in plenty of sizes so you can mix and match and once the festive season is over you can take them down from the windows and hang them elsewhere in your home all year round.
4. Suspend iridescent decorations
For more of a dramatic Christmas window lighting idea, that looks just as beautiful inside the house as it does from out, suspend light-up oversized decorations within your window frame. These lovely decorations are from Graham & Green's new Christmas collection which is just filled with lovely alternative ways to light up a window at Christmas.
"Try hanging yours in clusters of twos and threes, suspended from ribbons of different lengths with a mix of large and small spheres.' recommends Joanna Spindler. 'The warm white lights twinkle beautifully in the reflection of window panes and create a welcoming glow from the outside. These beautiful Sphere Solar Lights also look magical strung up in trees or lining a pathway to your front door.'
If you like a more minimalist look, a single bauble hung in the center of the window frame is all you need, but for more of a display hang a few at varying heights and bring in some large decorations too, like the spectacular gold acorn (also from Graham & Green). As the lights are LED and solar, so you don't have to worry about positioning them near a plug and you could also use the light as a base to wind festive foliage around. How lovely would these look with a few tendrils of ivy and bunches of red berries weaved through?
5. Create a rustic Scandi feel with paper lights
For a lovely rustic, slightly Scandi look you can't go wrong with a few light-up paper stars hung at the window. We say the more the better too. Create a real display by hanging as many as your window can handle at different levels and in different sizes. So simple yet so effective.
IKEA come out with some form of these paper lights every year and there are always plenty of designs to choose from that you can mix and match. They fold up really neatly too so you can bring them out year after year.
6. Make the whole room sparkle
Now, this is a fabulous alternative to a more traditional Christmas window lighting idea. Disco balls have been seeping into the world of interior design trends and we are seeing even more of them popping up going into the festive season.
'During the dark evenings, it's a joy to walk past windows and see them lit up with twinkling lights or candles. Both are reminiscent of the old tradition of placing lanterns in windows as a sign of good news or as a beacon to welcome in weary travelers. If you really fancy impressing, then a disco ball is the ultimate window decoration - this not only says welcome in, but let's get the party started!' says Joanna Spindler of Graham and Green.
The key to ensuring you get this really dramatic look, where light fills the room is to hang the disco ball at the right point so the light hits it. You can use artificial light too so you can the effect in the evenings too, just place a floor lamp nearby or you could layer disco ball decorations with curtain fairy lights to fill the whole window frame.
7. Drape fairy lights above the window
Up your Christmas window lighting ideas by taking the lights outside too. Layer different light sources for a really magical all-over glow that you can appreciate both when you're are inside and out. For a simple but always effective look, string up some warm fairy lights above your frame or secure them around the edges of the frame to light up the entire window. Then on the inside adorn the window sill with candles or a collection of light-up ornaments to create a cozy festive scene.
8. Adorn a window sill with lights and decorations
Window sills, much like mantlepieces, come into their own at Christmas. They are prime spots to add a festive flourish and can give your home that lovely lit from within glow that passers-by will envy.
You can't go wrong with a classic evergreen display of fir, spruce, and ivy with a couple of pillar candles dotted throughout, but for a more minimalist look be inspired by this setup. Keep it simple with an all-white color scheme and layer up warm white lights with vases of frosted branches and some cute house-shaped tea light holders. You can find similar wreath lights at Trouva, which look lovely hung at a window, or grouped together and just propped up as can be seen here.
9. Make it magical and fill the window with curtain lights
For a super quick Christmas window lighting idea, the answer is curtains lights. You can get them up in minutes and you instantly have a window full of sparkle. Our only advice is to try a get a curtain that fills the entire window for the best effect and look out for microlights on a really fine string too as these will give a more subtle effect that won't look heavy or block light from the window. These are Light4fun, which are our go-to for good quality fairy lights and their warm white is spot on – not too yellow which is what we like to see.
10. KEEP IT SYMMETRICAL
Or you could go one step further, and jazz that window up just a little bit more. The typically boxy and rectangular nature of windows lends perfectly to a uniform display for a look that will feel incredibly aesthetically pleasing. The best way to do this is to imagine a line down the centre of your window, and create a display on each side that is a mirror image of the other. Create interest with varying heights, and you can also create depth by playing with scale and proportion.
Not only does it look great, but keeping things balanced can also help to visually expand small windows. 'Adding symmetry to your display creates the illusion of a bigger space.' says Lucy Kirk, Creative and Photography Manager at Lights4Fun. 'It acts as a mirroring effect, and helps to widen narrow windows.'
11. HIGHLIGHT THE WINDOW FRAME
So much of festive decorating is about highlighting the features you already have in your home - and a window display is no exception. This beautifully precise and smart idea from Whitestores makes a feature of the panelled glass window, while also shining a magical glow into the room and the world beyond.
Megan Humble of Whitestores offers her expert tips for recreating the look. 'Use pin wire lights for window displays - wire is thin and much less obvious than chunky cables, so you'll be able to really focus on the window display,' she says. 'We also recommend matching the wire colour to your window frame, or if that's not possible, opt for a translucent design so that it blends in.'
How do you secure Christmas lights in a window?
The best way to secure Christmas lights in a window really depends on the types of light you are using, and whether you are hanging them up inside or outdoors. For indoor lights, we'd recommend using small, clear adhesive hooks that you can thread the lights through and remove easily once the festive season is over. Command make hooks that are specifically designed for just this and work perfectly if you want to fix lights around your window frame or hang curtain lights.
For outdoor lights, you'll want something more sturdy. In fact, Command also make adhesive hooks for outdoors too which can be a handy quick fix. If you plan on stringing lights from a gutted so the cascade over a window, you can also get gutter hooks that are almost undetectable and easy to put up.
The Livingetc newsletter is your shortcut to the now and the next in home design. Subscribe today to receive a stunning free 200-page book of the best homes from around the world.
Hebe is the Digital Editor of Livingetc; she has a background in lifestyle and interior journalism and a passion for renovating small spaces. You'll usually find her attempting DIY, whether it's spray painting her whole kitchen, don't try that at home, or ever changing the wallpaper in her hallway. Livingetc has been such a huge inspiration and has influenced Hebe's style since she moved into her first rental and finally had a small amount of control over the decor and now loves being able to help others make decisions when decorating their own homes. Last year she moved from renting to owning her first teeny tiny Edwardian flat in London with her whippet Willow (who yes she chose to match her interiors...) and is already on the lookout for her next project.