Christmas table decor ideas – stylish ways to adorn your table for a festive feast
Let our Christmas table decor ideas inspire you to do something a little different this year...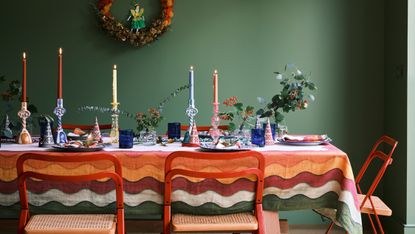 (Image credit: Farrow & Ball)
Out of all the must-do jobs over the holidays, we have to say one of our favorites is getting the table ready for the festivities. Christmas table decor ideas just fill us with joy and excitement for all the gatherings planned over the next few months, and we love to try something a little different every year.
So we've pulled together all the looks we are loving this year to get you inspired to try something new. From classic looks that get creative with foraged foliage to bright color schemes that take a bold approach to Christmas tablescaping, there's a style here to suit all...
1. Have a plan of action
While decorating the table is hardly a chore, it's something on your Christmas checklist that you can plan for. Start early and decide on centerpieces, color schemes, layouts, and perhaps most importantly check you have enough chairs, crockery, and cutlery.
'Firstly, making sure the table is big enough for the number of diners is really important. Lay all serving bowls and dishes out beforehand to ensure everything will work and people have room to eat in comfort.' advises Alison Howell of Burleigh (opens in new tab) (one of our favorite places to shop for special Christmas crockery)
'Next, ensure you keep your color scheme simple. The kitsch Christmas red, gold, and green can look wonderful, but for simplicity, keeping to just one color whether that's gold, or an alternative color, such as black is just as effective. Using a number of different shades of gold across your accent accessories like cutlery, fabrics, and candle holders, for example, is a great idea for a simple yet impactful Christmas table setting. Finally, ensure that you use lots of different size bowls and serve dishes in different colors, shapes, and sizes. Creating a super eclectic mix draws everyone in and creates a layered landscape across your festively laden table.'
2. Start with a neutral base and built from there
'I love finding ways to incorporate warm and woodsy outdoor elements into the tabletop. Utilizing sprigs of fresh greenery, pinecones and berries and arranging them as a 'runner' down the table is a creative way to make a statement. Mixing those natural elements with decorative staples such as glass blown trees and candlesticks can help to create balance in the table. Also, when possible I try to incorporate pieces with varying heights in the display; it keeps the eye engaged at all levels.' says designer Kathy Kuo (opens in new tab).
'With that, it's important that the place setting complements the decor and ties the table together. I love a classic winter white or seasonal glam theme when it comes to individual settings. Utilizing white stoneware allows for a neutral base when incorporating additional colors into your tablescape keeps it classic. If you don't have seasonal dinnerware with metallic accents -- napkin rings, plate chargers, place cards and linens are a great way to integrate a hint of glam.'
3. Get the lighting right
When it comes to creating that lovely cozy ambiance that's crucial to a Christmas table, it's all about the lighting. Candles (in all shapes and sizes), fairy lights, side lamps, all of this low-level lighting is what's going to give that all-over glow to the whole room.
'When it comes to the Christmas table, we're a fan of Iris Apfel's 'more is more, less is a bore' ethos! Christmas is a time for celebration with drinks flowing and a feast of food, so naturally, your dining table needs special attention to step up to the occasion. A foraged or floral centerpiece always creates impact; however, we also love bringing decorations usually saved for your Christmas tree or mantlepiece to the table.' says Jane Rockett, Co-founder of Rockett St George (opens in new tab).
'One of the most important parts of any Christmas table is to create a magical atmosphere. The romantic glow of candlelight is essential to set the tone for an indulgent Christmas celebration that lasts long into the night. Fairy lights are another failsafe way of achieving a luxe look and aren't just for the tree. Scattering fairy lights across to your Christmas table helps to showcase each individual place setting, with the twinkling lights perfect for lighting up both your table and the rest of the room. Another top trick from us is to wrap battery-powered fairy lights (opens in new tab) around the arms of your dining chairs for a seasonal style update with real wow factor.'
4. Consider heights and scale with Christmas table decor
The key to a lovely Christmas table idea is variation. You want lots of lovely layers of texture going on, and an array of heights too. Try and avoid having all your decor sitting at the same level, it just looks too curated and creates a kind of solid block in the middle of the table. Think natural, you want the layout to have natural movement to is, so add a mix of decoration at table level but also add in some height too with table candles or hurricane candles as seen here.
As you are decorating keep stepping back and seeing where the eye falls and be sure to think practically too, as designer Benji Lewis (opens in new tab) says, 'Over-sized centerpieces that block access to speaking to one another across the table for example can be a nuisance – you need easily to be able to see and enjoy one another's company.' The best way to avoid creating an unpractical Christmas table is, as Benji suggests, opt 'for a sophisticated Scandinavian approach, try a simple white tablecloth and greenery from the garden.' Simple but so effective.
5. Go for a bold quirky color scheme
How fun and fabulously festive is this set up? Red and green might dominate the festive period, but really any color goes at Christmas and as this table proves opting for a rainbow of hues can be far more stylish than it may sound. Be inspired by this tablescape and make quirky candleholders and equally quirky candles your centerpiece.
Choose a mix of shapes and shades, that almost match but don't quite so the overall look appears cohesive but delve more and there's plenty of unusual surprising. Include a nod to the traditional but interspersing jars of evergreen and juicy red berries, and complete the look by hanging paper decorations (opens in new tab) from the ceiling.
6. Suspend decorations from the ceiling
Hanging decorations from the ceiling above your Christmas table has such a magical effect, and yet it's so easy to achieve and works with so many different decorating you can adapt the look to suit your style.
'If you are able to put small brass hooks in your ceiling or a beam above your dining table, a suspended horizontal branch makes a striking focal point. Hang decorations of a similar theme in varying heights using narrow ribbon or twine.' recommends interior stylist Hannah Risbridger and founder of From the Old Post House (opens in new tab).
'I always do this with the ceramic snowflakes from our Winter 19 Box. This year, I plan to use the palette of our Jewel Luxe collection with opulent merlot, gold and emerald tones. Adorn your tabletop in foliage and candlelight. Use varied heights of candlesticks with rich, dark dinner candles as well as low cut-glass tealight holders, and then weave foliage throughout for the length of the table. For place settings, loosely roll neutral linen napkins tied with a rich, dark velvet ribbon. Finish by attaching a luggage label displaying your guest's name written with a gold calligraphy pen.'
7. Layer up your linens
'Christmas, for me, is all about the time spent around the table. Memories of hours whiled away eating and drinking, laughing together around a table last a lifetime. This is perhaps why my favorite task is styling the table. Creating a magical place to sit and linger, beautiful but relaxed and inviting.' says Suzy Humphreys founder of Layered Lounge (opens in new tab).
'Work on your table setting in layers. An occasion such as this definitely calls for the addition of beautiful table linens. A linen tablecloth, runner and napkins have a more relaxed natural look than cotton. Create a low-level centerpiece by adding in greenery such as a faux garland or real foliage which helps to bring the outside in and dot with small festive ornaments such as our ceramic trees and votives. Keeping the look low will enable your guests to see each other across the table. There's nothing worse than having to move things around in order to be comfortable. Finish with a mass of candlelight for ambiance and various heights from low level to elegant candlesticks for understated elegance.'
8. Keep it simple in a kitchen diner
If your dining room is within your kitchen, chances are it's not practical to go full-on with your decor all the way through December, but that doesn't mean you shouldn't add some festive sparkle that you can enjoy at every meal. Be inspired by this space and run a simple garland down the center of the table, adding lights or candles to illuminate the greenery – simple but effective.
The brush trees you can see interspersed in the garland are some of our favorite Christmas decorations we've seen this year, and they are popping up everywhere! They are great to have in your collection to dot around the surfaces of your home to add some instant festive cheer, and make for lovely table decor or as an alternative to place name cards. Rockett St George (opens in new tab) has some gorgeous neutral trees in their Christmas collection this year we have our eye on.
9. Create a modern twist on the traditional
We love this really fresh, clean contemporary look. It feels suitably festive with the green and gold scheme and all the greenery is classically Christmassy – fir and ivy, but the contrast with the crisp white linen and simple crockery gives the whole style a more modern edge. And the dried thistles add that all-important heigh to the
design giving it a very natural, effortless feel.
Take home tip: when picking foliage for your Christmas table think about how all the colors and textures will work together. Combine larger, softer greenery like ferns with more structured sprigs of spruce or eucalyptus, and mix waxy leaves like magnolia or holly with dried flowers to create real depth and interest.
10. Flood to table with foliage
'Create an abundant display which floods the center of the table, running the full length, keeping it low, to help bring everyone into the table to easily talk and celebrate.' recommends florist Philippa Craddock (opens in new tab).
'Use a mass of seasonal greenery which is rich and full of fragrance at this time of year. I love thick, blue spruce, green skimmia with its intricate detail and fragrant eucalyptus, particularly larger leafed cinerea. Add touches of flowers to bring different colors to the design - hellebores and ranunculus are beautifully delicate blooms, in an array of colors and currently in season.
For this design, I used a series of shallow trays filled with water, with folded chicken wire taped securely to held the stems. Add plenty of candlelight, staggering the heights and nestle into the design, using a mixture of tapered tall, dining candles in glass candlesticks and tea lights placed into mottled metallic votives, for a hugely warm and inviting feel. Bring touches of the central design to your place settings by creating mini bunches of your flowers and foliage and tie with beautiful ribbon or natural twine, to continue the design across the table, creating a wholly decadent and celebratory feel.'
11. Or keep it minimal with delicate displays
And if you just want to add a touch of foliage, be inspired by this minimalist look and just dot some beautiful blooms in simple bud vases along the spine of your table.
To recreate this look Philippa recommends to, 'gather together a small collection of petite bud vases and recycled household containers (fragrance bottles, condiment bottles etc.). Add a few stems into each, placing the vessels randomly in the center of the table - it is best to place them more organically, so there is clear randomness, rather than equally and carefully placed. These are quick and easy designs, which only need a small gathered handful of stems - pick greenery and flowers from your garden or source from a local grower. Once you have a table fully set with plates, cutlery, glasses and a few candles, you can very quickly pull together a hugely inviting and comforting table. In this design I used deep crimson hellebores with vibrant yellow centers, acacia and delicate talinum long john; focussing on a combination of different shapes and textures.'
12. Opt for an effortless rustic look
Willow Crossley's Christmas dining room decor is of course filled with beautiful inspiration that's really easy to achieve with foliage you can forage from your own garden. What stands out to us with this look, however, the greenery isn't just draped through the middle of the table, instead, vases line the spine, overflowing with greenery. This gives the look a bit more structure, you still get that lovely, rustic look, and the branches of pine cones only add to that, but the vases make it feel more purposeful, plus add in some lovely extra color and pattern that can be picked up in the crockery you choose.
13. Choose a frosty all white Christmas table
If you are after a more contemporary look with your Christmas table decor this year, there are plenty of ideas to pinch from this frosty look. Firstly, no table cloth?! For so many styles a table cloth is a must have, but we are actually loving this clean, more contemporary approach. It's a look that would suit a fuss-free style, perfect if you are hosting on Christmas Eve or have some festive drinks and nibbles planned with friends, the lack of table cloth just makes it... cooler.
And having such a neutral base means you can go louder with the table decor, and mix and match unexpected patterns – like the floral butter dish and stripped decanter used here. It's all a bit mad and yet looks so chic. Oh, and decorations on the back of the chair is an idea we will for sure be stealing this year.
14. Take it outside
When it comes to outdoor Christmas decorating ideas, perhaps an alfresco dining space isn't top of your agenda, but we spent so much of last Christmas and winter drinking and dining outdoors and this year it seems to be an actual trend to set up your Christmas table outside. And we think it's such a lovely idea to spend a cold crisp afternoon wrapped up in a blanket sipping mulled wine and eating suitably festive nibbles (ie. a very crowded cheese board).
So give your garden furniture a festive spruce and add plenty of cushions, throws and candles and string up fairy lights in any nearby greenery to create a festive grotto in your back yard.
How can you decorate a Christmas table?
'For me, it starts with the gathering inspiration process' says designer Emily Henderson (opens in new tab). 'This decides what direction you are going to go in, what vibe are you after. I always ask myself how I want my Christmas table to feel rather than how I want it to look. Do you want it to be super high energy, festive and fun, or more romantic and calm and sophisticated? That generally leads you in a color palette direction and the kind of decor you want to have.'
'Then I pick a color scheme and style within that. For the holidays that's pretty easy, for a no-fail approach layer whites with different textures and hints of green, and if you want to add pops of red that will instantly add a sense of holiday to the table. Really these days anything goes if it's styled well so you could experiment with blushes, navys, and greens from all over the spectrum.'
'A mix of heights is crucial too. Consider where you place your glassware, so a tumbler next to a wine glass, just something that feels like it has different levels. And the same goes for what's going on in the middle of the table, avoid having anything at the same height.'
'Last up is ambient lighting. You can do candles or you could do fairy lights. There are so many good fairy lights that are battery operated that you can just string along the center of the table in greenery or just left exposed.'