Christmas flower arrangement ideas - festive blooms to brighten your space
Pretty up your place with these beautiful festive blooms and bouquets...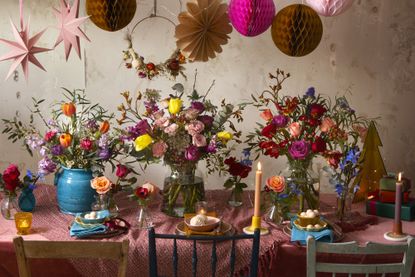 (Image credit: Bloom & SWild)
The Livingetc Newsletter
For style leaders and design lovers.
Thank you for signing up to LivingEtc. You will receive a verification email shortly.
There was a problem. Please refresh the page and try again.
Bringing your Christmas flower arrangement ideas to life is one of the most joyous parts of the festive season. But, with so many beautiful seasonal stems and foliage to choose from, expert tips can be an exceptional source of inspiration to guide the way to festive floral perfection.
'Arranging seasonal foliage throughout your home is a wonderful way to create a holistic festive experience, targeting all the senses,' says Louise Wicksteed, creative director at Sims Hilditch. 'The smell of pinecones arranged in a bowl and fir branches laid across a coffee table create a truly festive atmosphere.
'We suggest placing gathered foliage around the center of the table or around a collection of candles to create a rustic seasonal display. A mix of dried and fresh foliage is a great way of celebrating your natural surroundings, bringing the outdoors in.'
Christmas flower arrangement ideas to pretty up your home for the holidays
'At Christmas a floral display makes a beautiful addition to any table or mantlepiece,' says Jane Rockett, of Rockett St George. 'I love to make a statement with my arrangements, the bigger the better.'
From a traditional aesthetic to vibrant, bold and beautiful, we've asked a host of experts how to create a striking Christmas flower arrangement and how to bring them into your Christmas table ideas this season...
1. Go faux (but natural)
If you want your Christmas flower arrangements to last for most of December through to the New Year, it's a good idea to opt for faux stems and foliage. And keeping the look natural will help to make the final aesthetic more authentic.
Sue Jones, OKA Co-Founder and Creative Director, comments: 'For the perfect festive faux flower arrangement, take inspiration from the great outdoors. Mix stems of wild berries in deep shades of red and blue with branches of winter foliage to bring the colors of the season indoors.'
2. All things white and beautiful
A white and green scheme allows for a rustic Christmas dining room idea look that's chic and inviting. Chrissie Rucker, founder of The White Company, is an advocate of the look. She says: 'I use lots of very simply arranged white flowers and greenery. I don't like flowers to look too "arranged".'
She adds: 'For the flowers, I stick to white and mix in lots of seasonal greenery - hyacinths, ranunculi's, white roses, flowering eucalyptus, snowberries and fresh rosemary are all favorites.'
3. Plump for pretty pampas stems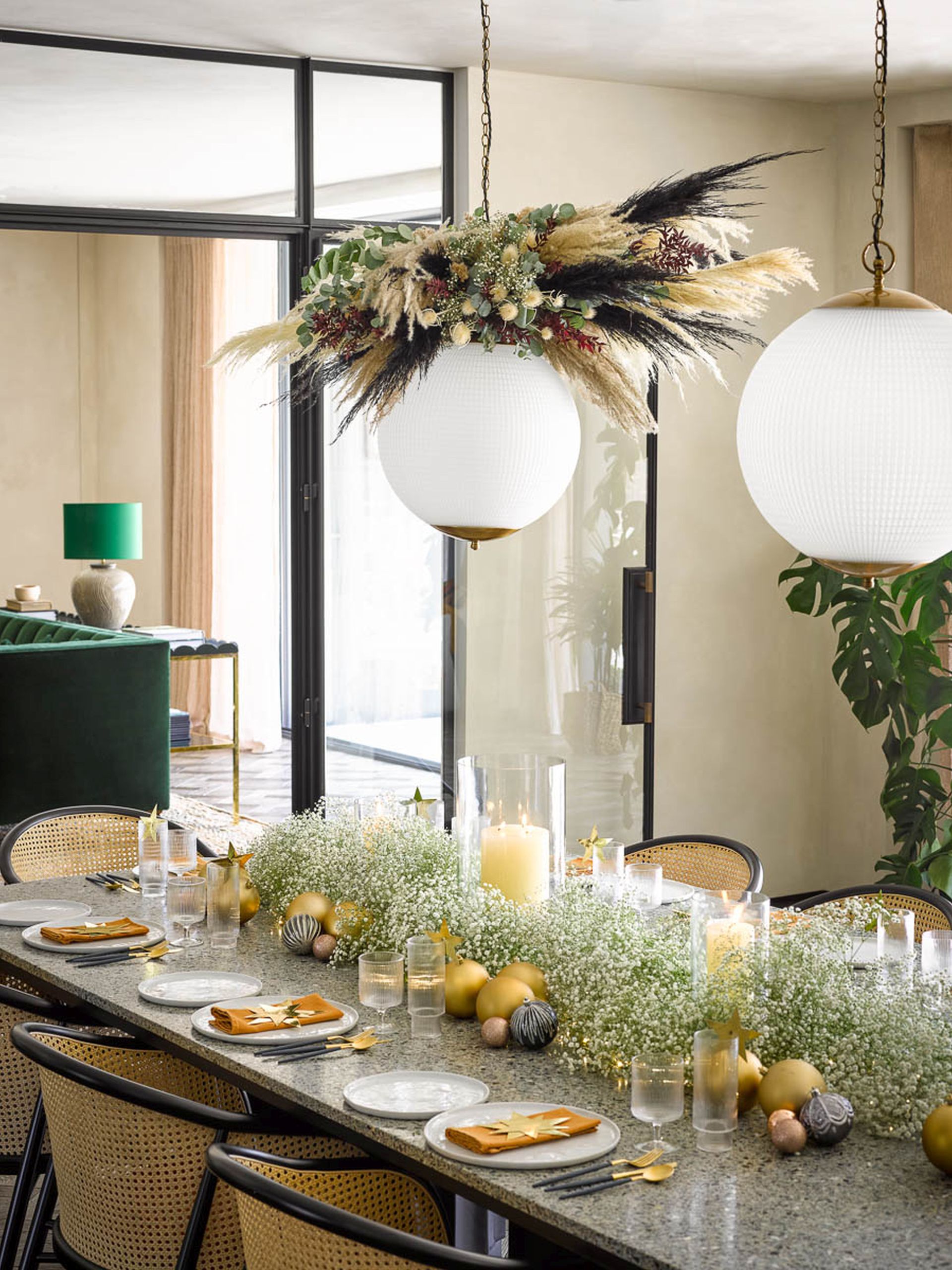 Dried pampas grass is an on-trend look that will add a funky feel to your Christmas decorating ideas.
'A flower arrangement idea I am really into this Christmas is using pampas grass,' says Jane Rockett, co-founder of Rockett St George. 'These beautiful stems create drama and can be used in a vase or tied together to make a hanging display over a table, or even a garland above a fireplace.
'Before using pampas be sure to give them a good shake to release any loose fur. I love using pampas to create tall displays on tables and on the floor around my fireplace.
'Dried grasses and flowers are available in a range of neutral tones (including black), as well as bright colors, so try mixing different hues and sizes of pampas stems for a varied arrangement. '
4. Add a little luxe with gold and silver
Give your Christmas flower arrangement the Midas touch with some sprayed stems.
Jane Rockett loves the look, saying: 'For a glittery, glam Christmas flower display I love to use gold and silver fern leaves, especially when paired with pops of color from the flowers.
'I personally like to use a combination of faux and real flowers and foliage to create a variety of texture. Also, faux flowers will need less looking after throughout the Christmas period so are a great low maintenance alternative.'
5. Choose a festive explosion of red
As Santa's color of choice, there's no shade more Christmassy than red - and the hue makes for a striking bouquet, whether it's as a table centerpiece or a hallway console.
Lovely flower choices for this look include hydrangea, roses, rosehip, and amaryllis. Don't forget to intersperse pretty foliage like eucalyptus and hypericum to finish the look.
6. Work a traditional festive bouquet
There's nothing like seasonal flowers and foliage to waft the welcoming scents of Christmas throughout the house.
Traditional foliage includes holly (paired beautifully with magnolia above), eucalyptus, winterberries, amaryllis, snowberries, pine, pussy willow, fir and ferns.
'For a winter arrangement I choose ferns and pinecone stems to create a gorgeous, relaxed display of natural tones and textures,' says Jane Rockett.
7. Add a burst of color for a party vibe
'Make the perfect festive party arrangement with vibrant and unexpected stems,' says Caroline Grimble, Lead Florist, Bloom & Wild.
Mix popping fuchsia roses, pink carnations, and sunshine yellow tulips with festive berries, hypericum and eucalyptus for a flower arrangement that manages to be fun and festive at the same time.
8. Use contrasting combinations
Using an array of textures will ensure you add dimension and depth to your Christmas flower arrangements.
An expert at Mcqueens Flowers says: 'For texture and seasonality combine beautiful boughs such as holly and ivy with some of winter's most luxurious stems - think crimson red ranunculus and deep plum anemones.'
What can you put in Christmas flower arrangements?
What you put in your Christmas flower displays depends on the look you're going for and the style of your festive scheme.
'If you're going for a traditional look this Christmas, consider using the classic foliage bits like holly, rosehip and amaryllis,' suggests Neptune stylist Ailie Williams. 'This combination creates a striking arrangement and is perfect for a festive atmosphere.
'For a more pared-back look, you could include eucalyptus, snowberries, hellebores as well as thistles, which creates more of a Scandi-style decoration, but is still in keeping with Christmas and seasonal flowers.'
Bloom & Wild's lead florist Caroline Grimble's answer to the question? 'Whatever you like! Go all out with floral styling suited to your personality.' She adds: 'For Christmas, sometimes the more foliage the better. Filling the home with winter foliage is the fastest way to make it look, feel, and smell like Christmas is coming; choose a mix of magical winter foliage like pine and eucalyptus.'
How do you make a Christmas flower display?
It's a good idea to think about where your flower arrangement is going before deciding how to style it, says Caroline Grimble.
She explains: 'Before starting your arrangement, decide where you're going to place the flowers and if you want to see all your flowers at the front of your arrangement because it's going against a wall or on a mantelpiece, or if you want to see all the way around the arrangement because it's going to be on a coffee or dining table.
'The vase or container you choose will determine the shape of your arrangement. Ideally, to create a full round arrangement, choose a vase that has a narrow neck and a wider base as this will help to create space in the arrangement for your flowers to bloom.
'I like to start my arrangement by placing in the foliage first. This works like a backbone and gives some structure for you to place your flower stems around. Next, criss-cross in your stems, making sure any gaps are filled.
'Play around with the heights of the stems. Making them asymmetrical will give the arrangement a lovely natural look. Keep some stems as long as possible and have wispy pieces of foliage cascading over the edge to bring movement and drama to your finished piece.'
Neptune's Ailie Williams suggests: 'If you're looking to style a display for a large area, like your kitchen island or dining table, you can create impact by using a large vase with a wide neck so you create as much volume as possible.
'Start by building in the foliage to create the shape and then dot in your other flowers that add a pop of colour and texture. For a smaller surface, like a console or coffee table, you could use a variety of glass and ceramic vases and use each one for a different bunch of flowers to create singular striking displays that sit nicely in the corner, or out of eyeline.'
And Jane Rockett's top tips? 'Fern leaves are a brilliant filler for your display and can frame all the other stems, also giving volume and shape to your arrangement. Start by selecting your flower stems and pick three of each to begin with. Place them into your chosen vase one by one making sure you space them out, creating a uniform look.
'Once you are happy with the placement start adding foliage around the flowers to bulk it out. Cut and bend the stems to give different heights as you don't want everything the same. It's also worth remembering to choose stems and foliage that fit with the theme of your festive decorating.'
How long will a Christmas centerpiece last?
'Your fresh Christmas bouquet will last at least a week, with the right care,' says Caroline Grimble. 'Foliage-only bouquets can last much longer as they will dry out perfectly.' Caroline's top tips for keeping your real flowers fresh for longer include:
1.) Flowers don't like drinking dirty water so make sure your container is clean and you refresh the water every few days.
2.) Don't forget to trim your stems before popping them in water. If you don't, your flowers won't be able to drink as much as they need to. Over time the stem end dries out and makes a little seal, so by re-cutting the stem it can drink freely. It is also really good to cut at an angle, which creates more surface area for the flower to drink from. Cut 3 to 5 cm of the stem - and I like to recut when I refresh the water.
3.) Keep your flowers out of direct sunlight and away from heat (like near a radiator), as they dehydrate the blooms, as well as the fruit bowl. Fruit releases gases that cause the flowers to bloom and fade quicker than they should do.'
Neptune's Ailie Williams says: 'One way to make a real flower arrangement or centerpiece last longer is to include moss in the foundations and give it an occasional watering. This should keep it going for a couple of weeks.'
And the team at McQueens Flowers adds: 'How long a floral centerpiece lasts will depend on several variables. If the flowers are very fresh they should last up to a week.' Follow their tips below to improve longevity:
-Remove any leaves that would sit below the waterline (otherwise they will begin to decompose in the water over time causing bacteria.)
-For the same reason make sure the vessel is cleaned thoroughly before use and the water is kept clean by refreshing every couple of days.
-Trim stems at an angle - this ensures they drink as much water as possible.
Alternatively, faux and dried arrangements will last as long as you decide to keep them up for.
For style leaders and design lovers.
Ruth Doherty is a lifestyle journalist based in London. An experienced freelance digital writer and editor, she is known for covering everything from travel and interiors to fashion and beauty. She regularly contributes to Livingetc, Ideal Home and Homes & Gardens, as well as titles like Prima and Red. Outside of work, her biggest loves are endless cups of tea, almond croissants, shopping for clothes she doesn't need, and booking holidays she does.