How to decorate a Christmas table – our favorite designer's top tips for a successful tablescape
Follow our expert guide on how to decorate a Christmas table, from playing with graphic stripes to making centerpieces from ornaments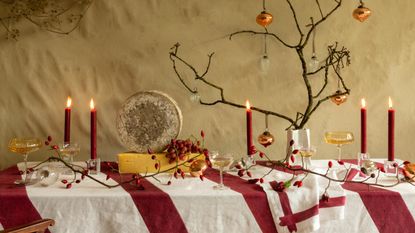 (Image credit: The Sette)
The Livingetc Newsletter
For style leaders and design lovers.
Thank you for signing up to LivingEtc. You will receive a verification email shortly.
There was a problem. Please refresh the page and try again.
Planning how to decorate a Christmas table is one of our favorite parts of the festive season. It's such a lovely task to spend an afternoon planning what color scheme you are going with, what your centerpiece will be, how you'll arrange your tableware and glassware. But it does take a bit of skill to get it looking lovely, and you do have to approach it practically as well as just thinking about aesthetics.
So to help you nail your Christmas table decor ideas this year, we have asked some of our favorite designs and stylist what their festive tablescape will look like and how they plan on creating an unforgettable tablescape. From Kelly Wearstler and her simple, minimalist approach, to John Derian and his pickle tree (yes you read that right...) there is a style here to suit all...
How to decorate a Christmas table
Focus on the table's symmetry
Known for her unusual use of materials, shapes, and silhouettes designer Kelly Wearstler opts for a contemporary white Christmas setting with plenty of texture and visual interest. By teaming an extraordinary white wood dining table with mixed metals, silver art deco Christmas candle ideas, sleek silhouetted brass cutlery and textiles and tableware that build on a monochrome palette, her Christmas table exudes offbeat luxury.
'A great way to start is by planning out the balance and symmetry of the table - how well the visual weight of each element in a place setting is distributed and repeated.' explains Kelly. 'Varying heights and volumes combined with contrasting materials like a rustic wood table and smooth marble chargers adds a dimensional quality and textural interest.'
Goes All Out With Gingham
LA Based designer and textile brand Heather Taylor practically coined the word 'cozy' and her gingham home textiles have taken the celebrity set and beyond by storm. Stocked everywhere from New York, California, London and Hawaii she is the source to meet all your gingham needs. It's no surprise then that her Christmas table gift ideas and place settings alike are full of our favourite check!

"Going all out one pattern is so fun and impactful, I love layering our gingham, tablecloths, place settings and napkins in bright cherry red on one table.' explains Heather "Instead of a traditional napkin ring, I tie patterned bows around each napkin to add a touch of fun holiday cheer. My favorite ribbon to use is our new mini gingham ribbons made from our excess fabric remnants."


Opt for An Eccentric Centrepiece
American designer John Derian is known for his humour and eccentricity in his designs. He suggests choosing unexpected Christmas table centerpiece ideas to be mixed amongst traditional settings - his pickle tree is guaranteed to add cheer in any gathering!

"There are no rules when decorating a Christmas table," John says. "The pickle tree is one of my favorites, it's a German tradition. You are supposed to hide a pickle on the tree for others to find, larger ones for smaller children and smaller ones for older people. In our store the glistening green pickle ornaments stand in the centre of a table that brims with white china. I love how fun the ornaments look next to more traditional décor"
Create a Party Atmosphere with pattern

Joyous and nostalgic, Molly Mahon's table takes its cue from the vibrant orange-red hue of the walls, layering a red block printed tablecloth. Molly knows how to make traditional patterns feel modern, and here that's by reddy-orangey candles and paper streamers in a pink, yellow and orange color palette that are ever so off-kilter that they promise a good time is to be had.

"Much of the task of table-decorating is complete as soon as you lay table linen down" says Molly. "Whether you want a pop of colour and pattern against a minimalist white table cloth or bright matching napkins with your bold table cloth, it's all about the right linen in order to create a joyful and welcoming ambience."
Go bright and graphic
Interior designers Turner Pococks's new Red Stripe linens collection with The Sette is made in Italy and is a striking contemporary take on Christmas dining room decor.
"Our Red Stripe tablecloth is not an obvious Christmas design, but it can easily be dressed up for the festive season as the bold print in a classic Christmas red does most of the talking." says Sophie Elliott, co-founder of The Sette. "Get creative with twigs and branches, placing them along the centre of the table and sticking them in vases to give the table varying heights. Baubles are an easy win for added sparkle, which you can hang off the twigs like we did, or place along the table. Candles are a must - there's no such thing as too many candles to make it feel Christmassy and our red dinner candles work perfectly on this print. This sets the scene for a relaxed and playful Christmas table."
Mix the Classic and Rustic
Layering her items on a classic white linen tablecloth, Rebecca Udall's table builds on formal wintry cornerstones using a wicker charger, green scalloped textiles, traditional white tableware - interspersing the settings with a sweet scattering of pinecones and dried clementines, adding color with a candle to form part of her Christmas lighting ideas.

"A classic table is about careful layering of each setting." advises Rebecca, "A good quality tablecloth, patterned or plain, makes for the perfect base. A placemat and charger beneath plates and napkins add texture and keeps the table looking interesting between courses. Choose each element for the individual design details that you love like piping and scallops rather than focusing on matching everything."
How can you style a Christmas table?
The best way to style a Christmas table is to start at the middle and work outwards. Begin with a centerpiece - candles, foliage, ornaments or all three - and then scatter lose objects like fruit or more candles between the center and the table settings. Pick one unifying color and have it running through all the items on the table - perhaps a red candle that matches the linen napkins, or gold candle holders that match the cutlery.
What do you need on a Christmas table?
On a Christmas table, you need to make sure there is space for the food! And serveware to eat it off. Aside from plates and room for platters, you need to add glasses and cutlery - then everything else is decoration. Candles are good for twinkle, and foliage and can feel festive. Add a showstopping table centerpiece if you have the room.
For style leaders and design lovers.
Rohini Wahi is Content Editor for Livingetc Online. With a decade-long career in the interiors and design industry working as a journalist for premium lifestyle publications then delving deeper into the business as a trend forecaster, Rohini has amassed a wealth of global design knowledge that informs her work. She loves a period drama and keeps a tidy home.