Christmas table centerpiece ideas - how to elevate your festive tablescape
Be inspired by our beautiful Christmas table centerpiece ideas, from a statement showstopper to natural beauty...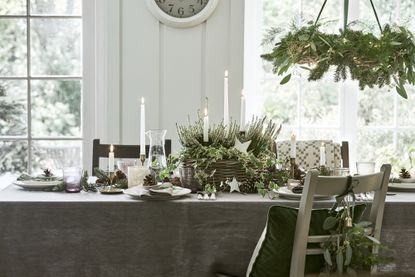 (Image credit: Neptune)
How to set the table for Christmas is always one of the most exciting activities of the festive season, but it doesn't have to be a stressful one. Christmas table centerpiece ideas can be as minimalist or maximalist as you like - and simple is often chic and effective.
But if you love to embrace a bold theme, it's certainly the time to do that too; when it comes to your Christmas table centerpiece, anything goes. To help inspire your holiday tablescape, we've asked a host of experts to share their top Christmas table decor ideas and advice on creating a pretty, magical aesthetic that will create a convivial atmosphere and celebrate holiday cheer in style.
Connor Prestwood, interior designer at Dowsing & Reynolds, says: 'When it comes to creating a Christmas table centerpiece there are no set 'rules' to what you should and shouldn't do.'
'If you're wanting to keep it quite minimal then you could stick to a quality table runner and a few candles. These will help bring some warmth and joy into the space whilst serving as the perfect ambient light over dinner.;
'If you're on the other end of the spectrum however and would like to create a magnificent showstopper, go all out. Carry on the theme that you have throughout the rest of your home, whether it's vibrant metallics or traditional festive colors.'
'A fantastic starting point is to use a garland as a base that you can build on, adding different textures and festive items. And don't forget the lighting... whether that be candles or battery-powered fairy lights, these will be sure to add that extra bit of magic to your table and make the perfect talking point over dinner.'
Christmas table centerpiece ideas to inspire
Elevate your Christmas dining room ideas this festive season with an ultra-stylish table to boost the festive cheer.
'An essential for me with any Christmas tablescape scene has to be a great centerpiece,' comments Lucy St George, co-founder of Rockett St George. 'This can be an impressive floral display, a gorgeous statement candelabra or a collection of objects displayed at different heights that add interest and drama to your dining space.'
From rustic chic to modern glamor, we've rounded up plenty of Christmas table centerpiece ideas to inspire your festive display...
1. Go for glitz and glam
'There really is no such thing as too much glitz and glamor, so channel your inner maximalist and set the table with everything from twinkling fairy lights to daring decorations, gorgeous glassware, and as many candles as you can find,' suggests Lucy St George.
'At Christmas, I love a green and gold theme for my centerpiece, with natural details and foraged foliage introduced to the table amongst glamorous hints of gold. This helps to create a truly magical setting, with gold accessories catching the light and reflecting a gorgeous glow across the table.'
2. Add some dark drama
Grey and black can create a statement Christmas tablescape that also invokes a cozy ambiance. You can add a little extra luxe and glamor by including splashes of gold into the scheme, too.
Alison Howell, Design and Development Manager at Burleigh, says: 'The kitsch Christmas red, gold, and green can look wonderful but, for simplicity, keeping to just one color, perhaps a darker grey or black, is just as effective.'
She adds: 'Using a number of different shades of gold across your accent accessories like cutlery, fabrics, and candle holders, for example, is a great idea for a simple yet impactful Christmas table setting.' Add foliage, berries and pine cones for an extra festive touch.
3. Work traditional Christmas colors
'Introduce a splash of festive color by threading some holly or mistletoe through your centerpiece for a subtle yet seasonal touch,' suggests Louise Wicksteed, creative director at Sims Hilditch. You can add red candles for an extra pop of color, or keep it serene with white.
Louise adds: 'When decorating a Christmas table, it is easy to let it become overcrowded and slightly cluttered. We recommend keeping your tablescape fairly simple.'
'Why not choose a centerpiece made up of candles in varying heights? This draws the eye and creates a certain warmth, perfectly in keeping with the Christmas aesthetic.'
Jenna Kincaid, Creative Director at Lulu and Georgia, also suggests opting for a traditional color scheme, saying: 'When creating your Christmas table, start with a traditional color palette of reds, greens, and hints of gold. We love the idea of adding lots of greenery, wooden accents, and sculptural candle holders for a layered look.'
4. Opt for naturally beautiful
Make like interior designer Susie Atkinson and keep things simple and natural this Christmas. She says: 'I feel less is more with the Christmas table decorations and I like it to be as natural looking as possible using foliage from my garden.
'It's worth remembering that after you have laid the table with cutlery, crockery, glassware, condiments plus the bread sauce, Cranbury sauce, and gravy etc. there is not much room left.'
And Sue Jones, OKA Co-Founder and Creative Director, agrees she likes to keep things natural when it comes to Christmas decorations, adding: 'Fabulous festive feasts, enjoyed with family and friends, is what Christmas is all about – and when your tabletop looks lovely, you're already halfway to having a good time.
'I like to use seasonal foliage as a festive table centerpiece, mixed in with smaller decorative pieces – such as gold-painted dishes and candle holders – to add a warm twinkle to the room.'
5. Embrace a kitsch and colorful look
Opt for brightly colored baubles and paper honeycombs as an alternative to a traditional centerpiece of foliage, plants or flowers.
'Always have a bit of fun with your festive table setting; it doesn't have to be overly elaborate, but color is a good place to start,' says Sue Jones, OKA Co-Founder and Creative Director. 'Christmas decorations aren't just for the tree – try arranging bold-colored baubles in the center of your table, mixed in with silver-sprayed fir cones and colorful glassware to make it even more vibrant.'
6. Use a cluster of pretty vases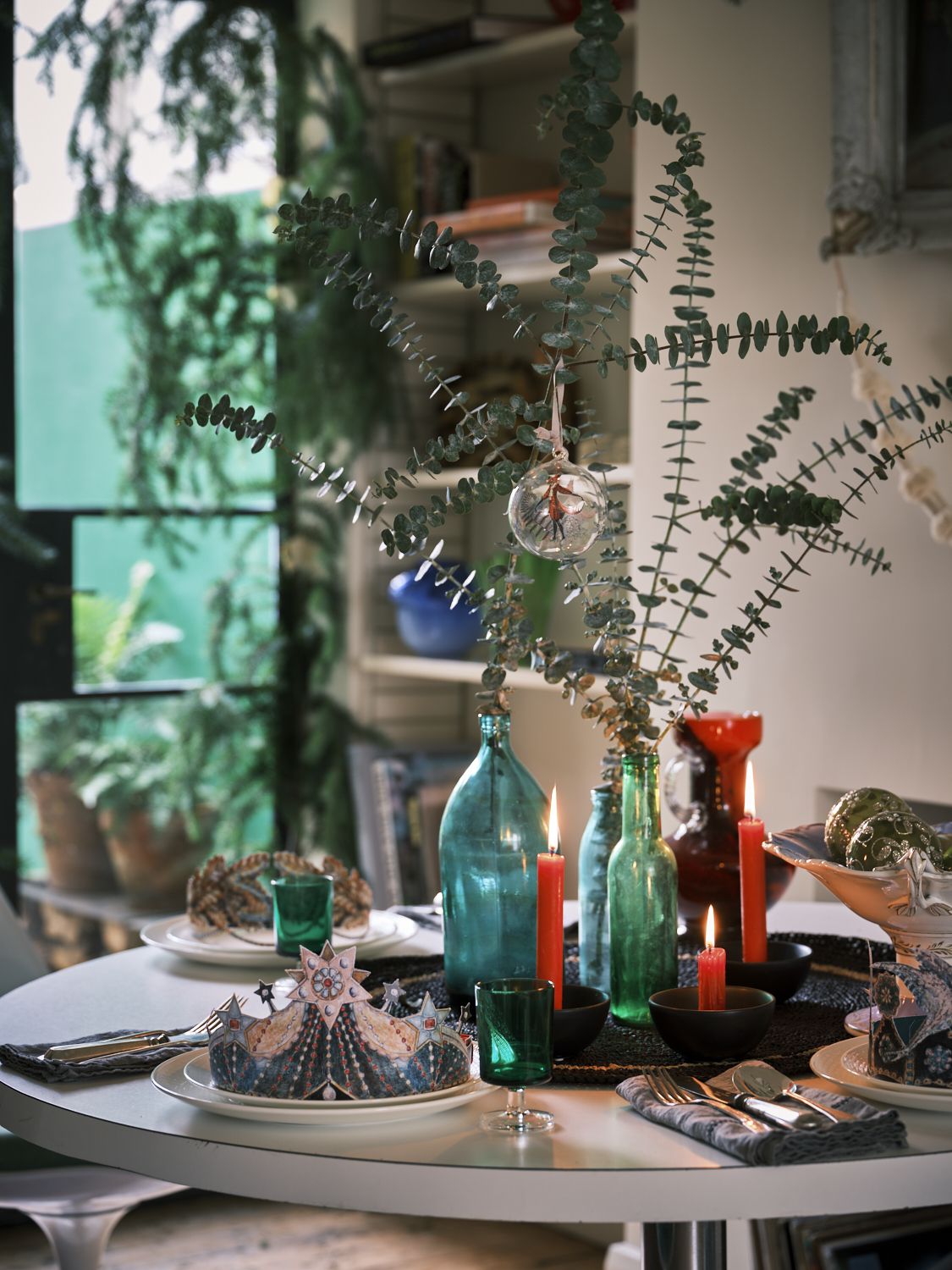 Rich, jewel-toned glass vases are the perfect vessels to create a stunning Christmas table centerpiece.
'With a newfound appreciation for the finer, more decorative details at home, particularly when decorating for the festive season, there has been a huge surge in popularity for vases as centerpieces,' says Helen Pett, Design Ambassador at Arteriors London.
'From minimalist designs in tonal golds and silvers, to bolder shapes in ruby reds or emerald greens, what we like about this trend is that the vases, bowls, and sculptures become the main feature of a dining table. Statement vases and centerpieces in a well thought out cluster - think varying heights, mixed materials and elaborate detailing - beautifully dresses and elevates a festive scheme.'
Create a gorgeous Christmas flower arrangement by placing your vases on a round tray interspersed with candles. Add extra holiday fever with pretty branches like eucalyptus, which you can even decorate with baubles.
7. Decorate a candelabra
'If you can't go all-out for the holidays then when can you?' says the king of modern glamor, Jonathan Adler. 'Think of your home like an outfit your eccentric, rich aunt might wear and layer, layer, layer. Add gold, sparkle, and baubles. As long as you start with a chic foundation it will work.'
A candelabra, whether a quirky or traditional design, is a great foundation and focal point for a Christmas table centerpiece. Not only does it emit the warming flicker of candlelight, it's also a great piece to make 'Christmassy'. Wrap it in foliage to make a pretty festive feature for your Christmas tablescape.
8. Branch out
If your dining table is on the petite side and you don't want to take up too much room with a magnificent yet space-saturating Christmas table centerpiece, why not take it a little higher and create a hanging centerpiece instead?
Claire Hornby, Head of Creative at Barker and Stonehouse, says: 'If space is a concern, string a centerpiece above the dining table, leaving more room for food, drinks, and party games.
'Hanging fresh greenery and twigs accented with glittery baubles and twine will offer a natural twist, whilst a gathering of fairy lights and layered candlelight on the table and chairs will create a soft, cozy glow.'
And, if you can't fashion a hanging centerpiece, try using a large branch that can sit in a single vase but that is tall enough that is doesn't block anybody's view.
9. Be bowl-ed over
Your festive table deserves to be the star of the show for the biggest meal of the year. Drama and decadence will spread joy as you welcome family and friends, but you can create a magical table centerpiece without it being too elaborate.
Claire Wilks, Design Team at Garden Trading, says: ' If you're looking for a little modern glitz, keep the base simple and team it with pops of silver and gold for a touch of festive sparkle. A bowl is a great base for adding Christmas decorations and sprinkling a little magic.'
You can fill your bowl with twinkling baubles intertwined with fairy lights, or keep it natural with pine cones.
10. Channel a rustic country vibe
Use earthy textures like wicker and linen to create a tablescape that oozes organic and rustic appeal.
Neptune's stylist Ailie Williams, who created the beautiful centerpiece above, says: 'When it comes to designing your table for the festive season, consider using lots of different textures such as linens, woven baskets, and matte plates to create warmth and interest.
'Use heather plants, trailing ivy or succulents in the baskets to add color and greenery to your space, creating a focal point that will last the whole winter. Nestle in some candlesticks for a warm glow and extra twinkle.'
11. Ooze a funky baroque aesthetic
Channel a fun, maximalist look with a richly colored baroque style for your Christmas tablescape.
Geraldine Florin, Artistic Director at Maisons du Monde, says: 'Create a festive table that brings guests together in a playful atmosphere. Like a box of curiosities, exotic chic prints and lively colors are a must, punctuated with touches of fuchsia.
'My decoration tip: I always dress my table with a centerpiece made up of a bouquet of flowers or foliage that matches my decoration.'
12. Create a centerpiece with a wreath as your base
Wreaths are not just for hanging... get inventive with yours and use one as a base to create an easy yet impactful Christmas table centerpiece.
Zoe Marie Williams, Head of Creative at Bloom & Wild says:' A lovely idea for a centerpiece is to lay a wreath flat, and fill the middle with pillar candles, tapered candles or cute Christmas decorations.'
You could use a larger wreath for your centerpiece and then smaller ones on either side to create a pretty display. Drape fairy lights across them to add that magical twinkle.
13. Make a beautiful statement with flowers
Bring joy and an uplifting color palette to your home with a vibrant floral display as a Christmas table centerpiece.
Zoe Marie Williams, Head of Creative at Bloom & Wild says: 'Rather than going for multiples of the same bouquet, mix and match for a pretty variety of different stems and color palettes.
'For a show-stopping table, keep one bouquet full in a vase for your centerpiece. Then, you can break down a couple of bouquets into posies of varying heights and colors for greater coverage.' Use a beautiful, bright vase for extra punch, too.
What should you put on a Christmas table?
'The perfect setting for great food, great conversation and of course great wine, your dining table takes on a new lease of life at Christmas and deserves to be decorated to the nines; whether you're serving fabulous festive cocktails or Christmas dinner with all the trimmings,' says Lucy St George, co-founder of Rockett St George. 'As a spot where conversations flow with memories new and old, there is something magical about bringing people together over a beautifully decorated dinner table.'
According to Neptune's stylist Ailie Williams, you should always include 'some fresh foliage and plenty of twinkle, so candles and fairy lights', on your Christmas table.
Susan Spath, President of Kern and Co. and Principal Designer of Susan Spath Interior Design, says: 'Bring out your fine china and glassware for the holidays. It makes for a great table setting and a special occasion. Fill the center with holiday décor from miniature trees, votives, garland and more.'
If you're looking for specific inspiration, Emmie Brookman, Co-Founder and Creative Director of Silver Mushroom, has shared her top tips on what should be included.
She suggests: 'The best way to plan your Christmas table is to pick out a theme and colour scheme, before starting with the basics. The essentials for your table should include:
A tablecloth: This should be in keeping with the color scheme for the rest of your home.
A table runner: This adds an extra splash of color/glitter to your table.
Placemats: These are especially important if you have some messy eaters at your table.
Napkins: This color should contrast to the tablecloth, but match with the table runner. Your table is going to be full, so try to keep the color scheme consistent as this will help to create an organized look.
Cutlery: Lay out all the cutlery required for each course, this will save you having to get up from the table and resetting between courses.'
Emmie continues: 'Next is the fun part – the décor. No matter what shape or size your table is, there should be a focal point that drawers in the diners' attention. Décor for your table can include:
A centerpiece: You can purchase these as you wish, or create your own. We like to focus our centerpiece around a light, which involves a candle in a lantern, surrounded by Christmas-themed foliage (such as holly or parts of our Christmas tree).
Place cards: If you have a seating plan for your dinner, get creative with the place cards. Keep them in line with the color scheme and theme, but don't go overboard – the simpler the better.
Christmas crackers: What's a Christmas dinner without pulling crackers and telling terrible jokes? If you can't find any that you like, they are fairly simple to create at home.'
How do you make a table centerpiece for Christmas?
'The size and structure of the centerpiece for your Christmas table depends entirely on how much space you have,' says Emmie Brookman. 'Creating your own centerpiece is relatively simple; here at Silver Mushroom we like to style our table around light, whether that be a candle in a lantern or décor with electrical lighting, which creates a warm glow and ambiance.
'You can then surround your light with flowers, it doesn't matter if you use real flowers or foliage, holly or branches from your Christmas tree, but keep it consistent with the theme of the rest of your décor.
'If you want to light up your space, you could wrap fairy lights around the branches, and surround it with smaller decorations, such as reindeers, fake snow or snow globes.'
Ailie Williams suggests working in 'clusters', explaining: 'You want to make sure that there's enough room to place all of your food so it's a good idea to work in clusters.
'Layer a bit of spruce on top of a linen runner and nestle in some ceramic trees, mini Christmas houses, candlesticks and other small vessels filled with moss and foliage. For extra pizazz, run a set of battery-powered fairy lights down the center of the table.'
The Livingetc newsletter is your shortcut to the now and the next in home design. Subscribe today to receive a stunning free 200-page book of the best homes from around the world.
Ruth Doherty is a lifestyle journalist based in London. An experienced freelance digital writer and editor, she is known for covering everything from travel and interiors to fashion and beauty. She regularly contributes to Livingetc, Ideal Home and Homes & Gardens, as well as titles like Prima and Red. Outside of work, her biggest loves are endless cups of tea, almond croissants, shopping for clothes she doesn't need, and booking holidays she does.