Christmas candle ideas: 8 ways to style your holiday décor like a pro
Turn to these Christmas candle ideas to showcase the most sensational styles this holiday season.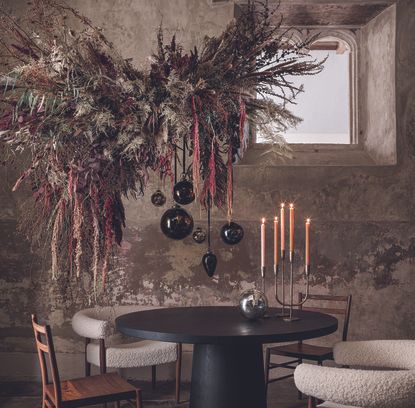 (Image credit: Future)
Christmas candle ideas are one of the first areas of decor we think about when the holidays are right around the corner. They're a quick way to add a dazzling display while you get on with the rest of your festive plans, and nothing says holiday quite like a cluster of flickering candles.
For a warm and inviting atmosphere, Christmas lighting ideas are here to replace your foyer's chandelier or hanging light with candles; it's a simple substitution that will create a glowing greeting that guests will love. Or, for a more timeless approach, invest in one of the best candles to create a polished pairing on your mantel. No matter which way you go here, Christmas candles are bound to add an element of elegance to your home.
Still, it's only natural that some might be unsure of where or how to start implementing some of the most beloved Christmas candle ideas — which is where we come into play.
Christmas candle ideas
How to use candles on your Christmas table
The first place anyone thinks to use candles is on a dining table, and there are two ways to go - pale and simple or bright and colorful.
"Christmas for me isn't about extravagant tablescapes," says the designer Beata Heuman. "The best festive tables are really simple. Go for white candles, white napkins and scented food like Swedish cinnamon buns."
A slightly more dramatic approach was taken by the paint and color expert Annie Sloan for the dining area pictured above. "High contrast color choices demand attention and bring a visceral sense of excitement, celebration and joy to a home," Annie says. "It's particularly perfect for Christmas time, and in dining spaces where conversation and energy are key. Maximise impact by sticking to two or three clashing colors and keep the rest of the room neutral." An easy way to add color in to your Christmas table centerpiece ideas is, of course, is with colored taper candles that you can mix and match.
Amazon sells a brilliant selection of colored candles for less than $3 here.
Of course, candles don't have to be strewn along the middle of the table - a tree-like candle holder in the middle can be just as effective.
"When it comes to candle table displays, I like to add a bit of height," says Livingetc editor Pip Rich. "I think this differentiates your Christmas table from one you might decorate at any other kind of year. A candelabra in the middle feels really grand, really opulent and, crucially, really festive."
When considering your Christmas table decor ideas, just remember that guests need to be able to see each other across the table - the above candle holder is perfect because it's thin enough to obscure.
Create a glowing greeting
First and foremost, start by decorating your foyer. If you have a console or table in your entryway then a candle display is a simple way to add festive cheer right from the moment someone arrives.
The trick is to showcase them like an art installation - some at different heights on candlesticks - these very handsome ones, below, are from Nkuku and available here - add a little foliage and you're good to go - the beauty of this small decorative nod is that it works in narrow hallway ideas, too.
Try this Christmas candle idea
To add a bit more drama into the scene: accessorize a hanging hallway chandelier and greenery with Christmas ornaments; opt for a range of styles, and sizes, in bold, bright colors to ensure all eyes will be on this piece. When done correctly, this gorgeous glowing greeting seamlessly transitions into the winter season.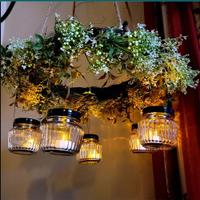 Floral Chandelier for $95, at Etsy
Magic, we mean Christmas, will be in the air with the help of this festive find. Completely customizable, you can decide which flower or greenery you'd like to accompany this chic chandelier.
Utilize wall space
There is a trend that is coming over in Scandinavian design about wall sconces being used to hold candles. Light the candles as soon as dusk begins to fall, before you've even turned the overhead lights on, and everything just feels very magical. "This is my favorite part of the day," says Livingetc editor Pip Rich. "Everything looks very twinkly and beautiful when twilight is coming and candle flames are flickering. Fixing wall sconces permanently to the wall will remind you to use candles - it's easy to forget or not bother if you have to get them out each time."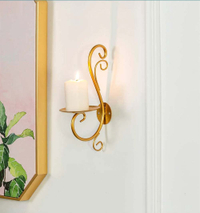 Sure, candle holders will safely and stylishly showcase candles, but when you're looking to add a festive touch, why not think of something outside-of-the-box. Need a helping hand? Invest in a candle ring to wrap the best candle around.
Stay on theme with a miniature wreath featuring pinecones, frosted flakes, and red cedar. Or try something a bit more captivating, and opt for a seasonally-approved arrangement stacked with red berries and eucalyptus. Either way, nothing will add a festive flair quite like a candle ring, making it a seasonal must-have.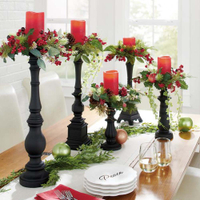 Winter Berry Candle Rings, Set of Five l Was $89.50, Now $71.60, at Grandin Road
Assuredly present holiday candles with the designer touch, courtesy of these Christmas candle rings. Inspired by nature, this set-of-five mini "wreaths" mimic a freshly gathered evergreen wreath featuring ivy, berries, and petite pinecones. Plus, with an adjustable hook-and-loop closure, this staple will seamlessly fit any holiday scent.
Find your focal point
Dining table candles or entryway wall scones are great, but if you are short on space or want something else, why not invest in a single candle in a candle holder.
There are dozens of styles and silhouettes n the market, but the easiest way to streamline your search is by opting for a singular festive find. Try a thick red candle in a glass holder, with pinecones and eucalyptus topping it off.
This selection would go wonders on your coffee tables or on its own on the dining table (yes, you read that right), and since these focal points can be made or purchased, you can adjust the candle size and candleholder depending on how much (or how little) space you have.
Try this Christmas candle idea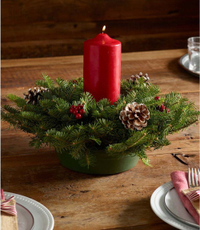 Traditional Balsam Centerpiece for $44.95, at L.L. Bean
A versatile centerpiece not only acts as a focal point and can hold its own, but when you opt for this one, it also can be one of the most luxurious gifts.
Accented with frosted pinecones and lifelike holly berries, this "beautiful and aromatic" centerpiece will instantly transport you (and guests) to the forest of Maine and "makes you feel like you're walking through the woods."
Simply add one of the best home fragrances, and prepare to enjoy this "festive and long-lasting" piece through the Christmas season and years after.
Play with sizes
Much like floral arrangements, when it comes to creating a candle display, it's best to think outside the box; decide on a theme or color scheme, and then play with sizing. Match large candles with smaller ones, and style them at random to create a cohesive yet alluring display.
The most "by-the-book" way to style pillar candles is to display three or more square candles (all different heights), then line them up together. Create an asymmetric display by lining up next to each other in a series of increasing heights.
However, when you are working with five or more candles, the above-mentioned does not apply. Stary by setting up five (or more) candles with the tallest candle in the middle and then branch out with descending heights on both the right and left sides.
Try this Christmas candle idea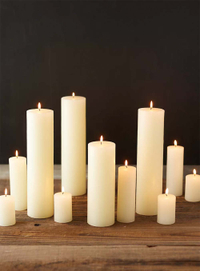 Pillar Candle starting at $14, at Anthropologie
Presenting a slow, even burn, with a dripless formulation, this pillared candle is available in small, medium, large, and extra-large sizing and will look best when mix-and-matched.
Specifically, what's most exceptional about this choice is the cream coloring that is sophisticated enough to style on its own but versatile enough to match any seasonal display.
Bring the outdoors in
Lanterns are exceptionally in the colder weather season when you want to brighten up the dark winter sky; while also chicly showcasing some of the best home fragrances. Recreate this stylish scene by bringing your lanterns inside.
You can strategically style your lanterns next to the fireplace or opt to have multiple lanterns ascend from your staircase; either way, indoor lanterns are endlessly versatile and come in all shapes and sizes.
Though, to get the most out of their lantern, opt for a medium-to-large size, as it will hold (most times) up to three pillar candles (depending on the size of the candle). You'll notice these lanterns create a merry mood wherever placed and work an all-occasion accent (that can transition from one holiday to the next!).
Try this Christmas candle idea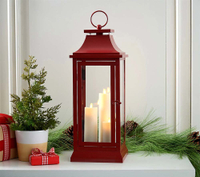 Luminara 19" Heritage Tri-Candle Lantern l Was $113, Now $98.58, at QVC
This holiday season, prepare to meet your match and lighten up any staircase or Christmas tree arrangement with the help of this 19-inch candle lantern.
Debuting timeless beauty, this lantern will seamlessly mingle with your current decor, creating a warm, inviting setting for all social events.
Accessorize appropriately
Turn to this timeless tradition of tapered candlesticks arranged strategically around tablescapes or mantels to serve as the focal point. Make a subtle statement with all white candles, or try something a bit more dramatic and implement a glistering gold or sleek silver shade; lastly, you can, of course, stay on theme with reds and greens.
The most important aspect of using candles on a mantel, or more importantly, on dining room tables, is ensuring they are stored safely. A tapered candlestick holder will work wonders, and elevate the scheme, too. Available in everything from gold-encrusted to glass bauble, there are dozens of selections on the market.
Try this Christmas candle idea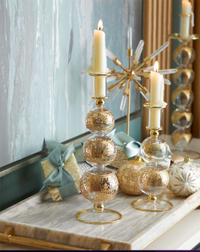 12" Gold Cut Christmas Candleholder for $55, at Neiman Marcus
Dress up dinner tables and mantels with the help of these gorgeous golden holders. Perfect on its own or next to a dozen of them, the 12-inch handblown glass holder is the timeless treat tables need.
How do you decorate Christmas candlesticks?
When decorating with Christmas candles, there is no "right" and "wrong" way to go; however, there are five tips to keep in mind to ensure that you utilize Christmas candle ideas to the best of your abilities.
Do not leave flames unattended; specifically, when utilizing lantern candles.
Keep items away from candle flames
Trim the wick of a candle before using. Larger flame wicks can cause smoke or worse a fire
Store candles in a cooler place
Try battery-operated or flameless candles to create a child-friendly environment
What does a candle symbolize at Christmas?
When it comes to the Christmas season, candles are used as more than just seasonal decor; they're a symbol of the holiday spirit, literally and figuratively.
On Christmas Eve, a white candle, known as the "Christ Candle," is a physical representation of the life of Christ. White is used here because it's pure and angelic, much like sinless Christ.
What does 3 candles in a window mean?
There are various reasons why candles are visible throughout the holiday season. The first is that dating back to early America, many people candles as a welcome sign in their windows to those wishing to visit.
The second reason (and more religious reasons) is rooted in the Catholic culture. During Advent, the church uses three candle colors (purple, pink, and white) to display in spiritual representation to prepare for the coming of the Lord (and birth of Christ).
The Livingetc newsletter is your shortcut to the now and the next in home design. Subscribe today to receive a stunning free 200-page book of the best homes from around the world.
Brittany Romano is Future's U.S. Shopping Editor, residing on the Upper East Side in New York City. From her start as a freelance fashion market assistant at Marie Claire to building a highly profitable commerce vertical at Us Weekly and AMI brands, Brittany has produced award-winning content covering everything from celebrity beauty hacks to must-have items from online sales. She is a graduate of New England College. When she isn't writing, you can spot her on Fifth Avenue lusting over the yet-another Chanel bag, making a stylish statement on her velvet couch (in the most luxurious sleepwear), or at a Boston Bruins game, in her signature So Kate Louboutins.
Follow her on Instagram at @ItsBrittanyRomano