The 11 best scented candles to add luxury to your home
We've tried and tested the best scented candles that are worth your money. To flood your rooms with fragrance and add style to your surfaces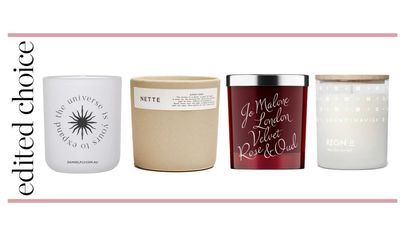 (Image credit: Future)
Looking to source the best scented candle to spruce your interior — in both scent and looks? We've been hard at work testing a huge range of candles at home, in our day-to-day life, to provide you with a list of the very best buys on the market in 2022.
With options from top brands including Jo Malone, WoodWick, and Skandinavisk, these candles have been found by us to provide an impressive fragrance, plus a clean and soot-free burn. The 11 candles we chose to feature below are only the most luxurious options on the market, to impress guests and flood your home with fragrance.
We've listed everything from the best candle for spring to a woody candle for fall, plus a great all-rounder fragrance that's perfectly fresh. Whether you are purchasing a new candle for your entryway, living room, or even to gift to a friend, we're here to help this journey be an easy one, even without being able to smell the candle yourself.
You may have guessed that we have a penchant for scented home buys, so don't miss our best home fragrance guide for plenty more candle recommendations, as well as reed diffusers and room sprays.
---
The best scented candles to buy in 2022 - 11 best candles for your home
1. Skandinavisk Regn Scented Candle
The best scented candle
Specifications
Scent: Fresh
Size: 7.1oz
Burn Time: 45hrs
Wax: Rapeseed
Wick: Cotton
The perfect all-rounded scented candle, Skandinavisk's Regn fragrance is as fresh as they come, hence why we've rated it our best candle. We tested this candle for a number of weeks and found that we soon became obsessed with its scent. It works well anywhere, from your entryway to your bedroom or your kitchen or living room. You can also burn it at any time of the year, whether the weather is warm or cold outside.
Scent
The ideal fragrance for anyone who doesn't like an overpowering candle, Regn translates to rain in Swedish, and this candle is meant to smell like the scent in the air after rainfall. It's fragranced with fresh notes of wet grass, balanced with floral notes of misted peonies, and green notes of damp earth. It'll be sure to bring the outside in and most of all: ensure your home smells fresh and inviting, all year long. We loved burning this candle in our living room the most, as even though this room is quite sizeable it still managed to reach each corner, and was never too strong. It burned completely clean with our only complaint being that it doesn't come in a larger size.
Packaging
As with all Skandinavisk candles, Regn is poured inside a recyclable glass vessel that comes with a sustainable beechwood lid to prevent dusting, and to act as a protective plate. The candle's wax is made from Swedish rapeseed and it has a cotton wick, hence why it burned soot-free. The wick didn't even require trimming. The box the candle arrived inside is completely recyclable and only natural color dyes are used for decoration. Pop the vessel in the dishwasher after use and reuse it to hold anything from cotton rounds to a succulent.
2. Damselfly Grace Universe Candle
The best sweet candle
Specifications
Scent: Sweet
Size: 10.5oz
Burn Time: 60hrs
Wax: Coconut & Soy
Wick: Cotton
The Damselfly Grace Universe Candle will impress you even before you've managed to get it out of the box and light it. This candle has the ability to scent a room without even being lit, and the fragrance it emits is a balance of sweet and warm, and most of all: dreamy. We're yet to make up our mind where we prefer to light this candle as it really can be enjoyed anywhere at home. Right now, we are lighting it in our living room, on our coffee table, and it's doing a brilliant job of scenting this entire room. Rest assured it's a scent you'd happily enjoy in both spring and summer.
Scent
A welcoming combination of vanilla bean, anjou pear, white musk, and sweet citrus florals, it's anything but too sweet. This is all thanks to the fact its sweetness is balanced well with warm notes from the vanilla beans and the coconut wax. Another fragrance that we think is a great all-rounder that you could gift without any worries, it even burns completely clean and nice and slow, plus the two wicks manage to stay apart from each other.
Packaging
Made using non-toxic coconut and soy-based wax, this candle is hand-poured in Australia inside a matt glass vessel. This vessel can easily be repurposed afterward, and it's decorative on both sides with one side reading "The universe is yours to expand" and the other "Eyes open, mind open, heart open". This candle arrives inside fully recyclable packaging, plus it's vegan-friendly. With two lead-free cotton wicks sitting in the wax, this candle doesn't just smell great but it burns to be essentially soot-free.
3. Soak Sunday Cleo's Paradise Honey & Oat Scented Candle
The best scented candle for spring
Specifications
Scent: Vanilla
Size: 8.1oz
Burn Time: 35hrs
Wax: Not Available
Wick: Not Available
We're obsessed with this Soak Sunday fragrance due to its warming yet sweet scent. It's a generous combination of vanilla and honey — irresistable is just one word that came to mind whilst testing. We preferred lighting this candle in our bedroom for a cozy vibe before bed. Moreover, we think it's great for lighting pretty much year-round.
Scent
Scented to soothe, comfort and warm, this candle is fragranced using vanilla, gently roasted oats plus spring flower honey (which is incredible!) and honeycomb. An intricate blend that will be sure to wow — and warm. The vanilla fragrance sits on the back burner and is never overpowering, which we love. Most of all: the spring flower honey really shines to create a subtly expensive-smelling fragrance. It burns impressively evenly, though we did have to trim and move the wicks every now and then as they are distributed close together so can touch if too long.
Packaging
The candle, jar, and box are all recyclable. The jar is made of a thick glass with light decoration — a quote that reads "Sink into your soul & emerge eternally glowing". With not one but two wicks, this candle burned with minimal soot left behind for us. We've contacted Sunday Soak to determine the wax and what the wick of this candle is made from and will update this guide once we've received a response.
4. Skandinavisk Lempi Candle
The best floral candle
Specifications
Scent: Floral, Fruity
Size: 2.3oz/7.1oz
Burn Time: 20hrs/45hrs
Wax: Rapeseed
Wick: Cotton
When we claim that this might be the best floral candle ever, we mean every word of it. We first tested this candle a few years ago, and we've since purchased it again as we love it that much. We suggest lighting this candle in a living room, home office, or bedroom to bring the outdoors in and add a sweet aroma to your home. Not only that, but its Scandi-style vessel will be sure to look great on display on a console table. Moreover, the eco-friendly credentials of Skandinavisk as a brand is another factor that allures us to this brand.
Scent
Its floral yet fruity fragrance is simply ideal for lighting in the spring or summer seasons, with notes of popular flowers such as peonies and roses, as well as strawberries to add the sweetness, and mosses to bring an earthy mix to this blend. In a nutshell, its aroma is almost immediate to fill a room, and immediate notes of rose and strawberries blend together to impress. Whilst testing both sizes of this candle, we've even had guests comment on its fragrance. Offering an impressively clean tunnel-free burn, this candle is great in more ways than one. Just be sure to keep its wick trimmed.
Packaging
One of the things we love the most about this candle, second to its fragrance, is that its vessel is made from recycled glass and complete with a sustainably-sourced beechwood lid. Skandinavisk's eco-credentials are a big part of the brand, so rest assured all packaging your candle arrives inside is planet-friendly and decorated with natural dyes. The candle is made using rapeseed wax to offer a soot-free burn and after use, a clean jar to repurpose as a tealight holder or whatever you'd like it to be. A cotton wick is a finishing touch and it's suitable for vegan households. It comes in two sizes including a mini and a large. We obviously recommend the larger size, but the mini is great if you're not 100% sure if you'll love the scent. This scent also comes in a reed diffuser form, if that's more your go-to.
5. The White Company Geranium Leaf Candle
The best herbal candle
Specifications
Scent: Herbal
Size: 4.9oz
Burn Time: 40hrs
Wax: Mineral
Wick: Cotton
We enjoyed burning this freshly scented candle from The White Company during spring and summer. It's a delightful option that can offer a breath of fresh air in a space that otherwise might need it — perhaps a windowless bathroom or even a cozy kitchen. For those who like their home to smell natural and look neutral, it's also poured inside a ceramic vessel, complete with a lid, for an added touch of elegance.
Scent
This herbal candle has notes of peppermint geranium and Sicilian orange. It's quite subtle so as not to give you a headache or overpower a room, while we think it's a great addition to a light and airy room, such as an entryway, or even a kitchen or bathroom. Whilst this candle has been making an impression in our home, we noticed minimal tunneling whilst burning, plus it has lasted us a long time whilst having the ability to scent an entire space.
Packaging
Poured into an elegant white ceramic vessel in the UK, this candle also comes complete with a lid to prevent dusting. Made using high-quality mineral wax with a cotton wick, when burning this candle we noticed minimal soot gathering around the edge of the vessel. What we like about it the most, apart from the fragrance, is that its stunning vessel can be repurposed afterward, perhaps for storing makeup brushes or cotton rounds.
The Geranium Leaf scent also comes in a diffuser, fragrance oil, hand wash, hand cream and hand lotion.
6. Jo Malone Velvet Rose & Oud Scented Home Candle
The best luxury candle
Specifications
Scent: Floral
Size: 7oz
Burn Time: 45hrs
Wax: Soy
Wick: Cotton
How can we write a list of the best candles without including something from fragrance powerhouse Jo Malone? This limited-edition scent was sent to us and ever since lighting it, we've been impressed by its fragrance performance. Floral yet woody, everything about this candle screams luxury from its scent to its vessel, its black wax, and its metal lid. We loved lighting this candle in our narrow entryway, otherwise, we found this fragrance best lit in an airy space that's on the smaller side.
Scent
Not your average floral candle, this limited edition Jo Malone is fragranced with damask rose, smoky oud, and clove. Offering a delicate yet rich scent, these scents prove to impress year-round. Not just for summer, this candle's woody notes make it suitable for fall and winter, too, as well as summer. It's a lot heavier than other floral fragrances we have tested, so it might be one that you prefer to light in the evening. When we tested this candle, we found that it slightly tunneled whilst burning, though we are yet to reach the bottom of it.
Packaging
Poured inside a special-edition deep red glass vessel, this candle is definitely one you'll want to put on display. Its etched design looks as luxurious as it smells, and it arrives with a metal lid to prevent dusting and to be used as protection to prevent surface marking. Made using black soy wax, it gives a soot-free burn leaving a pristine jar for you to reuse.
7. Nomad Noé Hero in Niani Candle
The best vanilla scented candle
Specifications
Scent: Ozonic, Warm
Burn time: 55hrs
Size: 7.8oz
Wax: Vegetable
Wick: Cotton
We think that this creamy vanilla candle from Nomad Noé smells as good as it looks — it's fresh yet warm and also inviting, and it has an impressively long burn time of 55 hours. Unlike other vanilla fragrances, it's never overpowering or sickly. Housed inside a beautiful porcelain vessel, with a mint green lid, this candle will make a statement no matter where you choose to place it. After lighting it in our home, however, we would suggest burning it in a cozy space due to its fresh yet warm properties.
Scent
Inviting and awakening thanks to creamy vanilla and toasted tonka bean notes. This candle is also nice and sweet, without being too overpowering — which can often be hard to find. When burning this candle at home, we tested it in several rooms and found that we preferred it in a bedroom or living room due to its warming properties. After burning to its bottom, the candle showed minimal tunneling, so long as you keep its wick trimmed after each burn.
Packaging
This candle is hand-poured in the US, surrounding a 100% cotton wick. Its fragrance, however, was crafted in Grasse, France. It's both vegan and cruelty-free. Oh, and it's made using a blend of vegetable waxes meaning that after burning, we noticed minimal soot gathering around the vessel. It also arrives in a decorative mint green box, making it a lovely luxury gift option.
8. Neom Organics London Real Luxury Scented Candle
The best scented candle for summer
Specifications
Scent: Floral, Fresh
Size: 2.6oz/6.5oz/14.8oz
Burn Time: 20hrs/35hrs/50hrs
Wax: Vegetable Wax Blend
Wick: Natural - cotton or paper
We're big fans of Neom candles, especially their Real Luxury scent. When testing at home, we discovered that this is one of the best candles to light year-round, to refresh your rooms and imbue your home with a floral yet sumptuously subtle fragrance that also looks as luxurious as it smells. Hence its name... We probably wouldn't suggest using this candle in a bathroom, simply because we think it's just too nice.
Scent
Scented with 100% natural fragrance, this candle is a unique concoction of 24 of the purest essential oils, with lavender, Brazillian rosewood, and jasmine at its forefront. It's designed to help you relax and unwind, which is why we think it's perfect for perching inside a living room or bedroom. When testing this candle, we were unsurprised to discover that it burns supremely clean and leaves behind no residue — it didn't tunnel even a little bit. We did trim our wicks often, however, to ensure the best burn possible as we noticed that at some times they were curling. We tested the 3-wick (14.8oz) size for reference and we thought it was perfect for placing in the center of a coffee table.
Packaging
Housed and hand-poured inside the classic Neom glass vessel, you can select from three vessel sizes with a burn time of up to 50 hours. The best part? Neom candles are made using 100% natural wax — a mix of vegetable wax — for peace of mind when burning candles inside your home. Natural wicks also ensure an even burn, and we can back this up since after burning we were left with zero soot in the jar.
9. ESPA Restorative Candle
The best aromatherapy candle
Specifications
Scent: Herbal, Fruity
Size: 7.05oz
Burn Time: 40hrs
Wax: Soy Blend
WickE: Cotton
ESPA's Restorative Candle is one of the best aromatherapy candles you can buy. In other words, it's super relaxing and fragranced with only essential oils to help you unwind after a long day. Poured inside an elegant vessel with a metal lid to keep dust at bay, this ESPA candle both looks and plays the part. We say to light it inside a bathroom, to sooth you as you take a long dip in the tub, though be careful as it can be powerful in smaller rooms.
Scent
This candle gives off a comforting yet relaxing aroma, thanks to its notes of lavender which are blended nicely with sweet oranges to make it slightly herbal. Moreover, there's rose geranium and palmarosa hidden in there for good balance. It's undeniably sweet, so it's definitely a candle you'll want to burn from early spring to late summer. We discovered that this candle burns evenly and is great at distributing fragrance in all sized rooms. It definitely has an odor-repelling power to mask unwanted smells wherever they appear, just bear in mind that it might be overpowering in a smaller space.
Packaging
Poured inside a luxury white glass vessel and adorned with a protective lid to prevent dusting, this lid can also be used underneath the candle as a protective plate when lighting. All ESPA candle vessels are the same and unobtrusive, and you can definitely reuse them for storage purposes once the wax has been removed. The candle is made of a 100% natural soy wax blend to provide a soot-free burn, and it does perfectly. All ESPA candles also come inside a lovely box, ready to gift to someone special.
10. Nette Sunday Chess Candle
The best smoky candle
Specifications
Scent: Woody, Smoky
Size: 10oz
Burn Time: 60hrs
Wax: Coconut & Soy Blend
Wick: GOTS-Certified Organic Cotton
A gorgeous candle in looks and scent, this Nette fragrance is simply perfect for conjuring up fall vibes at home. We loved lighting it in a bright, airy, and spacious room as its scent is powerful yet wow-worthy. Moreover, it sits in an elegant ceramic vessel that you can easily repurpose around your home once empty. A great option for lighting in your living room or hallway, this heavy in scent candle is definitely one for when the colder weather hits. The sustainability behind this brand is another factor that contributes to our love of this candle, with recycled and organic materials used in creation.
Scent
A mixture of incense smoke and vanilla make up this candle, with added notes of clove leaf oil, patchouli, charcoal accord, and guaiac wood as middle notes. Base notes include cedar leaf, resins, and amber. The ingredients in this candle are 100% traceable and overall it's a woody and smoky fragrance that's nice and warm. Though we would suggest avoiding this fragrance if you prefer light, subtle candles. Or if you are looking for something to burn at home during spring and summer. It burned super clean with no tunneling in sight. We had to trim the wicks to prevent them from curling, however.
Packaging
Hand-poured inside a stunning ceramic vessel, this candle will complement your interior in more ways than one. We love it in the middle of a table, plus its Nette label easily peels off to reveal a plain ceramic jar that you can use for makeup brushes, kitchen utensils plus much more. Made using a blend of coconut and soy wax, this candle offered a soot-free burn thanks to its two GOTS-certified organic cotton wicks, leaving its gorgeous vessel in tip-top condition for us to reuse. Plus, it arrived in a lovely box that's created from 100% recycled shoeboxes, and printed with seaweed ink to ensure sustainability.
11. WoodWick Trilogy Warm Woods Candle
The best woody candle
Specifications
Scent: Woody
Burn time: Up to 160hrs
Size: 9.7oz / 16oz / 21.5oz
Wax: Soy & Parrafin blend
Wick: Wooden - crackling
We tested this glorious WoodWick candle in fall, to conjure up a cozy atmosphere inside our home. And that it did perfectly — we think it makes a lovely addition to a living room thanks to its cracking wick that once lit, imitates the sound of a crackling fireplace. Not only does this candle look luxurious with a wooden lid to prevent dusting, but it both smells great — and sounds great — when burning.
Scent
With rich notes of redwood with sandalwood, balanced with soft amber and sandalwood clove, this unique blend is best suited for lighting when the weather is colder. It's more than apt for fall and winter, plus it makes a lovely gift idea. Be warned: you might even find yourself buying this candle year after year. We found that when lighting our teardrop-shaped 21.5oz jar, this candle burns very evenly, leaving little to no residue inside the jar when empty, although it did burn a little fast. It also, impressively enough, emits fragrance almost instantly.
Packaging
Poured inside a thick glass vessel and complete with a wooden lid, WoodWick candles are similar in design but most are different thanks to their wax color. This candle, Warm Woods, is grey and uniquely enough it's poured in layers. You can see these layers as they are different shades of grey; they melt together to release a rich fragrance. Perfect for perching in the middle of a coffee table, this candle is available in three size options so that you can take your pick based on your living room size. When it comes to this candle's wax, a soy and paraffin blend might not be the best option for a soot-free burn, but it's definitely better than sole paraffin wax. When burning this candle, we noticed a small amount of soot gathering around the top of the vessel.
---
The best candle scents – which one should I choose?
Below are the most common fragrance families that you can choose from when it comes to finding a scent that's right for you and your home. Some of these scents are better suited to specific rooms or seasons.
Floral
Floral fragrances are best for lighting in spring and summer. Usually, they contain scents of rose and other flowers, and sometimes they can be overpowering so they might be best for a larger room. This is definitely a scent you can light anywhere in your home, from your living room to your bathroom.
Fruity
Not great for lighting in smaller rooms, fruity fragrances are usually sweet and contain ingredients such as pomegranate, lavender, or jasmine. They can easily be overpowering, but on the other hand, are great for masking smells. You can get good use out of a fruity candle in any room, though we would avoid lighting in the kitchen due to a clashing of smells when cooking.
Citrus
Citrus candles are ideal for lighting year-round, and they are also great for kitchens and bathrooms. Usually, citrus candles contain ingredients such as lime, orange, and grapefruit. You can leave a citrus candle lit for hours without noticing it becoming too overpowering, while you might want to light them in larger airy spaces due to their strength.
Herbal
To help you unwind after a long day, herbal candles are great for lighting in bathrooms and kitchens, and for ensuring your home smells fresh. They are usually scented using herbs such as mint, thyme, geranium, rosemary plus more. It's not unusual for a herbal candle to overpower a smaller space, so make sure that you light it in an airy room.
Ozonic
A bit like smelling fresh washing or sea air, ozonic candles are a go-to for many who want their homes to smell lovely, but subtly. You can light an ozonic candle anywhere in your home, but we suggest placing it in a middle ground, such as an entryway, to flood scent throughout your rooms. Otherwise, an ozonic scent works well in a bathroom or a laundry room.
Spicy
Best for lighting in colder months, spicy candles are usually quite strong both when lit and before lighting. You will want to light spicy fragrances in larger rooms with big windows, and they usually smell quite woody, too. This normally comes from sandalwood, cedar or patchouli. Spicy fragrances scream fall and winter.
Woody
Similar to spicy fragrances, woody candles are ideal for fall and winter, too. They will be sure to add a slice of cozy to a room that might need it, and they are usually best for larger spaces due to being too overpowering for some noses. Woody fragrances are usually made usually sandalwood, pine, patchouli, vetiver, and cedarwood.
What is the best brand of candles?
We think that the best brand of candles is Skandinavisk. Not only is this brand eco-friendly, but their candles are beautifully presented and they each smell unique yet powerful. They also burn very well boasting minimal tunneling, and they have lots of available scents to choose from.
How to look after your candle?
Burn time
Upon first burning of a candle, you'll want to keep an eye on it for a good few hours. Do not blow it out until the wax has evenly melted and has reached the sides — this is to prevent tunneling. You should do this as best practice each and every time you light a candle. Never light a candle for a few minutes and blow it out. On the other hand, you only want to light a candle for 3-4 hours at a time, never any more as after this time, it might begin to burn faster as the vessel will be very hot.
Candle tools
You might want to invest in a candle snuffer to extinguish your candle safely and tidily. Using a wick trimmer can help prevent tunneling and should be used whenever the wick of your candle begins to curl. A wick dipper allows you to safely move your candle's wick to the position you want it, whilst the wax is hot. Sometimes, your wick may begin to lean to one side of the candle, so this tool can prove itself to be very helpful.
You can buy a candle tool kit from Amazon.
What is the best candle wick material?
Candle wicks can be anything from wooden (for crackling candles) to cotton. Over the years, whilst testing these candles and plenty more, we've noticed that cotton wicks provide the most even, soot-free burn.
How did we test these scented candles?
Every single candle on this list has been tried and tested by our Deputy Ecommerce Editor, Annie Collyer. Annie spends a lot of her time testing a range of home fragrance options, from candles to reed diffusers and essential oil diffusers plus more.
Annie tests these products inside her spacious 2-bedroom apartment in London. She has two pets, a dog and a rabbit, and when testing she moves these candles from one room to another until she has made a decision on where the candle belongs in her home.
Annie tests these candles until they are burned to their end, and will usually form her opinion once the candle is half empty. She bases her opinion on their scent and its power, packaging, and eco-credentials, plus she always considers whether the candle tunnels and if it can offer a soot-free burn.
Due to the nature of this task, Annie is keen to ensure that her testing of candles doesn't cause a negative effect on the environment, so rest assured that after use she makes sure to repurpose the candle vessels. Normally, she will either reuse a vessel as a plant pot, use it for storage purposes or spray paint the glass and give it to family and friends to reuse.