Best candles: 5 lux buys to scent your home
The Livingetc guide on the best candles you can buy for a gorgeously scented home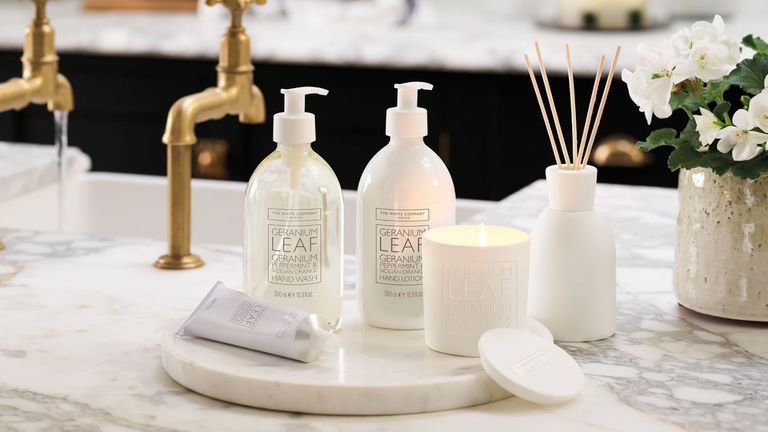 (Image credit: The White Company)
If you are looking to spend your money on one – or a few – of the best candles out there, then you have landed in just the right place. We have been trying and testing candles from Rockett St George, The White Company, Skandinavisk and more inside our homes. You can read our verdict below.
Featured in this guide you will only find candles we have tried and burnt at home. In order to test these candles, we have been keeping an eye on them while they burn, tracking tunnelling and noting how strong of a scent they release. We've also listed only our favourite ones in this guide so that you can buy rest assured your money is being spent on a high-quality gorgeous smelling candle.
Keep scrolling for all our most favourite candles to make your home smell the part, as well as look the part. Head to our best home fragrance guide for more top buys to flood your rooms with scent, from reed diffuser recommendations to room sprays and more candles.
The best candles to buy in 2021
1. Skandinavisk Fjord Candle
Specifications
Scent: Fruity Floral
Burn time: 20 hours / 50 hours
Size: 65g, 200g
This Skandinavisk candle is one of our favourites, mostly due to its subtle scent, gorgeous vessel and the fact it burns beautifully. It's also worth us mentioning that Skandinavisk candles are, impressively enough, made with vegan Swedish rapeseed wax. The glass jars they are poured into are made from 30 per cent recycled materials, while the beechwood lid is made of FSC-certified wood. All packaging is FSC-certified, too, and decorated using natural colour dyes.
This candle is the perfect blend of fruity and floral, with notes of apple and pear blossom, orchard fruits and redcurrants. It's lovely and subtle so as not to overpower a small room, and we suggest lighting it somewhere in the centre of your house, to allow the scent to flood through your home.
Once lit, this candle gives off an impressive amount of subtle scent. We noticed minimal tunnelling after burning, while the wick has curved around after several uses, meaning it's ready to be trimmed. The burn is quite even, so you could definitely reuse the lovely glass vessel.
If a candle isn't for you then this scent, Fjord, also comes in reed diffuser form.
2. Noble Isle Whisky & Water Candle
Specifications
Scent: Spucy
Burn time: 45 hours
Size: 200g
This Noble Isle candle is one for those who prefer stronger scents, as it even manages to make a room smell while unlit. It also comes inside a beautiful black vessel, which is golden inside and features the Noble Isle logo in small at the bottom of the glass. It's perfect for displaying on a mantlepiece. Noble Isle products are also made here, in the UK, in West Sussex.
With immediate notes of cinnamon, this spicy candle would be ideal for lighting in colder months. It also has notes of rose and davana blossom as well as amber and tonka bean, and jasmine and orange blossom. We definitely suggest lighting this candle in a large room – perhaps a study or a living room – and you might want to only light it for a few hours at a time as it's quite strong. Though rest assured it can mask odours in the air, fast. Avoid if you are not a fan of strong fragrances.
Once lit, this candle burnt beautifully and evenly. We've lit this candle twice and the wick is yet to curl, while we did notice that it produced a lot of smoke after being blown out.
This candle arrives in a very decorative box, which would make a lovely gift as it's even adorned with a bow. This scent also comes in a hand wash.
3. The White Company Geranium Leaf Candle
Specifications
Scent: Herbal
Burn time: 40 hours
Size: 210g
This candle from The White Company is a lovely option for those who like their home to smell natural and herbal. It's also poured inside a ceramic vessel, complete with a lid, for an added touch of elegance. As with all The White Company candles, this one is poured in the UK, using high-quality wax.
This herbal candle has notes of peppermint geranium and Sicilian orange. It's quite subtle so as not to give you a headache or overpower a room, while we think it's a great addition to a light and airy room, or even a kitchen or bathroom.
We noticed slight tunnelling when burning this candle, but it's nothing to be worried about as this is likely due to the thinner wick that The White Company candles have. This candle also comes complete with a lid to prevent dusting.
The Geranium Leaf scent also comes in a diffuser, fragrance oil, hand wash, hand cream and hand lotion.
4. Rockett St George Absolutely Flawless - Wild Pomegranate Candle
Specifications
Scent: Fruity
Burn time: N/A
Size: 30cl
Rockett St George's Absolutely Flawless candle is a subtle option for those who are drawn towards anything pomegranate-scented. It's also made of natural beeswax and rapeseed oil making it paraffin-free. This candle arrives in a matching black box to the candle – it would definitely make a lovely gift. As for the jar, this is unobtrusive in black matte with gold lettering.
This candle smells of a spring morning – pomegranate takes over, but there is definitely a hint of fresh cotton and also some smoky undertones. You can display it anywhere in your home without worrying about it being too powerful.
You'll need to keep trimming the wick of this candle to prevent tunnelling. Also, it doesn't give off any smell unless lit – this is admittedly great for smaller rooms or homes.
5. Skandinavisk Rosenhave Candle
Specifications
Scent: Floral
Burn time: 20 hours / 50 hours
Size: 65g, 200g
This floral candle is unlike any other in the way that it's balanced well with a range of floral scents, some powerful and others not so much. As mentioned above, Skandivanisk candles are made from Swedish rapeseed oil and they are vegan. The lovely glass vessels they are poured into are made from 30 per cent recycled materials, while the packaging and wooden lid are FSC-certified.
With immediate notes of rose and elderflower, there's also some Lily of the Valley in there as well as the scent of blackcurrant buds. This candle somehow smells floral but very clean and it's definitely something we would be happy to have burning in our home all day long. We think it's great for lighting in spring and summer, in a hallway or living room to show the scent off to your guests.
This candle burns beautifully when lit, and it really does let off the perfect amount of scent. Sometimes, we find that floral candles can be overwhelming, but never with this one.
The Rosenhave scent also comes in a reed diffuser form as well as hand cream form.
What is the best brand of candles?
We think that the best brand of candles is Skandinavisk. Not only is this brand eco-friendly, but their candles are beautifully presented and they each smell unique yet powerful. They also burn very well boasting minimal tunnelling, and they have lots of available scents to choose from.
How to choose a candle without smelling it in person?
These are the main fragrance families that you can choose from when it comes to finding a scent that's right for you. Some of these scents are better suited to specific rooms or seasons.
Floral
Floral fragrances are best for lighting in spring and summer. Usually, they contain rose and sometimes they can be overpowering. This is definitely a scent you can light anywhere in your home, from your living room to your bathroom.
Fruity
Not great for lighting in smaller rooms, fruity fragrances are usually sweet and contain ingredients such as pomegranate, lavender or jasmine. They can easily be overpowering, but on the other hand, are great for masking smells. You can get good use out of a fruity candle in any room, though we would avoid lighting in the kitchen due to a clashing of smells when cooking.
Citrus
Citrus candles are ideal for lighting year-round, and they are also great for kitchens and bathrooms. You can leave a citrus candle lit for hours without noticing it becoming too overpowering, while you might want to light them in larger spaces. Usually, citrus candles contain lime, orange and grapefruit.
Fresh
A bit like smelling fresh washing or countryside air, fresh candles are a go-to for many who want their homes to smell lovely, but subtle. You can light a fresh candle anywhere in your home, but we suggest placing it in a middle ground, such as a hallway.
Spicy
Best for lighting in colder months, spicy candles are usually quite strong when lit and before lighting. You will want to light spicy fragrances in larger rooms with big windows, and they usually smell quite woody, too. This normally comes from sandalwood, cedar or patchouli.
How to look after your candle?
Upon first burning of a candle, you'll want to keep an eye on it for a good few hours. Do not blow it out until the wax has evenly melted and has reached the sides – this is to prevent tunnelling. You should do this as best practice each and every time you light a candle. Never light a candle for a few minutes and blow it out.
You might want to invest in a candle snuffer to extinguish your candle safely and tidily. Using a wick trimmer can help prevent tunnelling and should be used whenever the wick of your candle begins to curl.
Annie is the UK Shopping Editor at Livingetc, with the majority of her time spent advising you on what to buy for your home – whatever the season, or the latest trend. Whether that be a design classic floor lamp for your cinema room, a comfortable new chair for your home office, or a high-quality exercise bike for your home gym. She's also our fitness guru, with hands-on experience with some of the best home gym equipment around. Otherwise, you can find her forever painting the walls and reorganising the furniture inside her modern London flat, or going on long walks with her pug.