Christmas wreath ideas - the most festive trends of the season
Christmas wreath ideas to help you start your home off as you mean to go on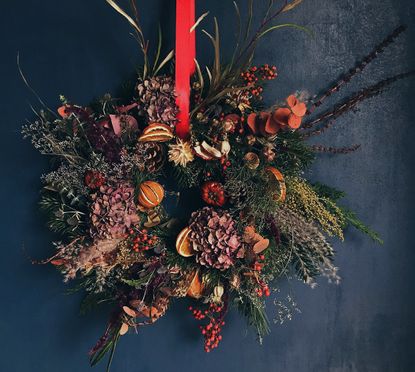 (Image credit: Grace & Thorn)
Start thinking of your Christmas wreath ideas and something green, pine-covered and circular will probably spring to mind. It's time to think again. While Christmases past have seen creative and experimental takes on the Christmas tree – bright colors, surprising shapes and with built in technologies – the wreath has tended to remain a little more under the radar, out of sight out of mind perhaps with its position on the front door.
For Christmas 2021, forget your Christmas tree ideas (or at least don't think of them for now). Instead, the wreath is becoming the star of the show, moving inside from its lofty outdoor perch, or at least making an unforgettable impression before we step inside. This year, wreaths are all about sustainability, creativity and whimsicality, with experimental palettes, configurations, materials and approaches to styling reinventing the festive wheel. We talk to the experts about the 2021 Christmas wreath trends and how to live with them.
Christmas wreath ideas
Christmas wreaths made with dried flowers
Dried flowers have enjoyed a comeback over recently years, shaking off their image of color-sapped dust gatherers and rebranding as everlasting eco expressions of creativity. Like many alternative Christmas tree ideas, this is a wreath that happily ticks the zeitgeist boxes for sustainability and natural materials in the home. Yes, this is a wreath that you can both display year after year, or put in the compost bin. Design-wise: if it's a plant you can dry, it can go in a wreath. From globes of hydrangeas, to feathery grasses and fragrant herbs and fruits, dried wreaths are an opportunity to embrace a bounty of color, texture and shape with the knowledge that the design will stay at its best for years to come.
Why are dried wreaths trending for Christmas 2021?
'Gladly, all sustainably made decorations are becoming more popular,' says Terri Chandler, Co-Founder of floristry brand Worm London. 'We are so much more conscious of sustainable living and with wreaths, by putting one on the door you're telling the world what type of person lives there.'
'As well as bring sustainable, dried wreaths can be incredibly beautiful and ethereal,' adds Mairead Curtin, Co-Founder of floristry brand Rebel Rebel. 'They don't die or get scruffy unless they're in the elements. And they're perfect for indoors because they don't wilt in the heat.'
What kind of plants work well in Christmas dried wreaths?
'Some of our favorite plants to use in dried flower wreaths are wild grasses and seedpods, rosehips, wild thyme, Juniper, pine, olive, yarrow, statice and strawflowers,' shares Terri Chandler of Worm London. 'We lean towards larch, grasses, asparagus fern, eucalyptus nuts, pine cones, dried English hydrangea, fruit, clematis vine, peppercorns and feathers' adds Rebel Rebel's Mairead Curtin.
What do modern dried Christmas wreaths look like?
'Modern Christmas wreaths made of dried flowers can be wild, loose and asymmetric, or a more traditional round shape,' says Rebel Rebel's Mairead Curtin. 'Most are between 10cm and 20cm. But we can go bigger!'

'Dried wreaths tend to have lots of personality, which is lovely,' says Terri Chandler of Worm London. 'I love walking around our local area and seeing the homemade designs on the doors. Colorful, wild, symmetrical, neat, tonal, all different – it's so nice that they are back in a big way.'
How do you care for a dried wreath to make it last?
'Dried flowers can get dusty after a while, so a little air blow helps, and they get caught in the rain they can get a bit bedraggled,' says Rebel Rebel's Mairead Curtin. 'But generally if you want to start Christmas early a dried wreath is the answer – you can keep them until next year, but remember to take any fruit or bunny tail grasses off or the mice will enjoy them!'
'They need very minimal care,' says Worm London's Terri Chandler. 'If one starts to gather dust, blowing a hairdryer near – but not directly at – it usually does the trick.'
Where does a dried wreath work best?
'They're great for inside apartment front doors, and in the house are fun above the mantelpiece – try adding in little battery-operated fairy lights,' tips Rebel Rebel's Mairead Curtin. 'As they have such a natural look, mixing them with something like delicate glass baubles would be pretty, or metallic sprayed dried flowers. The world's your oyster really, fly, be free…'
'We like a big statement asymmetrical wild wreath above a fireplace, maybe with a large velvet or linen ribbon tied in a bow,' says Worm London's Terri Chandler. 'Little cowbells are really sweet in them too.'
Christmas wreaths in pastel tones
Like many of this year's Christmas tree trends, pastel wreaths are a world away from the classic red and green Christmas palette. Which is probably one of the reasons we're so drawn to them, and why pretty pastels palettes are making up the alternative wreaths of 2021. Is it their Instagrammable cuteness? Is it that they remind us that Spring is almost within reach? Perhaps it's that they fit in more with our expertly curated homes? Or are we simply opening our minds when it comes to December? While on initial glance they may scream 'Easter' these are wintery wreaths with a dose of whimsy, the delicate tones combining with holly, eucalyptus, sage, thistle and mistletoe for a playful and dreamlike festive feel.
Why are pastel toned wreaths a trend for Christmas 2021?
'Pastel wreaths are a big trend because they are the total opposite of green wreaths!' says Romy St Clair, Co-Founder of floristry brand Sage Flowers. 'People are looking away from traditional pine wreaths and towards more colorful options – baby pinks, lilacs and mint greens have been very popular.'
'The overall Christmas palette has become a lot broader recently as people have experimented with making their festive decorating an extension of the overall design of their home rather than something completely different,' says Nik Southern, Founder of floristry brand Grace & Thorn. 'Classic gold and jewel shades are lovely, but don't necessarily work for every space – if you have lighter-toned furniture and fabrics in your home, pastel tones fit in really well.' Pastels are always colors that go with grey, so they fit well into a neutral scheme
How does a pastel-colored Christmas wreath make a space feel?
'They add a fun and contemporary edge, whereas traditional wreaths have started to feel a little dusty and boring,' says Romy St Clair of Sage Flowers. 'Pastel wreaths are certainly more playful, more like art or sculpture than traditional wreaths.'
'A pastel-toned wreath will bring festive warmth, can they can also really lighten a space,' says Grace & Thorn's Nik Southern. 'Traditional wreaths with darker tones work wonderfully in some spaces, but sometimes you want to bring a bit of brightness, especially as the nights draw in, and a pastel wreath is the perfect antidote to that.'
Where does a pastel wreath work best?
'As these wreaths often have dried elements, they're better off inside that on the door,' advises Romy St Clair of Sage Flowers. 'Use as part of your Christmas window decor ideas, or above the fireplace! They look fantastic with other bright decorations, like some pops of neon as well as with simple fairy lights'.
'The great thing about a statement pastel wreath is that it can be used as a brilliantly impactful standalone pieces, but also styled as a part of a wider decorating scheme,' says Grace & Thorn's Nik Southern. 'A pastel wreath works beautifully inside the home and will compliment more neutral palettes and bolder statement colors alike. Pastel tones are also great if you've got lighter furniture or warm, light fabrics in a room as they will pick out the detail in your wreath and really make it shine.'
Asymmetric Christmas wreaths
Minimal asymmetric wreaths decorated to expose half of their bases have come into their own this year. Joyfully celebrating the structure and composition of the wreath, an asymmetric wreath is all about balance – while the center of gravity remains important for obvious reasons, it's the only design constraint. Asymmetric wreaths of 2021 are bottom heavy, top heavy, dressed sparingly, generously, neatly or wildly; in short, anything they want to be. In keeping with our penchant for incorporating nature and the natural into our decorating schemes (Christmassy or not), flexible branches and vines have stepped in as bases where once metal rings were, making the final piece seem – almost – as if it could have organically grown hanging from a forest canopy.
Why are asymmetric wreaths becoming more popular?
'Asymmetric wreaths have a more contemporary and stylish look than the traditional full circle,' explains Alice Howard, Founder of floristry brand Botanique Workshop. 'They also allow for a more freestyle approach to building; you can work in two directions working out from a focal point for example. The ingredients you add don't need to match either; it's a freer way of creating.'
'If you like the idea of a more natural-looking wreath, asymmetric designs really lend themselves to a wilder and more organic feel, as well as taking up a lot less materials,' adds Anna Day, Founder of floristry brand Flower Appreciation Society. 'They give a more contemporary feeling to a space, and a lighter mood'.
What plants work well in an asymmetric wreath?
'Different textures work well, and mixture of different sizes of flower head,' says Flower Appreciation Society's Anna Day. 'Use multiple shapes and textures to create interest and give a wild, natural feel to the wreath. Start with firs for that Christmassy smell, then add berried ivy, dried old man's beard, dried hops, dried bracken, seed heads, holly, mimosa, foliage and thistles.'
'Asymmetric wreaths generally have a more whimsical style so I would suggest using more delicate foliage,' says Alice Howard of Botanique Workshop. 'Think grasses, seed heads such as from poppies nigella and allium, foraged twigs and branches, and straw flowers for subtle focal points. My new go to for wreaths is euphorbia Spinoza, it's looks like a beautiful birds nest.'
What type of base should you use for a Christmas wreath?
'I would recommend clematis vine if you can get hold of it, so everything about the wreath is natural,' says Flower Appreciation Society's Anna Day. 'You can create a very delicate shape with it as the base doesn't need to be hidden.'
'For an asymmetric wreath I would use a willow or vine base over the traditional mossed copper wire as a large part of it is left exposed, adds Alice Howard of Botanique Workshop. 'A willow base is the best materials to heighten the ethereal feel of an asymmetric wreath.'
White Christmas wreaths
We're dreaming of a slightly different white Christmas this year, and it hangs rather than covers the ground. If subtle, simple wreaths are for you, then for 2021 go for a ring of textured whiteness. Be it a full-on whiteout or a sprinkling of the icy shade, elements of white in a wreath speak of snowfall in a more abstract, understated way than yesteryear's spray of a snow can did (let's try not to think about those). White Christmas wreaths are soothing, subtly inviting memories of sledging, snow angels and blizzard-y landscapes, as well as being guaranteed to go with any decorating scheme and door style.
Why are wreaths with white elements on trend this Christmas?
'This year above all, a sense of calm and peace in the home is being welcomed,' says Jane Rockett, Co-founder of Rockett St George. 'For this reason, pale and natural-colored wreaths are becoming increasingly popular; they're magical enough to give a nod to Christmas, but stylish enough to keep beyond the festivities.'
White wreaths have the feeling of Scandinavian design, which can fit well into modern homes.
Are white-tinged wreaths a way of evoking the feel of snow?
'I adore the subtlety of a snowy colored wreath and the way it helps achieve a hint of 'White Christmas' in the home, says Rockett St George's Jane Rockett. 'Natural and white adornments are the perfect way to introduce a frosty feel into your display without actually using fake snow and ice. Balance these cooler tones with some twinkling fairy lights for warmth and you have yourself a winter wonderland in any corner of the home!'
'These wreaths are a rustic, more natural take on the fake snow and ice that has been typical before,' says Claire Wilks, Designer at Garden Trading. 'They offer the opportunity to embrace simplicity, while truly capturing the spirit of Christmas
What type of statement does a wreath with white elements in it make?
'A natural white wreath is whimsical, ultra-calming and oh-so timeless,' smiles Rockett St George's Jane Rockett. 'No matter how your festive style evolves over the years, you can always incorporate a gorgeous white wreath into any display, they're incredibly versatile'.
'With people tending towards a moodier and rustic set ups at home, the contrast created by adding a pale to darker hues is very contemporary and surprising' adds Garden Trading's Claire Wilks.
How can you style a white Christmas wreath?
'A white wreath can be styled above your mantel, as a center piece on your dining table or on your door if protected from the elements,' advises Rockett St George's Jane Rockett. 'This year, I'm styling my wreath above my mantel shelf, with pillar candles, some glorious gold decorations and accessories in darker tones that create contrast.' The perfect addition to Christmas fireplace decor ideas.
'Trying hanging misaligned white wreaths above your console table, or in a dining or entrance hallway space alongside other wreaths to create a festive gallery wall,' adds Garden Trading's Claire Wilks.
Orange Christmas wreaths
Oranges and Christmas historically go hand in hand and if you're looking for a modern take on a classic wreath design for 2021, it's going to be zesty and brightly colored. Why did we ever overlook this all natural, vibrant, fragrant Christmas decoration when there are so many colors that go with orange? Dried oranges adorning a wreath speak of magic-filled childhood festivities, as well as providing a hit of color that's at once vivid and delicate. The way to do orange imbued wreaths this year? One word: abundance. 'Tis the season for the humble fruit to take center stage. Be they in fine slices or full bodied and bauble-like, fill your wreath with a bounty of the citruses, the more the significantly merrier. Complement with dashes of other vivid tones or scented elements, or make oranges the main event and appreciate their everyday magnificence.
What is it about oranges in wreaths that we are drawn to?
'For me, the scent of citrus orange always brings back memories of festive seasons gone by – fragrance is one of the best ways to evoke feelings of nostalgia,' highlights Whitney Bromberg-Hawkings, CEO and Co-Founder of Flowerbx. 'The history of oranges in holiday decor is undisputed, they have always been there – which is probably one of the reasons they continue to mark the season so well. Also, a citrus wreath is the perfect segue from the Fall into full-on Christmas, celebrating both beautifully.'
How do you add oranges to wreaths in a modern way?
'Group or string together slices so they give a strong visual shot of color,' advises Victoria Brotherson, Founder of floristry brand Scarlet and Violet.
'The trick is in making your citrus fruit the star of the show, and toning back all other elements to a more muted palette,' agrees Whitney Bromberg-Hawkings of Flowerbx. 'Keep your selection of colors as tonal as possible to add a contemporary feel – in our Dried Citrus Wreath, we compliment the dried oranges with a color palette of rich burgundy, cinnamon, and olive to keep things feeling seasonal yet stylish, then finish with a velvet bow in one of the same shades.'
What kind of mood do orange wreaths add to Christmas?
'Using dried fruit within a festive wreath always brings about a feeling of comfort, and a nod to holidays gone by, and this year we are all craving a slice of nostalgia,' says Whitney Bromberg-Hawkings of Flowerbx. 'It creates a mood of timeless Christmas tradition, and always offers a touch of seasonal beauty to your choice of decor. I'm a big believer in filling my home with festive fragrance, so adding seasonally-scented fruit is always part of my Christmas setting.'
'Fruits, foliage and berries will always evoke a feeling of tradition and Christmas wherever we may be,' adds Victoria Brotherson of Scarlet and Violet. 'They evoke a sense of tradition – team with red berries, mixed cedars, pines, mulled wine and some cheese for me please!'
Christmas wreaths in shades of purple
For a dramatic addition to your Christmas wreath, something that says edgy and alternative, it's purple we're turning to this year. Be it deepest, almost-black eggplant tones or layers of lighter lilacs, this year we're rebelling against classic yuletide shades and spinning the color wheel in a different, more daring direction - there are plenty of more traditionally festive colors that go with purple, after all. In keeping with our penchant for natural materials, the color for your purple Christmas wreath must – of course – be found in nature, namely in florals. For a more delicate mood, opt for multiple sprigs of pale purple plants such as lavender, or for something with more oomph, go for a few large, statement blooms in shades of rich plum.
How do you add purple to a wreath in a modern way?
'Add color naturally, with from fresh foliage or dried flowers,' advises Caroline Grimble, Lead Florist at Bloom & Wild. 'If you want a stronger punch of brightness, adding a ribbon to hang your wreath from or a very simple bow creates more tonal intensity.'
'The way I would use purple within wreaths in is through dried Hydrangea and lavender, as these elements really add additional fragrance and texture' concurs Nikki Tibbles, Founder of floristry brand Wild At Heart.
What do purple elements bring to a wreath?
'We wanted to add some richness to our 'The Night Before Christmas' wreath which features richly toned Leucadendron to make it feel natural, wild and textured but also warm and inviting,' says Caroline Grimble of Bloom & Wild. 'We like to add in unexpected elements through color or unusual stems, and explore unexpected color palettes.'

Where does a purple-tinged wreath work best in the home?
'A purple-tinted wreath for me is about keeping it natural and sustainable with dried flowers, so the Christmas decorations I would mix it with in would continue a natural theme with pinecones and foliage' says Nikki Tibbles of Wild At Heart.
'As well as looking great outside where everyone can enjoy it, inside our 'The Night Before Christmas' wreath could be combined with a palette of deep purples, mustard and gold with some hints of teal,' says Caroline Grimble of Bloom & Wild. 'I would keep everything as natural as possible so I might make some home-dried orange slices to decorate with, as well as put into my G&T (a great trick that I learned last year).'
Reused Christmas wreaths
With our focus on sustainability never more in focus, why should wreaths miss out on all the fun? For a stop and stare alternative Christmas wreath, reusing existing materials is where it's at this year - something we've seen in Christmas tree topper ideas, too. At Selfridges, creative gifting brand Picturetales's 2021 wreath collection is crafted from decorations sourced from charity shops, in a joyous rainbow of brights and neutrals to fit with every decorating palette. At The V&A, textile studio Wallace Sewell's make your own wreath is comprised of salvaged ribbons, a byproduct of the weaving process, while RE-Found Object's wreath creates a leafy, floral design with hand sewn pieces of salvaged jute sacking. A small way to bring joy to the world, but a snow-covered step in the right direction.
How are reused materials making their way into wreath design?
'Effectively, anything can be used on my wreaths,' explains Shivani Jaiswal founder of Picturetales, which makes bespoke wreaths from repurposed Christmas decorations. 'I'm often on the hunt for feathers, lights (that all get tested), butterflies, ornaments, and baubles. To find pre-loved materials for the wreaths I make takes a full twelve months of planning and searching. As well as sourcing festive materials through charity stores, social media and word of mouth have led to people passing on decorations that would usually have gone to waste.'
'We are seeing more and more brands that offering creative and sustainable solutions to help us celebrate Christmas,' confirms Eleanor Gregory, Home Buyer at Selfridges which stocks Picturetales. 'In Selfridges' Christmas shop this year over 60% of our offering is in line with our eco-focused Project Earth initiative and we are working with a number of amazing British makers.'
Shop the Selfridges Project Earth section here.
What message do reused wreaths communicate?
'Wreaths like our reused sacking version send a vitally important message about reducing our waste,' say Jenny Vaughan and Simon Young, owners of Re-Found Objects. 'Our handmade design also brings a feeling of warmth, welcome and comfort to the home, as well as demonstrating the care, skill and dexterity of the artisans who make them.'
'My wreaths are a simple a way to show how impressive pre-loved decor can actually be,' says Shivani Jaiswal of Picturetales. 'They demonstrate that one person's unwanted item can be another's timeless keepsake. Upcycling Christmas decorations is not only is it more environmentally conscious, but can lead to something imaginative and original.'
Wandering Christmas wreaths
Wreaths and doors have been festive friends for as long as we learned how to form branches into circles. Well, it's time for a holiday period break up. Think about it – on a front door you can bask in the beauty of your chosen wreath only for mere moments before you pass over the threshold and life takes over. For Christmas 2021 the wreath is migrating inside, where it can be appreciated in the same way as its cousin the garland. See it like a festive piece of art (which it really is considering the expertise required to design and make one) and hang it pride of place in a room of your choice, to be admired for as long as it lasts. As part of living room ideas, bedroom, interior door or in a gallery wall – find a spot in need of some festive cheer and get hanging.
Why has the wreath moved from being hung on the front door
'People are increasingly wanting to bring the outdoors inside when decorating their homes, particularly at Christmas,' explains Lib Lewis, Founder of lifestyle brand Domestic Science. 'Natural materials like greenery, pine cones, branches and dried fruit are being favored over sparkles and glitz this Christmas.'
'The reality of having a wreath on your front door is that, as pretty as it looks to passers-by, you yourself only see it when you enter of leave your home,' highlights Rosie Axford, Founding Partner of homeware brand Wicklewood. 'Now people want to be able to see them, as you would a Christmas tree, when they're moving around inside their own home so they can appreciate and enjoy them throughout the festive season.'
What types of wreaths work best inside?
'It's important to think about the type of home and interiors you'll be placing it in and choose the right wreath for your space, just as you would do with any other decorative piece,' advises Wicklewood's Rosie Axford. 'If you have large bay windows, then opt for something bigger and more opulent. If you love color and print, then play with pattern and fabrics. Wreaths offer a great opportunity to be experimental and have some fun as they're only going to be up for around six weeks.'
Where can you hang a wreath indoors?
Rosie Axford, Founding Partner of homeware brand Wicklewood, says you can hang a Christmas wreath in these places indoors:
Over a mirror as a beautiful way to 'frame'' the wreath and create a focal point
On the back of a door in a powder room for a welcome surprise for guests, plus pine has a fantastic natural smell which can take the place of candles
As centerpieces on the table – when placed horizontally you can add eclectic decorations to them to really bring charm and character to the tabletop
How do you make a simple Christmas wreath?
'The quickest and simplest option is to buy a ready-made wreath from your florist and add cut foliage, branches and berries from your garden or local countryside,' says Wild at Heart's Nikki Tibbles. 'If you're feeling more creative, you'll need a wreath frame, moss, cut pine, lots of reel wire and a little bit of time and patience.'
'To make your own, start by adding the foliage to your wreath base by taking a bunch of two or three pieces at a time and placing them on top of your wreath, parallel to the base,' advises Nik Southern of Grace & Thorn. 'Secure this with floristry wire at the cut end of the foliage. Working in a circle, keep adding more bunches of greenery so that the top of the new foliage covers the secured end of the last piece you added until you get to where you began. From here you can either keep it green and simple, or wire on more decorations, like ribbons or dried fruits and flowers.'
'And don't forget a beautiful ribbon,' says Anna Day of Flower Appreciation Society. 'Velvet or silk work particularly well and give a luxurious finish.'
What can I use to decorate a Christmas wreath?
'Traditionally wreaths are made of fresh pine foliage with dried fruits, cinnamon sticks and pine cones to decorate, however you can be endlessly creative in curating components,' says Alice Howard of Botanique Workshop. 'We love to use berries, dried peppercorns, eucalyptus, dried flowers and grasses as well as foraged materials such as Old Man's Beard, bracken, rose hips and seed heads.'
'When it comes to decoration, keep it natural and seasonal, advises Nik Southern of Grace & Thorn. 'Pine cones, dried grasses and flowers like roses, hydrangea and Limonium, seed heads and dried fruits are perfect for adding long-lasting shape, color and even scent to your wreath. Some things like rosehip can be added fresh and will dry in beautifully too.'
'Anything you like, let your imagination run wild!' advises Caroline Grimble of Bloom & Wild. 'Keep it classically festive with lots of winter foliage, or add pops of color with fresh flowers, ribbons or mini baubles. It's best to think about where you'll be putting your wreath before decorating – will it get wet? – as well as how long you'd like your wreath to last. Fresh flowers will only have a short time looking perfect out of water, but are a beautiful thing to do for a Christmas party or the big day itself.'
When should you put up your Christmas wreath?
'There's no hard and fast tradition for when you should hang a Christmas wreath, so it really depends on how eager you are to get your decorations up and where you want to put it,' says Grace & Thorn's Nik Southern. 'A good quality fresh wreath placed outside should last all December long, so put it up early in the month to ring in the festive cheer. If placing it inside you might find it dries out more quickly, so wait until a little later in the month – around the second week in December – if you want it looking its best on Christmas Day.'
'This is totally up to you!' says Anna Day of Flower Appreciation. 'If you make it out of dried materials, then you can put it up as early you like, if it's made from fresh materials we would wait until the second half of December so that it stays fresh right up until Christmas.'
The Livingetc newsletter is your shortcut to the now and the next in home design. Subscribe today to receive a stunning free 200-page book of the best homes from around the world.
Amy Moorea Wong is a freelance interior design journalist with a decade of experience in contemporary print and digital editorial, previously News Editor at Livingetc. She writes on a broad range of modern design topics from news and interior zeitgeist to houses, architecture, travel and wider culture. She has a penchant for natural materials, surprising pops of colour and pattern and design with an eco edge.