How to make a Christmas wreath - eight easy steps from the most festive expert we know
How to make a Christmas wreath - florist Philippa Craddock's step-by-step guide that's simple yet chic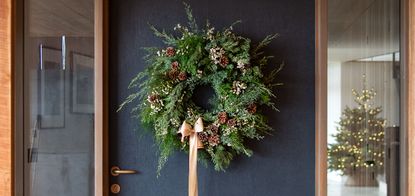 (Image credit: Philippa Craddock)
Learning how to make a Christmas wreath gives you the opportunity to add a personal touch to your festive decor - and create an artisan piece that's authentic and stylish.
After Christmas tree ideas, wreaths are a loveliest way to add a bit of pine-scented beauty to the home, and it's easier than you might think to make your own from scratch. What's more, with the reliable guiding hand of florist-to-the-stars Philippa Craddock, it's even less daunting. "I love fragrant, seasonal greenery," Philippa says. "Blue spruce, skimmia, and eucalyptus."
Philippa, who created the stunning cascading floral archways that decorated the façade and interior of St George's Chapel in Windsor for the wedding of The Duke and Duchess of Sussex, has kindly shared a step-by-step guide below.
How to make a Christmas wreath with Philippa Craddock
This materials list and easy-to-follow expert steps will navigate you through the process so you can take these Christmas wreath ideas and dress them up or pare them back as you much like. that you can leave pared-back and chic, or keep adding to for a show stopping display.
You can use your Christmas wreath to hang on the wall, window or door, or to use as a kitchen island centerpiece or as Christmas table decor with a candle placed in the middle for a beautiful effect.
What materials do you need to make a Christmas wreath?
FOR THE DECORATION - a selection of seasonal foliage, including blue spruce, with each stem measuring between 10 and 25cm (4 - 10") long.
FOR THE BASE - you will need a few lengths of long malleable branches (or perhaps if you want to make it even simpler, you can use a pre-made metal base, sourced from online floristry sundry suppliers). Philippa used hazel for the base, and suggests that willow works just as well.
TO SECURE - some garden twine if you want your wreath to be fully compostable or reel/paddle wire, which some people prefer as it is a little stronger and easier to use.
TOOLS - scissors and/or secateurs for cutting stems.
A step-by-step guide to making a Christmas wreath
1. Pull the branch into a circle that measures approx. 30cm diameter, securing with garden twine or paper covered wire.
2. Secure the end of the garden twine or paper covered wire onto the base, ready to attach all the greenery.
3. Gather a small bunch of the mixed foliage into a fan shape and secure this to the wreath, pulling the garden twine tight, binding the greenery to the base.
4. Gather a second bunch, again into a fan shape, and place this over the bind point of the first, also covering the cut ends of the first stems. Secure in place with the garden twine.
5. Continue, working in the same direction around the base, overlapping each of the ends of the previous bunch each time, to avoid any gaps.
6. Continue until the base is fully covered, and you have a dense, full wreath.
7. Flip the wreath over and secure the garden twine or paper covered wire tightly, by looping it through the base and tying a double knot.
8. Before you turn your wreath back over, add a loop of garden twine, ready to hang your wreath on the door.
Sign up here to receive a free Simple Foliage Wreath filmed tutorial, where Philippa takes you through the full steps to ensure you succeed with confidence.
Or, if you're feeling adventurous, join the online Christmas Design Masterclass where you will master the techniques to create large, deep and abundant wreaths this Christmas, alongside staircase installation and breathtaking festive table arrangements.
Ruth Doherty is a lifestyle journalist based in London. An experienced freelance digital writer and editor, she is known for covering everything from travel and interiors to fashion and beauty. She regularly contributes to Livingetc, Ideal Home and Homes & Gardens, as well as titles like Prima and Red. Outside of work, her biggest loves are endless cups of tea, almond croissants, shopping for clothes she doesn't need, and booking holidays she does.