Florist Angela Maynard on how to care for dried flowers and how to style them in a modern home
Knowing how to care for dried flowers means you can have stylish arrangements that last for years. Author and florist Angela Maynard shares her tips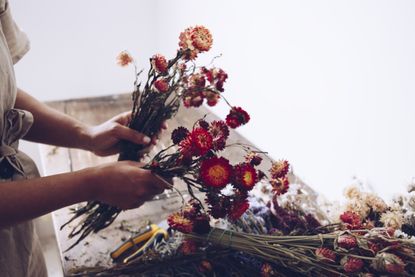 (Image credit: Anna Jacobsen)
Dried flowers are having a moment. I've seen them in vast displays in hotels such as Heckfield Place, The Newt and Birch. I've also spotted them in the home of the super-stylist Athena Calderone, little architectural displays of pink and orange dahlias. And as with the oversized foliage vases Athena got us all doing, if she's into dried flowers now, then, well, this is the year we'll all be filling our houses with them.
The wonderful thing about this particular garden trend is that - of course - they can be displayed throughout the year and added to whenever you find an additional foraged stems that suits.
How to choose colors for dried flower arrangements
Color is of huge importance when arranging dried flowers - well, any flowers, really, and you could apply the below as much to your flower beds as to your bouquets. Your choices will depend on the type of arrangement you are making – whether it's for yourself, for friends or family, to celebrate a given occasion or to suit a specific interior. Whatever you are planning, color will play an important role in the impact and mood you create with an arrangement.
Many stems take on a different color once dried. In particular, stems that are air-dried naturally take on more muted tones. It can be helpful to consider colors that work well in nature when planning an arrangement. A basic knowledge of color theory and the colour wheel is also useful here.
Red, yellow and blue are primary colors. Bright, bold, confident, optimistic, these are the colors that 'pop' in a flower arrangement. Their use should be carefully considered to prevent them becoming overpowering. Skilful positioning will draw the eye to it as a focal point.
Violet, orange and green are secondary colours. Sitting between the primaries on the color wheel, each is the combination of the two primaries on either side – so violet is the combination of blue and red, for example. These tend to be softer than primary colors and blend more easily into an arrangement. Working with colors that are close to each other in the spectrum, or with several tones of the same color, will naturally create a harmonious arrangement. Working with opposite colors on the color wheel – for example, red and green or blue and orange – will instantly create a vibrant, contrasting display.
How to choose the right container for your dried flower display
When it comes to flower arranging, the vessel holding an arrangement can be as important as the stems inside. Since the flowers you are working with are dried you don't have to worry about the vessel being watertight, so there is no limit to your options. You can consider basketry, bowls, pitchers and mugs, as well as more conventional glass and ceramic containers. If you keep an open mind, you'll gradually start to see the potential in things you may not have considered before. In turn, this flexibility will add a whole new dimension to exploring your creativity. No matter what you use, here are some guidelines to help you choose the right vessel each time.

Weight: Dried flowers are light and are displayed without water. Nevertheless, make sure your vessel is sturdy enough to take the arrangement. You may need to weigh it down with sand or stones.
Shape: Consider whether your arrangement suits a round, oval, square or oblong vessel. Equally important are the dimensions of the container – do you need something short and stout or tall and thin? Pay attention to the shape and width of the opening of a given vessel, as this will determine the size and number of stems it will take.
Versatility: When sourcing vessels, it can be a good idea to consider how versatile they are and whether you can see them working for a number of arrangements. The more versatile a vessel, the more valuable it is to you. If you can use the same vessel for various different styles and coloured arrangements, it will save space when it comes to storing vessels, not to mention the savings in cost. A jug in a neutral color or made from glass, for example, will suit arrangements of varying colors, whereas a red or blue container will be less flexible.
Proportions: In theory, your arrangement should be no taller than 2.5 times the height of its vase, but you can use your judgement here.
How to style dried flowers
The idea of designing and creating arrangements from scratch may feel intimidating, but the key areas for consideration are: stem hierarchy, form and composition, colorways, your choice of vessel and the location of the finished arrangement.
1. Stem hierarchy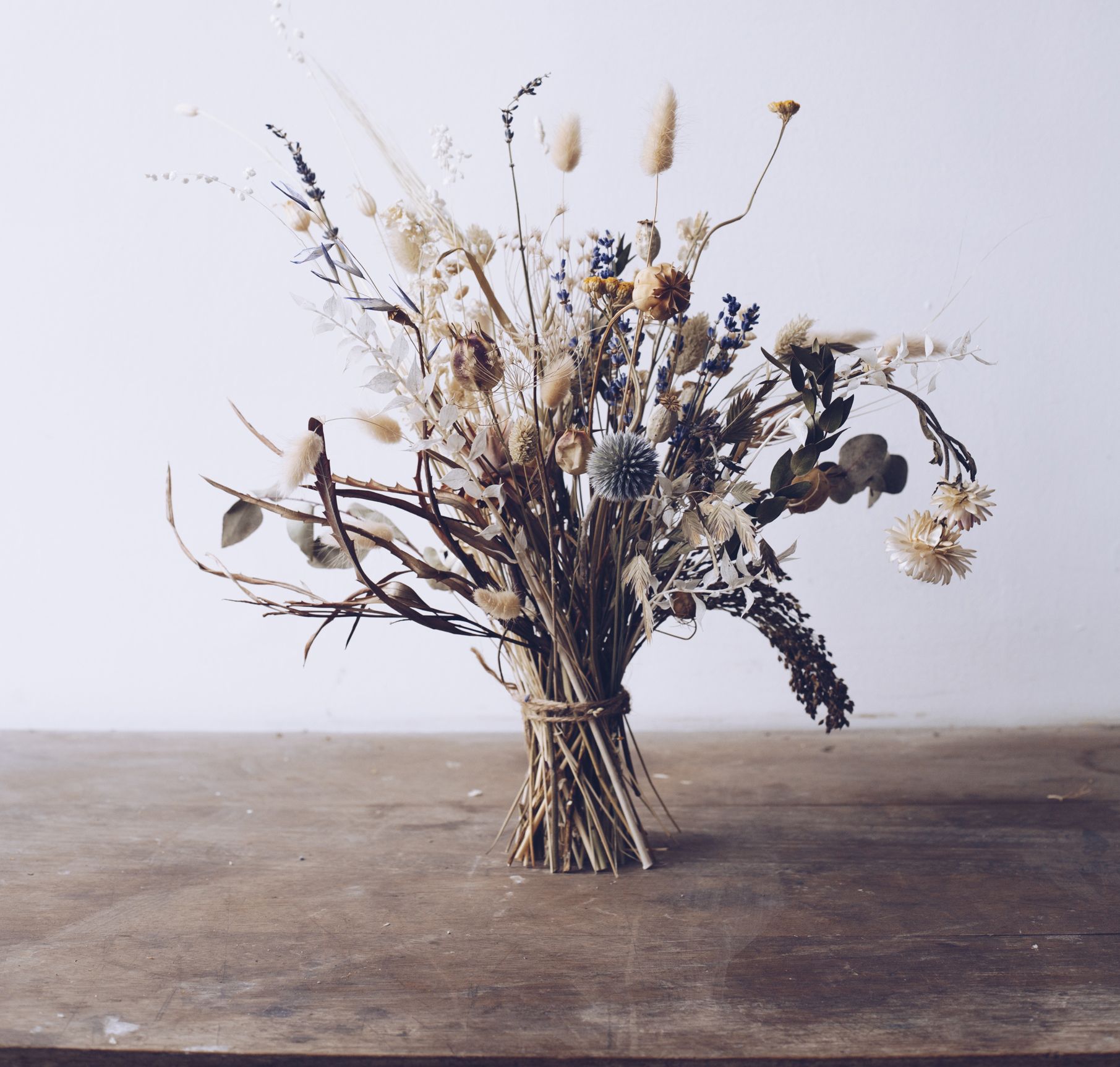 Follow the guidance below on the ideal stem hierarchy for a well-balanced floral arrangement.
Primary stem(s): One or more stems that serve as the main statement or focal point. They are typically large, impactful floral stems with distinctive characteristics. Examples of primary stems are Allium (ornamental onion), Protea (protea) and Banksia (Australian honeysuckle).
Secondary stems: Smaller floral stems that complement the primary stem(s) but don't detract from or clash with them. They have distinctive characteristics, but are smaller and make less of a statement than the primary stem(s). They serve as supporting elements that add interest to the primary stem(s). Use a mixture of complementary colors, a variety of sizes, textures, forms and shapes. Examples of secondary stems are Craspedia (Billy balls), Achillea (yarrow), Helichrysum (strawflower), Scabiosa (pin cushion) and Papaver (poppy seed heads).
Filler: Often taking the form of grasses, these are stems that bulk out an arrangement and add more interest. Examples are Gypsophila (baby's breath), Limonium (statice), Lagurus ovatus (bunny's tail), Phalaris (canary grass) and flowering grasses.
Foliage: Foliage bulks out an arrangement, sometimes offering support and adding interest. Green finishes can bring a composition together. Examples are Eucalyptus (eucalyptus), Ruscus (ruscus) and Asparagus (asparagus fern).
2. Form and composition
How you choose to arrange your flowers is up to you, but there are some rules and techniques that may help in assisting you to make considered decisions when creating a well-balanced arrangement.
Geometry: If you were to draw around the tips of the stems in an arrangement, you should be able to see a geometrical shape based on a triangle, a circle or an oval. It could be oriented in any way – even a half-circle – but the most successful compositions follow this general rule.
When arranging a bouquet in a vessel, the triangle formation is a basic but important skill, ideal for beginners as it is a crucial, mainstay technique. Essentially, it describes how you position the stem at the points of a triangle when looking down at a vase – if a line was drawn from stem to stem you would create a triangle. You then juxtapose another triangle in the gaps between the previous stems.
Odd numbers: Whether you're creating a large hand-tied bouquet, a table arrangement or simply adding a few loose stems to a vase, the balance seems to work best when using an odd number of stems. This rule tends to work across the board for primary and secondary stems, filler and foliage, but is less important for the latter two.
Variety: Always work with stems of varying heights and textures. Combine smooth petals with coarse, patterned, feathery, thin or spiky forms. Take care not to use too many overly fussy or distinctive stems in any one arrangement, however, as it could start to lose its impact.
3. Where to place dried flowers in your home
It is important to get a feel for the space where the arrangement will be displayed, so you know how much room there is and what angles the composition will be seen from. A wall-hanging will only be seen from the front, for example, so can have a flat back, whereas a centrepiece for a dining table will be viewed from various angles so needs to look pleasing all the way around. Consider any obstructions or height restrictions and also the existing aesthetic of the space, as this may influence your color choices and the type of vessel you use - your own sense of style can guide you on the specific choice.
How to care for dried flowers
Dried flowers can last for several years if taken care of properly. Essentially, this means keeping them away from light, moisture and dust. So you need to have a good storage system in place. You can even clean arrangements that gather dust and restore blooms that become squashed or flattened.
Sunlight vs dried flowers
Wherever possible, keep arrangements and hanging stems out of direct sunlight. The sun will bleach stems, causing colors to fade. Losing the gorgeous tone of a dried stem can be a real shame, and the speed at which this can happen is alarming. Not all bleaching is bad: Chasmanthium latifolium (sea oats) and Echinops (globe thistle) tend to bleach into a gorgeous golden shade, for example.
Storing dried flowers
It is important to store stems correctly to protect them from light and moisture, and avoid damage and loss of color. The best method is to wrap the stems and
lie them flat in brown cardboard boxes or the crates that wholesale flowers come in – ask your local flower shop for these as it will save them recycling. Ensure your stems are completely dry before wrapping. Wrap soft petal stems, such as Rosa (rose) and Delphinium (larkspur) in tissue paper. Use brown paper for blooms with more structured heads, such as Nigella (love-in-a-mist) and Papaver (poppy seed heads), to hold them in place and avoid them becoming crushed. Pack stems so that the heads are staggered and do not lie directly on top of one another.
Cleaning dried flowers
One of the main issues with long-term flower arrangements is that they gather dust. The more robust stems will withstand a gentle shake in the open air or a low blast from a hairdryer. You could also blow dust away, or wipe it off using a soft brush. More delicate stems will not tolerate any of these methods, so it is best
to remove or replace them. Use this as an opportunity to rework and refresh an arrangement. Reuse what you can and compost the stems that are past their best.
Dealing with quashed and broken stems
Should your blooms become squashed or flattened, you may be able to revive them using steam. Boil a kettle or heat some water in a pan, and lightly wave a stem through the steam as it rises, until the bloom regains its former structure.
However well you take care of your dried flowers, there will be a point when stems become too dusty or misshapen to reuse. If stems are broken rather than dusty or dirty, consider using them for boutonnières, pot pourri or confetti, in which case store them in clearly labelled boxes. For any stems that are beyond help, composting is the best way to dispose of them. I store these stems in a box labelled 'Bit Box'. I have one labelled 'Brights' and another labelled 'Neutrals' for easy identification when making the small accessory projects.
Angela Maynard is the founder of Botany, and her new book, Modern Dried Flowers: 20 Everlasting Projects to Craft, Style, Keep and Share will be published shortly. All of the beautiful images in this article are taken from the book. Pre-order your copy here.
Find more inspiration and information on Angela's workshops at botanyshop.co.uk
The Livingetc newsletter is your shortcut to the now and the next in home design. Subscribe today to receive a stunning free 200-page book of the best homes from around the world.
As the director of floral studio Botany, Andrea Maynard is an advocate of how having flowers around the home can make you feel better. She is also an author, having written Modern Dried Flowers: 20 everlasting projects to craft, style, keep and share, published by White Lion and out later this year. She regularly hold workshops to teach how to look after plants and dried flowers and has written for Livingetc. She is also a columnist for Reclaim Magazine.