Flower bed ideas – 10 sleek modern planting schemes to recreate in your garden
Be inspired by these flower bed ideas to add beautiful color, exciting textures and divine scents to your garden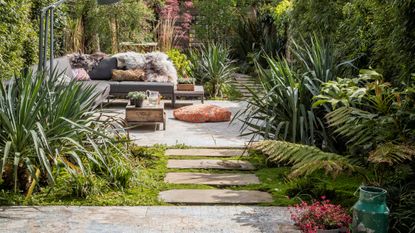 (Image credit: Future)
The Livingetc Newsletter
For style leaders and design lovers.
Thank you for signing up to LivingEtc. You will receive a verification email shortly.
There was a problem. Please refresh the page and try again.
No matter what the size or style of your garden, incorporating flower bed ideas is the easiest way to add exciting colors, interesting textures, and delicious scents to your outdoor space. And you don't have to be a green-fingered, experienced gardener to get planting beautiful borders, in fact designing and planting flower beds is one of the easiest modern garden ideas out there and is the perfect place for beginners to start…
1. First plan the overall look of your flower beds
The first steps to planning your flower beds is to decide on the look you want to go for and what planting is going to suit your style. For example, if you like modern garden ideas and keep a fuss-free outdoor space, very defined flower beds with edges and a minimal color scheme would suit. For something more cottage garden-esque you want your beds to feel slightly wild, with no clean lines and real mix of colors.
When it comes to choosing plants for your garden, that will mostly come down to the overall look you want to achieve too, but you will want to do some research on what plants would work best in your space, with the soil and the positioning.
2. Pick plants that will bloom at different times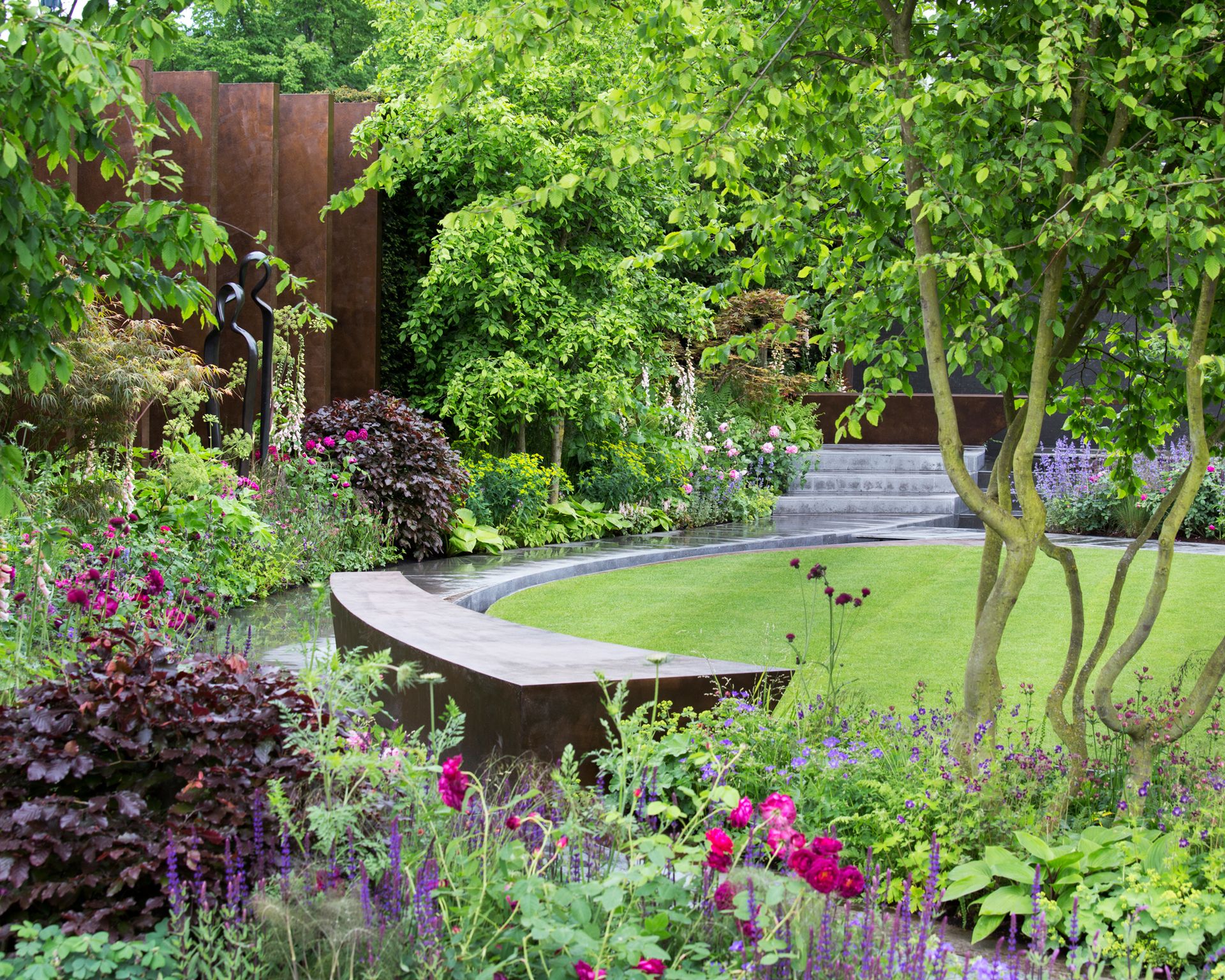 The best flower bed ideas incorporate lots of different types of plants with staggered bloom times - perennials, annuals, evergreen plants, seasonal bulbs, and grasses.
Unless you want to replant your whole garden border each season you'll want a nice mix that will ensure at least some greenery all year round. As Raine Clarke-Wills of Raine Garden Design explains 'Plant with a ratio of one third structural evergreens with two thirds herbaceous, to not only keep the right balance, but to retain interest during those winter months.'
3. Decide on the size and shape of your flower beds
Although flower beds can traditionally be found around the edges of gardens, there really are no rules on their positioning and can be any shape or size.
To start planning, use a string and a couple of pencils to 'draw' the lines of your flower beds. You want them to be deep enough so you can add lots of different textures and create depth but you still want to be able to access the plants. If you have the space and want lovely deep, luscious borders consider adding paths or some strategically placed stones so you can still access all the plants.
Remember borders don't have to be straight either. If you want a more rustic, natural feel to your beds wave the edges, having some plants protruding further into the garden than others. This a good idea if you have a small garden so have to keep your flower beds quite narrow, you can just have a few larger plants jutting out to add the illusion of more depth.
4. Choose a cohesive color scheme
Treat planting a flower bed like you would decorating a room inside your home, when it comes to color you want to create a cohesive scheme. Think about whether you want just one clear color with layers of tones – this monochrome look can work really well in a modern garden, say sticking to just white flowers and foliage.
Or you could opt for a more varied scheme with complementary colors like reds, pinks and purples. For a bolder, less formal look choose hues that sit opposite the color wheel like reds and blues or yellows and purples.
5. Keep it wild for an English garden fee
If you want your flower bed ideas to give your garden a lovely English cottage feel, then the key is to not to be too strict with your planting, you want the beds to look a bit haphazard.
Avoid any obvious repetition, keep plants close so as they grow they intertwine. Combine soft colors and create layers with plants of varying heights. If you need help with flower choice, opt for old-fashioned traditional blooms like roses, foxgloves, hollyhocks and delphiniums.
For more tips on choosing plants for a garden, see our expert guide.
6. Mix heights and textures to add depth
Whatever look you are going for, a mix of plants of different heights and textures is what will add interest to your flower beds. Even if you are planning a modern garden with an architecturally driven style, mixing together grasses, bamboo and ferns will bring that texture. Do think about the full height your plants will grow to before you start planting up too and ensure you give them enough space.
As a general rule, plant the tallest plants at the back of your bed, or in the center if going for an island flower bed and then get smaller as you reach the edges. Of course, you don't have to follow this strictly, you don't want a bed to look too formally leveled.
7. Edge a flower bed to add definition
A really simple way to create that definition between flower bed and lawn or patio is to lay down stones or bricks. The size, shape and material you go for will determine the look. For a more contemporary vibe, opt for larger flags all of the same size or choose more textures stones in varying sizes and shapes for a more relaxed look.
8. Or opt for raised flower beds
Another way to give your flower beds more definition is to create raised beds. Depending on what materials you use, you can create plenty of different looks. In a modern garden, simple concrete designs can add that architectural feel, whereas in more traditional gardens, raised beds made from sleepers on small dry stone walls to add a rustic touch.
9. Mix pots and containers into your flower beds
Flower bed ideas aren't just about planting directed into the soil, add some interest by bringing in potted plants or quirky containers. They'll instantly add that texture and varying height we have been talking about.
10. Blur boundary walls with larger blooms
In a small garden, it's easy to think small – small pots, small plants, small flower beds. However, by going big with the plants in your beds you'll in fact blur the boundaries of your garden, adding so much more depth and tricking the eye to thinking the space is more spacious. Hydrangeas are perfect for this with their voluptuous blooms, plus they are easy to grow and really hardy, so great for beginners too.
11. Create a flower bed of lush palms for an exotic feel
Just because it's called a flower bed, doesn't mean you have to include a rainbow of flowers. A layer of lush greenery can be just as visually impactful as blooming flowers and perfectly suit modern urban gardens. Again, it's just all about creating layers and different textures – think jungle-style. Start with larger plants like tree ferns, palms and bamboo to anchor smaller plants like hostas, around. When it comes to how to keep your garden hydrated, this approach needs less effort and less watering, too.
For style leaders and design lovers.
Hebe is the Digital Editor of Livingetc; she has a background in lifestyle and interior journalism and a passion for renovating small spaces. You'll usually find her attempting DIY, whether it's spray painting her whole kitchen, don't try that at home, or ever changing the wallpaper in her hallway. Livingetc has been such a huge inspiration and has influenced Hebe's style since she moved into her first rental and finally had a small amount of control over the decor and now loves being able to help others make decisions when decorating their own homes. Last year she moved from renting to owning her first teeny tiny Edwardian flat in London with her whippet Willow (who yes she chose to match her interiors...) and is already on the lookout for her next project.