"It's not how much water but how you water that counts." 6 secrets to keep your garden hydrated and blooming all summer
These expert tips on how to keep your garden hydrated will help to ensure a lush flower and vegetable bed even when the heat is on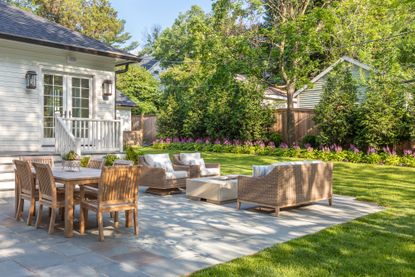 (Image credit: Richardson & Associates Landscape Architecture)
The Livingetc Newsletter
For style leaders and design lovers.
Thank you for signing up to LivingEtc. You will receive a verification email shortly.
There was a problem. Please refresh the page and try again.
As the temperature rises, knowing how to keep your garden hydrated can feel more challenging than usual.
However, with the right tips and tricks, maintaining a healthy, thriving garden in your backyard throughout the summer months is achievable.
Whether you want to maintain your vegetable container gardening, keep your flower garden alive, or simply ensure your plants remain fresh and healthy, we've rounded up everything you need to know about how to keep your garden hydrated below.
How to keep your garden hydrated
These expert tips will help make sure thirsty plants are given the right amount of moisture for happy, healthy greenery.
1. Check moisture levels
The simplest way to ensure plants are not drying out is to look at the foliage.
'Curling leaves, crisping foliage, wilting blooms, yellowing or discoloration of the plant, or overall droopiness are all common signs of dehydrated plant life,' says Andrew Gaumond, horticulturist and editorial director at Petal Republic.
Landscape architect Amber Freda agrees: 'Wilted leaves or flowers are usually the first sign the plants need water,' she says.
'The second thing to check is the soil itself to see if it looks or feels dry. If your soil is covered with mulch, it may be hard to see if it's dry or not. In this case, you may want to purchase a simple moisture meter online that can check the soil saturation level and let you know if you should water or not.' This one from Amazon is ideal.
And how do you know when to re-water? Andrew advises: 'The easiest method to follow in terms of assessing when to re-water is when the top 2 to 4 inches of soil are dry to the touch.
'This is an effective technique for most garden plants. For more precise measurements, moisture probes can also be embedded into various points across your garden and planting beds.'
2. Water deeply
'As a general rule, I recommend deep watering garden plants less frequently instead of short watering cycles undertaken daily,' advises Andrew. It's not how much water but how you water that counts.
'The goal of any watering regime is to provide adequate moisture to the roots of the plant. As such, look to water confidently in and around the base of your plants to allow moisture to penetrate deeper into the soil base.'
And when it comes to how to water plants in containers, pot plants may need more frequent watering in summer, possibly even daily. You might well need our article 'what is an olla?' here, specifically if you're going on vacation.
3. Water in the mornings
Mornings (generally before 9am) are an optimal time to water garden plants.
'This is when plants emerge refreshed for the day ahead and have the entire day to absorb moisture,' says Andrew.
'Evening watering can lead to damp spots and stagnant water in your garden, which may provide added incentive to slugs and snails.'
Amber Freda agrees that early morning is the optimum time for watering.
She says: 'The best time of day to water is in the morning because evaporation rates will be slower, and you don't run the risk of fungal problems that can occur from watering at night.'
4. Avoid hoses
'In terms of watering implements, it's best to focus most of your efforts on getting moisture to the roots of the plants,' suggests Andrew.
'I'd recommend avoiding jet hoses, which can damage delicate foliage, and go for traditional watering cans and gentle spray heads on a hosepipe, which typically provide the best result.'
A sprayer nozzle is the gentlest way of watering that won't damage foliage, agrees Amber Freda.
'The way you water is also important,' she says. 'I recommend putting an adjustable hose sprayer nozzle that can help modulate the speed and flow of water and putting it on a gentle shower setting, similar to a shower head a person might use in the bath.
'It's important to aim the stream of water at the soil itself, rather than the foliage of the plant. Watering the foliage can cause leaf burn or fungal problems when done incorrectly (such as when the sun is blazing or at night).'
As for watering technique? Amber says: 'You will want to saturate every bit of visible soil around the roots of the plant and not just the center of the plant.
'I like to count slowly to somewhere between five and 20, depending on the size of the plant, and moving the sprayer around as I'm counting to make sure the roots get completely soaked with water before moving on to the next plant.'
5. Try to retain moisture in the soil
Retaining moisture in the soil (sandy soils are particularly porous) is also key during the summer months.
Andrew Gaumond says mulching is an easy gardening job that can help retain moisture.
He explains: 'Mulching is a very effective means of preventing moisture evaporation through the topsoil.
'Various forms of organic matter can help here, such as leaf and grass cuttings, straw, compost, and bark, which can be spread in and around the base of plants to provide a protective layer.'
6. Install an irrigation system
Whether you're trying to keep your garden border ideas looking fabulous, or your vegetable garden growing, an irrigation system is a handy solution if you've got a busy lifestyle.
'Correctly irrigating your plants is almost as important as the plants themselves,' says Amber Freda. 'In the summer, when temperatures creep into the 80s or higher, container plants will need to be watered 1-2 times a day, which can be overwhelming for the great majority of people.
I'd highly recommend installing an irrigation system to help keep plants healthy and thriving throughout the seasons. A simple drip irrigation system can cost $1-2k, [but it will] keep your entire garden alive. For people with busy schedules, a drip irrigation is a no-brainer and the best way to protect your plants from the summer heat.'
For style leaders and design lovers.
Ruth Doherty is a lifestyle journalist based in London. An experienced freelance digital writer and editor, she is known for covering everything from travel and interiors to fashion and beauty. She regularly contributes to Livingetc, Ideal Home and Homes & Gardens, as well as titles like Prima and Red. Outside of work, her biggest loves are endless cups of tea, almond croissants, shopping for clothes she doesn't need, and booking holidays she does.