Christmas table gifts – 8 simple and stylish ideas to impress your guests
Christmas table gifts just add something a little extra to the festivities, something your guests can take away from the event and enjoy at home – here are our (super easy) ideas...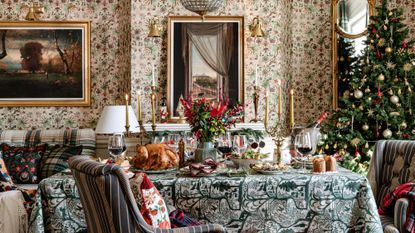 (Image credit: Mind the Gap)
The Livingetc Newsletter
For style leaders and design lovers.
Thank you for signing up to LivingEtc. You will receive a verification email shortly.
There was a problem. Please refresh the page and try again.
When it comes to Christmas table gifts, we are definitely of the opinion, the easier the better. Of course, leaving a little take-home present for each of your guests should be really thoughtful and personal, but that's why we in fact love the DIY approach or hunting for second-hand finds in charity shops or antique stores, or baking something on the morning of the event. Zero extra stress but lots of extra loveliness.
Admittedly, table gifts are a relatively new concept but as tablescaping has just got more and more extra, it's become a bit of a trend to go that one step further and turn a place name into a little something special for each of your guests. So this year, we are giving it a go. We missed out on so much festive cheer last Christmas we are keen to go all out with our Christmas table decor ideas this year, and we aren't the only ones. We asked designers and stylists if they'll be joining us too and what tips and tricks they have for creating delightful homemade (or home found atleast) table gifts.
1. Rework second hand finds
We are all about being more sustainable over the holidays, and for that reason, with Christmas table gifts there's really no need to go out and buy anything new. Really think about what your guests would want to receive, what would you yourself love to see when you sat down at a festive table?
'If you're gifting small items to your guests think about them as individuals so that what you offer them they might actually enjoy. This is especially important as we try and be more and more sustainable.' advises designer Benji Lewis.
Spend a couple of weekends in the weeks up to your event scouring charity shops and antique stores for little special pieces that remind you of your guests. Vintage books are perfect for the reader at the table or pick a book for every guest that represents their tastes and personality. They make for lovely decor too, wrap them with some ribbon and add a sprig of holly for a festive touch.
Benji's top tip is to 'trawl your local antique store and look for small goodies to offer, perhaps a small piece of china or an antique gold fob seal. I'm a big fan of small antique lidded pots; filled with a few of your guest's favorite chocolates, gifting them one of these will offer them a treat to enjoy when they make their way home.' Love this idea!
2. Leave home baked treats to takeaway
If you trust your skills in the kitchen, edible gifts are always a winner and can look so lovely as part of a Christmas table scheme. Gingerbread is the obvious choice and we love how delicate this house looks with just the simple white piping, it works perfectly with the traditional slightly Scandi decor.
Chocolate truffles are also a really easy Christmas table gift you can cook up the morning of and then wrap them in greaseproof paper and tie with string. Again, add some festive foliage and a name tag so they can double up as place settings.
Got plenty of time before the big day? Make your own sloe gin (so easy really) and pop it into small clip-top bottles for a little tipple for your guests to enjoy when they get home.
3. Get crafty with homemade crackers
DIYing your crackers is not only a lovely Christmas craft you can spend doing with the family (or solo with a large cup of mulled wine and Love Actually) it also means you can pick what goes inside. No more plastic spinning tops or oversized paperclips really no one wants or uses, instead, you can fill it with little gifts that actually mean something to your guest – just don't forget to add a hat, they're a Christmas cracker essential!
'Painting your own crackers allows you to personalize a set for your friends and family in a way that shop brought ones can't.' suggests Annie Sloan. 'You can easily purchase cardboard "Make your Own Cracker Sets". Keep the bangs, make up your own jokes and lose the plastic toys within! I recommend using the same design on every cracker but in different Chalk Paint™ colors. Add metallic accents using my Metallic Gilding Waxes for Christmas sparkle.'
4. Gift (and decorate with) votive candles
Candles are a must on any Christmas table so why not double them up as a gift? Pick some lovely holders and pop in a votive – go unscented for the event itself so the smell doesn't interfere with the lovely cooking, but add a second votive candle wrapped in tissue paper to everyone's plates in a scent they will love. Then when everyone is finished at the table they can take away a candle holder and votive of their own.
'I always keep a bottom draw of small gifts perfect for the table and for unexpected visitors, our signature size candles make a great gift as do our cashmere bed socks and small leather items.' says Chrissie Rucker, founder of The White Company. 'And our small bags with black ribbon ties mean no wrapping needed either.'
5. Mark each place setting with a decoration
Easy, yet so effective, Christmas decorations make for lovely table gifts. We will say this idea works best for any dinner parties you have early on in the festive period so your guests will actually have the chance to enjoy their decorations.
If you aren't too concerned with cohesiveness across the table, pick a decoration that's personal to each of your guests. But if you want to make the decorating actually part of your scheme, we would really recommend a little brush tree as you see here. They are great decorations to have in your Christmas collection as they can be put anywhere to add some instant festive cheer – on a window sill, on a mantle, on shelving. You can buy them in packs too, perfect for this kind of thing. We have our eye on the lovely blush set from Rockett St George.
6. Give each guest a wreath to decorate their doors
Another Christmas table gift that's ideal if you host on Christmas eve or before, pop a wreath on each plate for your guests to hang on their door when they get home. Spend a lovely festive day DIYing your wreaths (or if budget allows pop to the florist) and think about how they will work in your overall scheme.
If you like to keep things classic, go with a holly, fir, and ivy combo, or if you want something more contemporary, eucalyptus or magnolia leaves make for lovely wreaths. The wreath here is made from Dried Lunaria which gives this very dramatic setting an unexpected twist.
7. Fill bud vases with pretty poseys
Christmas flower arrangements and festive foliage are often an integral part of the Christmas table so why not make them a Christmas table gift too? Line the 'spine' of your table with bud vases of varying heights and fill them with poseys, then come the end of the night your guests can pick one they love and take it home.
If you like a more eclectic look, again second-hand finds will be your friend here. Pick up vases you love even if they are a real mix of shapes, sizes and patterns and bring them together down the center of the table. And for a more classic style just stick with glass or a simple white. Try IKEA or even Amazon, which are great for this kind of thing when you want something fuss-free and affordable.
8. Pot up plants for guests to take from the table
Sticking with the greenery theme, this is such a lovely Christmas table gift idea, straight from the table of Willow Crossley. Potted plants make such lovely table takeaways that last, making them a really sustainable option. Plus you can plant up whatever you like and whatever suits your tablescape. Here Willow has chosen geraniums which perfectly suit the very fresh but festive vibe of the rest of the foliage.
Use the pots as decoration too. Aged terracotta suits any scheme, but you could add in some color or pattern with your choice or a touch of glamour with a metallic pot.
What exactly is a table gift?
A table gift really can be anything you make it. See it as a small present that your guests can take away from the table as a little reminder of their evening. We are really trying this year not to just add to landfill so think carefully about what you can make yourself or rework, and what's going to really last (or just be eaten in the taxi home). Festive treats, second-hand trinkets, plants, and flowers all make for lovely table gifts.
'The very least you should do when you entertain people for dinner is to have place names with cards at the space where they'll be sitting.' says Benji Lewis. 'And at each setting also position a small candle in a holder so that everyone benefits from that soft flattering glow of candlelight.' This candle could even become a gift.
You could double up a placename with a table gift as Benji suggest by 'wrapping what you offer them in tissue paper and putting it in a small bag with their name handwritten on a card means a lot. Handwriting is just so much more personal than something printed.'
Can you DIY Christmas table gifts?
Yes! The best Christmas table gifts are DIYed. Giving your guests something you have made yourself is so thoughtful and personal, plus it can be a really enjoyable way to spend an evening for you too. Baking, candle making, wreath making, floral arranging, are all lovely festive activities and can create the best table gifts.
For style leaders and design lovers.
Hebe is the Digital Editor of Livingetc; she has a background in lifestyle and interior journalism and a passion for renovating small spaces. You'll usually find her attempting DIY, whether it's spray painting her whole kitchen, don't try that at home, or ever changing the wallpaper in her hallway. Livingetc has been such a huge inspiration and has influenced Hebe's style since she moved into her first rental and finally had a small amount of control over the decor and now loves being able to help others make decisions when decorating their own homes. Last year she moved from renting to owning her first teeny tiny Edwardian flat in London with her whippet Willow (who yes she chose to match her interiors...) and is already on the lookout for her next project.