Christmas checklist – what to do and when before Christmas Day
Because the key to a relaxing holiday season is good planning and a comprehensive checklist...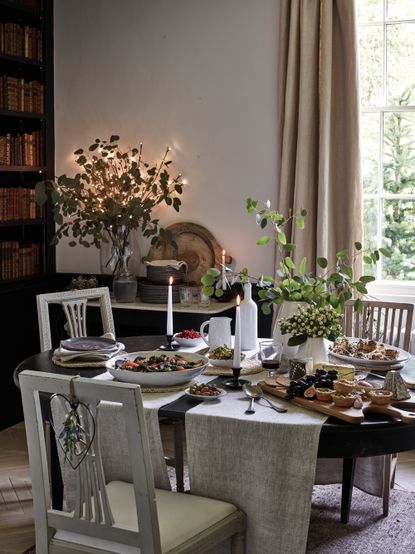 (Image credit: The White Company)
Every year we promise Christmas will be different. They'll be no panic buying presents on Christmas eve, no running around the house on Christmas day trying to find enough chairs, no forgetting the all-important Bucks Fizz for Christmas morning. Everything will be planned to a tee with plenty of time for curling up with a mulled wine and countless viewings of Love Actually. And what we have found is really helping so far this festive season is a good Christmas checklist.
So we've pulled together a comprehension guide to the holiday season – what to get done when from when to start thinking about Christmas decorating ideas, to when to get your online shop, so you avoid any catastrophes (because yes, we would call a Christmas breakfast without Bucks Fizz a catastrophe)...
Early-November: Plan your food, drink and festivities
This may sound a bit early, and really you'd be okay to do this a tad later in November, but if you really really want to get organized, plan what you are hosting and when. Have at least a vague idea of how many people will be coming and what the vibe of the event will be. Are you having a chilled 'Friendsmas' earlier on in November with drinks and nibbles? Do you traditionally host on Christmas Eve (takeaway and flowing Prosecco is always a winner)? Or is it your turn to do the main event?
Abigail Ahern told us for her early November is all about prepping for guests – ''Any menus I plan and test November and if guests are staying over which they often do all the touching up painting and sorting out lighting would have been done in November too. Oh and I nearly forgot the playlist - I like to get super creative and put together a cool, laid back, quite jazzy vibe - which reminds me I need to start on that asap.'
So take a tip from Abigal and plan out your food and drink menus for whatever events you might be hosting. Test out any new recipes you're unsure of so you don't panic on the day as you'll have practice. We'd fully recommend doing this for any cocktails too! Use a Friday evening to have a taste testing session so you have some easy go-to recipes up your sleeve.
Mid-November: Get presents bought and wrapped
Some of the more organized among you may be thinking, 'what I'm done and dusted with Christmas presents in October' but for those of you who find yourself sweeping the supermarkets on Christmas Eve trying to decide whether 'fancy cheese' could count as a Christmas present, start early.
And wrap as you buy, as Chrissie Rucker, founder of The White Company says 'a good friend of mine said to me about 5 years ago that she did all her Christmas shopping and wrapping by the end of November. I remember thinking wow that is just too organized! But the next year I tried it and I have never looked back. It was fantastic and instead of panic shopping and wrapping at 2am, I found I could really enjoy December with both its hecticness at work and with the children's schools commitments instead of dread it!'
Late November: start adding festive flourishes (and write your Christmas cards)
Decorating seems to be getting earlier and earlier every year, but we'd say the end of November is an acceptable time to start adding a few festive flourishes – a garland there, a festive candle here, nothing too obvious just a few Christmassy touches.
'I start by focusing on the main spaces, adding Christmas decor to surfaces and tablescapes, jugs of herbs, huge branches of botanicals, and generally keep decorations simple.' says Abigail Ahern
This is also a good point to start writing your Christmas cards if you do send them. Make a list and just pick an amount to get written each evening and then post them all at the end of the week.
Plus, if you still have people to buy for the end of November means Black Friday, which gives you the perfect opportunity to tick presents off your list and make some fabulous savings. And of course, treat yourself to a few bits too...
Early December: get the tree and decorate the house
Okay, now it really is acceptable to start decking the halls aplenty and go to town with your Christmas tree ideas. As our Editor Pip Rich says 'for us, everything starts with the tree. Choosing it, taking it home, and decorating it on the first weekend in December sets the standard for the month - we obviously play Mariah Carey and so as to feel properly festive. This year we're starting from scratch with decorations, so I'll be choosing the best baubles from Liberty at the end of November to make sure I'm festivity-ready. As it gets closer to the big day, I ideally like to have the table laid by lunchtime on Christmas Eve, so the rest of the time can be focussed on cooking and - ideally - relaxing. While listening to Mariah, of course.'
And Chrissie Rucker agrees 'I aim to have decorated the house as much as possible two weeks before Christmas and I mix real and faux! You can find some amazing faux finishes for trees and wreaths and garlands now and if you mix these up with great fairy lights, lots of candles and then just add any real flowers and greenery just a couple of days before, it's a real timesaver.'
And always be thinking ahead to those little jobs you can do now that will save you a job when things start to get busier. Eg. getting your table in the position, checking you have enough chairs and place settings and cutlery, etc. 'Depending on our plans, we usually move a smaller dining table from another room into the kitchen in early December, so that throughout celebration season, we can curate a fun and festive display on this table - including glassware, delicious snacks, whimsical trees and lights. That way, we're always ready for guests, or an afternoon of grazing on some mince pies!' says Lucy St George, Co-founder of Rockett St George.
Mid December: make a shopping list and get your food order planned
Okay, house is looking gorgeous, presents are all bought and wrapped (mostly anyway) now it's time to think about food shopping. This is mostly just important if you are hosting on Christmas Day or if you have people over for Christmas Eve or Boxing Day. Write a long list of absolutely everything you'll need from soda water to the turkey and think about what you can start buying now. Obviously, fresh items will have to wait until the few days before Christmas but drinks, biscuits for the cheese board, frozen foods, etc. can all be bought now.
If you order a Christmas shop online check in now and see if you can book a slot, if you can do it because they will get booked up.
The week before Christmas: prep the house for guests
It's time for the big clean, tackle it room by room so you aren't overwhelmed by a whole house to clean and tidy on Christmas eve. Make sure all the bathrooms are guest-ready with clean towels and nicely scented soaps. Pop a festive candle in there that you can light on the day too.
Then if you are having overnight guests get the bedrooms looking lovely and welcoming. 'A great guest bedroom starts with a really comfy bed, lovely linen and soft pillows.' says Chrissie Rucker. 'At Christmas time try to get the rooms ready a week before and dress beds with extra cozy throws and cushions too. Every guest room ideally needs to smell great (use a diffuser) have a super soft robe, lovely soft towels, soap, and some special treats to use in the bath or shower.'
'To really go the extra mile, supply a hairdryer, shampoo, and conditioner. I also love to add a touch of Christmas with a small tree on top of a chest of drawers (pre-lit faux trees are brilliant for this) and a couple of Christmas decorations hanging from the wardrobe. A few magazines or books are great for making it a lovely place to retreat to and on the day of arrival add a small vase of fresh flowers, water and an Alka-seltzer to the bedside table!'
Two days before Christmas: do any last-minute food shopping
Now is the time to buy the fresh food that you couldn't stock up on earlier in the month. Set your alarm early and get going. Treat yourself to a bottle of fizz and a mince pie to enjoy once you are home.
Christmas Eve: set the table and do any food prep
In an ideal world, Christmas Eve should now be a breeze, house is decorated and tidy, bedrooms are ready for overnight guests and the fridge is stocked with food and drink.
The main thing to focus on Christmas Eve is any prepping you can do if you are the one who has been blessed with cooking Christmas dinner the next day. Peel veg, stuff pigs in blankets and get the turkey ready – you could even cook it late on Christmas Eve.
And set the table too. 'When it comes to setting the table, we mix and match colors and styles whilst embellishing with crackers and of course some quirky decorations, one for every family member. The key to a magical table setting is the mood lighting, candles, and twinkling fairy lights for festive cheer. By creating a welcoming space, you'll have a more relaxing setting for both cooking and enjoy time with family. So let the good times roll!' says Lucy St George.
It's nice to get out if you have time too, do something really classically festive like midnight mass or popping to the pub for a festive drink. We love Abigail Ahern's tradition – 'On Christmas eve (a ritual in our household) I'll pop to Borough and buy lots of yummy food.' Yes please!
Oh and lay out the presents of course!
The Livingetc newsletter is your shortcut to the now and the next in home design. Subscribe today to receive a stunning free 200-page book of the best homes from around the world.
Hebe is the Digital Editor of Livingetc; she has a background in lifestyle and interior journalism and a passion for renovating small spaces. You'll usually find her attempting DIY, whether it's spray painting her whole kitchen, don't try that at home, or ever changing the wallpaper in her hallway. Livingetc has been such a huge inspiration and has influenced Hebe's style since she moved into her first rental and finally had a small amount of control over the decor and now loves being able to help others make decisions when decorating their own homes. Last year she moved from renting to owning her first teeny tiny Edwardian flat in London with her whippet Willow (who yes she chose to match her interiors...) and is already on the lookout for her next project.