On the House: Sophie Heawood's Property Binge. This week, London's terraced houses
Sophie Heawood imagines the lives being lived in London terraces across the capital, in homes not unlike her own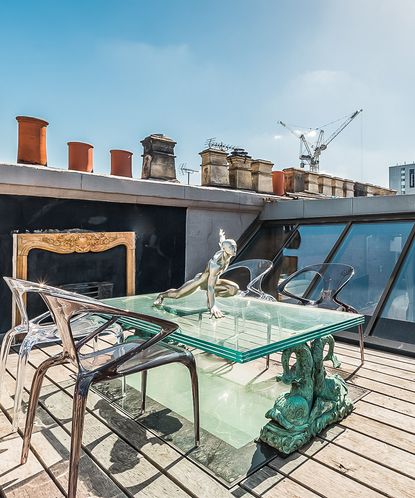 (Image credit: Airbnb)
The Livingetc Newsletter
For style leaders and design lovers.
Thank you for signing up to LivingEtc. You will receive a verification email shortly.
There was a problem. Please refresh the page and try again.
When I was a child I always dreamed of living in the houses that Shirley Hughes drew in her picture books Dogger and Alfie. Nice London terraces with heaps of coats by the front door, a wooden kitchen table with a steaming mug of tea on it, and a rambling garden full of washing line. I loved how they came in rows, these identical but different houses, with friendly people doing friendly things in each one of them.
Well fast forward one hundred years and the dream came true. I now do live in a London terrace; a Victorian house where just this week we've had the guy next door trading crypto from his garden before the noisy building work starts on his extension. Some other neighbours sitting on our front wall to discuss whether you should cut someone on our street or whether that's too close to home turf and you should do your knife crime on the main road 20 yards away. And foxes shitting outside the back door to define their own territorial borders and menace my dog. Ah, what bliss it is to be alive!
Anyway here are five London terraces that look absolutely nothing like a Shirley Hughes story either. Shirley Bassey, at a push. Knock yourselves out:
Ted Levy modernism in Hampstead, £2.95m, The Modern House
Ah, Ted Levy, an architect whose modernist family homes perch modestly around North London, such as this 1960s terrace in the heart of Hampstead. If I lived in this house I would think serious, crisp thoughts about Lacanian analysis and the symbolic order. I would muse upon about language and its otherness, losing myself in its imaginary connotations. I would forget what was in the oven. I would burn the toast. My marriage would end as I saw the light, all human light, reflected through the open plan dimensions of my midcentury home. I would see with such lucidity that marriage would suddenly appear for what it is, a forced incarceration of two souls into the bondage of societal gender expectations.
I would remember I'm not actually married and have never been married. I'd calm down a bit. I'd eat the burnt toast. I'd wonder about the intellectual past of Hampstead as a community and whether it could continue in a digital age of placelessness. I'd walk on the Heath. I'd swim in the Ponds. I'd become placed. I'd take endless pictures of my house and put them on Instagram all accidentally like what oh that's just my Ted Levy designed balcony and my Alexander Calder mobile and my therapist's chair in the basement don't worry about my liberating spaciousness vibes. I'd call myself an analyst and take on clients, purely to make use of that nice chair in the basement. I'd show them my deeply mathematical staircase. I'd charge them £400 an hour to talk about my mother, not theirs. I'd change their lives.
See more of this property here.
Southgate Road, De Beauvoir, £2.5m Hamptons
De Beauvoir was always one of London's best little secrets, situated as it was on the cheaper side of Islington, though technically it's the grown-up side of Hackney, and not in the borough of Islington at all. (I know, I know, absolute whirlwind of interesting facts around here, surprised you can keep up, next week we're studying the guttering measurements.)
Anyway that was until local resident Dominic Cummings turned the place into a media sausage fest, with even some of his neighbours getting in on the act of standing outside his house and shouting at him. It's all calmed down a bit since he made a literal run from Downing Street but still, don't go to the De Beauvoir Deli for a coffee unless you want a one in ten chance of bumping into a man with a beanie hat, a laptop and the belief that his car is an optician.
But there is this house! This beautiful house! Oh isn't it just perfect? The exquisite proportions of wall height to fireplace and windows, the panelled walls and shutters, the parquet floor. And the wisteria roof garden! And the grey animal pelt thing perched on the yellowy green sofa with the matching ottoman in the - hang on is that an animal fur on the sofa or is that an actual animal. Alive? Is it a mouse that has snuck back in to sort of pester the top of a sleeping dog? Is that you, Dom?
Now this house is an end terrace, even though you might look at the photo and mistake it for detached. That's because end terraces in this part of the world sometimes like to put their front door on the side and face away from everyone else in the street, because they're superior. A bit like, yes, that man. Who, according to someone who works in that deli, which is about fifty yards down the road from this house, has actually always been a really generous tipper and extremely polite. Which only makes it worse.
See more of this house here.
Art-stuffed terrace in Primrose Hill, £1.95m, Aston Chase
I mean, it's a look. But which look is it? Fresco al desko? Baroque around the clock? Whatever it is, you've simply got to admire the commitment to a theme here. That theme being, let's put reproduction artefacts in every part of this 1970s terrace and squint our eyes so hard you could mistake it for Renaissance Florence. Even though we're just off the B509 near the Co-op and Swiss Cottage tube. And we can barely move or breathe in here and the garden gnomes are threatening to unionise. Who needs ease of movement anyway? There's even a massive antique cupboard in the galley kitchen! What a house! A Crowded House. (Remember them? Sing along now: "Everywhere you go, you always knock a statue off something.")
Yes that IS a girl in a green dress beside the blue and gold brocade armchair who may or may not be human. You saw correctly! There's also a dog in the garden who similarly confused me at first glance, and then there are the small open hutches on the roof terraces. Which do suggest that real animal life exists here, but as ever I'm confused. Perhaps the house is actually inhabited by rabbits, not humans. Antique-dealing rabbits. It would at least explain the scale.
See more of this property here.
Double house in Columbia Road, £2.3m Dexters
Columbia Road is home to London's big flower market every Sunday morning, recently re-introduced after lockdown hiatus. So don't move here if you get hay fever or if you're morally opposed to Milfs in Breton tops buying peonies while wearing miniature Hunter wellies or Dilfs clutching their lifestyle coffees as they try to pay a jazz busker with their Revolut card.
This ridiculously-priced property is actually two houses joined onto each other and does at least give you a decent amount of shopfront in which you can run a couple of businesses and make up some of your losses. Although you only really get customers down there on a Sunday and on one particular late Thursday that they all open on near Christmas. Which is fine, because you're independently wealthy and married to a banker anyway. At least, I think that's how it works.
Anyway it's all worth it for that extremely cute back yard the double houses make together, where you can bring all your Milf and Dilf friends round after the market, have a singsong around the old Joanna tucked into the back of that kitchen, go up a little ladder to bed at night and enjoy your CARNIVAL OF RESISTANCE poster for two and a bit million pounds. Sleeping a restful sleep, knowing that your four difficult trading hours are over for another week. Phew.
See more of this property here.
Camberwell Grove, £1.695m, Mundays
At first I thought this house had too much grey in it but on closer reflection, no, this is just the right kind of grey. The kind that would make not for corporate dullness but for a nice calming atmosphere, which is exactly what you'd need, as rumour has it that Laurence Fox lives very nearby. Yes, it's my week for widely-loved men and their London locales!
I mean, that's the real problem with living in the capital city. You can't throw a stone without hitting some objectionable media man over the head with it, and since I was instructed by the police to stop throwing those stones, it's really taken the fun out of it.
So it's just as well that I find myself falling surprisingly in love with this house, given I usually prefer more colour. But I love the slate-hung roof on the top floor behind the balcony. I love the old, aged flagstones in the garden beside the massive fern and the way that the garden as a whole only has slight graveyard vibes. Just, like, really subtle graveyard vibes. Just a few dead bodies buried here. Maybe only two! Cholera eh, what a bummer.
I also love the way this house is full of smooth lines and neat shades but somehow doesn't suggest an air of control freakery. It is soothing my mind from the godawful weather we are still having in this city in May. Although if any control freaks out there can change the godawful weather then I'd be happy to get into cahoots with their godawfulness. Even Laurence Fox. Can he change the weather? I hope not. Then people might actually vote for him.
See more of this property here.
And see Sophie's other Property Binges here:
homes ideal for getting away from it all
town houses that feel like country homes
mansions for under a million, bohemian homes
For style leaders and design lovers.
Sophie Heawood is a journalist and author, who writes regularly for The Guardian, Evening Standard and The Observer. She lives in London, and also contributes to titles such as Red. Her book, The Hungover Games, was published in 2020. As well as being brilliant on her own instagram, she runs the left field interiors instagram account @propertyjazz