On the House: Sophie Heawood's Property Binge. This week: cosy cottages
Sophie Heawood takes a break from election coverage to surf Rightmove instead, unearthing cottages where nature is key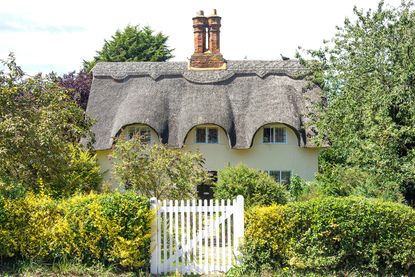 (Image credit: Alamy)
Alright so last week I fantasised about getting away from it all in some very large and remote houses indeed. This week I have shrunk my horizons to match my fears, and gone for cosy, rustic cottages instead. Because smaller houses have less space for ghosts. Fewer bedrooms for guests to get comfy in, so they leave sooner. Far less places to lose stuff, so you don't have to ask your boyfriend if he can ring your phone which you inevitably left on silent for the fourteenth time this week.
Although having seen which houses are on the market this week, I'm afraid to say that the ghosts are clearly still with us, and witches seem to be talking to them, and even Jude Law's getting in on the act. Then there's something going on with aspirational lifestyle driftwood, but to be fair, I'll do anything to divert myself from conversations about the Hartlepool by-election, so if you don't understand what I'm talking about, READ ON and if you still don't understand, just scroll down for the pictures.
Beach hut in Cornwall for £1,75m , John Bray
Look I know you're going to be a bit shocked when you see the price of this beach hut, this clifftop shack, this £1.75m shed with a bed, with a view, which seems to have been designed solely for Kate Winslet and Jude Law to wake up in together after a stormy meet-cute in which he's a washed-up surfer whose wife died of boredom and she's an artist who sells ice cream made from labradoodle milk to tourists because no woman in a film has ever had a real job, and they're thrown together one dramatic night when a force ten gale hurtles him off the waves into her Cath Kidston eiderdown and they lie there platonically because genitals ruin love.
We'll come back to the price tag but as for that film, you can just see it can't you - she only wants someone to test out her latest flavour of ice cream on, and he says is it pistachio flavour I love pistachio flavour because I am a heterosexual man seeking to subtly downplay my role in structural oppression by displaying adorably metrosexual tendencies while still quietly upholding it by being fit, and she says no it's seawater and drainage problems flavour because I'm making a statement about only using locally foraged ingredients, and he says great I'll buy two, one for me and one for the memory of my dead wife, who looked a bit like you.
And then he says do you ever feel sexually frustrated living here, alone, in your £1.75m beach hut out on the Cornish cliffs where the result of the Hartlepool by-election is so meaningless that you don't even have to watch anyone tweeting about it you gigantic bastard, and she says no because there are puffins, and Jude Law says I don't think you understood the question and Kate Winslet says I don't think you understood the answer. And then he says babe you really should fall in love with me before the RSPB find out about you, and she says yeah it's probably time this column stopped making sex jokes involving pelagic seabirds, and so they pack up and move back to her real house in a desirable catchment area in Fulham.
Anyway. That £1.75m pricetag, to explain, isn't actually what it seems, as the estate agent bumpf explains that the vendors are in fact looking for offers in excess of £1.75m, so that's alright then, they want more!
"This sale represents an exceptional and rare opportunity to become the new custodians of an incredibly magical position on the north Cornish coast that is luxurious yet understated in its current form," they say. Don't you love it when they use words to mean different words?
"Understated in its current form," for example, possibly means, just possibly, "We're asking millions of pounds for a shack." Or: "We will take all of the money in the world and then set fire to it."
Alright I have to confess - you do also get 40 entire acres of clifftop land, plus ownership of the actual beach, so that's 1.4 miles of linear coastline - alright, that's a pretty good deal, really. Although, should we have private beaches in Cornwall? Perhaps that's an issue to be discussed by the Labour Party? Maybe not in Hartlepo - CUT.
See more of this property here.
Hideaway cottage in Hastings, £350k, MADE
Here's a much cheaper option, a mere £350k for this secret haven in Hastings, which is still close enough to the sea to also have flotsam and jetsam on its decorating moodboard. Oh but would you just look at that sitting room with the bay window, and the sunlight creeping through it, and the sheepskin, and the fireplace, and the arbitrarily distributed lifestyle logs! All I ever wanted was a secret cottage with some arbitrarily distributed lifestyle logs in it, if I'm honest - I think it's all anybody wants, deep down.
Although I have recently been musing on something that Emily Mortimer said about her father, John Mortimer, the QC who wrote Rumpole of the Bailey, and who knew something about our human longings. He represented a lot of murderers in court, she explained, as they were "his favourite clients, because he said they had generally got rid of the one person on earth who was really bugging them, and a kind of peace had descended over them." So perhaps we all want a bit of that too - who can say for certain?
Oh but just look at where this cottage is hidden! Up a steep back road in the Old Town in Hastings, with overgrown garden walls like in The Secret Garden, and a secret teddy bear's cave in the grey bedroom. Forget what I said about the arbitrarily distributed lifestyle logs - also the murders - I now want a secret teddy bear's cave more than anything else in the world. Although that overgrown garden would be quite useful for hiding the bodies in, so maybe a bit of murdering as well. Just a smidgen, until the previously advertised peace has descended all over me.
See more of this property here.
Cottage with a view in Hebden Bridge, £380k, Reeds Rains
Hmm now this house is rather expensive for Hebden Bridge, a lovely little town in West Yorkshire where you can buy a perfectly nice terraced property for £150k, as long as you don't mind another house being built on top of your house. (Look up overdwellings and underdwellings - they're a thing. An amazing thing. All hills should have 'em.)
This here one is detached, of course, with nobody on top of it, and it has a bit of outdoor space, but not much. So we can only assume the optimistic pricetag has something to do with the aspirational lifestyle logs that are hanging around the place. And the herbs, and the ivy, and the twigs, and that delightfully mad green wall in the kitchen. The outdoors has basically moved inside. This is post-pandemic marketing at its finest: charge more for a house that feels like a garden, even if it barely has one!
As for the bedrooms with great clusters of foliage hanging from the ceiling, and those mysterious hares on the window sills - well having just read Hamnet I'm fairly sure that this indicates the presence of a witch. There is someone living in this house who can see into the future, find out what ails us, and predict our deaths. Which might rule it out as a place to commit one of those murders I've been getting so interested in - or would it actually make it easier? Lets discuss - then we don't have to have any more conversations about Boris Johnson's appeal to former Labour voters in the Hartlepool by-electWAIT nothing what, what.
See more of this property here.
Artfully derelict cottage in Suffolk, £1.1m, Inigo
Well isn't this glorious. Dating mainly from 1592, this medieval, timber-framed cottage near the Suffolk coast is a sight for sore eyes. Which will probably require a poultice, made from nettles and newts, because - look I'm now firmly convinced that witches really are alive and well, whispering to us through the images on Rightmove. Look at that wreath above the bed! Those little sculpted heads everywhere! The old ways are back!
Let the old religion reclaim us I am HERE for it. Just after I have committed some of those lovely, peaceful murders we've been hearing so much about. I mean this house is all a bit Farrow and Ball Go On A Purge And A Burning, but why not, I say, why not?
What I love most about Inigo (they're the new sister company of The Modern House, but selling older properties like this one) is their pricing scheme: the fewer places in your house that would respond well to a spirit level, the more they charge per square foot. Stairs you're likely to fall down? A brick floor that sucks up all fallen loose change, never to be seen again? Beams in which even the little woodworms have got their own opinions on Print Room Yellow vs Babouche? Congratulations, that will be eleventy million pounds please.
Oh but we long for it. Even if the arbitrarily distributed lifestyle logs in this house are the ones holding the walls up.
See more of this property here.
Cottage in Bladon, Oxfordshire, £470k, Flowers
Unassuming and modest from the outside, but really quite trendy on the inside, this semi-detached cottage is in the picture postcard village of Bladon, a village so ramshackle and wonky that there's not a right angle in sight. And only ten miles from the brilliant big city of Oxford. And literally right beside the grounds of luscious Bleinheim Palace. Bingo! Well, if you like that sort of thing.
Winston Churchill seemingly did, for he's buried in the local church, according to the property listing. Although I've looked it and up and in fact he's definitely buried outside the church, not in it, so they should sort out their false advertising of famous local corpses. For which I am definitely not responsible, having not committed any of those murders I've been talking about. Yet.
Now I swear I didn't plan this but I have just looked more closely at the picture of the kitchen with the half blue walls and - oh dear god- is that a massive piece of driftwood along the wall? I believe it is. And is that shelf over the kitchen window made of an arbitrarily located lifestyle log? And all those plants in the groovy living room?
They did say that nature was healing - I definitely saw that written on an internet meme.
What they didn't say was that it was coming through your windows and climbing up your walls - I thought that was my job. And I knew that plants were trendy but hadn't realised that the branches were now getting in on the act as well. Soon there'll be whole trees inside houses and all of this just makes me think that I can't help but wonder what Winston Churchill would have thought about the results of the Hartlepool by-electiCONNECTION TERMINATED.
See more of this property here.
See Sophie's other Property Binges here:
homes ideal for getting away from it all
town houses that feel like country homes
mansions for under a million, bohemian homes
The Livingetc newsletter is your shortcut to the now and the next in home design. Subscribe today to receive a stunning free 200-page book of the best homes from around the world.
Sophie Heawood is a journalist and author, who writes regularly for The Guardian, Evening Standard and The Observer. She lives in London, and also contributes to titles such as Red. Her book, The Hungover Games, was published in 2020. As well as being brilliant on her own instagram, she runs the left field interiors instagram account @propertyjazz