On the House: Sophie Heawood's Property Binge. This week, homes for sale owned by famous writers
Writer Sophie Heawood noses round the homes authors used be able to afford before they spent all their time on Twitter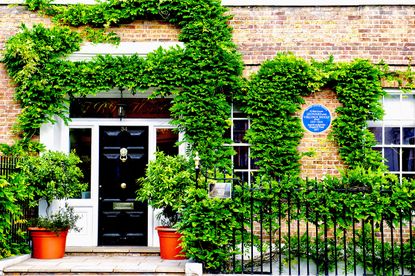 (Image credit: Alamy)
The homes of famous writers are always good for a nosey, to see the environments in which our greatest minds used to sit to write. That's dead writers, of course - if it's living writers, you'll just be looking at the home offices where writers sit and get RSI from refreshing their retweets column and wondering whether they timed that last tweet badly because surely it should have done bigger numbers than that and would it be gauche to retweet oneself in the morning for additional likes?
So here are five homes once lived in by some very great minds, who could afford to buy these houses, because they were able to write hundreds of books, because they died before the invention of Twitter. Or because they inherited the money. Either way. Look!
Agatha Christie's house in Oxfordshire, £2.75m, Savills
Agatha Christie actually had several houses, and my personal favourite is Greenway in Devon, where she used to go and rest after finishing a book, and which can now be visited by the public. But this place in Oxfordshire, called Winterbrook, is where she spent many decades writing the books. And it's for sale!
It's an exquisite Queen Anne house, double-fronted and with about five acres of land that goes all the way down to the River Thames. (Yes, they have that outside London too, and no, it shouldn't be allowed.) The garden has what we would love to call a maze but which, on closer inspection, is some sort of topiary for toddlers arrangement. And there's a lovely blue plaque on the outside wall that also mentions Agatha's husband, an archaeologist whom literally nobody has heard of - they must have thought a woman would be lonely having a blue plaque all to herself! Cute!
Now the house is surely inhabited by somebody with new money, possibly second or third generation money at a push, because the floors are too shiny to be owned by an aristo, and that sun room appears to have a blue vagina framed on the wall, which really won't do. The house, beautiful though she is, doesn't even appear to have a library to find any bodies in, or for Agatha to at least sit in and think about her favourite things in all the world, arsenic and cyanide. ("They can't be poisoned every time," she once said. "But I am happier when they are." Truly, a woman after my own heart.)
Now I must address, with some urgency, the issue of the yellow bedroom. What is going on with that, that thing coming out of the wall above the bed? Is it part of a four-poster bed that's making its way in from another room? Did it get trapped there like the town of Pompei? Is there a helpline we can call?
Because there's something I didn't tell you about this house, which is that it is also where Agatha died, literally died, and she's also buried in the plot she chose in the nearby churchyard. So if you're really alright with being haunted by a ghost with an encyclopaedic knowledge of poisons, and you have £2.75m to spare then don't delay, ring Savills today!
See more of this property here.
Flat in Carlyle Mansions, Chelsea, £4.5m, Inigo
If you don't live in London you might just be wondering why anyone would pay £4.5m to live in an upstairs flat with no garden, but I can explain: it's because we are clinically insane. Although to be fair to this redbrick mansion block of flats, it does have a rather swanky position on Cheyne Walk, beside the Albert Bridge over the River Thames in Chelsea, and the estate agent says it also has a "rich legacy of literary residents." Who knows, perhaps I could move in and rebrand myself as having a "rich legacy of credit card debt and falsified mortgage applications."
Henry James, TS Eliot and Ian Fleming are just a few of the noted authors who have lived in Carlyle Mansions, which is why it's got the nickname of The Writer's Block. Which is quite funny when you think about it, which you won't, because a pandemic has raged past your eyes for a year and you are so very, very tired. But come back! There is joy! Wouldn't YOU like to have a massive tapestry of a big old punch-up involving horses covering your entire living room wall?
All those marble busts would make me feel very writerly and noble too, and there'd be that darling little galley kitchen that's about two feet wide, for my cook to do her work in. And a tiny yellow bedroom which has been done up like a sort of Maharajah's summer house, which is where I will sit and write my magnum opus, Understanding Posh People. A book in which I will explain in far more detail about their terrible kitchens. And then I will retire to the window seat in my blue drawing room and gaze across the Thames at south London and marvel at the fact that, because I live in Carlyle Mansions, I have probably never even been there.
See more of this property here.
Virginia Woolf's house in Richmond, £3.3m, Knight Frank
This house, on Paradise Road in Richmond, London, was once owned by Virginia Woolf and her husband Leonard, and it's where they set up their publishing imprint The Hogarth Press. And somehow, in the name of all that is unholy, a developer has been allowed to kill it and murder it to death. This once beautiful property no longer bears any vestige of our greatest literary couple; in fact, it seems to speak more closely of a corporate away-day. On which nobody is even having any sex. I mean, I know that Leonard and Virginia didn't have the horniest of marriages, but this house is the actual death of sex. Although the Hogarth Press did publish the first edition of TS Eliot's The Waste Land, so perhaps the literary commemoration is more subtle.
But no. The best thing about this house, by which I mean the absolute worst thing of all, is that it has actually been divided into two houses, and one is called Virginia and the other is called Leonard. And this house is the left side, and it's Leonard! A man house and a lady house. CALL THE POLICE.
Anyway, we aren't sure what Virginia has to offer exactly, and whether she is rich in colours and personality, but old Leonard here has been decorated in 50 shades of fuck you and it's really quite the sight for dead eyes. Oh look, here's a sitting room, in grey, a bathroom, also grey, a kitchen, similarly grey, and then an escape room, in grey - wait hang on that's actually a bedroom, not somewhere you'd pay to break out of on a stag do. And yet!
The grey walls are also rich in framed corporate art, to give the suggestion of decoration while not actually providing any. A bit like eczema gives the suggestion of make-up, because it's red and on my face.
And then there's the garden, or should I say, the middle management smoking area, designed not as a place not to sit and smell the roses, for there are no roses, but as a place to lean against the fire escape and pretend not to be asking for a pay rise while asking for a pay rise by deploying top bantz about the covids. This garden is described in the estate agent bumpf as being "pretty" and "landscaped," by which they surely mean, to paraphrase Joni Mitchell, that they paved Paradise Road and put up a parking lot.
Anyway, I shouldn't moan as it's an absolute bargain at only £3.3m for half a house.
The nervous breakdown is free.
See more of this property here
Lord Reith's former house in Westminster, £6m, Russell Simpson
Something I discovered in deepest lockdown is that Barton Street and its environs are surprisingly fun to walk down in the evenings, peering in at people's windows and marvelling at children doing their homework and eating toast within earshot of the Division Bell. Which is the set of bells they ring within an eight minute walking distance of the Houses of Parliament to let the MPs know it's time to stop smoking that cigar or paying that dominatrix and get back to work. And yes I think all of us who work from home would agree that a local division bell that rang every time one grew distracted from the job in hand would be immensely useful, although if I had one, the streets of Hackney would peal so often you'd think war with Germany was yet to end. And yes it does sound a bit peculiar that I walked down a street peering in at people's children, now I come to speak of it in public, but all I can say is that they haven't put me on a register yet. And the glorious thing about these Westminster houses is that they cost millions and squillions of pounds, and yet they have these very lived-in family kitchens and all look so cosy! So homely!
This one has a dirty carpet in the bathroom which is how you know, as I will also explain in Understanding Posh People, that somebody very posh indeed lives there! Posh with old money, you understand; old and very English money. New money or foreign money would do something absolutely absurd like fitting a waterproof floor in a room designed for getting wet in. We shall not be having that.
This house once belonged to Lord Reith, whom we are classing as a writer because he was the, er, director general of the BBC and was so big on the importance of language that he had those lovely lectures named after him, and they're practically books in themselves. Sadly, he was also quite big on Mussolini, and had some strange thoughts about appeasement with Hitler, but he's dead and this is someone else's house now. Someone even posher, who has clearly filled their sitting room with paintings and rugs and artefacts from all the countries they have ever owned. Look at that dining room, lined with portraits of their ancestors and a fake fireplace. I'm not sure which of those two things is posher but I reckon it's the fake fireplace - you just can't get the staff to stoke the real ones nowadays.
There's no telly in the sitting room, which is also posh, not because they don't watch it - posh people watch loads of telly! But because posh people delight in putting their tellies in the wrong places. Oh look there it is, in the kitchen, under the pretence it's just for the grandchildren to watch Peppa Pig. And the horse racing. And Antiques Roadshow. And French films with lots of subtitles and breasts.
See more of this property here.
WRECK OF THE WEEK! Hilaire Belloc's overgrown house in deepest Sussex, £800K, Jackson-Stops
Given that I grew up in the 1980s not the 1930s it's a mystery why I read quite so much of Hilaire Belloc's poetry as a child, but I did, repeatedly. Perhaps my parents thought it would give me a strong literary grounding - and clearly they were no fools, for I now make a living passing judgement on the dimensions of other people's kitchens on the Livingetc website.
Cautionary Tales for Children was a particular favourite, a collection of poems about some awful children who did beastly things and met terrible ends and died. Ah, they really don't make kids' books like they used to. There was one child in there who "Caroused In The Dirt And Was Corrected By His Uncle" which just sounds, well, so beautifully of its time.
My favourite tale, for reasons that my probation officers have asked me not to disclose, was Algernon Who Played With A Loaded Gun. But there was also Rebecca Who Slammed Doors For Fun And Perished Miserably, and Jim Who Ran Away From His Nurse And Was Eaten By A Lion.
And then that all-time kiddie classic that I think you should probably read to your baby to get them to sleep at night: Matilda Who Told Lies And Was Burned To Death.
I mention all of these because we are now going to look at the house where Hilaire Belloc lived, and you will not be surprised to hear that it comes with Japanese Knotweed in the garden! Yes, that's what the estate agent listing says - that knotweed is present in the garden and is your responsibility to deal with, because you will be leasing the house from the National Trust, who own the freehold, and who seem to believe it is not their problem. WELL. Tempted as I am to implicate myself in the tale of Sophie Who Paid Nearly A Million Pounds To Lease A House With Knotweed And Then Got Tangled To Death Down The Garden, I think I might pass.
See more of this property here.
And see Sophie Heawood's other Property Binges here: town houses that feel like country homes, homes to make you happy, artists' homes, mansions for under a million, bohemian homes and houses with pools
The Livingetc newsletter is your shortcut to the now and the next in home design. Subscribe today to receive a stunning free 200-page book of the best homes from around the world.
Sophie Heawood is a journalist and author, who writes regularly for The Guardian, Evening Standard and The Observer. She lives in London, and also contributes to titles such as Red. Her book, The Hungover Games, was published in 2020. As well as being brilliant on her own instagram, she runs the left field interiors instagram account @propertyjazz