On the House: Sophie Heawood's Property Binge. This week, perfect homes for getting away from it all
Sophie Heawood is tired of London, tired of life, yet her trawl through Rightmove's finest remote homes is guaranteed to revive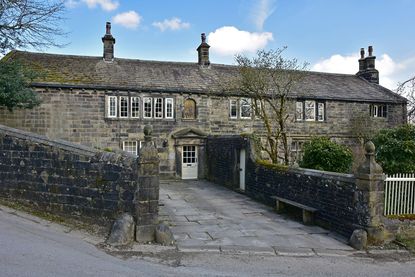 (Image credit: Alamy)
Look, we've been allowed to go to the pubs and the shops for about two weeks now and I don't know about you, but I've already had my fill of civilisation forever. I'm cooked.
Obviously, with hindsight, I realise that breaking my lockdown virginity with a trainer shopping trip to JD Sports in Westfield in East London on a packed Saturday, followed by an afternoon in a beer garden for a friend's birthday, that turned into a long night, that turned into a three day hangover, that turned into a conquest for the vanquishing of my soul - well it wasn't the ideal maiden voyage back into the world. But I never claimed to have any sense and now it has been proven. Consequently, I never wish to see anybody again, so I am moving to a very remote part of the countryside to get away from the madding crowd, even though the madding crowd is me.
Here are the five houses I'm currently choosing between. Tell me, which one would YOU hide out in until your soul had been vanquished for all of eternity?
Wuthering Heights house in Yorkshire! £1m, Strutt and Parker
Look at this, out on the wily, windy moors, near Haworth. Ponden Hall dates back to 1541 and is widely believed to be Emily Brontë's inspiration for Wuthering Heights. Heathcliff! It's me! I'm Cathy, I've got a hangover, let me in to use the lavatory and recharge my phone and mutter about death's long shadow while I try not to vom up your Anadin.
Now this house has got ten bedrooms and is currently run as a B&B but you could always restore it to a place of religious conflict and mental cruelty and inheritance issues, to really keep the Brontës' dream alive. (See also, ghosts.) It's currently got a cosy red painted kitchen with gorgeous views over the moor, plenty of fireplaces to snuggle up around, endless land that overlooks a reservoir, and a dog on an exercise bike. Yes, that's right: one of the bedrooms contains a dog on an exercise bike. Imagine living that deep in nature and going for a bike ride inside the house! Madness. Although, to be fair, that is not a real dog. Not yet.
See more of this property here.
Scottish art castle, £2.1m, Savills
Oh here we go, it's the Remote Scottish Lifestyle Castle you never knew you needed, and perhaps still don't. The Gart, for that is its name, is situated in stunning countryside in the Trossachs National Park, a place where I spent many childhood holidays learning to sing 'The Bonnie Bonnie Banks of Loch Lomond.' A lovely local folk song in which "ye take the high road and I take the low road" and neither of us put lurid neons and a B&Q kitchen into a 19th century property and calls it art.
Somebody has clearly spent a lot of time, money and passion turning this beautiful castle into the ruin it is today. As my daughter said about her artisanal vegetarian pizza on Friday night, after I refused to get her usual Dominos pepperoni, "This would taste better if it didn't exist."
The owner of the castle is a painter I've never heard of who apparently did all those saucy ladies on the walls behind the drum kit, beside the bar, on the back of the dining chairs and up the kitchen wall. Saucy ladies most everywhere. He has said that his pop art is deeply influenced by Andy Warhol and that he hopes to create the same reaction in people as Andy did. It's not entirely clear if he's including Valerie Solanas (look her up) in that but it seems a distinct possibility.
See more of this property here
Hedge House, Warwickshire, £2.95m The Modern House
There's getting away from it all by moving to the countryside, and then there's living inside a box of matches and waiting for lightning to strike. Each, in its own way, seems like an attractive proposition at this moment in time. Did I mention I still have a hangover. Anyway, we are all in favour of top architecture firms doing their architect thing, and this, The Hedge House, is a clear example of, you know, an architect. Doing architecture. That is the main thought that keeps returning to my mind, every time I return to these photos. An Architect, Doing Architecture. Again. And again. Did we mention this house has been on the market for three years? Oh?
The alternated use of timber and bricks together, throughout the whole structure, is very cute though, and the slats of light that come in through the gaps they make are also very cute. For now. I mean, imagine you've been living in this bowling run for five years and your entire body is covered in a zebra suntan. You'd have to set up a timer system to move your chair an inch further along the house every five minutes, just to ensure your skin got a more evenly distributed coverage while you sat down for a cup of tea and a Hob Nob. If anyone involved in the making of this house has even heard of biscuits, which seems frankly unlikely, though somebody has definitely heard of Andy Warhol and how totes cool he was and so they've put all his 1960s Campbells soup tin prints on the walls. Why. Why. WHY must they torment me like this again.
Personally, I can't decide if this is the home where I'd finally be forced to confront my demons, or if this is where my demons would get up and announce they were going back to the masked scrum at JD Sports in Westfield without me.
See more of this property here.
Chilham Castle in Kent, £15m, Knight Frank
Ok so £15m is quite a bit to spend on getting away from it all, but this place has most recently been owned by the Wheeler family, who also own Dar Sinclair in Tangier, the house whose photoshoots I have perved over more than any other in recent years. They have impeccable taste and have restored this castle to appropriate but gently daring glories, so it's probably worth it. A palm chandelier here, a North African swimming pool design there. A bedroom in what could be a Jacobean part of the building now has a dusky pink tadelakt effect on the walls, showing the Moroccan influence. In a manor house in Kent! And it works! With no abominable pop art in sight! Thank you, Valerie Solanas, thank you.
Although it's the 1940s owner of this house who interests me the most; an old dead Conservative MP called Somerset De Chair. Yes that was his actual name, Somerset De Chair, and one of his four wives was called Margaret Manlove, which is confusing, because I thought she won the first season of Drag Race, though perhaps she still could, what is death? We'll ignore the fact that Somerset De Chair (I can't stop saying it! Somerset De Chair!) had a daughter, Helena, who is now married to Jacob Rees Mogg. That fact is not helping my nauseous hangover at all. We shall move on. We shall not even stop to speculate on the existence of other fine Conservatives hitherto unknown to us, perhaps named Derbyshire De Sofa or Rutland De Pouffe.
Anyway when I live here to get away from all of you I shall play delightful games of croquet on the topiary lawn, by myself, sleep in the decadent red bedroom, by myself, and write another volume of the house's memoirs, The Somerset De Chair Years, by myself. I mean look at the desk in that study - it's the most perfect place to sit and contract a withering form of dementia while wanging on about multi-wife Tories. GODSPEED.
See more of this property here.
Wreck of the Week: a Highland ruin, £90k, Your Move
Oh this is absolute heaven. A traditional stone cottage, right beside Loch Broom, in the western Highlands near the wee cultural hub of Ullapool. (Is it cultural appropriation to say 'wee' if you're not Scottish? I tried writing 'little' but it just looked wrong.)
Just gaze upon that rugged land, as far away from a search for Nike Air Force 1s in a size 7.5 as one could ever hope to be. Smell the fir trees outside the door; admire the snow-capped mountain across the water. And appreciate the little white house along the path, in case you ever need to pop round to your neighbour's to borrow a cup of loneliness.
Although the Loch Broom area is also known for its common shags, if you need a different type of company. Apparently. It says so in my guidebook - they go in for deep dives cos they favour the sea bottom, with the juvenile shag having darker underparts, allegedly. Yes folks they're cormorants! I'm here all week.
At £90k this is quite the bargain although, yes, you with your sharp eyes have noticed a potential problem with this property, which is that it doesn't have a roof. Or any substantial edges to speak of, or much of a floor probably, and the garden walls seems to have fallen down as well, as well as the windows, which is just bloody typical, everybody's at it.
And yet I believe this structure, this suggestion of a house, this whisper, this rumour, to be a greater work of art than anything else we have seen today. Chuck your tins in the bins Andy Warhol - this house is made of philosophy. Why, it speaks to me of Plato's theory of forms, in which he posits that only ideas truly matter, while physical form does not, cannot hold the essential nature of things. This is the idea of a house, and it is ideas that count.
And if you think that's a load of Ancient Greek rubbish well so is Alexander Boris De Pfeffel Johnson, and he took the the idea of being a prime minister all the way, while leaving its physical form behind entirely. History could all have been so very different if only we'd put the right entitled Tory with the ridiculous name in charge of this country. I'm voting for Somerset De Chair.
See more of this property here.
See Sophie's other Property Binges here:
town houses that feel like country homes
mansions for under a million, bohemian homes
The Livingetc newsletter is your shortcut to the now and the next in home design. Subscribe today to receive a stunning free 200-page book of the best homes from around the world.
Sophie Heawood is a journalist and author, who writes regularly for The Guardian, Evening Standard and The Observer. She lives in London, and also contributes to titles such as Red. Her book, The Hungover Games, was published in 2020. As well as being brilliant on her own instagram, she runs the left field interiors instagram account @propertyjazz