Livingetc's list of the top architecture firms in the UK for a modern home
Our top architecture firms to start your modern house building project off in style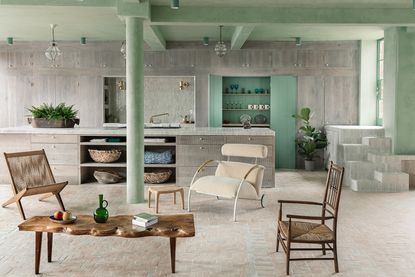 (Image credit: Chan & Eayrs)
Our list of the top architecture firms is a very handy resource - an interiors refresh can make a big difference to any space, but what if your house needs a little more help to become the home you've always wanted it to be?
There are a wealth of ways that structural interventions, large or small, can transform your property – it's just a case of finding the right architect to realise your vision. And, even if you're not yet entirely sure what that vision is, it's their job to help you decide. Whether you're about to embark on an extension, make some tweaks to your layout or just pondering your home's untapped potential, we've compiled a list of the top architecture firms whose work is guaranteed to inspire.
See also: Modern homes – a guide to modern architectural styles and design
Best architect for period renovations
Powell Tuck Associates
Founded in 1990, Powell Tuck Associates is a practice of architects and designers based in West London. While the studio's portfolio encompasses a diverse selection of residential projects, a sensitive approach to updating existing buildings sets it apart. From a home in a vast former film studio to a modernised 1960s bungalow and an array of elegantly remodelled period properties, the firm's considered interior and architectural design ethos imbues every project with functional solutions and a refinn ed aesthetic. 'A passion for detail, honest materials and a touch of the unexpected provides our projects with a sense of crafted quality,' says the practice of its work.
Best architect for post-war properties
Archmongers
'Some properties just need a little help to grow into the buildings that they should have been from the beginning," says Johan Hybschmann, who co-founded east London practice Archmongers with Margaret Bursa in 2013. Many of the firm's projects have tackled overlooked post-war properties in particularly urban corners of London, which are garnering more interest due to the competitive housing market.
Benefits of a more recent build, explains Hybschmann, include a more straightforward planning process and a less expensive renovation. This frees up more budget for the detailed interior solutions that play a huge part in much of the work completed by the studio, whose interiors feature inventive solutions and a playful mix of materials.
See also: Stunning small modern homes that inspire
Best architect for complex sites
ZCD Architects
Multi-disciplinary practice ZCD Architects is run by Dinah Bornat and Cordula Weisser. Their firm's work covers award-winning buildings, masterplanning and regeneration, but one notable thread is a certain knack for gaining planning permission for 'sensitive locations and tight sites.'
And not by playing it safe: the studio's portfolio is peppered with eye-catching building façades. Recent projects include a striking skinny terrace home clad in corten steel, an extension defined by white-gazed bricks and a larch-clad addition that has more in common with a Scandi cabin than a Victorian maisonette.
See also: Modern home extension ideas – from side returns and conservatories to lofts and basements
Best architect for reclaimed materials
Retrouvius
A name that needs no introduction, West London-based Retrouvius has been a destination for architectural salvage and unique reclaimed finds since 1993, when it was set up by husband-and-wife team Adam Hills and Maria Speake. Driven by the belief that 'good materials and well-made things are precious,' the studio's hugely varied design projects are glorious testament to the beauty and versatility of re-used materials and pre-loved pieces. Their inventive, tailor-made interiors have so far breathed new life into Brutalist apartments, lakeside cabins, mountain chalets, medieval buildings and everything in between.
See also:The five extensions that add the most value to your property
Best architect for modern classic homes
William Smalley
Respect for tradition meets a quiet minimalism in William Smalley's projects, which range from a Zen-like 17th-century chateau in the French alps to an painstakingly updated, centuries-old country house in Devon and a series of peaceful, pared-back London apartments. Founded in 2010, Smalley's practice is underpinned by a deep appreciation for historic buildings and traditional craftsmanship, tempered with an uncompromising eye for clean-lined, contemporary interiors.
A commitment to quality materials runs through all of his work, resulting in understated, luxurious spaces with an enduring appeal that will outlast any design trend.
See also: This Grade II-Listed Primrose Hill Home Hides A Modern Extension
Best architect for small projects
Bradley Van Der Straeten
Best friends Ewald Van Der Straeten and George Bradley founded Bradley Van Der Straeten in 2010 after making good on a promise to start an architectural studio together. 'We wanted to fall back in love with the profession by focusing on small-scale residential projects, where we could work closely with clients to make their dreams and ideas happen,' explains Van Der Straeten.
The pair are now surrounded by a tight-knit, talented team, and have a rapidly expanding portfolio of dynamic, playful and sustainable projects.
We love this corner of a recent East London renovation, which saw an entire home transformed to suit the needs of a family, without the need for an extension.
See also More clever kitchen extension ideas
Best architect for soulful modern style
Chan and Eayrs
Drawing on a shared background in architecture, husband-and-wife duo Zoe Chan and Merlin Eayrs of Chan and Eayrs highly personal approach to designing homes ensures they are involved in every aspect of the project, from finding the right site to choosing the furniture. 'Our holistic method of working means that we retain complete creative freedom to bring our visions to life,' say the pair, who spend at least two years working on each project and often camp or live on site to fully understand the space.
Their process, combined with a strong appreciation for crafts, has lead to a small but beautifully formed portfolio of unique, layered and soulful homes.
See also: Stylish basement ideas
Best architect for sustainable design
McLean Quinlan
Family business McLean Quinlan is run by mother-and-daughter duo Fiona McLean and Kate Quinlan alongside Kate's partner Alastair Bowden. With two architectural studios in London and Winchester, the practice's projects span a mix of country and city homes, both in the UK and abroad. 'We love what we do and delight in the detail, the use of light and materials, and the making of spaces that age with grace,' say the founders, who prioritise sustainability in all their projects, their Devon Passivhaus being one such example.
Portfolio highlights include a selection of site-sensitive contemporary buildings that blend effeortlessly into their rural settli ngs, due to thorough consideration for landscape, materials and proportions.
See also An award-winning rear extension replaces an old, dilapidated glass conservatory
Best architect for coastal homes
Simon Conder
Multi-award-winning architect Simon Conder founded his practice in 1984, and has offices in Suffolk and London. His work includes small-budget builds, historic conversions, thoughtfully designed developments and inventive period renovations (rooftop conservatory, anyone?), as well as a series of standout coastal homes.
One such project is the timber-clad El Ray house on Kent's wild and rugged Dungeness beach. 'The houses that populate this beach have developed through improvisation,' says Conder of the building's idiosyncratic design. 'The scheme develops this tradition in a way that responds to the drama and harshness of the landscape.'
See also: London's best designed home extensions
Best architects for rural projects
Rural Office for Architecture
Rural Office for Architecture was founded when architect Niall Maxwell and his artist wife Helen relocated to the Welsh countryside from London in the early 2000s. A sensitive approach to building and converting rural properties defines the studio's work, which recently saw it selected by the Architecture Foundation as one of the best emerging practices in the UK.
'We classify ourselves as regionalists,' says the practice, now a growing team of architects and technicians. 'We often working within rural settings, responding to our context and surroundings by reinterpreting the familiar architectural language of the past.'
How to commission an architect
Before enlisting the help of an architect, make a shortlist of those whose projects you like, and meet them in person to make sure you click. A personal recommendation from someone you trust can be a good starting point. Compare fees and certifications, and consider the amount of involvement you want, from planning and ideas to entire project management. Collate inspiration to convey the designs you have in mind, as well a list of wants and needs for the finished space.
How to add an extension
Firstly, look into what building and planning regulations you might need to comply with, and find the right professional for your project. If planning permission has been refused in the past, you might want to find an architect who specialises in tricky sites. Consider how you want the extension to interact with the rest of the house (in both style and scale) and how the new space can best improve the functionality of your home before embarking on any design decisions.
What to think about when renovating a listed building
When a home is listed, it's worth noting that the whole building is usually protected, from the interior features to the façade. This means you'll need consent to make any changes either inside or out. Find an architect with the right experience to help you, and enlist the right professionals for the building work. Be prepared to be flexible on both costs, design, materials and timings, as your project is bound to be less straightforward than a regular renovation.
The Livingetc newsletter is your shortcut to the now and the next in home design. Subscribe today to receive a stunning free 200-page book of the best homes from around the world.
Tessa Pearson is an interiors and architecture journalist, formerly Homes Director at ELLE Decoration and Editor of ELLE Decoration Country. When she's not covering design and decorative trends for Livingetc, Tessa contributes to publications such as The Observer and Table Magazine, and has recently written a book on forest architecture. Based in Sussex, Tessa has a keen interest in rural and coastal life, and spends as much time as possible by the sea.