On the House: Sophie Heawood's Property Binge. This week, converted homes
In a special one-off bonus Monday edition, Sophie Heawood scopes out houses for sale that used to be, well, something else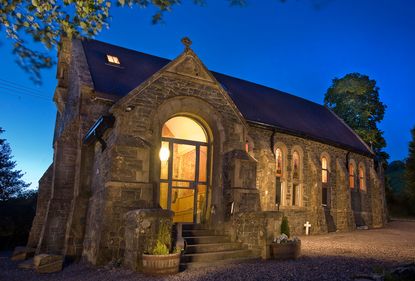 (Image credit: Alamy)
Perhaps it's a bit bourgeois wanting to live in a house at all. Yes, it's all very well waking up somewhere that looks like a child's drawing of home, with the windows and the door and the roof in the right place, but shouldn't we be a bit more adventurous? What about living in a converted church, or a schoolhouse, or a factory? Because many of the most exciting homes for sale at the moment were never meant to be lived in at all! And as you will see from the following listings, many of them still shouldn't be.
Warehouse conversion near Borough Market, £2m, The Modern House
The thing about a live work space is that nobody mentioned sleeping. There's just living, and working, which don't even need two separate words anymore, since I for one can no longer tell the difference between the two states. Both of which occur in my home where I spend my days and my nights, living, working, or merely livurking. I'm never at work and I'm never not at work. But at least one of my desks has a duvet on it. I think it is called a bed.
This particular conversion, Plantain Place, is a former warehouse near Borough Market in London and is advertised as a live-work space. As far as I can see, it contains eleven desks but no bed at all, or even a bedroom, unless you count that little mezzanine platform with the arty books on it. And I don't think that's designed for human respite, I think that's a breakout room for overworked typefaces. Late capitalism plans to livurk us all to death.
Then there are the graphic design posters, surely made by someone too young to remember Phil Collins. Surely. "ANOTHER DAY IN PARADISE" they announce, bringing to mind his smash hit 1989 song about homelessness. Which is not exactly what I want to think about when spending £2 million on a house with no rooms in it. Although now I come to think of it, what the woman in the song actually says is that she's cold and she has nowhere to sleep, so maybe she was just talking about this flat.
Then there's the other artwork, the gold letters that spell out LAVISH OVER-SPENDING, which is what Boris and Carrie should have put on their Downing Street walls in lieu of sixty-eight grand worth of wallpaper. And then there's the portrait of the big staring lady on the wall. Looking at you. Oh just look at her, looking at you! It's like being watched by a character from Call My Agent who rolls her eyes at the idiocy of men and the futility of political correctness before muttering, "Zere is no fool like un old fool," and slipping under the desk to receive cunnilingus from the intern.
See more of this property here.
Converted school in Bristol, £1m, Knight Frank
Good grief! What an extraordinary building. Look at that turrety clocktower and the ginormous windows and the red velvet curtain on the stage - a stage! I can imagine Helena Bonham Carter in a film here, carrying a jaunty bucket and hurling layers of clothing onto the antlers on the walls while running through the green corridors and down the stairs shouting "Fire! Fire!" (I don't know why, it just came to me in a vision, do not question the prophecy.) Anyway what a house for Helena Bonham Carter to carry a jaunty bucket and shout fire through!
I would describe this decor as Mad Antler Style, which is of course a style that thinks it is madder than it actually is, but still, it's mad enough. It is cos-playing at madness. It is trying to convince you its mad clothes are its real clothes, not fancy dress. Chandelier? What chandelier? Oh you mean this old thing?
Still, think of the things you could do if you owned this property, which is converted from a purpose-built adult education centre, from 1890. Yes you read that right. It was built by the then Mayor of Bristol, a man called Sholto Van Hare, who apparently once threw a fancy dress ball which made the newspapers describe him as "The hare with many friends." A joke which I don't understand but I do like. He also became president of the Dolphin Society in 1871, which I think shows us what calibre of man we're dealing with here. MY CALIBRE.
The building then turned into the Almondsbury Hospital and now it is a mad hatter's tea party writ large, and if we can just disregard the leaves hanging from the rafters in that big open plan room because - why does everybody keep doing that, where did it start, when will they stop - you could use this as an excellent location for some massive raves.
Oh hold on! Some further research (a scour of the local news) suggests that this house has already been used for some very massive raves indeed, and the neighbours are furious. So many hares, so many friends. Alright, well perhaps it could instead be run as a sort of trial run home for people who are tempted to renovate their own house in Mad Antler Style. Pay to spend a month as Lord of the Manor here and absorb the baroque vibes of that theatre. Soak up the busy wallpaper. Reach for the ceilings so high you can never change a lightbulb. Fifty quid says you wake up on the last day yearning for a fitted kitchen and a vastly reduced heating bill.
See more of this property here.
West Hill Villa in Hastings, £1.5m, Unique Property Company
Not so much a converted house, as a house with some extraordinary converted parts. Such as actual caves, which it says have been converted into a meditation area. And a pottery, which has been converted into part of the house. And a vast greenhouse, which converts the whole building into a triangular shape.
Basically there's a lot going on here, and that's before we even get onto the matter of the sphinx cat wearing a hood, which I'm pretty sure has been converted, by a witch, into something that will come alive at night and kill you. Or at least take you down to the bath in the cave and terrorise you with a candelabra. And that's before we discuss the faces in the cave wall, carved into the rock like a Mount Rushmore of ghouls. Or are they actually skeletons? Neanderthal remains? Why did anyone use the word 'meditation' in relation to this deeply un-relaxing chamber - is everyone in Hastings okay?
Alright I'll admit it. I still want it. I want this house very much. It's amazing, and the current decor should suit anyone who likes present day 21st century touches as well as flourishes from the last century. The 1970s. And the 60s. And the 50s, the 40s - in fact all the way back to the 19th century. Alright, all the way back to the Troglodytes. There really is something for everyone here, including the dead.
See more of this property here.
Converted church in Chelsea, £20 million, Knight Frank
This is a converted church, something you see an increasing number of on property listings. Which is sad. Though they don't all cost £20 million. Which is tragic. What is happening here? This building has had its innards totally scooped out and been remodelled as a 'townhouse', according to the listing. A townhouse. I myself used to live in a 1970s ex-council terrace on an estate in Hackney that was similarly lavishly described as a townhouse. Sadly, my townhouse did not come with glass and marble extensions, nor a gym, a cinema or a swimming pool like this one has. But it did have a patio for my dog to shit on, and that meant a lot.
But this one is a House of God! As referenced in the best bit of the Bible, where Jesus goes into the temple and finds merchants and moneylenders doing dodgy deals in there. And he has a right episode, chucking over all of their tables and saying come on you bastards, get this den of thieves out of my father's house.
Now I appreciate that the property developers involved in this restoration probably wouldn't care all that much about the focus group of one that is Jesus. So it is at least nice that they've chosen that massive spiral light fitting, clearly intended to represent the Holy Spirit coming out of the cloud on the mountain of transfiguration. Or just to look like a really expensive thing that could do some damage when it falls on your head, and it will, because someone will throw a party here, and someone will get wasted and swing from it.
Although what really upsets me about this house is that I can't imagine the parties here being any good. There would be parties here, sure, but they would not be good ones, not populated by people who know how to love and enjoy each other. Not held by The Hare with Many Friends.
Also, this townhouse is in fact only semi-detached, as the other half of the church is also available, and only for £15m, a whole £5m less. So perhaps the two new owners can get together and be The Hare With A Friend. Well, until the Holy Spirit sends a thunderbolt to destroy them all.
See more of this property here.
BARGAIN OF THE WEEK: Chapel conversion in Builth Wells, Wales, £365k, McCartneys
Ah now here's a church conversion that's a little closer to God. Also a little closer to the A481, but you can't have it all for £365k. This lovely chapel was built in the 18th century and is Grade 2 listed, along with its attached school room extension built in the early 20th. Plus there's a two-room stone cottage shoved in there somehow too. Ach who cares, it works. It is located towards the middle of Wales, which is also sometimes referred to as the middle of nowhere, which is only offensive if you think of nowhere as a negative, which is, to me, a moot linguistic and cultural point. I'm glad we had this chat.
Anyway the Heart of Wales railway line runs through this area - 121 miles of gorgeousness that's nearly as old as this church. Plus there's the market and spa town of Builth Wells, and a very groovy campsite called Fforest Fields just down the road, if you don't want guests in your actual house. Oh but they need to come and trample up and down that sweet black staircase with the yellow treads. To experience the majesty of the vaulted ceilings in some rooms but the cosy small spaces of others! And to applaud you, I mean the current owners, on their commitment to picture walls, given that they have made one on every single wall apart from in the bathrooms. Come on then. Do the bathrooms next. Pull your lazy artistic fingers out. Hmmm.
I can only assume these owners are artists themselves. Artists. In a church! Although Van Gogh did say that Jesus was the greatest artist of all, because he didn't make sculptures of men or paintings of men, he made actual men. Which is absolutely bloody typical - man tries to give another man all the credit for something actually done by women. Jesus did many things, just FYI, but he did not make people.
Although if I lived in this cottage I reckon I would make people. Loads of them. I'd pretend I was inviting everybody I know down for weekend parties - me, the Hare with many friends! - but really I'd take inspiration from the crucifix on the outside of my house and start a cult. Tell them, when they tried to go back to work for Monday mornings, that they were trapped in a cycle of livurking. That they needed to liberate themselves from their livurking spaces and be free. Free to live another day in paradise, with me. And then we'd get on with the fervent religious business of making people and fulfil my deep spiritual desALRIGHT THAT'S ENOUGH WEIRD HORNY JESUS STUFF NOW, ED.
See more of this property here.
See Sophie's other Property Binges here:
homes ideal for getting away from it all
town houses that feel like country homes
mansions for under a million, bohemian homes
The Livingetc newsletter is your shortcut to the now and the next in home design. Subscribe today to receive a stunning free 200-page book of the best homes from around the world.
Sophie Heawood is a journalist and author, who writes regularly for The Guardian, Evening Standard and The Observer. She lives in London, and also contributes to titles such as Red. Her book, The Hungover Games, was published in 2020. As well as being brilliant on her own instagram, she runs the left field interiors instagram account @propertyjazz