Tour A Modern Beach Villa Just Outside Copenhagen
Don't let the quiet and leafy coastal setting fool you; this contemporary Danish villa is just a 15-minute drive away from Copenhagen's city centre.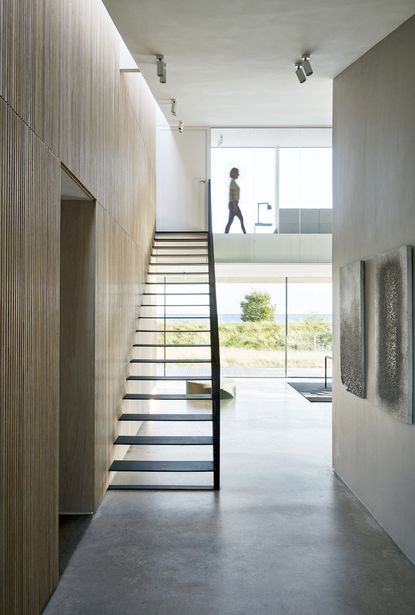 PROPERTY
A modern home (opens in new tab) and coastal villa in Dragør, Denmark, designed by architect Mads Lund and interior architect Studio David Thulstrup. Streamlined stacked volumes make up a two-storey, five bedroom family home that features floor-to-ceiling glazing, added to frame and celebrate the surrounding nature.
SETTING
The owners, Heidi and Kasper Egelund, bought this plot of land in the neighbourhood of Søvang, part of the Danish city Dragør. But don't let the quiet and leafy location of Søvang fool you; the property is just a 15-minute drive away from Copenhagen's city centre.
Read Also:Design Project: A Strikingly Playful, Modern Country Home in Petworth, West Sussex (opens in new tab)
The couple, who are both a part of the Danish family-run design firm, Vipp, wanted to build their family home from scratch, and turned to architect Mads Lund to create a modern villa that is both refined and functional, while making the most of the seaside setting.
Architect Mads Lund envisioned a structure which would keep the surrounding nature in full focus, excluding decorative elements that would pull attention away from the villa's natural context. The plot was elevated to ensure views were of the sea and not the dyke in front of it.
Read Also:Explore Sandra Bullock's Coastal Chic Home (opens in new tab)
The architect used a restricted material palette, inspired by the surrounding nature. The base of the house is cladded with Columbia tiles from Pedersen, while the first floor is constructed with lists in cedar tree. Aluminium panels are used on the garage and the facade facing the sea. Tiles, wood and steel all complement each other beautifully. The construction took just one year, creating a one-of-a-kind coastal home.
Read Also:10 Interior Ideas To Steal From These Very Stylish Copenhagen Homes (opens in new tab)
ENTRANCE
The first thing you see when you come in through the front door is an unobstructed view straight through to the bay, blurring boundaries between indoor and out.
The next thing you notice is the custom black sculptural steel staircase that connects a vast open-plan kitchen and dining area to the upstairs bedrooms. Created by Studio David Thulstrup, the black staircase stands light yet stringent in a contrast to the adjacent wood-cladded wall. The wood cladded wall draws the viewers' attention upwards, where the light influx from the second floor creates a play of light and shadows on the semi-cylindrical wood cladding, offering warmth and texture that contrasts the raw concrete flooring.
Read Also:Stunning Statement Staircase Ideas (opens in new tab)
KITCHEN
At the heart of this 260 square metre family home is the black kitchen island, dominating the double-height central space and lit up by three low hanging Vipp pendants.
Read Also:Modern Kitchen Islands (opens in new tab)
The effect is minimal and clean.
Read Also:Stylish kitchen island pendant ideas (opens in new tab)
The central kitchen island from Vipp complements the array of tall cabinets.
Firm grips, a matte black powder-coated surface and a worktop in 4 mm stainless steel are ideal features in a kitchen that needs to withstand a heavy dose of daily wear and tear.
Read Also:Pantry Ideas: 20 Dreamy Kitchen Pantries (opens in new tab)
DINING AREA
In the dining area, bubble lamps by George Nelson hang over the arge Vipp dining table, surrounded by Børge Mogensen dining chairs.
Read Also:Statement Dining Room Lighting Ideas (opens in new tab)
Glazing opens the kitchen up to the dining terrace, expanding the space during the summer months.
OUTDOOR TERRACE
A wooden sun deck leads into a grand garden and 2300 square metre plot.
Read Also:Cool Urban Outdoor Living Spaces: Garden, Patio And Roof Terrace Inspiration (opens in new tab)
Landscape architect Pia Ingemann Øigaard added green beds of flowers and trees to provide perspective.
Read Also:Design Project: An Incredible Open-Plan, Modern Family Home That Brings The Outside In (opens in new tab)
LIVING ROOM
On the opposite side of the central staircase to the kitchen is a large ground-floor living room.
The green velvet sofa from Hay adds warmth to the space, while a vast bespoke bookcase showcases the family's book collection.
Read Also:BOOKCASES AND HOME LIBRARIES TO LUST OVER (opens in new tab)
Behind the leather-upholstered lounge chair from Vipp are sliding doors that open onto the terrace.
Read Also:Explore A Seriously Stylish Holiday Home In The Greek Islands (opens in new tab)
MASTER BEDROOM
The ground and upper floor are conceived as two rectangular volumes, stacked on top of one another. The property's top floor houses the master bedroom that flows through to a generous bathroom with access to a large balcony.
From the balcony, the owners can look down on the 279 metres long jetty, Denmark's longest bathing jetty.
Read Also:Inside the world's most beautiful bedrooms (opens in new tab)
BATHROOM
The all-white bathroom features a 3-unit module from Vipp mounted on textured, hexagonal shaped Mutina tiles.
The skylights above the bathtub from Copenhagen Bath bathes the space in light.
Photography / Mark Selen
Lotte is the Digital Editor for Livingetc, and has been with the website since its launch. She has a background in online journalism and writing for SEO, with previous editor roles at Good Living, Good Housekeeping, Country & Townhouse, and BBC Good Food among others, as well as her own successful interiors blog. When she's not busy writing or tracking analytics, she's doing up houses, two of which have features in interior design magazines. She's just finished doing up her house in Wimbledon, and is eyeing up Bath for her next project.