Tour This Strikingly Playful, Modern Country Home in Petworth, West Sussex
The brick exterior conceals the calm, contemporary haven within; this is the new English country house.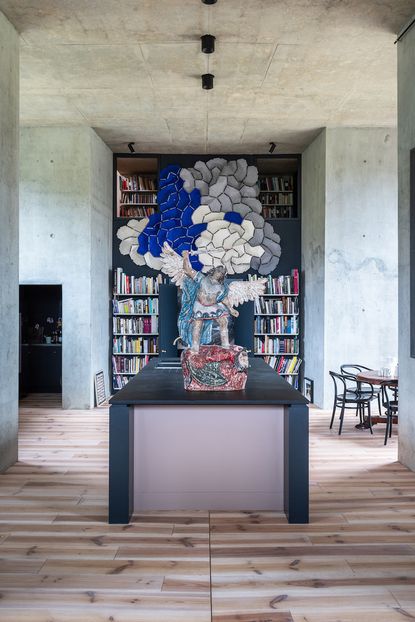 PROPERTY
Tarkovsky's 1970's sci-fi film Stalker was the unexpected inspiration for this playful modern home in Petworth, West Sussex, home to architect Adam Richards and his family. Intended to evoke the ruins of a Roman villa, its sheer volume and position within the poetic scenery of the South Downs National Park make this luxury self-catering home an enigmatic force. A brick exterior conceals the calm, contemporary haven within; this is the new English country house. The property is available to rent through uniquehomestays.com.
GROUND FLOOR
Once a rambling farmhouse, this statuesque Sussex home sits in a hidden valley of the South Downs National Park near Petworth and is a sight to behold for those who appreciate creative modern design.
Read Also:Design Project: A Modern Beach Villa Just Outside Copenhagen
The farm was part of the Leconfield Estate, and the surrounding fields are still farmed by the estate. It has been used for both sheep and dairy farming in the past. Architect Adam Richards completed the house you see today in 2019, when it won the Royal Institute of British Architects' South East 'Building of the Year' and a year later, Wallpaper magazine's Best New House.
Read Also:Modern Kitchen Island Ideas & Inspiration
In the kitchen, gourmet cooks can hold court at a central kitchen island while fellow guests chat over drinks on bench tables.
Hanging pendant lights accentuate the double height ceilings.
Read Also:Statement Dining Room Lighting
The property also seamlessly blends brick arches and rustic details with concrete and other modern finishes.
The property rises to form a tower at the south end, referencing the two nearby folly towers. It's as though a Roman ruin has been wrapped around a modern concrete house. Inside, too, there are secret staircases and mezzanine level rooms and balconies, adding interest at every turn.
Read Also:Design Project: A Playful House in Martha's Vineyard
LIVING ROOM
Much of the house is based on the owner's love of film. Adam Richards based the whole house on the Russian science-fiction film Stalker, about a place where your deepest desires can come true. The house definitely conjures up that feeling.
Rendered walls give way to secret stairwells and hidden reading nooks, calling to mind sci-fi themes of dark and light, space and height.
Read Also:Design Project: An Industrial-Style Factory Conversion In Bow, east London
Antique pieces, roman influences and minimalist artwork all mix together beautifully.
Design references come from nearby follies, towers and churches, adding celestial flair throughout.
Read Also:Art Made Affordable As Artists Sell Works For £200 or Less
White oiled floorboards and sisal carpets create a calming, contemporary interior, adorned with a colourful array of tapestries and ceramics to tell the story of the house as a 'spiritual journey'.
The romance of the surrounding scenery and owners' futuristic concepts combine to present a stunning home which takes both the environment and aesthetics into consideration.
Read Also:Explore A Seriously Stylish Holiday Home In The Greek Islands
Semicircular details echo the hills and arched windows allow natural light to flood through, in a space that blurs outside and in, fantasy and reality.
STUDY AND PLAY ROOM
The property's backdrop of leafy woodland contrasts with its sleek modernity, wrapped in brick and made from concrete derived from recycled materials.
Read Also:This Converted Farmstead Was Crowned House Of The Year
A tucked-away staircase leads to a playroom.
The children, in a scaled-down living zone, have their own sofa, TV and writing desk.
Read Also: Wonderfully Fun Kids Play Room Ideas
FIRST FLOOR
Up the stairs to the first floor, a generous landing leads to a corridor at one end, and another staircase at the other end.
Off the corridor are three double bedrooms...
... While up the stairs is a sunny loft space.
Read Also:Loft Conversion Ideas
BEDROOMS
Bedrooms have wide windows overlooking the treetops, some with private staircases to en suite bathrooms.
Read Also:12 Lessons In Open-Plan Living From 3 Achingly Cool New York Lofts
Light comes in from all directions...
... While up the steps, the Jack 'n' Jill bathroom continues the sage green colour palette, and features another arched window with views of the surrounding countryside.
There's a freestanding bath, and steps lead up to a separate shower space.
Read Also:Design Project: A Light-Filled Family Home In London's Holland Park
Meanwhile, other bedrooms feature tapestry headboards, and Cole & Son's Nuvole wallpaper.
The wallpaper purposefully only covers one side of the bedroom, creating a contrast against the concrete walls opposite, and the tapestry in between.
Brass, minimalist wall lights are another modern touch, creating an interesting contrast with antiqued furniture.
Read Also:Bedroom Wallpaper Ideas
Ensuite bathrooms are a mix of concrete, simple white tiles and modern brass fittings, with antiques thrown in the mix.
Read Also:Stylish Concrete Bathroom Ideas
EXTERIOR
Outside, the sweeping private drive gives a sense of grandeur before you've even rattled over the two cattlegrids.
The setting is rural, with inquisitive sheep your only nosy neighbours.
Read Also:Design Project: A Modern Mountain Home In Utah
Patios around the circumference of the house make peaceful arenas for lazy lunches and balmy suppers in summer, birds tweeting as glasses clink and children play in the surrounding meadows.
Affording access to areas that might otherwise be off-limits, guests who stay here (through uniquehomestays.com) are given the key to a private gate leading to the nearby stately pile of Petworth House, where the owner grew up. Marvel at the art collection before exploring the majestic 700-acre deer park and gardens, designed by Lancelot 'Capability' Brown.
Book this home for your next staycation through www.uniquehomestays.com, +44(0) 1637 881183.
Lotte is the Digital Editor for Livingetc, and has been with the website since its launch. She has a background in online journalism and writing for SEO, with previous editor roles at Good Living, Good Housekeeping, Country & Townhouse, and BBC Good Food among others, as well as her own successful interiors blog. When she's not busy writing or tracking analytics, she's doing up houses, two of which have features in interior design magazines. She's just finished doing up her house in Wimbledon, and is eyeing up Bath for her next project.