Explore A Modern Mountain Home In Utah With a Paired-Back, Neutral Scheme
This light and airy family home perched on a mountain in Utah perfectly balanced grown-up elegance with functionality (with a pantry, laundry room and boot room) and family-friendly living (just wait until you see the homework room)...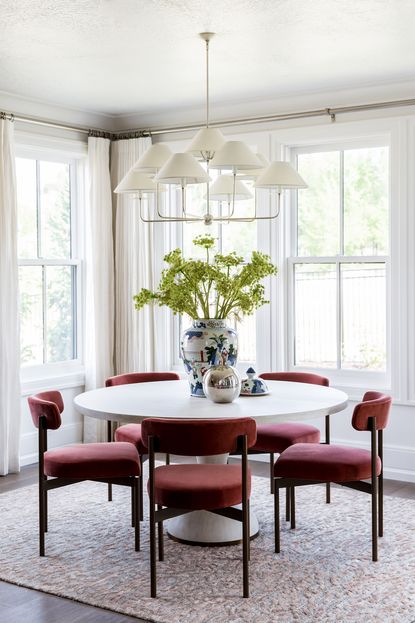 (Image credit: Lindsay Salazar)
PROPERTY
This 5,028 square foot modern home (opens in new tab) sits in a Danish community on a mountain between two major canyons in Utah. The surrounding properties are protected for grazing animals. Sheep and horses live adjacent to the property and the house feels very much like it is in the countryside. The home owners, a Danish family, brought on interior design firm Alice Lane (opens in new tab) to create a modern home that had subtle nods to the Danish community as well as the rural Utah setting.
Read Also: An Absolutely Stunning Home in Sonoma's Wine Country (opens in new tab)
HALLWAY
The frosted glass double doors open into a light filled hallway with a relaxed vibe.
Read Also: A Sun-Soaked Villa In The Hollywood Hills (opens in new tab)
OFFICE
The office is the first room you see when you walk into the home. So, the impact of this space was pertinent. Design firm Alice Lane wanted this space to feel moodier and richer than any other room in the home but with a mix of masculine and feminine aesthetic so it could feel like a work space for everyone.
Read Also: Stylish Study Ideas & Dreamy Home Offices (opens in new tab)
There wasn't a lot of square footage in this space so Alice Lane knew they would need to build in storage and open the space with large windows.
The walls and custom drapery were designed to be tone on tone to help the space have a sense of continuity.
The room's hero pieces are the vellum covered Julian Chichester Cortez Desk and the rust mohair Rhea chair from CR Laine.
Read Also: Explore Calvin Klein Co-Founder's Stunning Equestrian Estate (opens in new tab)
LIVING ROOM
The living room is architecturally striking, towering 20 foot ceilings and accordion corner glass patio doors that recess into the walls to create a seamless indoor/outdoor space.
Read Also:Design Project: An Incredible Open-Plan, Modern Family Home That Brings The Outside In (opens in new tab)
The towering ceilings allowed Alice Lane to hang a 48"x60" abstract art piece from CHC above a simple limestone fireplace with minimal décor so the whole focus would be on the artwork.
The upholstery had to be durable yet interesting. The owners fell in love with the fabric used on Alice Lane's accent chairs from a previous project, as the textile has an abstract stitch detail over the nubby fabric.
Read Also:Rugs As Art: It's Time To Swap Your Paintings For Something More Textural (opens in new tab)
There's plenty more oversized art in this space, including charcoal sketches and an Asian hand painted dragon vase that 's displayed on a lime washed oak pedestal.
This room's hero piece is the hand knotted and hand dyed French accent rug that took a painstaking 12 months to make in Pakistan.
Read Also:Explore Sandra Bullock's Coastal Chic Home (opens in new tab)
KITCHEN
The kitchen and living room sit in the same room, and the kitchen features the same light, neutral palette punctuated with pops of blue.
Read Also:Modern Kitchen Island Ideas and Inspiration (opens in new tab)
A modern kitchen island doubles as a chic breakfast bar.
Read Also:35 Strikingly Stylish Kitchen Breakfast Bar Ideas (opens in new tab)
Navy blue metro tiles create a striking splash back behind the oven and grill area.
There's also a smart walk-in pantry with extra food storage.
Read Also:Pantry Ideas: 20 Dreamy Kitchen Pantries (opens in new tab)
Then there's a separate laundry room...
Read Also:Chic Utility Room, Scullery and Laundry Room Ideas (opens in new tab)
... which connects to a boot room space, opening to the back garden.
DINING AREA
The home owners splurged on this Mr Brown Parrot table that's made of solid white oak and brass details. The designers at Alice Lane took colour risks throughout the property, and used modern silhouettes that are grounded by classic architectural details and then softened with custom drapery. The wine hued velvet Remy dining chairs from MGBW compliment the hand painted indigo tiles in the kitchen nicely without overwhelming the space with colour.
Read Also:Laid-back Luxe Dining Room Ideas (opens in new tab)
HOMEWORK NOOK
Between the two children's bedrooms upstairs lies this transitional loft space. The idea was to create a perfect lounge/homework space that could be the 'kid zone' away from the main living areas. The George Chair by Hickory Chair with two tone velvet adds texture to the space.
Read Also:Fun Ideas for Cool Kids' Bedrooms (opens in new tab)
A full wall of built ins allowed for projects and papers to be organised and out of the way.
A clever desk area was created between the cabinets, in the window sill area.
The corner sofa was intended to feel like a built-in piece that extended wall to wall.
Read Also:Our Pick Of The Best Wall Murals (opens in new tab)
Behind the sofa there's a custom mural by Anewall; the colour blends with the walls but adds a playful element to the space.
LANDING
Upstairs a striking black and white photograph makes an eye-catching feature on the landing area.
MASTER BEDROOM
The wall colour was the first design element decided on for the master bedroom.
Finding the perfect blue was not easy. The owners wanted to find the perfect amount of saturation and tone to create a neutral blue shade – to avoid overwhelming the space.
With 10 foot ceilings design firm Alice Lane knew that they could get away with a tall canopy bed that would anchor the room and add a sense of grandeur. The designers added the Garlon bone inlayed desk from Made Goods at the end of the bed to create a functional work space in the bedroom.
Again the masculine feminine balance in this room was very important. The goal was to create a space that was a sanctuary that both husband and wife would enjoy. It was important when selecting the decorative accessories to mix and match finishes to keep the finishes from feeling boring and repetitive.
The designers used custom nightstands with a reeded front that added a repeat from the reeded glass in the kitchen.
The reading nook features a custom made to measure dressmaker's chaise that comfortably fits two people laying side by side to enjoy the views of the horse pastures.
GUEST ROOM 1
A darker palette was used to create a more masculine guest room space. The snorkel print adds whimsy.
The grasscloth wallpaper adds texture while the brass accents add warmth.
GUEST ROOM 2
There's also a more feminine guest space featuring blush tones, a beaded chandelier and Kelly Wearstler's channels fabric on the cushion.
There is an elegant softness to this whole space.
GUEST ROOM 3
The mood in the darker bedroom is lightened up by the fun bobble lamp, and other unusual pieces like the smaller side table and the oversized floor lamp.
GIRLS' ROOM
This girls' room feels grown up and elegant, thanks to the upholstered headboard, smart bedding, chandelier and wallpaper.
Decorative accessories including this mirror, framed print and stones are all soft and feminine to suit the theme.
BASEMENT LOUNGE
Finally, there's an enormous lounge in the basement with a TV area, plus its own bar and dining area. This way there are two entertaining spaces, for when parents and children both have visitors.
The basement actually has taller ceilings than the first level, making this space feel larger and more open than the average.
This space was meant to be utilised for family game and movie nights, and a space for the parents to enjoy the bar "after hours".
With all the natural light the designer could get away with darker upholstery and saturated tones that wouldn't have suited upstairs.
The first priority in the space was comfort and functionality since this space would be used most by the whole family. The corner sofa was custom made by Rowe Furniture in a beautiful wool that added a tailored look to the space.
Photography: Lindsay Salazar
Lotte is the Digital Editor for Livingetc, and has been with the website since its launch. She has a background in online journalism and writing for SEO, with previous editor roles at Good Living, Good Housekeeping, Country & Townhouse, and BBC Good Food among others, as well as her own successful interiors blog. When she's not busy writing or tracking analytics, she's doing up houses, two of which have features in interior design magazines. She's just finished doing up her house in Wimbledon, and is eyeing up Bath for her next project.