2021's best Christmas hampers – luxury drink and food hampers
The Livingetc guide to the best Christmas hampers to buy for friends, family or yourself, in 2021. From Fortnum & Mason hampers to M&S hampers, they're all here...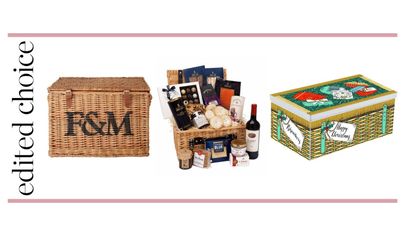 (Image credit: Future)
Gifting someone special a Christmas hamper this idea? Nothing says Merry Christmas like luxury food and drink packaged inside a wicker basket. To see them from Christmas Eve to new years day in tasty luxury, we've rounded up the 12 best sumptuous hamper offerings for 2021.
Whether for other family members or yourself, these Christmas hampers are good enough to be tempted to tuck into now. With everything from mince pies to D.O.C wines and luxury cheeses tucked inside, plus lots more, you'll be sure to find something to please your taste buds.
From the best Fortnum & Mason hamper for 2021 to an organic hamper and even a vegan hamper that includes mulled wine, discover the Livingetc guide early for a chance to bag the most grand options out there. Because it's a well-known fact that the best Christmas hampers always sell out months before the big day. Pre-order yours now and get organised.
If all of this Christmas hamper talk has you thinking about decorating your house for the festive season, then browse our edit of the most popular Christmas decorations on the high street.
The best Christmas hampers to buy in 2021 – as chosen by Livingetc
1. The very best Christmas hamper for 2021
(opens in new tab)
Luxury Hamper | £125 at The House of Bruar (opens in new tab)
The aptly named Luxury Hamper from The House of Bruar has to be our top pick for Christmas 2021. Why? It's presented in a wicker basket, obviously, and inside you'll find several sumptuous foods and drink items. From bestselling House of Bruar favourites, including 75cl of Claret, slices of smoked salmon, irresistible chocolate biscuits, to-die-for fruit cake, crunchy shortbread and even some premium strawberry jam. As well as this, inside this hamper also comes some smoked duck and roast smoked venison, plus blue cheese, Cabot cheese, oatcakes, chutney, pate, teabags and coffee as well as mince pies. That's a lot of luxury food for £125. One thing's for sure: this hamper will be sure to wow your giftee.
2. The affordable Christmas hamper
(opens in new tab)
Sleigh Bells Christmas basket | £79 at Hampers.com (opens in new tab)
As far as we're concerned, this is the very best affordable Christmas hamper you can buy in 2021. We considered everything from contents to price and presentation and landed on this one from Hampers.com if you are on a budget. It might look small but it's what's inside that counts, right? Well, inside this irresistibly gorgeous wicker basket comes two bottles of wine – one Prosecco, the other a medium-bodied Finca Amalia Rioja. These bottles are accompanied by a selection of sweet and savoury treats, from chocolates to fruit cake, Christmas pudding, mince pies, panettone, jam, tea and crisps – and a few extra bits. What better way to say Merry Christmas?
3. The best Fortnum & Mason hamper
(opens in new tab)
The Fireside Feast Hamper | £300 at Fortnum & Mason (opens in new tab)
We could never write a hamper guide without including Fortnum & Mason, especially when their 2021 hamper range is this good. This one is your best bet this year since it's filled with everything from truffled rarebit to sumptuous spreads and loose leaf tea. Essentially, everything you need for a luxury Christmas spread. As well as cured meats, biscuits and sweet treats, there's also two bottles of wine included in this delightful hamper. Cocooned inside Fortnum & Mason's large hamper, you can reuse this for years to come – for picnics and more.
4. The organic hamper
(opens in new tab)
Daylesford Organic Ultimate Christmas hamper | £500 at Selfridges (opens in new tab)
For those who prefer to eat organic, this ultimate hamper is filled with everything from organic sauces to organic wines, organic meat and fish plus more. We're talking a 6kg turkey, mushroom and truffle paté, smoked salmon, D.O.C red wine, an entire Christmas cake, biscuits and crackers and even a candle. It's called the ultimate hamper for a reason – there is everything you need here to enjoy a Christmas Eve or Boxing Day feast. Elegantly displayed inside a white wicker Daylesford hamper, it can be delivered anytime from the 20th of September. Just get in early to order one as they sell unsurprisingly fast...
5. The Boxing Day hamper
(opens in new tab)
Abel & Cole The Luxury Nibbles & Fizz Christmas Hamper, Organic | £70 at Abel & Cole (opens in new tab)
This luxury hamper is surprisingly affordable, especially since inside comes a bottle of Giol's Prosecco Frizzante for you to pop with your Boxing Day breakfast, to nurse your hangover. It also comes with some smoked salmon to make Eggs Royale, some more mince pies as you will inevitably eat all of yours on Christmas Day, plus goats cheese, vintage cheddar and chutney to top up your cheeseboard. Also included comes some irresistibly sounding beetroot and rosemary crackers, as well as some cheese straws and brandy butter. It's available from the 13th of December.
6. The cheese hamper
(opens in new tab)
Letter Box Hamper Personalised Cheese And Port Letter Box Hamper | £35.95 at Not on the High Street (opens in new tab)
Trying to source a hamper for a cheese lover? This one ought to go down a treat –especially if they love pairing their cheese with port. It's even letterbox friendly, for someone who lives a tad further away than you'd like them to. Inside you'll find two kinds of cheese – a vintage organic cheddar and a truckle of Caws Cryft Cheese – plus a bottle of port, some caramelised onion chutney, sourdough crackers and smoked and roasted almonds. You can even add a gift note, and it comes gift wrapped for free. You'll also be supporting a small business this Christmas – win-win!
7. The vegan hamper
(opens in new tab)
Vegan Christmas Mulled Wine Hamper | £45 at Hampers.com (opens in new tab)
Because vegans should be able to enjoy Christmas hampers, too. Especially where this one is concerned since inside comes a bottle of mulled wine. Also placed in the bamboo basket comes vegan mince pies, fudge, popcorn and even some truffles. Add a gift note and send this to a vegan with a sweet tooth – they'll love it. You can pre-order this hamper now, and it can arrive anytime after the 8th of November.
8. The sweet hamper
(opens in new tab)
Lottie Shaw's Christmas Basket Hamper Of Baked Treats | £89 at Not on the High Street (opens in new tab)
A perfect pick for anyone with a sweet tooth – or for someone who loves baked goods – this Christmas hamper is large in size yet easy on the bank balance. It comprises all of your cult favourites, from flapjacks to shortbread biscuits, festive mince pies, oatmeal and raisin biscuits plus plenty more. Housed inside a wicker basket and packaged with love from a small business, all items inside this hamper come with a three-month shelf life so that you can enjoy them way past Christmas.
9. The pet hamper
(opens in new tab)
The Handmade Christmas Co. The Pampered Pooch Gift Box Christmas Hamper | £53 at Not on the High Street (opens in new tab)
Treat your pet – or someone else's lovely pet – to a Christmas hamper this year thanks to The Handmade Christmas Co. Packaged inside a box, ready for them to open and enjoy on Christmas day or before, this pet hamper includes a mix of food and toys. Think venison sausage slices, mini bone treats, a rabbit toy, bone toy and a rope toy for serious chewers. Give this to your fluffy friend whilst you're enjoying your Christmas dinner, to keep them occupied and happy.
10. The Italian hamper
(opens in new tab)
M&S Italian Food Favourites Gift Box | £100 at M&S (opens in new tab)
Italian? Love Italian food? You need this M&S hamper, then. It's filled with Italian treats from vino to pasta, sauces and sweet treats. With this hamper, you or your giftee could enjoy an entire day of food. A few of our favourite items are the creamy mushroom with mascarpone and black truffle sauce, rosemary and olive crackers, the Italian Il Cappelli spiralotti, balsamic and olive oil, and you'll even get a dessert assortment – plus tonnes more. For £100, this is a steal. It comes inside a blue gift box wrapped with a ribbon.
11. The deli hamper
(opens in new tab)
Festive Deli hamper | £300 at Selfridges (opens in new tab)
This Selfridges hamper includes the best of the best products, to see you from Christmas Eve to New Year's Day – or to put out a marvellous spread for one day only. Think everything from smoked salmon slices to 1.2kg of Wiltshire ham, to enjoy with water biscuits and cheeses, as well as a glass of Champagne, red wine, white wine or port. For after your savoury treats, you can enjoy panettone, Christmas pudding, mince pies and more. Then, for the morning after, there are jars of Christmas cherry and sherry jam to spread on your toast. A lot comes included in this impressive Selfridges hamper, and we expect it to sell out pretty fast. So buy now, for delivery from the 20th of December.
12. The biscuit hamper
(opens in new tab)
Christmas Hamper | £35 at Biscuiteers (opens in new tab)
Filled with decorative biscuits that are festive, too, this Biscuiteers hamper makes a brilliant gift idea for a sweet lover. These lovely biscuits are gingerbread in flavour and shaped in all different sizes. We've got everything from a biscuit shaped like a bottle of port, a cheese wheel-shaped biscuit and even a mince pie-shaped biscuit in there. It arrives inside a metal tin that's designed to look like a hamper. These biscuits will stay fresh for up to one month.
Annie is Livingetc's Deputy Ecommerce Editor, and with a penchant for shopping and four years of ecommerce experience in her cart, she's more than equipped to advise when it comes to exactly the home decor you need to buy for your home. With a particular love of home fragrance, she always ensures her interiors emanate a luxurious scent to match her bijou residence. Annie and her team work to provide you with the best in-class content, whether you are searching for fluffy towels for your bathroom, clever drawer organizers for your kitchen or even a new dinnerware set for when guests come to dine. Whatever the season — or the latest trend — Annie and her team work to cover events for Livingetc, whether that be holidays or sale events, spanning Mother's Day to Black Friday.
Annie's knowledge has been sprawled across several homes websites, including Real Homes, Ideal Home, Homes & Gardens and Gardeningetc. She has also injected her ecommerce skills into the titles of Woman & Home and Country & Townhouse.
Annie lives in South East London in a sizeable two-bed apartment with her husband-to-be and her Pug called Doug. Annie's space, though surprisingly substantial, lacks storage space meaning that she's always on the lookout for things to buy to maximize space at home. She's currently redecorating this space whilst on a budget, and loves discovering a dupe or DIYing something to look triple its price tag. Next on her list of things to do at home are DIY crittal-style doors leading from her living room to her hallway.
You can follow Annie's home Instagram account at @athome.withannie.