Inside an architect's tiny Brooklyn loft apartment – it's full of space-saving ideas
This tiny Brooklyn loft apartment incorporates a home office, a play area and arts and crafts space, as well as a mezzanine level to house separate bedrooms. Despite being compact, the loft feels light, open and airy.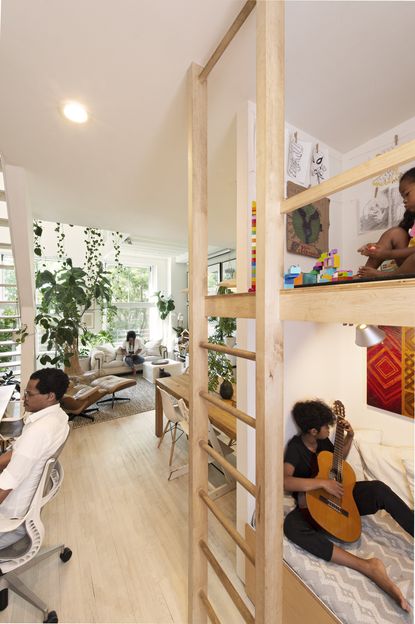 (Image credit: Kurt Arnold)
The property
Architect Aya Maceda lives in this Brooklyn loft apartment with her husband and two elementary school-aged children.
Though compact, Aya has managed to maximise every square inch of space in this modern home (opens in new tab) in order to squeeze a home office (opens in new tab) and kids spaces into an open-plan loft. Not only that, but the space feels light, airy, and playful thanks to the mezzanine bedroom level, and elevated nooks for arts, crafts, and reading in the modern living room (opens in new tab).
The apartment sits above the ground-level offices of her dual city firm ALAO (opens in new tab).
See Also: Party house or sophisticated SoHo loft? This New York apartment is both (opens in new tab)
Living room
The double-height living room features a glass window to let light into the mezzanine bedroom.
The space is filled with plants, like a hydroponic garden. The light airy space is defined by the architect's Filipino heritage, her love for Scandinavian design, and Modernist architectural training, an aesthetic she describes as Tropical Modernism.
There is a Filipino word "maaliwalas" which means having a good flow of air, bright, light and expansive. This home is a collection of open spaces filled with tropical plants like Fiddle-leaf, Calamansi (Philippine lime), Audrey ficus, and lemon plants.
See Also: Tiny houses – stunning small modern homes that inspire (opens in new tab)
Kitchen & dining area
The open-plan living area flows into a white kitchen (opens in new tab) with dining area.
A narrow dining table was chosen to separate the kitchen area from the home office (opens in new tab) area under the stairs. Tucked behind the kitchen is a double-height play nook for playing and reading during the day.
This built-in play nook allows for a private play space that is also connected to the open living area. The lower day bed is used as a place to read and put on shoes most of the time but then becomes a guest bed when needed.
The upper level is perfect for doing arts and crafts, and incorporates plenty of storage.
Home office
Above the home office is a wall of Caribbean and Filipino art, and a staircase (opens in new tab) leading up to the bedrooms above.
Kids room
There's a shared kids bedroom (opens in new tab) upstairs, with separate kids desk (opens in new tab) spaces and play areas at each end.
The bunk bed (opens in new tab) incorporates shelving and cubby storage at the end.
Bedroom
The parent's bedroom is much more compact, but packs in lots of bedroom storage (opens in new tab) by using the wall behind the bed.
Family photo - Kosi (10), Aya, Lulu (4), and Kurt
See Also: Explore a 1920s-era riverside home with relaxed, farmhouse interiors (opens in new tab)
Lotte is the Digital Editor for Livingetc, and has been with the website since its launch. She has a background in online journalism and writing for SEO, with previous editor roles at Good Living, Good Housekeeping, Country & Townhouse, and BBC Good Food among others, as well as her own successful interiors blog. When she's not busy writing or tracking analytics, she's doing up houses, two of which have features in interior design magazines. She's just finished doing up her house in Wimbledon, and is eyeing up Bath for her next project.