The best exercise bikes: 5 perfect picks to turn to all summer long
We've found the best exercise bikes to ramp up your fitness routine — without ever leaving your home.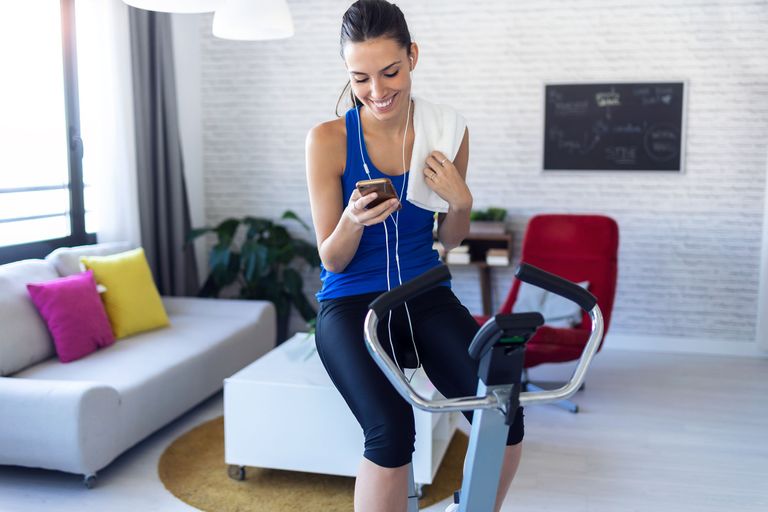 (Image credit: Getty Images)
The journey to finding the best exercise bikes is best compared to finding "the one." Similarly, the process is both long and extensive, and both sides need to feel it, and when you know, you know. However, before any of us can marvel in that sought-after perpetual bliss, we need to back up for a second and discuss the process (and how we got there).
Before landing on your perfect match, you'll need to test out dozen of qualified machines (or suitors) — aka: go on many bad first dates — and that's where things get confusing.
Some shoppers need a bike built around convenience; It can easily store away during their Zoom calls and is small and compact. Then, on the other hand, you have the shoppers that can care less about that.
Those individuals are looking for an exercise that comes with all the bells and whistles; they want virtual trainers and high-intense, pre-set programs and will pay.
Lastly, there's here's the rest of us: confused over where to start and what models are worth the investment. And that's where we come in.
Finding the best exercise bike boils down to your personal preference: what you like verse what you don't like, and then going from there. Are you someone who absolutely needs to stay at a designated price point, or is there wiggle room?
Or, are you willing to pay top dollar as long as it has all the features and functions you need; perhaps you also don't know?
If that case, no need to panic: we're here to help. We've rounded up the best exercise bikes for every level of expertise, budget, and room size.
Want more workout recommendations? Check out our best dumbbell buying guide here!
The best exercise bikes: our top 7 picks
1. Exerpeutic Folding Magnetic Upright Exercise Bike
The best exercise bikes: the best affordable option
Specifications
Item Dimensions: 31 x 19 x 46 inches
Weight: 39 Pounds
Resistance mechanism: Magnetic
Number of Resistance Levels: 8
Reasons to buy
+Affordable option+Foldable and can fit into smaller spaces+Offers 8 different levels to maximize performance
With nearly 15,000 Amazon reviewers singing its praises, the Exerpeutic Folding Magnetic Upright Exercise Bike is not only well-received but an all-around fan-favorite. Plus, as someone who has this first-hand, I too can (and will) attest to its appeal.
Why do we love it
When it comes to this bike, the most redeeming quality about it is that it is foldable. Measuring at 31 x 19 x 46 inches, this bike is big enough to occupy users up to 300lbs while remaining small enough to hide away in any corner section of your rooms.
Features and functions
The best part of this foldable bike is all the features and functions. Compared to higher-priced versions: this option offers all the bells and whistles but does so at just under $200. Here, $200 users can take advantage of a heart-pulse monitor (to track their heart rate throughout their exercise), a "high-torque" 3-piece crank system (to adjust speed), and a "double drive" transmission system.
More favorably, this bike also offers a comfortable adjustable seat. You can move it closer or higher to find what best suits you, and the same goes when it comes to the included tension control system. Riders can easily adjust the tension level to add or remove resistance, and the versatility offers a unique riding experience with every use.
Lastly, the LCD; indicates your distance, calories burned, time, speed, scan, and heart rate. Here, you can seamlessly keep track of your progress and help improve your targeted goals as time goes on.
Additional notes
One major setback with this foldable bike is the setup process. From experience, I highly recommend skipping the included instructions and searching the internet for a step-by-step video. Additionally, I also recommend purchasing additional washers or at least having them on hand, at the very least. I noticed some of the pre-cut holes didn't align with the washer included, and to avoid any pieces coming unscrewed during your ride (who wants that!), it's better to be safe than sorry.
2. Sunny Health & Fitness Exercise Cycling Bike
The best exercise bikes: the best flywheel option
Specifications
Size: Standard
Frame Material: Steel
Brake Style: Push Down Brake System
Suspension: Indoor Exercise Bike
Reasons to buy
+Great for anyone missing their regular spin class+The mid-range price point makes it affordable+Easy for beginners or expert-level of fitness
Now, if you're working with a medium-sized price point but have a little more to spend than the first option, I highly recommend the Sunny Health & Fitness Exercise Cycling Bike. Not only is it one of the most affordable flywheels on the market, but if you're missing your regularly scheduled spin class? This bike will lessen the blow.
Why do we love it
Before moving to the city, this was the spin bike of my choice, using it regularly in my family's living room. I loved all of the little quirks this spin bike offered, which similarly echoed my favorite spin bike at the gym. For instance, the bottle holder was excellent when I opted for longer rides where I was prone to dehydration; located between the seat and handles, it was easy and accessible throughout my ride.
Features and functions
This stationary bike has it all; a sturdy steel frame and a 49lb weight flywheel to provide maximum performance with every single ride. In addition to that, there's also a resistance system to give you that "real-road."
Users can take this outdoor-inspired journey a step further by staying in full control; the 4-way adjustable seat and 2-way adjustable handlebars will adapt to your liking, while the caged pedal straps will keep you perfectly in place throughout your journey.
3. CHAOKE Exercise Bike
The best exercise bikes: the best silent option
Specifications
Item Dimensions: 41.34 x 20.08 x 44.49 inches
Resistance mechanism: Magnetic
Max weight: 300 lbs
Drive system: Belt
Reasons to buy
+Silent flywheel+Medium-range price point+Easy-to-use
If you're in the market for a stylish spinner that is silent as could be, then let us turn your attention to this CHAOKE Indoor Cycling Bike.
Why do we love it
One of the biggest fears surrounding flywheels is the wheel's ability to get a bit loud (or squeaky), which is the last thing anyone wants when using at home. Here, this perfect piece will give any roommates or family members peace of mind every time you hop onto it, as its 37lb wheel is quieter than ever.
This newly upgraded indoor cycling bike offers magnetic resistance and a belt-driven system that keeps your indoor pedaling smooth (major bonus!) and quiet, so you'll never disrupt others during your rides.
Features and functions
Again, if you're someone who is looking for all the bells and whistles with a bike, we have some advice for you: buckle up because you're in for a treat!
Remember those silent cage-shaped pedals we just discussed? Well, did we mention they come equipped with adjustable straps to fit a wide range of sizes and provides enough protection to your feet to avoid them from sliding off or forward during your ride? In addition to that, there's also an adjustable resistance rotary knob to give the rider control.
You can easily adjust the resistance to match the terrain you're riding (or trying to mimic), which in turn will improve your strength, speed, and stamina over time.
Additional Notes
There's also an LCD monitor to track your exercise time, speed, distance, pulse, and calories. Oh, and if that wasn't enough? The integrated hand pulse sensors on your handles will monitor your exercise in real-time during each workout to provide insight into your ride's efficiency.
4. Cyclace Exercise Stationary Bike
The best exercise bikes: the best option for smartphone use
Specifications
Color: Black
Max weight: 330lbs
Drive system: Belt
Reasons to buy
+Has a holder for your smartphone device+Medium-price point+Adjustable speeds
Are you having trouble putting your phone down, even during a workout? Not a problem — or it won't be if you're working out on the Cyclace Exercise Stationary Bike.
Why do we love it
If you're someone who is lusting over the high-priced Peleton, you're not only alone, but the Cyclace brand created this bike as a spot-on dupe. Here, this option has the same widened and thickened frame to support every user's stability throughout but is a fraction of the price. Sign us up!
Features and functions
Whether you're looking to tone muscle, strengthen leg muscles, reduce fat or embark on an indoor bike ride, this bike does it all and even offers a 36lb flywheel to do it. It will occupy up to 330lb users, and the LCD display will continuously track your progress as you continue your ride.
Additionally, there is a 2-way adjustable non-slip handlebar, a 4-way seat for people, and there's a spot to hold any iPhone, smartphone, or tablet too. Catch up on emails or enjoy a novel, all while getting your steps in during the day.
Additional Notes
With nearly 4,000 reviewers in full support of this "excellent bike," it's hard to not believe them when the "cost doesn't match the quality," meaning: it's too good to be true (but isn't!).
5.Marcy Recumbent Exercise Bike with Resistance ME-709
The best exercise bike: the best wide option available
Specifications
Item Dimensions: 55.5 x 25 x 37.5 inches
Weight: 61lbs
Resistance mechanism: Magnetic
Material: Plastic
Number of Resistance Levels: 8
Reasons to buy
+An affordable wider option for those who aren't worried about space+8 resistance levels to meet every need+Not heavy
Reasons to avoid
-Cheaper materials were made to use it
Rounding out our list is this fan-favorite Marcy Recumbent Exercise Bike with Resistance ME-709, which has over 12,300 supporters.
Why do we love it
If you're looking to take the road less traveled (no pun intended) — design-wise — we highly suggest this option. Unlike other exercise bikes that feature a narrower build, this wide version is excellent for anyone who has the space to experience it.
Here this, "step-through design" offers a heavy-duty construction 14-gauge steel tubing that's finished off with a powder-coated finish. Which means what exactly? This bike is made from plastic but built for longevity and will survive excess use.
Plus, it claims to allow maximum mobility during any essential training, with quick mounting and dismounting, and appears easier on both knees and back. Excellent!
Features and functions
This stationary bike uses a magnetic resistance mechanism with eight levels of resistance. As a result, riders can customize their workouts by including different terrains when adjusting the tension knobs. Add extra resistance for a more intense ride or slow it down for a more enjoyable experience.
What's the purpose of purchasing one of the best exercise bikes?
Everyone knows that cardiovascular training is not only a fun and exciting way to go about exercise, but seemingly it can be transformative.
Most will agree that nothing beats running out in the great outdoors, but since we are stuck inside (Thanks, Covid!), we're left to get a bit more creative, and that's where exercise bikes come in.
The right exercise bike will allow you to tone muscles, reduce fat, and improve stamina, all from the comfort of your own home, and do so with little-to-no risk.
What's the difference between the best exercise bikes?
Upright exercise bikes
An upright exercise bike will keep you in the conventional riding position. Here, you'll have a standard seated bike, and most times, it, unfortunately, lacks enough back support.
This bike offers other features such as handlebars, front displays and provides a seated cycling experience. It's best for those looking to engage in a comfortable workout without high-intensity training.
Recumbent bikes
Next, there are recumbent exercise bikes. This version strays away from the conventional pedaling style and opts for a more reclined position that offers a wider and more comfortable seat-wise. Additionally, the pedals are out in front, which distributes your body weight more evenly and effectively. As a result, these bikes are highly beneficial for those suffering from joint issues, pre-existing injuries, or back problems.
Indoor cycling bikes
Lastly, there are indoor cycling bikes. This version is most similar to an outdoor bike and is an excellent way to reap those same benefits but do so from indoors.
These bikes are ideal for high-intensity interval training and suitable for any of those fat-burning workouts you've been dying to try. They're most similar to the bikes we are prone to in our favorite cycling or spin classes and offer an adjustable seat and handlebars for maximum comfort.
Brittany Romano joins Future as their U.S. Shopping E-commerce Editor, residing on the Upper East Side in New York City. From her start as a fashion market assistant at Marie Claire to building highly profitable commerce vertical at Us Weekly and AMI brands, Brittany has produced award-winning content covering everything from celebrity beauty hacks to must-have items from online sales. She is a graduate of New England College. When she isn't writing, you can spot her on Fifth Avenue lusting over the yet-another Chanel bag, making a stylish statement on her velvet couch (in the most luxurious sleepwear), or at a Boston Bruins game, in her signature So Kate Louboutins.
Follow her on Instagram at @Rammmyyy.