Home gym ideas that will make you look forward to your workout
Home gym ideas to help you transform your living room, basement or even part of your bedroom into the workout space of your dreams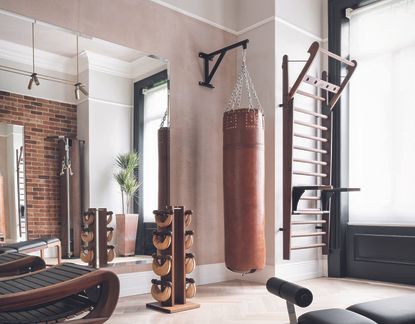 (Image credit: NW3 Interiors)
Home gym ideas might seem like they belong best tucked away in basements, or in a studio out in the garden. After all, a room full of cold, industrial kit doesn't exactly inspire aesthetic awe. But with a bit of thoughtful design, it's possible to create a visually-pleasing home gym right in your living space - not least when a spare room or a basement-digging budget isn't possible. And by virtue of it being visible, it might just inspire more exercise.
When choosing the location of your workout space, look for an ample supply of natural light, says Pip Black, co-founder of the boutique fitness chain Frame Studios. "Light makes it a place where you'll want to spend time, and it will help lower your blood pressure." You'll need to be able to open the windows, too: "You need to ensure that there's good airflow," says Amanda Pollard of Houzz. "It's really important to ventilate." If space permits, Pollard also recommends considering internal glazing to create a "broken plan" space, where a home gym is zoned off from the main living area.
Home gym ideas
1. Plan what you need
Planning what equipment you need will steer the amount of space you require. According to the fitness pros, you actually don't need much to get going. Dalton Wong, personal trainer to the stars and founder of the private gym Twenty Two Training, says your home kit need only include "an exercise mat, weights - a kettlebell or dumbbells or just resistance bands, and some type of muscle release - a foam roller, a Theragun or even a tennis ball." You can waste a lot of money buying big, expensive equipment, adds Pip Black, whose home kit comprises "lightish" dumbbells, gliders and a kettlebell - which doubles up as a doorstop. Also, consider buying TRX resistance training straps - another inexpensive and unimposing option, which you can simply clip onto a doorway.
Buy TRX resistance bands from Amazon, here.
2. Get some good living room storage
Perhaps your biggest challenge is navigating the conundrum of having your kit handy so that it doesn't become forgotten or require unpacking each time you want to exercise, but without having to look at gym paraphernalia all day. Suzann Bozorgi, founder of RoomLab, an online marketplace for interior design, advises creating a "little niche" in your living space for a chrome fan, an air-purifying plant, your sound dock and maybe a wall-mounted screen - key workout items that can be permanent features and "won't jar with your existing living space". With the right styling, smaller pieces such as yoga blocks, weights or a perfectly rolled mat can look great on a wall-hanging unit, she adds. "Pinterest is full of chic ideas of how to make this work in your home, and keep your space tidy, organised and decorated."
3. Think vertically
If you're wondering how to make a home gym then, realistically, it will come with some stuff you can't hide. For the clunkier kit that's better out of sight, Carly Madhvani of NW3 Interiors recommends using low storage (which makes it more accessible) - blanket chests, or benches or coffee tables with hidden storage - even better if on wheels, unless it's for heavy weights. But if space is tight, "Think vertically," says Suzann Bozorgi. "Instead of taking up precious floor space, consider using tall storage, such as industrial lockers, Ikea's minimalist Kallax shelving, or a beautiful wooden unit from Heals."
If you've invested in a larger piece of kit - a spin bike, say, or a rowing machine, you ideally want a different room for it, but if that's not possible, Suzann Bozorgi advises putting it in a corner with enough space around it "so you don't have to move it every time - then position a room-divider in front of it" (Ligne Roset sell particularly wonderful screens). Hiding it behind a screen is not just for aesthetic reasons: "It will give you anxiety if it sits unused in your living room," says Pip Black.
4. Use dimmable lights
With many people now taking a "portfolio" approach to exercise - maybe with a mix-up of cardio, resistance training, pilates and yoga - a space has to work even harder if it's going to support different types of exercise. Enter the best surround sound systems and light - an instant way to change a mood. "Bring in dimmable lights so that you can create variety in atmosphere and warmth levels," says Carly Madhvani, whose personal regime ranges from yin yoga to Muay Thai boxing. She also recommends Flos' cordless, dimmable Bellhop lamps which can be easily moved around to amplify the specific mood. Maybe you want to prime yourself for a high-intensity workout - for example, that pumping, cave-like atmosphere of Barry's Bootcamp is easy to recreate with a Philips Hue smart lamp or two, which, from your phone, you can switch to low-voltage red. Then, just turn the music up to blaring, and you'll be right back at Barry's. Or for dance classes, you can set a disco scene with mirror balls and multicoloured light bulbs; for yoga, you could create a cocooning and calming atmosphere with blankets, pillows, sheepskin fleeces, candles and palo santo. "It is really worth taking the time to make those adjustments," adds Carly.
5. Be decorative
Crucial for how to stay motivated to workout at home is joy, says Pip Black, an easily overlooked detail. Frame's studios are famously bright and colourful, with bold House of Hackney wallpapers that inspire a sense of satisfaction just from stepping through the door: "Your environment plays as much a part as the exercise you're doing," she explains.
6. Add a mirror
A gym would not be complete without a mirror or mirrored wall. It's a useful addition, lending the illusion of a larger and brighter space, and, in the absence of an instructor, will help you correct your form. A luxury option could be an oversized backlit mirror to give a boutique gym vibe, or you could rent or buy a wall-mounted, interactive "smart mirror" featuring your own virtual personal trainer (for example Mirror, Vaha, Tempo Studio, NordicTrack). As well as being able to have a PT on tap, "it would look completely acceptable in your living room," says Carly Madhvani.
7. Zone your space
It helps if there is some form of separation between your living space and workout area, even if it's only decorative. Consider adding decorative details and colors that spark joy in your home gym space, or installing LED strips to demarcate your workout space and literally get you in the zone, which can be switched off and barely visible when the gym is not in use. Or, use paint effects, like these stripes from a Livingetc style shoot.
'What we wanted to show with this fun take on the famous striped sportswear label, is that a a home gym can be part of your living room ideas,' says Livingetc editor Pip Rich. 'I would use a paint effect like a wavy outline around a mirror in an energising color like red or orange, to help me get in the zone. Admittedly, I probably wouldn't try this exact look, above, at home, but it sets the tone for what you can do.'
8. Dedicate a corner of the bedroom
Have you thought about using your bedroom for your home gym ideas? You're in it less during the day than your living space, so it won't feel as obtrusive, and there are ways to do it subtly. Shown here as slightly separate from the bed, built-in storage has been created as a place for the best dumbbells, skipping ropes and more.
9. Create a garden room gym
It can be hard to find a large enough space in the home to dedicate to creating the home gym you want. If you're lucky enough to have a garden, then factoring in a gtm at the end of it would be, well, *chef's kiss*. Aside from giving you the space you need and the privacy away from other family members, it also promises green views, better natural light and plenty of ventilation.
9. Take over a mezzanine
Many homes designed under the principles of modern interior design now have a mezzanine level - it's part of the open plan way of life that been so popular for so long. If you have one, then it's the perfect spot for a gym. Here, you can barely notice the glass balcony that wraps around the slim mezzanine gym below. It sits above a living area and shares views of the garden, while sky lights offer maximum natural light. While it's open and connected to the living area below, it feels private as it offers views down, but you can't be spied on from below.
How much space do you need for a home gym?
Technically, you barely need any space for a home gym - just about enough to be able to roll out a yoga mat and stretch your arms either side of you. If you are creating one in its own room, or building one as part of an extension, then it should be no smaller than 10 feet by 10 feet, so as to have room for some equipment and the ability to use it.
What equipment do I need for a home gym?
If you're just starting out on creating a home gym then think minimally, The only equipment you need is a mat, a pair of heavy dumbbells, a pair of light dumbbells and a resistance band. You can add in further pieces of equipment the more advanced you become.
The Livingetc newsletter is your shortcut to the now and the next in home design. Subscribe today to receive a stunning free 200-page book of the best homes from around the world.
Fleur Britten is a well-respected journalist who for years was the Senior Features Editor at Sunday Times Style. She is known as one of the smartest lifestyle journalists around, revered for being able to decode trends and report on new zeitgeists as they happen. She now writes for the Telegraph, Livingetc, Vogue, The Times, Harper's Bazaar and the Guardian.