How to make a home gym no matter how big or small your space
For how to make a home gym you'll need our edit of the best home fitness equipment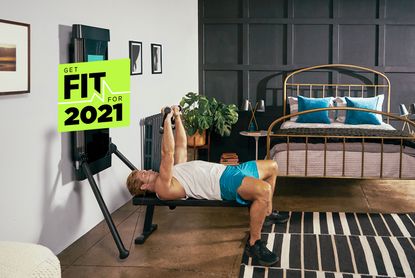 (Image credit: Tonal)
At-home workouts are likely here to stay, so for how to make a home gym you'll need the best home fitness equipment. Whether you're adding to your collection with one of the best exercise bikes, or starting from scratch, we've gathered our favourite home fitness pieces sure to take your workouts up a notch. From functional strength training must-haves to cardio companions like the best yoga mats, the list below will keep you active, healthy and fitter throughout the year.
Peloton
Search home workouts, and the word 'Peloton' is sure to be in your top results. And for good reason.
Peloton is the leading global interactive fitness platform, and where you can start if you're wondering how to make a home gym. Combining fitness, technology, and media, it connects participants to both live and on-demand workouts. Accessible workouts are streamed through the Peloton Bike, Peloton Bike +, Peloton Tread or standalone Peloton app - one of the best fitness apps - to your home.
"What makes Peloton and the Peloton Bike unique is that it's more than just a class, a cycling studio or a bike," says Ben Alldis, one of the UK instructors. "It delivers a fully engaging experience which uses technology and convenience to make every workout effective, whilst offering the social connection and community to convert riders into workout addicts. The Bike itself provides instant access to metrics and a motivating real-time leaderboard, which makes the whole experience really social and fun! The community along with the workouts themselves have become a huge part of people's lives."
The Peloton bike starts at £1795 + £39/ month for unlimited subscription to classes. Peloton Tread costs £2295 + £39/ monthly subscription.
See more here.
Technogym Bench
Tight on space, but want maximum results from your home gym? Look no further than the Technogym Bench, the newest functional training station from the Technogym home gym line.
The minimal footprint design enables you to perform a wide range of exercises in very limited space. This multi-purpose training station allows you to combine weights, elastic bands, weighted knuckles, and a training mat for endless total body workouts. Practical and functional, the Bench is easy to move, has storage for all pieces of equipment, and easy to follow workout programs to maximise your performance goals. The Technogym bench comes in at £1190.
See more here.
Mirror
The Mirror will double as your home decor and workout solution - so no more tirelessly weighing (no pun intended) style over function. Titled "The Nearly Invisible Home Gym," Mirror is a sleek LCD screen with a mirror finish that turns from actual mirror on the wall into an interactive home gym assistant when it is time to sweat. Mirror provides real-time feedback based on pre-set goals,preferences to maximise your workouts, and the built in camera so your trainer can correct your form.
This revolutionary piece of technology has over 50 genres available, ranging from 5-60 min classes for all levels through live stream classes, on-demand options, and one to one personal training. Take advantage of the integrated community access to join programs, share your workouts and invite other Mirror friends to sweat alongside you. Available in the US only (for now, but sign-up for international dates), Mirror starts at USD $1495 + $39/month for Mirror membership.
See more here.
WaterRower
The WaterRower offers the closest thing to getting out on the water for your daily row. Using the power of water to provide self-regulating resistance with every row for an efficient cardio workout, the WaterRower helps achieve a full-body workout with less impact than running or HIIT, in less time. The rowing workout incorporates over 84% of muscle mass in each stroke, is low impact on joints and back, and can burn over 1000 calories in an hour.
The sleek design of the WaterRower incorporates natural American hardwoods and is easy to store, making it worthwhile home decor that can be easily moved around the house if you need to be flexible with space. The built-in S4 monitor makes it simple to track your metrics as you row, set up distance or time goals, and is large enough to see whilst rowing. The WaterRower series range starts from £849.
See more here.
Tonal
This unassuming all-in-one machine is your entire gym - equipment, trainer, and classes built into one piece of technology to turn your home into a powerhouse. Tonal is a digital weight system, offering the smoothest lifting experience for over 90 kilos of resistance in a 24" interactive display. " By pairing proprietary digital weights with advanced A.I. and technology,
"Tonal is able to replace an entire gym's worth of equipment while providing expert-led coaching and personalised guidance. After an initial strength assessment, Tonal knows exactly how much weight you should be lifting and will dynamically adjust the weight in real-time as you get stronger, or spot you if you are struggling," says Ashley Hennings, Director of PR.
On-demand workouts are available across yoga, pilates, barre, meditation, kickboxing, dance cardio, strength training, pre and post natal and more, including the option for virtual group workouts. Available in the USA only (for now), Tonal starts at $2995 + $49/ month membership.
See more here.
TRX
You've probably seen these familiar yellow straps hanging from trees in the park, or tucked into door frames on Instagram thanks to its portability - take it with you wherever you fancy a workout.
The TRX is one of the best investments in your home gym as this simple piece of equipment packs effectiveness and efficiency for both muscular and cardiovascular benefits. TRX Suspension helps to improve mobility, flexibility, strength, endurance, power, core strength, and heart health all in one piece of equipment!
Niko Algieri, TRX Live Director, says, " Once you've learned the TRX foundational movements there is no muscle on your body that will not be worked in terms of both strength, endurance and mobility. It's the complete package. TRX now offer TRX LIVE along with TRX ON DEMAND so you've got constant access to world class coaching and programming." Various packages available, with the TRX Move System starting at £99.95.
See more here.
Theragun
Investing in your home gym set up means investing in your recovery game too - without the monthly visits to the masseuse. Your new best friend is the Theragun - this piece of equipment is a deep muscle treatment used for muscle recovery that relieves muscle stress and tension, soothes discomfort, and can reach 60% deeper into muscle than other massage technology on the market. Use of the Theragun is encouraged for an accelerated warm up and cool down, but can also be used as an aid for sleep, helping to relax the nervous system when used before bed.
Combine the Theragun with its proprietary app for a 360 degree view of your wellbeing: create personalised routines and guides and integrate with Apple Health and Google Fit to receive optimal routines for you. Theragun offers multiple models, with the Theragun Pro starting at £549.
See more here .
The Livingetc newsletter is your shortcut to the now and the next in home design. Subscribe today to receive a stunning free 200-page book of the best homes from around the world.
Jamie Chin-Dickey is a professional in the fitness industry, specialising in building brands, inspiring people to work out, and making group fitness fun. As well as writing for Livingetc, she has worked with gym brands such as Frame, UN1T and Milo and the Bull, and partnered with health food companies such Nush. She is currently working at Faire, helping to bring small brands together.