Modern home decorating ideas: 18 striking design ideas worth copying
We've pulled together 18 strikingly modern home decorating ideas that are guaranteed to wow. From architectural ideas to playful details, read on to get inspired…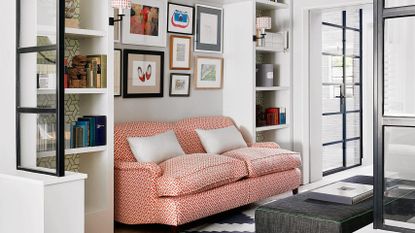 (Image credit: Turner Pocock)
We've pulled together 18 strikingly modern home decorating ideas that are guaranteed to wow. From architectural ideas to playful details, read on to get inspired...
1. Flirt with the past
For a modern home design that truly captivates, celebrate the property's history by showcasing original detailing, and contrasting them against more modern details.
We love the way this Italian villa contrasts exposed stone walls with strikingly modern interiors, including a metal kitchen island, and a poured cement floor.
Explore more of this rustic Italian villa here
By showcasing original walls within a property's new design, you create a link between the old and new, as Scenario Architecture achieved with their award-winning conservatory re-design below. The architects designed this new rear extension while respecting the segmented layout of the original Victorian structure; the home's original rear wall remains intact, with its windows and doorway repurposed as internal "balconies".
Similarly, architect and designer Richard John Andrews built this rear extension on the back of his Victorian terraced house in London, leaving the original external wall intact so as to show where the property used to end.
And finally, this cottage conversion in the Cotswolds merges an original stone cottage with an uber modern extension, contrasting poured floors and glass walls with original stone. The design won it a RIBA award…
Explore more of this striking Cotswolds property here
2. Open plan
We gravitate to open-plan living – particularly popular for modern kitchens which have become the most lived-in rooms of the house, usually incorporating a dining area and sometimes lounge seating too. Vipp took things up a notch in this converted power plant in Copenhagen, where an open staircase slices up through the middle of the home to a mezzanine level which has floor to ceiling glass walls, looking down into the space below. Thus, every room provides a sight line into the rest of the home, making it feel open-plan while still having distinct zones.
3. Add a level
Adding a balcony level or mezzanine room within an extra tall room will accentuate the height, connect different spaces through sight lines, and add interest and character to a property.
Amos Goldreich Architecture turned this central dining area into a central 'courtyard', feeding light into other rooms that look down into it.
On the first floor there's a children's bedroom, with a glass balcony that peers down at the kitchen, dining room and main living space just below, while up on the second floor balcony there's a home office which sits directly above the dining table. This playful layout means everyone can be in their own space, while still being together; one parent might be in the office upstairs, while the other cooks, and the children play, and yet they can all be visible to each other.
See Also: Tiny houses: stunning small modern homes that inspire
Meanwhile this loft in Antwerp had tall ceilings but not enough floor space for four children, so architect Piet Crevits created this innovative mezzanine level suspended from the ceiling to house the children's bedrooms, while still showcasing the original ceiling height of the property.
These mezzanine levels can also be created within a single room, rather than a whole property, as Scenario Architecture achieved in this Islington townhouse, incorporating a fun kids play space in a playroom.
The mezzanine floor was transformed into a maritime-inspired playground with curved steel walls lined with fishnets to create an open plan, secret and playful space.
Explore more of this Islington home here
And finally, in one lucky boy's bedroom, Elizabeth Georgantas of GEORGANTAS Design + Development created a mezzanine level shaped like a boat, complete with portholes to peer out of.
See Also: Boy bedroom ideas for small rooms, Seriously Cool Bunk Bed Ideas and Wonderfully Fun Kids Play Room Ideas
4. Internal windows
Internal windows are great for connecting spaces visually, while still retaining separation. Scenario Architecture gave this library space a glass wall, so the room could be visible from the main living space below, turning it into a fun feature.
Explore more of this East London home here
This idea is not just for contemporary architecture, it works well for period properties too, as is illustrated in this gorgeous Bloomsbury home.
5. Rooms within rooms
We're captivated by Michaelis Boyd's design below, featuring a home office that sits within a living room, encased by Crittall walls. The study faces the open lounge space, but still feels like it's own space.
Explore more of this stunning property here
The above room contrasts the Georgian property's bones, but you can borrow this idea and give it a more traditional look too.
In this master bathroom, two cupboard-sized 'rooms' were formed in opposite corners, concealing a WC on one side and a sink / vanity unit on the other.
It's a stunning bathroom layout.
See Also: Chic And Stylish Paint Colours For Your Bathroom
6. Crittall partitions
Crittall partitions are a stunning way to break up a space, whether you decide to go for a whole wall of Crittall…
… Or just a slim partition screen, as design duo Turner Pocock used to divide the double reception room below.
See Also: Crittall-Style Doors, Windows And Partitions
7. Glass corridor
In this striking home, glass corridors connect different parts of the home, flooding the property with light and celebrating the gardens that surround it.
Explore more of this striking home here
8. Internal garden
If space isn't an issue, foregoing a room in the centre of the home to allow for an internal courtyard will make a property infinitely more exciting, and will give surrounding rooms lots more light and a more interesting view.
Architecture firm De Rosee Sa won the New London Architecture 2017 Homes Award for their house design below, where a small courtyard was created at the property's core, feeding light into four spaces at two heights; the kitchen, dining room, corridor and kids room above, as well as the master suite at ground level below.
Explore more of this garage conversion with courtyard here
Even in single-storey properties, a courtyard garden will create a beautiful feature and focal point, and allow for twice as much daylight.
Light wells are also ideal opportunities to bring the outdoors in. Here a tiny light-well garden connects with the bathroom space, creating a spa-like, luxe bathroom vibe. Floor to ceiling glass flood this space with natural light that comes in from the light-well garden.
Similarly, this bathroom also connects to a light well, featuring a striking marble bath that's half inside, half outside, with a glass wall nestled neatly into the marble.
The adjacent shower sits in the light-well, with bathroom tiling that reaches all the way up to the top of this outdoor wall.
See more cool ways to bring the outdoors in
9. Statement staircase
How about a dramatic staircase to punctuate your home? This striking red staircase by Michaelis Boyd was inspired by the floating red "Staircase-III" by Doh Ho Suh, exhibited at the Tate Modern.
Collaborating with Diapo and Webb Yates Engineers, Michaelis Boyd's team created this unique sculptural staircase, made from perforated red steel and floating above the living room floor. "With this staircase we wanted to create a statement piece that was both sculptural and functional," Alex Michaelis tells us.
He's certainly not one to follow the staircase rulebook, as he incorporated a slide in his London home. By installing a slide on the inside of the staircase, he offers a fun – and quick – way down.
Elizabeth Georgantas of GEORGANTAS Design + Development also incorporated a playful slide in her Martha's Vineyard project, inspired by the sliding chute by Carsten Holler, the German experiential sculptor whose slides were on display at the Tate Modern.
The metal chute starts upstairs on the landing and twists down to a play room below.
The modern chute punctuates through elegant wood panelled walls, and makes a striking contrast. It's safe for kids and big enough for young-at-heart parents.
For a more grown-up approach, take inspiration from architecture studio 23+GS/318 Studio who created this large helical open staircase below for a London property, which incorporates a glass slide between levels.
See Also: Stunning Staircase Ideas
10. Secret door
There's something seriously cool about having a secret door in your home. But it's not just for fairytales or cartoons, they make a cool and stylish feature in modern homes. Architects at 23+GS/318 Studio created this concealed door, with the staircase banister continuing to run along the door.
Meanwhile Elizabeth Georgantas of GEORGANTAS Design + Development shows us a cool twist on a classic bookcase-door design, with a glow-in-the-dark constellation wallpaper by Ralph Lauren hanging above.
11. Wine bar
At the top of our wish-list, along with a pantry and laundry room is a wine room. These days a wine room is a far cry from the dingy, damp cellars we grew up with, instead they are a stunning showcase of treasured wines.
Blending the home bar with a wine room ideas is a stylish wine bar at home – super sophisticated for entertaining friends or hosting wine tastings. The private wine bar below features a narrow glass table ledge with bubbles inside, reminiscent of champagne bubbles. But it's the modern pendant lighting here that really steals the show.
See Also: Wine Room, Wine Cellar & Wine Storage Ideas and Cool and Stylish Home Bar Ideas
12. Upgrade with a projector screen
Upgrade your family room with a projector, and transform it into a show-stopping cinema den. The family room below features luxe paneling, painted bookcases and flashes of red.
13. Plasterwork
Who said plasterwork had to be original? Add texture and sculpture to the walls with some new plasterwork. This gorgeous, Grade II-listed Georgian apartment beautifully blends period detailing and antiques with bold design, modern paint ideas and new plasterwork. The effect is chic, cool and dramatic. Original Jacobethan mouldings and new-classical plasterwork make up a marriage of styles which were all carefully restored by Red Deer.
Explore more of this Grade II-listed Georgian home in Marylebone
14. Open up
This Grade II-listed Primrose Hill home features a voluminous, double-height space created by replacing a small conservatory with colossal, two-storey pivot doors, connecting both entrance and lower levels to the garden behind.
"Working closely with Camden Council, we proposed a design that gave the feeling of completely open space, while retaining listed fabric to maintain a readable historic plan form," says architect Robert Rhodes.
See Also: Modern home extension ideas – from side returns and conservatories to lofts and basements
15. Oversized
If you have a structural column, make a feature of it, as developer John Hitchcox did in his home below.
16. Living walls
Living walls make a striking feature – even more so when indoors.
Here a retractable roof allows guests to dine alfresco when the weather allows.
See Also: Cool Ways To Bring The Outdoors In and Modern Living Walls: The Interiors Trend That Keeps on Growing
17. Upholstered walls
Painted and wallpapered walls are a popular decorating choice, but for true decadence, why not upholster walls? The walls below are covered in a pewter metal gilded linen by De Gournay, and gilded paper covers the ceiling too.
In this space, Designer's Guild dark grey silk velvet covers the walls, muffling city sound and giving the room privacy. Doors and windows are finished with an elegant Samuel and Son trim.
Upholstered walls are also great for sound absorption – perfect for cinema rooms or music rooms.
18. Low windows
We were intrigued by this unusual idea of having windows that frame the immediate garden rather than the views. This particular window style was chosen to highlight the below property's rugged and raw surroundings, while retaining an air of mystery and privacy in the corridor that leads through to the master bedroom.