See how a former timber garage was transformed into a modern family home
A former garage used for wood storage has been transformed into a modern family home. The architects were faced with many restrictions due to regulations and party wall agreements, but their creative approach not only created a stunning home, it won a prestigious award too.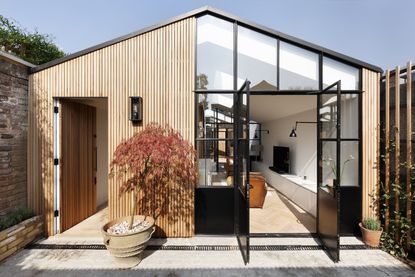 (Image credit: Future)
THE PROPERTY
The owners of this modern home lived across the road from the former timber storage shed and originally bought the site to prevent it being overdeveloped. Nestled between rear terraced gardens and a row of 16 West London garages, the single-storey shed didn't look like much – but then the new owners spotted a unique opportunity, and brought on board architecture firm De Rosee Sa to help them build something extraordinary, while keeping in line with planning regulations.
As the site neighbours 21 other properties (and has 21 party wall agreements in place) it couldn't have any windows on its outer walls, so the architects found a creative solution and gave the property three courtyards instead, filling it with light. As they couldn't build up due to regulations stipulating a vertical limit to the height of the property, they dug a basement instead which receives natural light from light-well courtyards. De Rosee Sa completely transformed the site, building a modern family home in its place.
The architects did an absolutely tremendous job, not only creating a beautiful home (the owners loved it so much that they sold their original house and moved here instead) but snapping up the New London Architecture 2017 Homes Award in the process too.
See Also: Explore A Jaw Dropping Modern Country Home That Won A RIBA Award For Design
ENTRANCE
The architects started from scratch, building a brand new two-bedroom house from the ground up for a total of £450,000. The property is clad in red cedar wood, a nod to the site's history as a timber storage yard.
The ground floor is divided between a modern living room, kitchen and bedroom with an en-suite bathroom. The master bedroom is located in the basement level with its own external courtyard and bathroom. Inserting windows into the boundary walls was not possible due to privacy issues and instead De Rosee Sa were faced with the conundrum of lighting a narrow 37-metre-long site.
The internal walls of the courtyards are clad in Western Red Cedar battens, referring to the site's history as a timber storage yard. The battens continue inside to form two cedar clad 'volumes' that contain smaller functional spaces such as the toilet, study and utility / laundry room.
See Also: Before & After: An Old Monastery Ruin Is Transformed Into A Modern Family Home
LIVING AREA
Three external courtyards were added to the plans to draw in light, with a series of Crittal steel and glass doors installed to connect these courtyards to the interior and provide views through the entire length of the open property.
The textural quality of the cladding softens the minimal, white interiors and complements the steel framing and herringbone-patterned parquet flooring.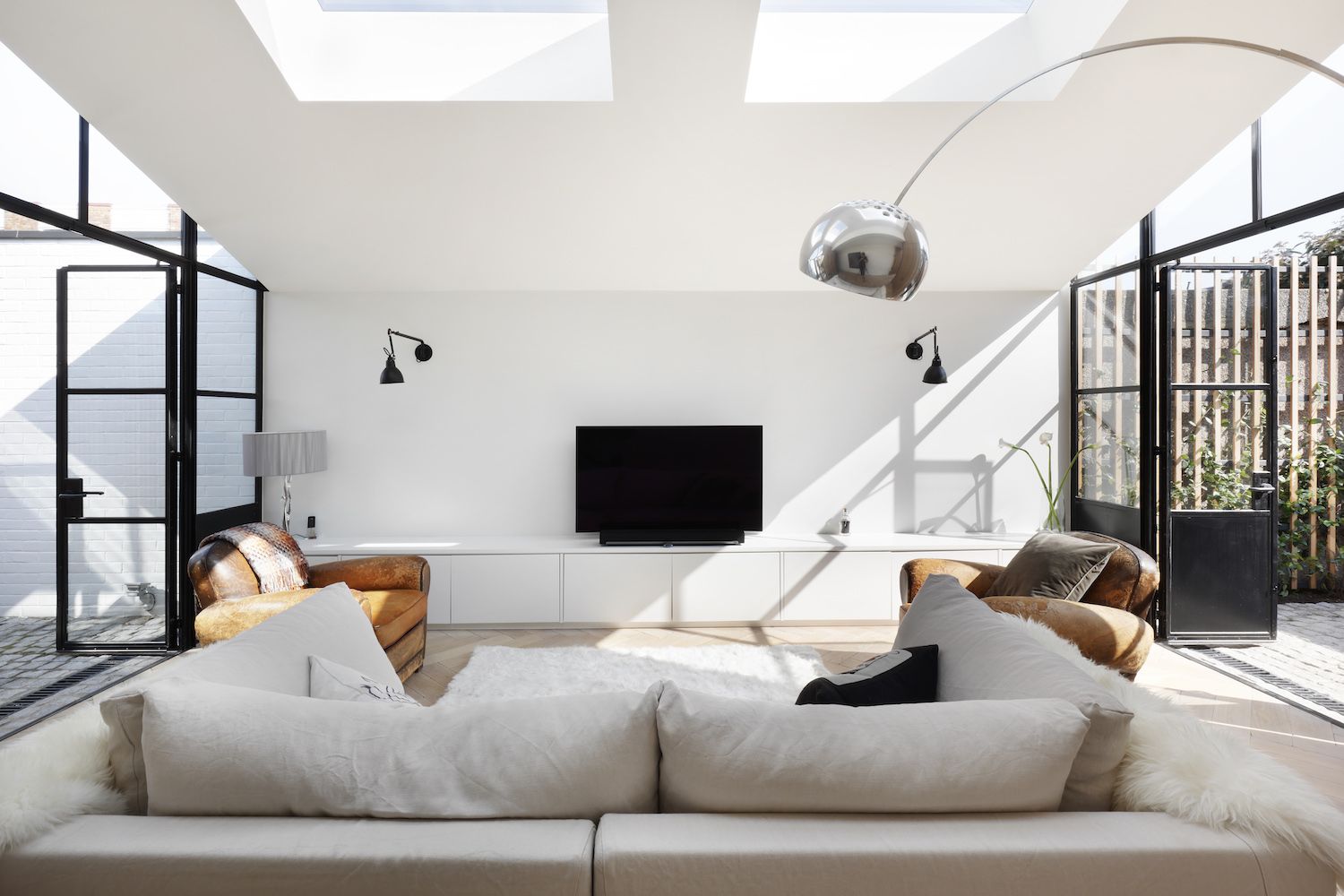 See Also: Crittall Doors, Windows And Room Dividers
KITCHEN
The wood herringbone floor warms up a modern white kitchen.
The kitchen and dining area feature floor to ceiling windows, and a balcony that looks down into the courtyard at basement level below.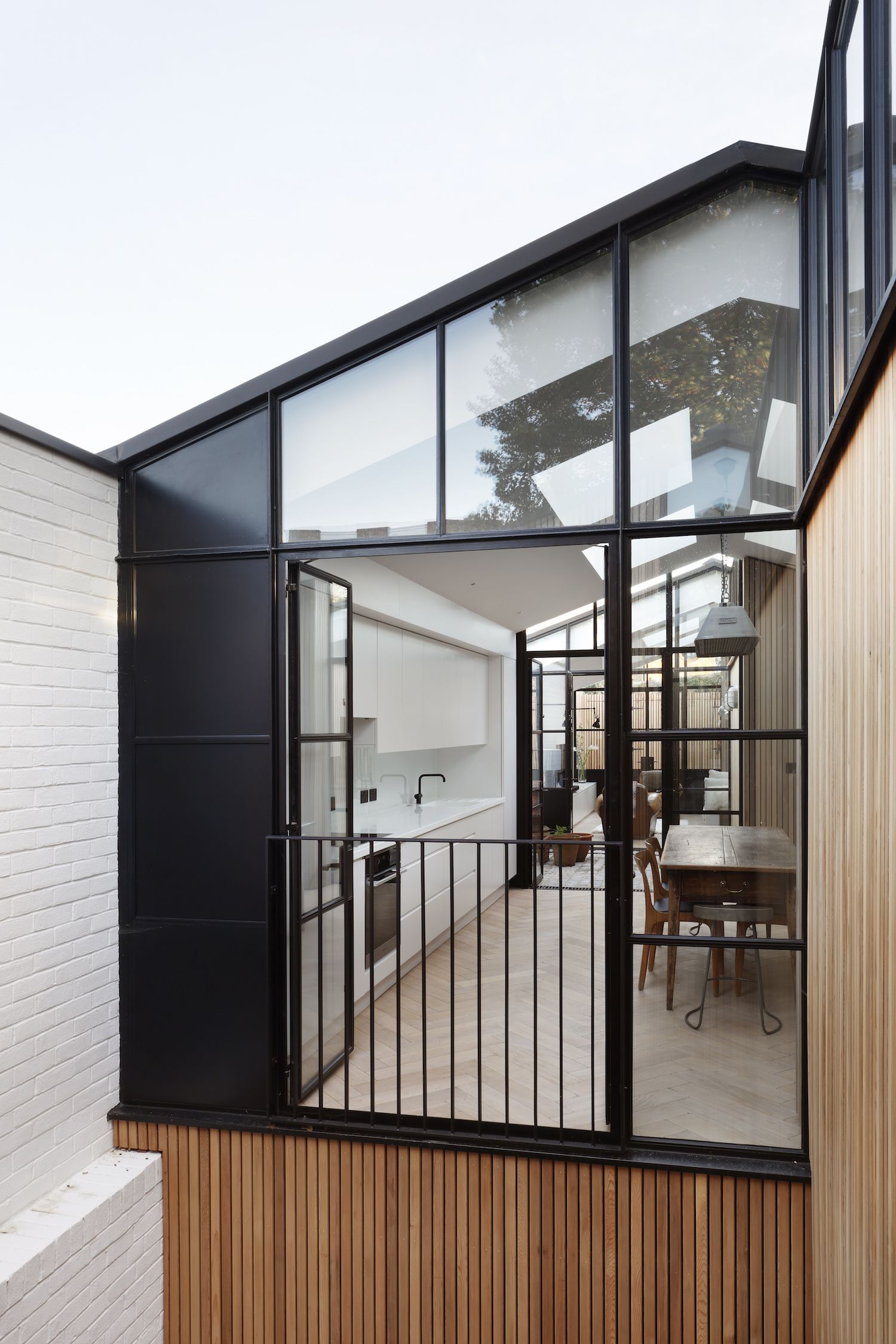 See Also: White Kitchen Ideas
Across from this balcony is another narrow balcony opposite, which is part of the kids' bedroom. Down below the master bedroom is visible, opening into the courtyard space. It demonstrates how a small courtyard space can feed light into four spaces at two heights; the kitchen, dining room, corridor and kids room above, as well as the master suite below.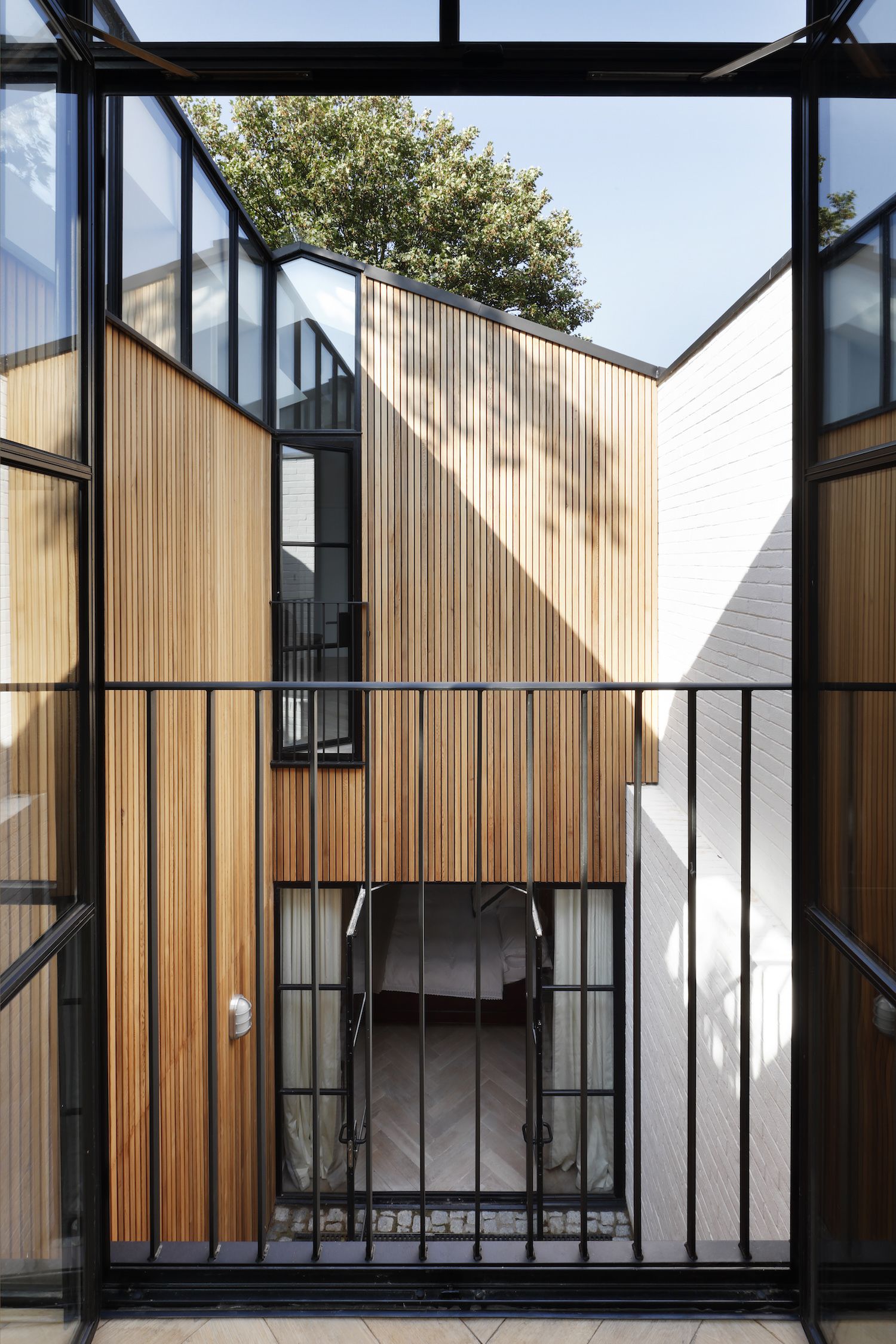 See Also: Explore a light, airy home centred around a gorgeous courtyard garden
DINING AREA
The house can be entirely opened up during warmer weather, blurring the line between the inside and out.
See Also: You Can Now Rent This Iconic Architect-Designed LivingEtc House
Commenting on the project Max de Rosee, Director of De Rosee Sa Architects explained, "We worked very hard in the initial stages to convince the clients that developing this house was a risk worth taking. We had to convey its potential. We wanted to contrast the crisp white walls and ceiling with some strong materials so we spent a considerable amount of time considering the detail of the western red cedar battens and granite setts in the courtyard surfaces. The most satisfying aspects of the project is the top light that pours into the interiors and the long views through the courtyards. Once inside, you forget that this house is in London."
See Also: Explore An Incredible Open-Plan, Modern Family Home That Brings The Outside In
KIDS BEDROOM
The kids' room lets in light both from a skylight above and from a narrow floor-to-ceiling balcony space that overlooks the downstairs courtyard.
See Also: Explore A Victorian terrace with bags of built-in storage
White walls with white built-in wardrobes make this room feel light and bright.
See Also: Built-In Wardrobes Ideas
ENSUITE BATHROOM
A seamless skylight in the bathroom creates a shower space with an indoor/outdoor feel.
See Also: Shower Room Ideas
MASTER BEDROOM
De Rosee Sa proposed a new basement level to meet the owners' brief for a two-bedroom house.
See Also: Basement Ideas
The master bedroom is located in the basement level with its own external courtyard and bathroom. The stairs feed straight into the bedroom via a doorless floor-to-ceiling doorway that brings in lots of natural light.
See Also: This Tiny House Hides A Chic Interior
SHOWER ROOM
The ensuite bathroom borrows light from the courtyard.
See Also: ensuite bathroom ideas
The owners loved the finished result so much that they sold their original house, moving into this home – now dubbed The Courtyard House – instead.
Photography Alex James
Lotte is the Digital Editor for Livingetc, and has been with the website since its launch. She has a background in online journalism and writing for SEO, with previous editor roles at Good Living, Good Housekeeping, Country & Townhouse, and BBC Good Food among others, as well as her own successful interiors blog. When she's not busy writing or tracking analytics, she's doing up houses, two of which have features in interior design magazines. She's just finished doing up her house in Wimbledon, and is eyeing up Bath for her next project.