This classic Edwardian home is a lesson in bold color and elegant Christmas styling
With warm tones and warmer vibes, this fabulous family home is based on the knowledge that conviviality is for life, not just for Christmas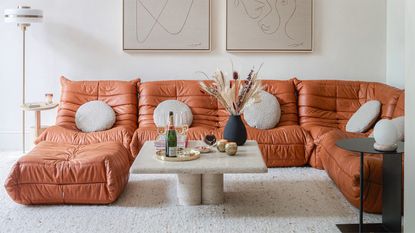 (Image credit: Mary Wadsworth)
'Christmas craziness reigns every year in our house,' says Shaun Simons, who shares his colourful and characterful Edwardian modern home with wife Brooke, a make-up artist, son Jack and daughter Jess.
He grew up in the northwest London neighbourhood and friends and family, all within a five minute drive, turn up around 11am to kick off the festivities with drinks, followed by a traditional Turkey roast at 1pm. 'Then we go for a long walk in the adjacent park (one of the reasons for buying the house) with dogs in tow - usually as many dogs as people,' he laughs.
Christmas traditions aside, they bought the house eight years ago after falling in love with its character; the panelling, stained glass, mosaic hall tiles and no less than 12 fireplaces!
After an initial quick renovation they decided three years ago it needed some serious TLC and Shaun tracked down a friend he had known since they were 13, Tiffany Duggan of Studio Duggan. 'We hadn't seen each other since we were 18 but I'd been following her on Instagram and loved her bold, individual, decorating style, so I got in touch, and the rest is history,' says Shaun.
Entrance hall
'Tiffany took inspiration from the mosaic entrance hall floor tiles and the large original stained glass window on the landing, plus my mood board and created the whole concept' explains Shaun. 'She pushed us right out of our comfort zone - with dark purple in the snug, pink tweedy curtains in the bedroom, and Anaglypta in the hall, all things we thought we hated but now totally love.'
Be inspired by more striking hallway floor ideas.
Snug
Previously the living room and the snug were one big long space but it was Tiffany's idea to make them into two. 'The proportions are so much better now and the snug, with its gentleman's club vibe is my favourite room,' he says. 'My main criteria was to create a home that looked beautiful but was really homely too,' says Shaun. On the first night back in the house he sat in every chair, taking it all in. 'I thought, this just looks epic.'
Blush pink, burnished gold and deep purple decorations adorn the beautifully lit Christmas tree and tie into the color scheme perfectly. If you're after Christmas tree care advice, here's how to keep your Christmas tree alive and top tips for buying the best spruce.
Living room
'My parents had these sofas when I was a child,' says Shaun, 'and I've never stopped loving their timeless style and comfort.' These design classic Togo sofas are a 1980s version by Michel Ducaroy for Ligne Roset from Pamono.
Kitchen
Tiffany's original scheme is very much how the house has ended up and the project has led to the teenage friendship being reinstated. Of the couple, Shaun was the main driving force, project managing throughout lockdown, securing tonnes of steel for the extension and tracking down plaster when the builders ran out.
'I'm wildly opinionated and very into detail, so it made sense,' he says, 'whereas Brooke is pretty chilled.' She was happy with most of his design decisions, but initially hated the terrazzo flooring that runs throughout the kitchen and living room.
'The trade off was that I compromised on the kitchen,' he says, 'and agreed to Brooke's choice of pink for the cabinets, rather than the sage green I wanted - but now I love it as it's more unexpected,' he says. And luckily Brooke has grown to love the terrazzo too.
Shaun and Brooke operate an open-house policy pretty much all the time which is why they installed a 'Viking size' dining table and plenty of chilled seating in the adjoining living room. 'This is the children's area but we all eat breakfast and lunch here often,' explains Shaun. 'And we use it to work - so it gets plenty of action.'
Shaun had in mind swapping the old conservatory for a new glass kitchen extension ideas next to the kitchen and a mini decorating job for Tiffany. 'I told her I wanted to just jazz up the place a bit, but somehow that didn't happen,' he says, 'and the project snowballed into a major makeover.' He gave Tiffany just three items on his mood board - a Togo sofa, a terrazzo floor tile, and a brown kitchen cupboard.
Main bedroom
The designer's concept in this modern bedroom with tweedy curtains and a pink bed was so different to anything the couple had experienced before, but they trusted her judgement and now love it.
Check out modern bedroom ideas for more dreamy inspiration.
Although the couple have a dressing room they decided to sacrifice some bedroom space for more storage. These stunning wardrobes are bespoke with French cane panels and painted in Wattle II by Paint & Paper Library.
Bathroom
The claw foot bath was already in the house and it was designer Tiffany's idea to paint the sides terracotta, specifically Red Earth by Farrow & Ball. 'It seemed a shocking idea, but it works so well,' says Shaun.
Fancy a claw foot bath? Discover more freestanding bath ideas.
Girls room
Daughter Jess loves the pink and playful nature of her room. The canopy is a signature style of designer Tiffany and adds a gorgeous finishing touch.
See more: pastel colors and natural materials shine in this Sydney family home
A legendary houses editor, Mary Weaver held the job of Homes Editor on Livingetc for over a decade. She set the aesthetic for which the brand has become known. She is now a freelance stylist, art director and writer, regularly contributing to Livingetc and overseeing the brand's successful House Tours franchises of live and webinar events.