Best coffee maker 2021: 7 top options for kick-starting your day
Consider one of the best coffee makers so you can enjoy your favorite brew just when you want it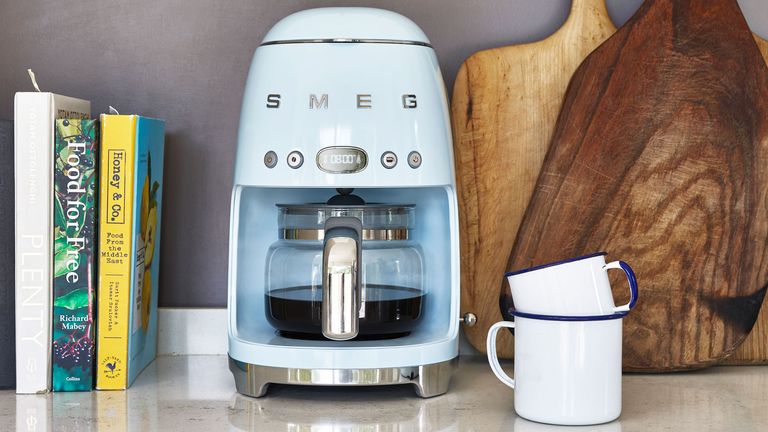 (Image credit: Smeg)
Our favorite way to start our mornings is with a strong cup of coffee, made possible with one of the best coffee makers gracing our countertops. Coffee makers come in varying shapes, sizes, and functionalities, and which one you choose will be down to your own personal preferences. We've done the heavy lifting in our edit of the best coffee makers, so you can get to enjoying that sacred cup of rich java much faster. No trip to a coffee shop necessary...just make sure you have your fave mug, delicious beans (or pods), and a plentiful supply of oat milk on hand.
Some coffee makers are fully automatic and make brewing your favorite cup of coffee a breeze, while others will let hone in on your evolving barista skills.
Below, look at all the options available to suit your lifestyle and home.
Want to get healthy too? Take a look at our guide to the best blenders on the market and make yourself a smoothie as well.
These are the best coffee makers of 2021
1. Breville The Barista Pro
Best espresso machine: it will make you a coffee just how you like it, with barista-style, in a matter of seconds
Specifications
Best for: Barista-style coffee
Type: Beans
Pressure: 15 bar
Cups: Up to 10
Reasons to buy
+Top coffee+Quick 3-second heat up+LCD interface guides you through every step+Integrated conical burr grinder with adjustable grind size
Reasons to avoid
-Learning curve if new to pulling an espresso shot
This espresso machine is an impressive piece of kit that will make you a delicious, rich brew, just as you would expect from a barista. It's pricey, yep, but it could be just what you have been looking for…
What we like
We LOVE that this machine has a burr grinder which means that it will give consistently delicious results. The grinder's size and dose can also be adjusted so you can get into the nitty-gritty of barista perfection.
We also like the fact that it can heat up in three seconds so you won't have long to wait for coffee time.
What we don't like
Like any manual espresso machine, there will be a learning curve to pulling your best shot, and it may even take some time. Luckily, the LCD interface gives you step-by-step instructions to walk you through the espresso brewing process.
Anything else?
The steam wand is fab. It'll enable you to get creative and make some impressive latte art which will have all your friends and family gathering around to sample the wonders (and coffee!)
2. Smeg DCF02 Drip Filter Coffee Machine
Best coffee maker for style: it looks lovely and makes a decent cup of coffee, too
Specifications
Best for: Making a really good drip coffee and looking svelte on your counter
Type: Filter coffee
Pressure: N/A
Cups: Up to 10
Reasons to buy
+Makes a good coffee+Excellent filter+Six colors available
Reasons to avoid
-Bulky design-A little tricky to fill up the water tank
A fine example of retro-styling, this coffee machine will freshly brew up to ten cups of coffee and will keep warm all the drips and drops left over.
What we like
It does exactly what one would expect from using it: it makes a really lovely coffee. Once you've made your coffee, the machine is really easy to keep clean and maintain too.
We're also big fans of the colors available; blue, pastel green, red, black, cream, and white.
What we don't like
There's nothing which we don't especially like, but perhaps the setup could be a little easier. There are a few settings to work through before you can make a satisfying brew, and the water tank can be slightly awkward to fill up if the machine is under a cupboard. And, if you unplug the machine, you'll have to work through your settings again.
Anything else?
The price is a little steep compared to the other coffee machines in our guide but it's an investment, and well worth it.
3. Nespresso Vertuo Next
Best coffee maker for small spaces: it may be 'tiny' but the coffee packs a punch
Specifications
Best for: Space saving
Type: Espresso
Pressure: 15 bar
Cups: 1
Reasons to buy
+Easy to use+Compact design+Made with over 50% recycled materials
Reasons to avoid
-Limited to using Nespresso Vertuo Line Pods
Nespresso's most compact coffee and espresso pod machine offers some of the most versatility in its Vertuo lineup... including the ability to brew a carafe.
What we like
At just 5.5 inches wide, the Nespresso Vertuo Next is ideal for both tiny kitchens or coffee carts, without sacrificing quality. It's also sustainably made with 54 percent recycled plastic body in a number of color options to suit your kitchen design.
Nespresso's Vertuo system Centrifusion brewing technique to extract its flavor. Each capsule has a specific barcode to deliver the optimal in-cup, taking into account cup size, pressure, brewing time and temperature for the way each cup should be enjoyed, so you can get the perfect aroma, flavor, and that silky, irresistible layer of crema with the touch of a single button.
What we don't like
It's only compatible with Nespresso's proprietary Vertuo line pods, which you need to remember to keep in stock and they do tend to add up. Luckily, you have almost 30 different coffee choices from around the world to discover and fall in love with.
Anything else?
Nespresso has a recycling program in place so you can feel less wasteful using pods, you just have to send them in.
To make your own lattes and milk beverages, Nespresso's Aerocinno milk frother is the perfect complement to your machine.
4. Technivorm Moccamaster KBG 10-Cup Coffee Maker
Best drip coffee maker: the finest drip coffee maker that mimics the pour-over expereince
Specifications
Best for: those who want the best cup of coffee
Type: Ground coffee
Pressure: N/A
Cups:: 10
Reasons to buy
+Tons of color options from metallics to neons +Quiet operation and fast brewing+Meets SCA and ECBC qualifications for the perfect cup of coffee+Drip coffee maker that resembles pour-over experience
Reasons to avoid
-Complicated to clean
If you're particular when it comes to coffee, the Technivorm Moccamaster will impress the most discerning coffee drinkers, and those who take their caffeine, black. Plus, it comes with a stamp of approval from both the Specialty Coffee Association and the European Coffee Brewing Center for brewing the perfect cup of coffee.
What we like
The Moccamaster drip coffee maker most closely resembles a gourmet pour-over experience with the convenience of an automatic coffee maker. The Moccamaster craftsmanship is unparalleled. Everything is handcrafted, including the unique copper heating element that maintains that your coffee always heats between 196 and 206 degrees Fahrenheit, while the separate hot plate will maintain the glass carafe at temperatures between 175 and 185 degrees Fahrenheit for 100 minutes before shutting off.
The extremely quiet and efficient brewing process uses an exclusive 9-hole drip arm that ensures even extraction and full bloom of coffee grounds for a smooth flavorful cup of coffee. And it does all this, a whole 10-cup pot in as little as six minutes.
What we don't like
Users have said it's a little more complicated thanks to its unique design and separate parts. Others have questioned its plastic parts and longevity, but note, it does come with a 5-year warranty, which is pretty lengthy for a small appliance.
Good to know
If you prefer thermal carafes to glass, the Moccamaster is also available in a thermal carafe, without the hot plate option. Also of note, the Moccamaster skips out on fancy settings and simply has ON buttons to start the machine, and the hot plate.
5. Ninja Specialty Fold-Away Frother Coffee Maker
Best coffee maker for variety: you can make all your fave coffees with this handsome machine
Specifications
Best for: All-round performance
Type: Ground Coffee
Pressure: NA
Cups: 50 oz.
Reasons to buy
+Brew six different cup sizes from a single cup to a full pot+Iced coffee setting is a highlight+Interesting design+Fold-out milk frother+Thermal or glass carafe options
Reasons to avoid
-Coffee concentrate -No water filter-Not compatible with pods
Looking for a coffee maker that can keep up with your rotating coffee order? The Ninja Specialty makes coffeehouse-style beverages for at home use for the ultimate versatility in one single countertop machine.
What we like
In particular, we love that this coffee maker from Ninja can do it all, and it's insanely easy to use. A carafe for a crowd? Easy! A morning latte? Done. How about an afternoon iced coffee pick-me-up? Simple. It comes with a variety of customizations like the ability to choose brew strength to six-different cup sizes with just a few buttons, and features a built-in milk frother that conveniently folds in and out, plus an iced coffee setting when only chilled beverages will do.
What we don't like?
The specialty brew setting is more or less a 4 oz. portion of "coffee concentrate" that resembles espresso and creates specialty coffee drinks, but should not be mistaken for actual espresso.

Anything else?
Depending on your preference, the Ninja Specialty Coffee Maker is available with either a thermal carafe or a glass carafe with hot plate.


6. Café Drip 10-Cup Coffee Maker with WiFi
Best coffee maker with smart features: you can make a brew with voice control
Specifications
Best for: Smart functionalities
Type: Ground coffee
Pressure: N/A
Cups: Up to 10
Reasons to buy
+Beautiful modern design+SCA-certified, with four brewing modes+Built in Wifi to connect with SmartHQ app, Alexa, and Google, and features enhanced, Voice-to-Brew controls
Reasons to avoid
-No single-cup option-Water reservoir is not removable -WiFi feature is only useful if you have water, filter, and grounds in the maker
A Wi-Fi and Alexa enabled option really bring a smart home element to the coffee brewing process on this sleek countertop coffee maker from GE Appliance's gourmet line, Café.
What we like
There's a lot of things we like about this coffee maker. First of all, it's SCA-rated, meaning its met some very rigorous requirements to meet the Golden Cup Standard. It features four unique brewing modes: Gold, Light, Medium and Bold; and the ability to control the machine's desired strength and precise temperature. The vacuum-insulated thermal carafe will also maintain a temperature of over 178°F for two hours.
And we're hung up on its stunning appearance, available in matte white, chrome, or matte black with copper accents. Tres' chic for your modern kitchen.
What we don't like?
Well, if you're looking to control your coffee maker from your bed, the wifi connection is really only useful if you already have the machine on standby with water and ground coffee already in the tank.
Users also wish that the water tank was removable for easier cleaning and filling.
Anything else?
It can brew up to 10 cups but does not have a single-cup option.
7. Wacaco Pipamoka Portable Coffee Maker
Best portable coffee maker: for those who are particular about their cup of joe on the go
Specifications
Best for: traveling
Type: Ground coffee
Pressure: N/A
Cups: 10 oz.
Reasons to buy
+Coffee brewer and thermal travel mug that stays hot for hours in one+Uses a pressure brewing system to brew coffee in two minutes+Easy to travel with or take camping+All brewing parts and accessories fit within the mug's body
Reasons to avoid
-Does not have an electrical hot water component-Lid does not have a hole for sipping
If you're always on the go and prefer your own coffee to your exacting standards, the Wacaco Pipamoka Portable Coffee Maker dares to shake up your coffee order when ordering. Just add hot water and your favorite ground coffee. Its compact size and non-electrical design make it essential should you find yourself on an off-the-grid adventure like back-packing or camping... or a grueling commute.
What we like
Its innovative design uses a vacuum pressure brewing method that uses a manual twisting mechanism to generate the right amount of vacuum pressure inside the mug. This negative pressure generated a suction force that draws hot water downwards through the coffee grounds. In just two minutes, the same amount of time it takes to brew from a single-serving coffee maker, you'll have a bold cup of coffee.
It also uses a stainless steel microfilter to minimize waste, and you can drink straight from the tumbler.
What we don't like
Well, it's more or less part of the design, but since it is a completely manual, non-electric product, you will have to have a hot water source nearby.
Anything else?
To operate, you drop the fill and drop the coffee basket into the mug, and let it sink to the bottom. Twisting the orange ring creates vacuum pressure that draws the water down through the grounds. When the water chamber has fully risen, remove the brewer, add the lid and enjoy a hot coffee, on the go.

What is the best coffee maker?
To recap. if you want to buy an espresso machine, we wouldn't hesitate to buy the Breville The Barista Pro Coffee Machine. In our opinion, it has everything you could possibly need from a coffee machine; it grinders the whole beans, makes a delicious coffee and has a steam wand, so the possibilities are endless.
It is an investment appliance though, so if you would like to spend a fraction of the price on another good coffee machine then we would recommend you buy the Smeg DCF02 Drip Filter Coffee Machine. It's mega easy to use, makes a lovely drip coffee, and is available in a selection of pleasing colors.
You've reached the end of the page. Jump back to the top ^